By: Sammi Ricke
I did it!  I LOST 15.6lbs IN 12 WEEKS!! I am extremely  excited and  grateful to have reached this goal, but I know this is just the beginning of the rest of my life.   BMI went from overweight range to normal and my body fat drop by 3.2%. I love that this journey has become a lifestyle and I am so thankful to God for empowering me to make healthy choices.  The most surprising discovery I made in the past 3 months is the fact that I LOVE EXERCISING!  I was sick for a few weeks, and I actually missed working out.   What?!?
When I started this, I thought 10 lbs was probably pushing it.  But since I have had success losing the 15lbs, I may shoot for 20lbs at some point in the future. I really benefitted from counting my calories and taking the Slenderiize Homeopathic Weight Loss Drops. Hopefully 1500 calories a day will be a great place to stay for maintenance. I am planning on journaling in order to stay on track and be accountable until I firmly establish this new lifestyle.  Journaling has become my safety net, and I know it must continue if I want to maintain the weight loss.
As I look forward towards the rest of my life, there are three core principles I feel I must continue to practice in order to truly be Healthy for Life!
FORGIVENESS
There have been times during the past 3 months that I have slipped up and eaten something that wasn't on the program.  In the past I would have let these small mistakes completely derail me.  I would have said, "Oh the heck with it" and totally gorge the rest of the day all the while thinking that "I already ruined today, so I might as well enjoy it." But by the end of those days I would feel so guilty about binge eating that my self-esteem was literally in the toilet.  I am so glad that  I am starting to learn to forgive myself, and recognizing that a small mistake doesn't ruin anything! My new goal is  just keep it to a bare minimum and literally "reset" before my next meal or snack. Plus, having an occasional treat is medicine for your soul, and it helps you feel more balanced and less deprived.
WEIGHING AND MEASURING FOOD
My portion sizes tend to get way out of hand if I am not careful. So when this journey started I knew I had to weigh my food on a scale and measure my food with measuring cups and spoons. It really helped me to have a small kitchen scale that was able to accurately measure protein portions. 4oz of chicken = 150 calories. 4oz isn't a large amount of meat and certainly not the portion I was accustomed to eating. Measuring my salad dressings with tea or tablespoons was crucial. A great tip that Sarah taught me was to measure out a Tbsp of dressing into a small bowl and mix it with 1 tsp of water to create more dressing but not more calories! You honestly cannot even taste the difference.
PROTECTING MY ENVIRONMENT
If it is in my house, I will eat it! So I choose to not keep tempting foods in our house. Now that doesn't mean we only have fruits, veggies, and chicken available. But I am most tempted by cookies, brownies, ice cream, chips and dip, certain cereals, and candy, so we don't keep those on hand. I think those are my "trigger foods"; everyone's will be different but I have learned through the years that those are mine. I have accepted the fact that I am "too weak" to have them in my house.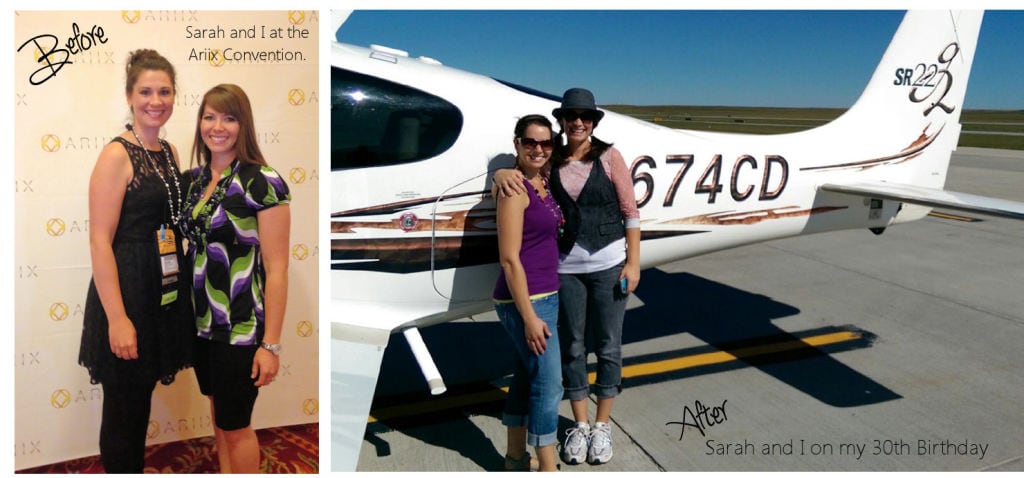 To celebrate my big 3-0, Sarah and my husband planned a surprise birthday get away for me.  Even though Sarah and I were sick over my birthday weekend, it was still the BEST BIRTHDAY EVER!  Sarah's husband is a pilot and he took us on a flight tour over the Black Hills, then my sweet Ryan reserved a room for him and me at a quaint little spa in Hot Springs.  I thought it would be fun to end this series by sharing a before and after picture of Sarah and I.  She also met her goal of losing 15 lbs, and I am so grateful we shared this empowering experience with one another.