Inside: The purpose of this article is to empower you to transform the way you think about clean eating, and equip you to make small changes that will pay off in the long-run. Also includes a printable clean eating cheat sheet, automatically graded diet assessment, and access to a free 30-day healthy living e-course.
We've all been there….miserably feigning compliance to the latest fad diet until our soul shrivels up inside of us and we simply can't carry on.
There's got to be a better way. I mean, I want to fit into my skinny jeans…but what price am I willing to pay?
If the cost of being skinny is to live in a perpetual state of hungry, I'm just not that interested in being skinny.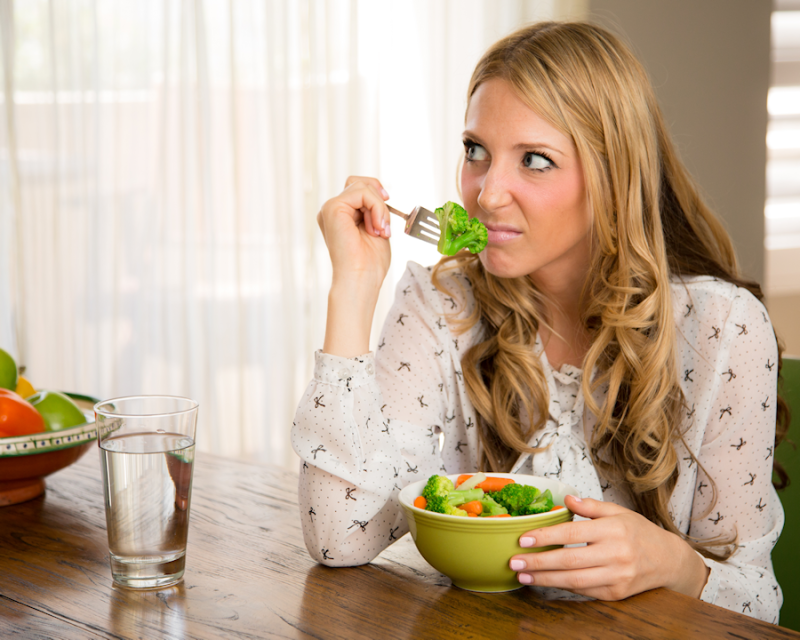 By: Sarah Koontz
Are you trapped on a merry-go-round of weight lost and regained, a cycle of victory followed quickly by defeat, an emotional roller coaster fueled by an insatiable desire to fit the world's standards?
I've been there, girl!
And I am here to tell you, that there IS ANOTHER WAY. Because we all know from experience….
Result oriented lifestyle choices never bring lasting change. #gethealthygirl
Click To Tweet
Don't believe me? What's the first thing you're going to do once you squeeze back into those jeans or hit that magical number on the scale?
I know what I'm going to do! I'm going to go out and celebrate my victory with my BFF's…Chunky Monkey and Oreo Cookie.
I'm sick and tired of all the hype & I hope you are too!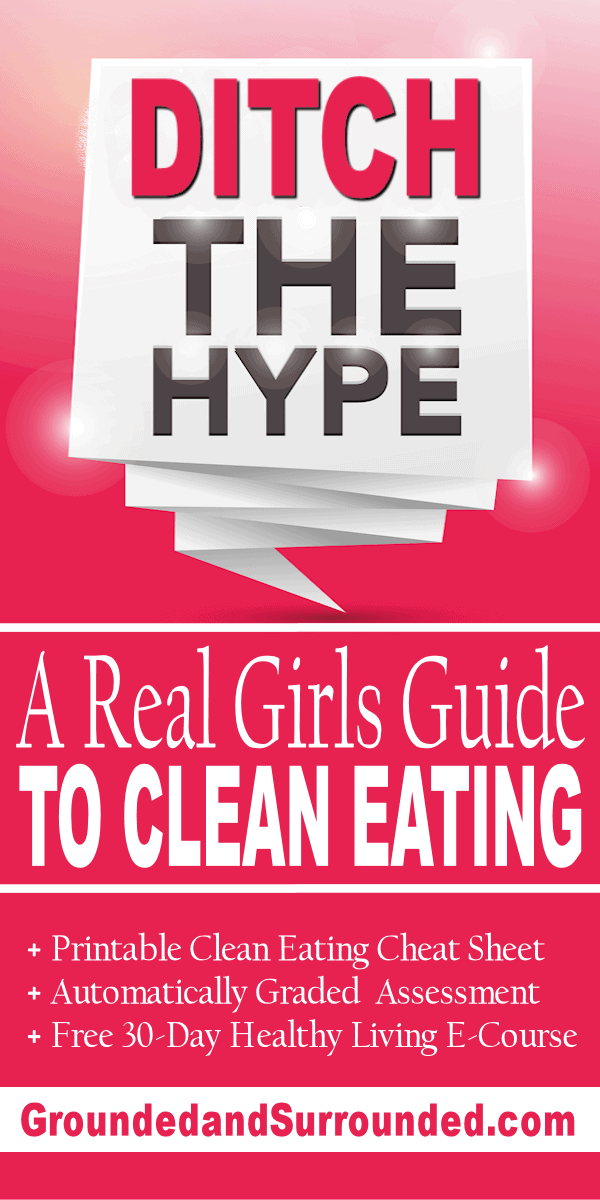 The purpose of this article is to empower you to transform the way you think about clean eating, and equip you to make small changes that will pay off in the long-run.
Food matters. Food fuels our body, energizes our spirit and delights our soul. It is our job to give our bodies the nutrition that they need to operate at an optimal level.
I like to think of clean eating as a beautiful hike.
There are peaks and valleys but so long as you keep moving one step at a time, you will eventually reach your destination.
Some people navigate the terrain with ease while others must put extreme focus and energy into every painful step.
Some people trip and fall; then decide the journey is too difficult and turn back.
Others find a pretty spot about halfway up the trail and decide that there is no need to go any further.
Starting with the goal in mind is the only way to navigate the trail.
Once we determine the starting point and the ending point, the only thing left to do is to pick the right trail and embark on our journey.
However tempting it might be to pick the shortest path, it's imperative that we take time to assess the terrain.
Sometimes the shortest path is straight up a rugged cliff wall.
Our odds of successfully navigating that path are slim to none. That is…unless we are a highly-trained rock climber.
Unfortunately, I am not. Are you?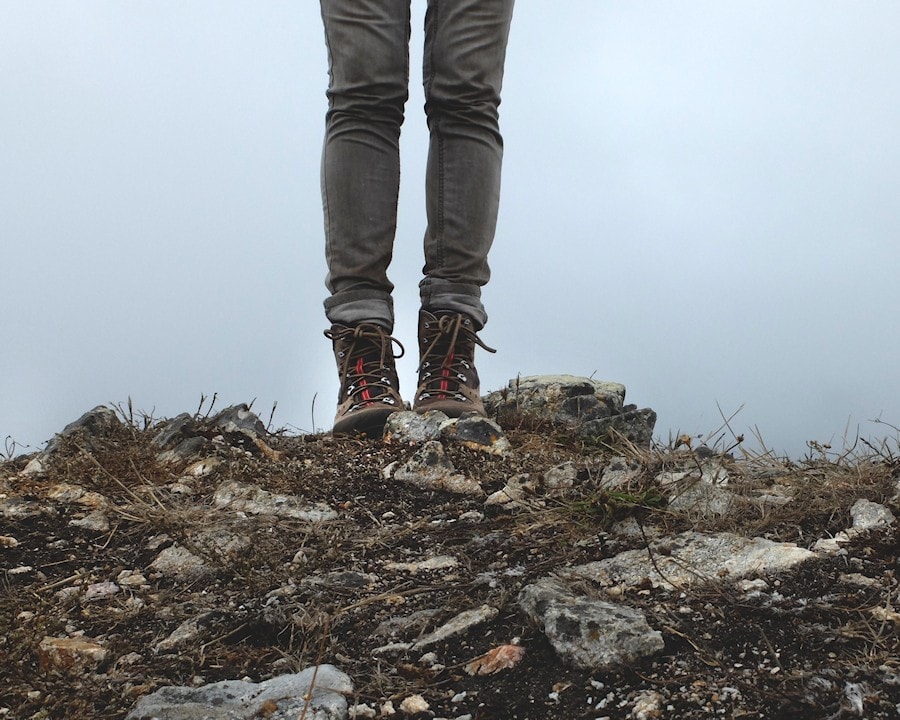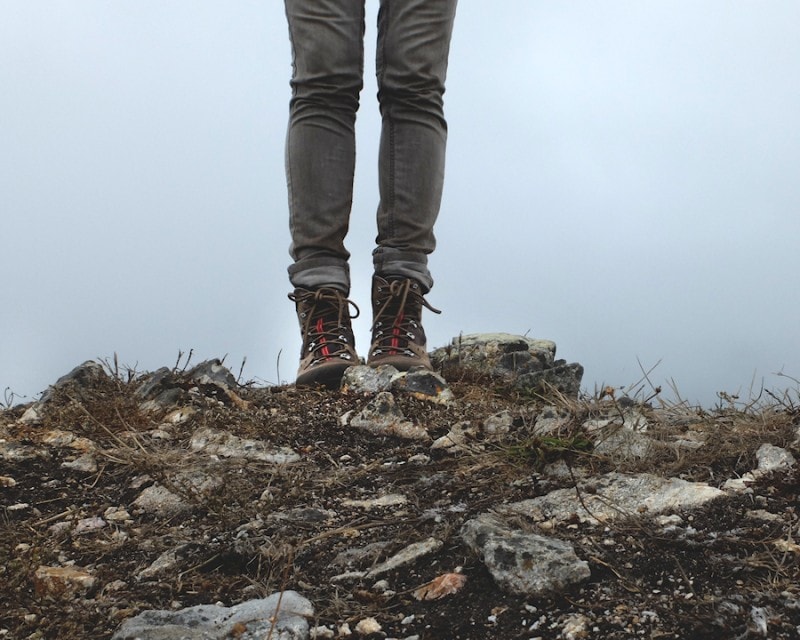 For most of us, it would be much wiser to take a less direct route.
Have you ever noticed that the back side of a cliff is often a nice, sloped hill?
Sure, this indirect path may take longer to navigate but your chance of success is greatly increased.
And, when it's all said and done, you still make it to the top of the cliff!
That is exactly how we need to approach clean eating.
We are looking for a path that we can traverse easily; a path that will not exhaust our energies within the first few weeks.
We will be patient and traverse this rough terrain together.
I have created a series of questions to help you to assess your current eating habits and determine a plan of action for improving those habits.
Before we get to the assessment, it is important that we all get on the same page about what healthy eating really is.
With all of the fad diets out there, it is easy to get confused and confounded. #gethealthygirl
Click To Tweet
That is why I have created a Clean Eating Cheat Sheet for you.
This is by no means a comprehensive guide to a healthy diet, but it is a compilation of the most beneficial habits I have discovered in my 15+ years of coaching people towards healthier lifestyles.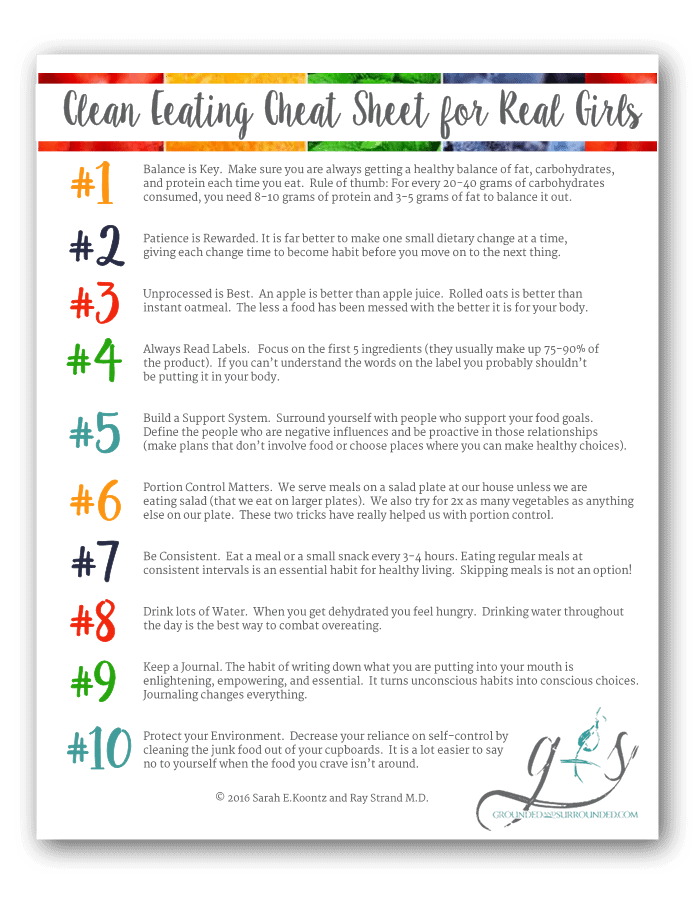 The most important aspect of this journey for me has been learning to aim for progression not perfection.
One of the most empowering moments of my own food journey was when I realized that I knew exactly what I needed to do to begin making healthier food choices.
I hope that this article has given you a fresh perspective and a revived sense of purpose as you prepare to embark on your own clean eating journey.
Clean eating is all about progression, not perfection! #gethealthygirl
Click To Tweet
I encourage you to make any diet changes slowly. Try not to shift more than 10-15% in any particular week.
This gives your body, soul and spirit time to adjust.
This process is as much emotional as it is physical, never forget that.
Free Healthy Living E-Course
Do you want a little bit of extra support along the way? A guide to help you navigate the steep trails?
Sign up for my free 30-Day Healthy Living E-Course today and #gethealthygirl!
What's your favorite tip from the Clean Eating Cheat Sheet or piece of advice from the article? Let's chat about it in the comments!