**Disclosure: Sammi and Sarah received copious amounts of nut butters to sample in exchange for an honest review of "She's Nuts" Nut Butter. We love being paid in nut butter, but swear that consuming it in high quantities has not impaired our judgment in any way! This stuff ROCKS! No way around it…..

By: Sammi & Sarah
We just love nut butter here at Grounded & Surrounded! We don't have any peanut allergies in our families, but have dear friends whose children are incredibly allergic.
Peanuts are not the same as tree nuts (almonds, cashews, walnuts, etc.), which grow on trees. Peanuts grow underground and are part of a different plant family, the legumes. (source)
Tree nuts are a nutrient dense food. They have a healthy fatty acid profile and are high in protein, vitamins, minerals. We just love this PDF created by the University of Michigan detailing all of the fabulous health benefits of consuming more nuts.
Many people who cannot consume peanuts can safely eat tree nuts. Thus enters the nut butter! Almond butter, cashew butter, pecan butter…..the possibilities are seemingly endless!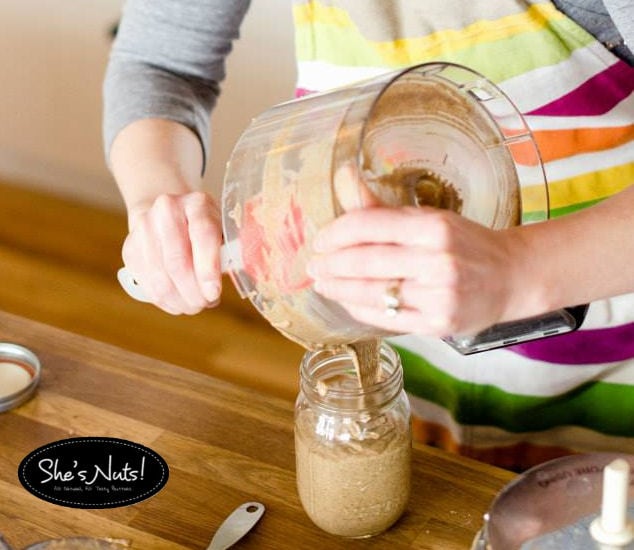 Nut butter is one of our favorite ways to eat nuts, but buyer beware! You want to make sure that you are consuming only the highest quality nut butters made with minimal add-ins.
Healthy and peanut allergy friendly nut butters can be substituted for peanut butter in nearly any recipe (as you will see below, many of the recipes we link to have peanut butter as an ingredient). Don't be afraid to mix things up and substitute your favorite nut butter in these recipes.
10 Brilliant ways to EAT MORE Nut Butter:
10. drizzled over vanilla bean ice cream
We also love this option! Who would have thought you can make a magic shell with 2 healthy ingredients- nut butter and coconut oil?
9. nut butter cookies
Kari from "She's Nuts" has generously shared some of her favorite nut butter recipes with us including her Cinnamon Almond Pecan Blossom Cookies. We have included them all in a nifty downloadable PDF for your reference.
8. nut butter frosting on BROWNIES
We can't wait to try this She's Nut's Vanilla Espresso Almond Pecan Frosting recipe! Here are a few other options that look tasty to us as well: Frost a cake with nut butter using this healthy recipe or use in place of PB2 in our Skinny PB&C Cookie Recipe.
7. make your own #grownuppbj
"An Ode to Toast" from Oh She Glows that features a delicious looking Grown Up PB&J!
6. homemade granola
Our favorite recipe in the "She's Nuts" downloadable recipe packet is the amazing Vanilla Espresso Almond Pecan Granola. Sounds almost too good to be true!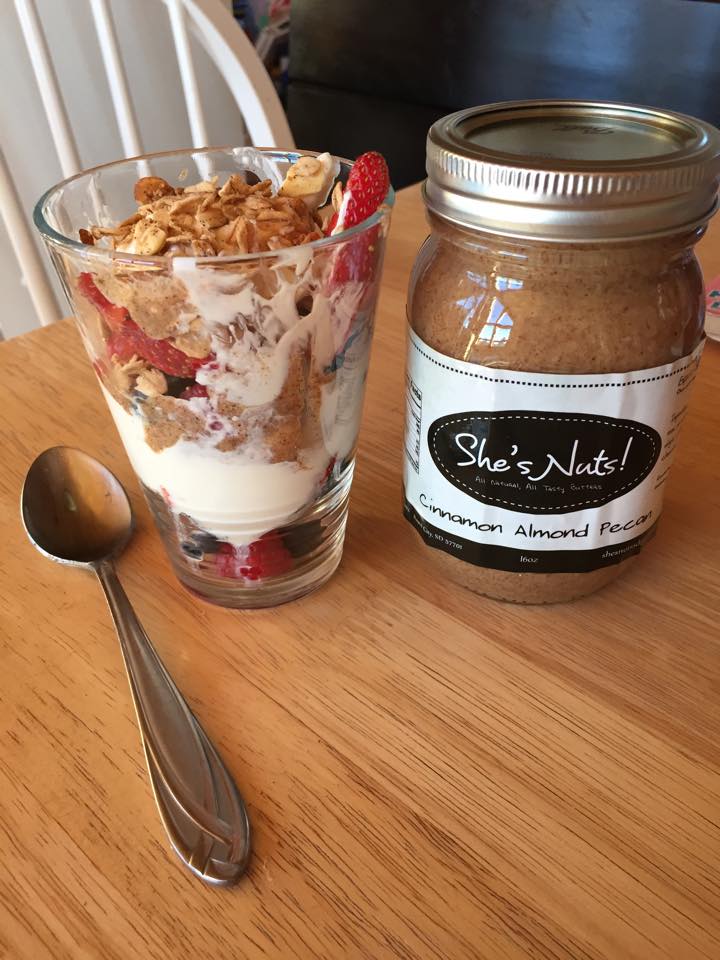 5. nut butter yogurt parfait
Yum! Such an amazing breakfast or snack option! You can use whatever yogurt, fruit, granola you have on hand!
4. morning oatmeal mix-in
Simple and delicious! Tiffany at the Gracious Pantry has an awesome clean eating oatmeal recipe (I am sure you could sub nut butter for the peanut butter in this recipe).
3. apple nachos with nut butter
We have created a fabulous Apple Nachos recipe for our readers…sweet, salty, healthy….everything you could ever hope for in a sweet treat. Simply AhhhhhMAZING!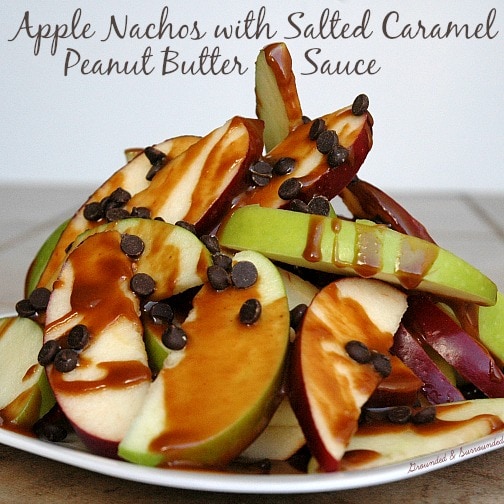 2. nut butter and banana burrito rolls
Think outside the box! Quesadillas, rollups, nut butter and jam between two pancakes! You could even make nut butter English muffin breakfast pizzas! Click here for recipes.
1. straight up with a spoon.
Sometimes it is the simplest things in life that bring the most pleasure!
Did you love this countdown? Be sure to click the pin it button on the image below so you can easily access these fun ideas next time you get a craving for nut butter!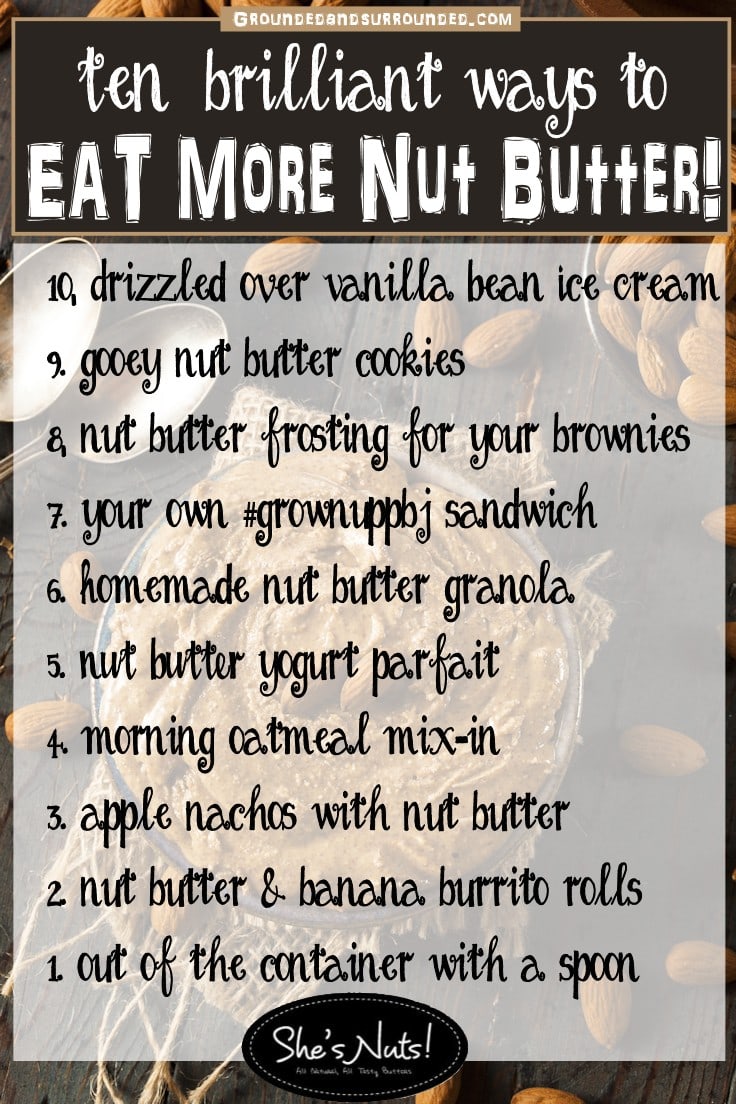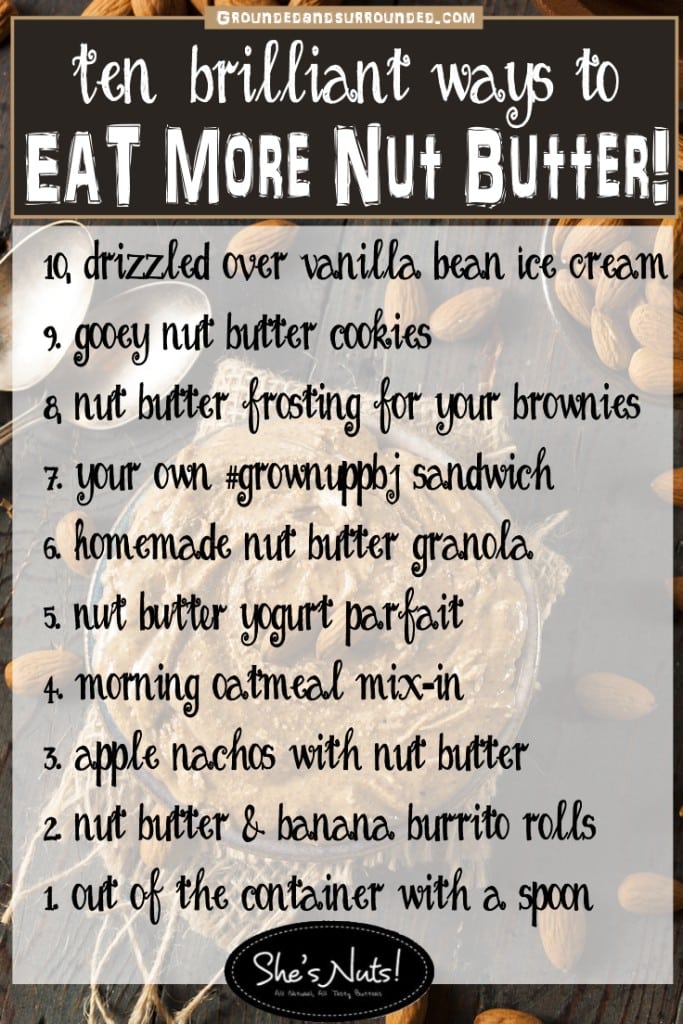 OK! Now that we have you in the mood for nut butter, it is time to introduce you to our friend, Kari Doyle. She and her husband, Sean, founded "She's Nuts" in 2014. Here is their story: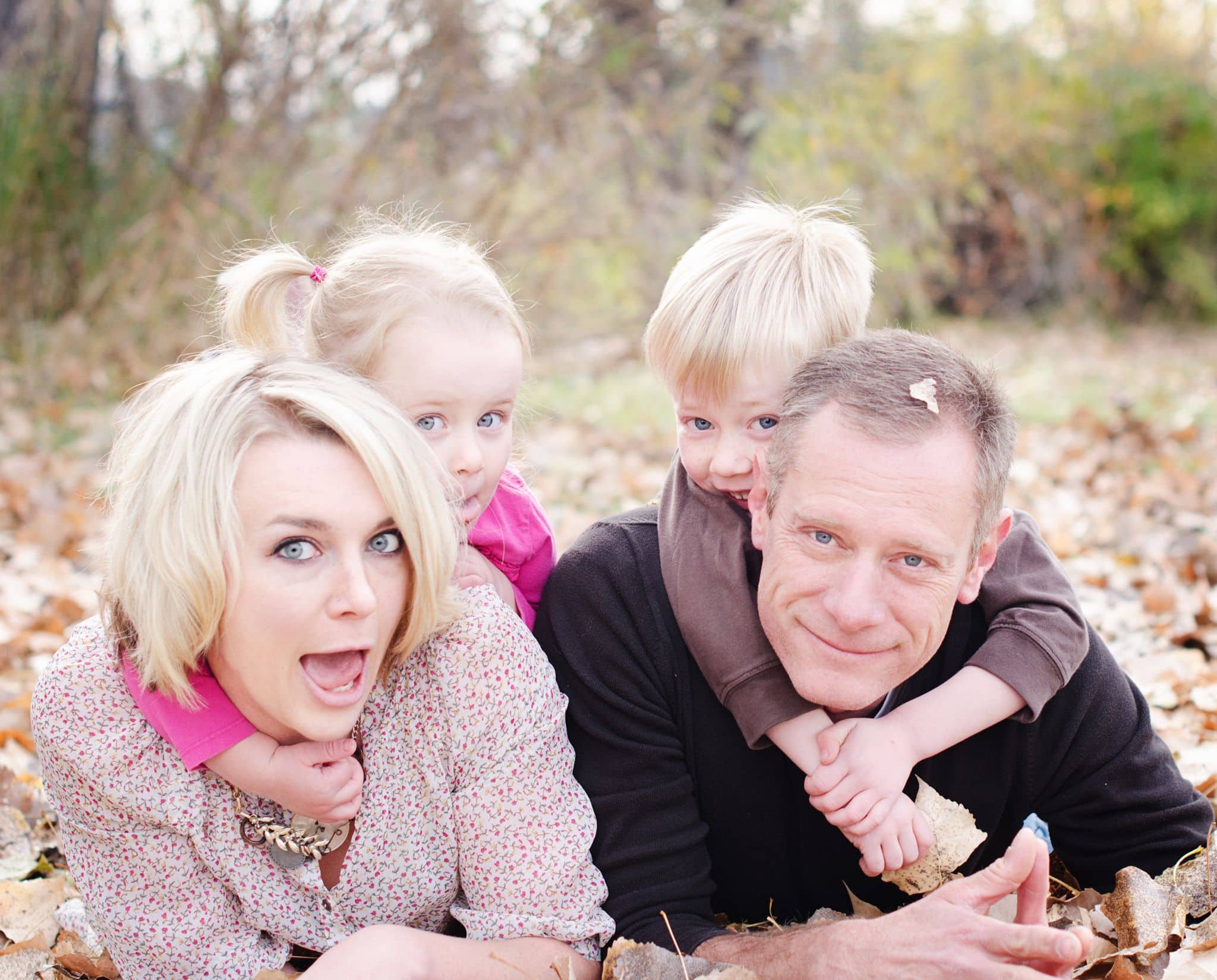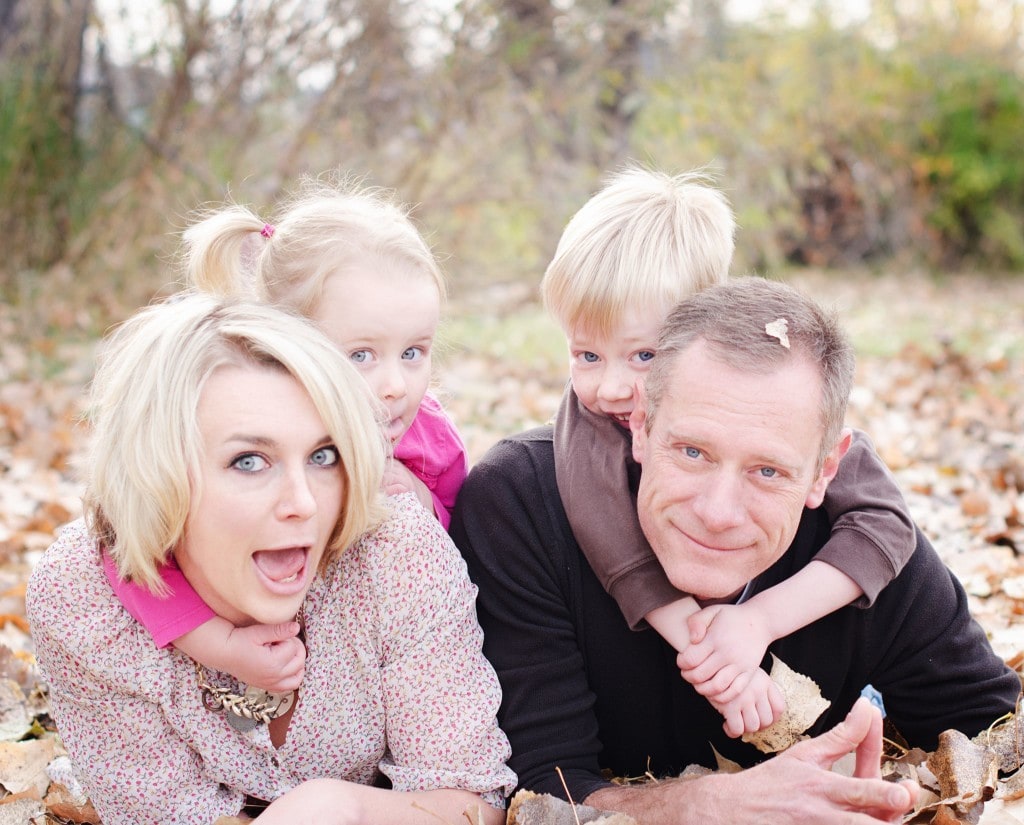 " My daughter was diagnosed with a peanut allergy in December, 2012. After that, we started exploring peanut butter alternatives and didn't really find much that we liked, so I decided to try and make my own. Cinnamon Almond Pecan was born! I began selling to friends, and word spread quickly. By late fall, I had more than 75 customers!! We decided to then take it to the next level with new flavors and start an official business! God completely blessed us and "She's Nuts" has really taken off! We are currently in 12 different locations in the Black Hills area including Breadroot, Dixon Coffee Co, Main Street Market and Great Harvest Company! Our website went live in March and has been really fun to watch grow! We're very excited to partner with Grounded & Surrounded and we hope you enjoy our nut butters as much as we do! " -Kari
Kari and Sean don't just make plane 'ole nut butters folks! They make flavors like Vanilla Espresso Almond Pecan, Cinnamon Cashew, and Cinnamon Almond Pecan. We are especially excited about their brand new flavor, Chocolate Almond Pecan.
We prefer to use option #1 when consuming Kari's nut butters…..because they are just so darn good. We love supporting creative people who aren't afraid to take risks and try something new. We hope you take the time to visit their website at ShesNutsSD.com to place your order today!