Welcome to Week 8 of the "ENJOY the HERE and NOW" Summer Challenge.  This week we are finding a way to "ENJOY Something New" with our kids!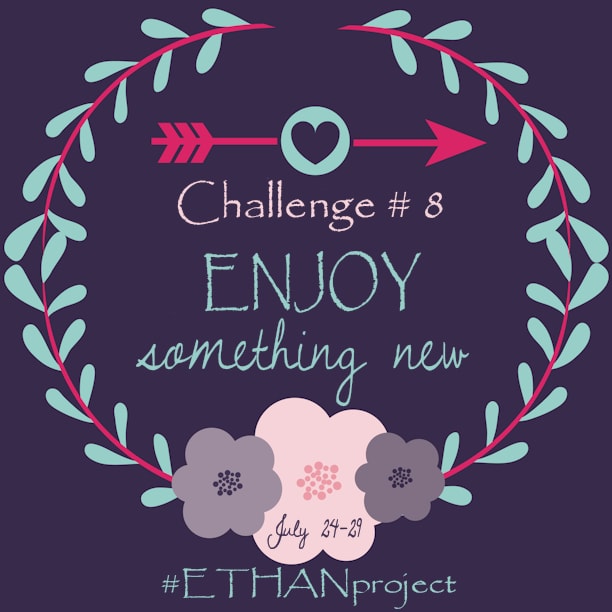 By: Sammi Ricke
For those of you that follow our blog, it will come as no surprise to you that I will be sharing a new recipe with you this week as our challenge! I don't know about you, but sometimes it is so hard to get my kids to enjoy new foods, especially new healthy recipes. These Mint-Chocolate Chip Popsicles have been such a wonderful "new" addition to our summer!
I fully expected my kids to turn up their noses at this healthy popsicle recipe. However, I was pleasantly surprised when my kids were actually begging me for more. Mommy win, oh ya!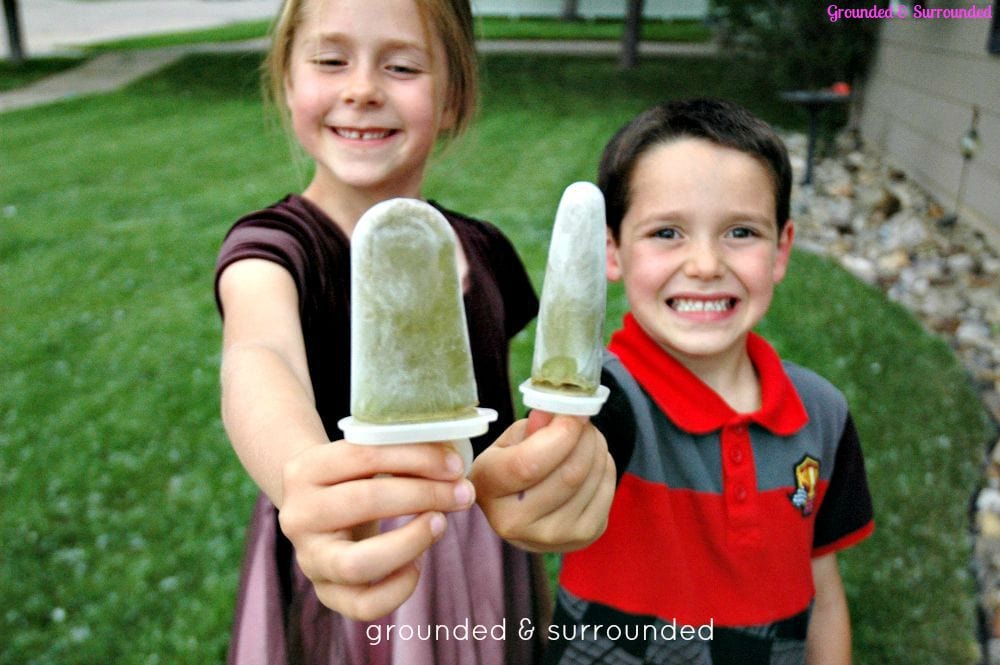 As I have told you, I was REALLY surprised, no shocked that my kids liked these. I mean there is spinach and plain Greek yogurt in them. I don't know about you, but I don't even think that sounds like a good combination for a sweet treat. However, for some reason, these little green yogurt pops are DELICIOUS and completely satisfy our ice cream cravings!
Here at Grounded and Surrounded we try our best to "healthify" recipes without sacrificing flavor. I am doubtful that there is a healthier mint chocolate chip popsicle out there, I mean it tastes just like the real thing! It still blows my mind at how simple and nutritious these are.
I can't even tell you how many batches I have made by now and my kids won't stop eating them. These seem to be the perfect combination of protein, veggies, and chocolate. Again, I know, it's a weird combination, but it totally works!
There is one disclaimer with these frozen treats: The color can be a little off-putting. BUT I am not going to apologize for it because if my young children (who don't even like eating spinach) don't have a problem with it then I don't either! I did try to make them look more chocolatey by adding some cocoa powder and my kids disliked them and asked me to just make the "green ones" again! Point taken, I will not mess with the miracle treat 😉
So moms, go ahead and try these tasty summer treats or a new recipe that you doubt your kids will like because who knows, they may just surprise you and LOVE IT! It is worth the try and remember, if they don't like it, that's all the more for you!
Don't forget to swing by our weekly #ETHANproject Blogger Link-up to find more inspiring stories written by moms who realize there is great value in slowing down and learning to ENJOY the HERE and NOW.
Visit Grounded & Surrounded Blog's profile on Pinterest.
Guilt-Free Mint Chocolate Chip Popsicles
I love healthier alternatives to ice cream that actually taste like the real thing! These iced yogurt pops are full of protein, veggies, and will totally satisfy your summer sweet tooth! Not only will the adults love these little green dream-cicles, but so will the kids! 
Ingredients:
1/2

cup

plain Greek yogurt

1/2

cup

unsweetened almond milk (I used cashew milk)

1/4

cup

Enjoy Life mini chocolate chips

2

cups

raw spinach

1/4

tsp

peppermint or mint extract

10

drops

plain liquid Stevia
Instructions:
Blend all ingredients in blender or Vitamix. I used my Magic Bullet with smashing success, dividing it in 2 batches to fit into my canister. A high powered food processor would work well too! The key is to pulverize the chocolate chips so you end up with a fairly smooth consistancy, the less chocolate chunks the better.

Distribute evenly into popsicle containers. The mixture will make about 1 1/4 cups. Freeze for at least 4 hours or overnight. Enjoy!
I saw this neat recipe a few months back and used it as my inspiration for these "pops"!
What is your favorite flavor of popsicle? Have you ever made your own?