The purpose of the #ETHANproject is to inspire your creativity and encourage you to STOP and ENJOY your kids during the summer months. The #ETHANproject starts on June 5, 2015 and runs through August 15, 2015….are you up for the challenge?
We have partnered with several of our favorite bloggers to participate in this 10-week challenge and we will all be documenting our progress on our own blogs. Be sure to stop by here each week of the challenge for a re-cap of our favorite posts, reader stories from the previous week and to find inspiration for the next challenge. 
Are you interested in becoming an #ETHANproject Blogger? Click here for more information.
What to Expect from the Weekly #ETHANproject Re-Cap
Each challenge re-cap will include #ETHANproject stories from the past week, including:
1. The most popular article from our #ETHANproject Link-up.
2. The most popular thread from our #ETHANproject Facebook Group.
3. Our favorite reader story from social media (be sure to use the #ETHANproject hashtag when you share your stories!).
4. Our favorite #ETHANproject blogger story.
5. Our #ETHANproject Mom of the Week
This Week's Challenge!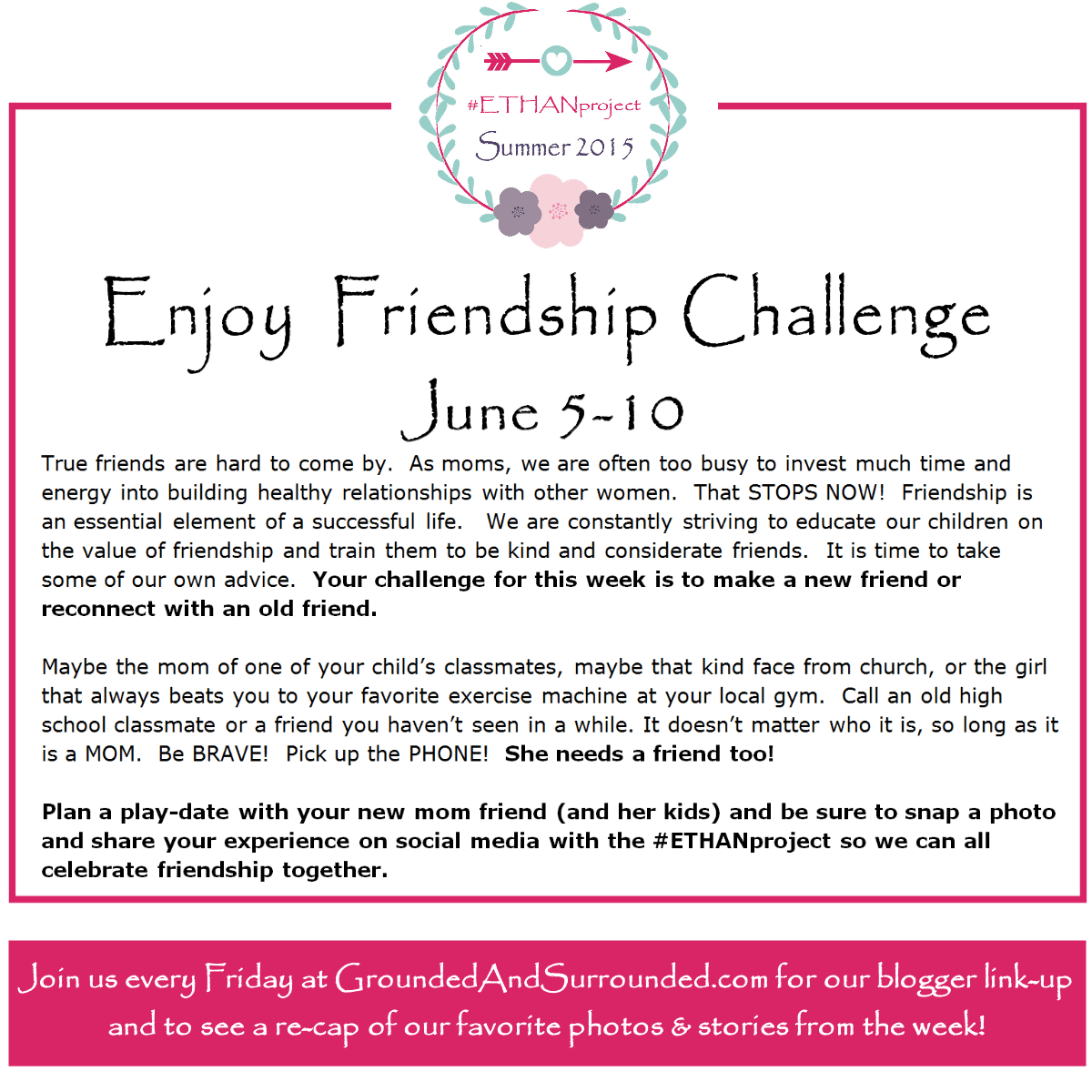 Are you ready for your first #ETHANproject Challenge?  We sure are!  This week we are focusing on friendship.
Friendship is such an important aspect of healthy living.  As a young mom, making and keeping friends isn't the easiest thing to do.  Sometimes it is uncomfortable to put yourself out there and  invite someone to spend time with you and your (rambunctious) kids! But it is well worth the effort.
Sammi & Sarah's Challenge 1 Story
Friendship is super important to Sammi & me.  Teaching our eldest daughters how to be good friends has been a priority to us this past year.  They are both in 1st grade and let's be honest….the girl drama has already begun. We thought an excellent way to accomplish this challenge would be to set up a park play-date with our children's classmates …. [Read More]
This Week's Blogger Link-Up
This is where you can come each week to find inspiration and encouragement to help you be an "ETHAN Mom" this summer!  We have invited our fellow bloggers to stop by each week and share their favorite posts about motherhood, simple living, summer fun, and easy recipes.  Everything you need to help you STOP and ENJOY the summer with your kids!
All bloggers are welcome to share up to 3 posts per week at our link-up.  We have a few simple rules that we expect everyone to follow.  If you haven't yet read our #ETHANproject Blogger Link-Up Guidelines please do so now by clicking here.
#ETHANproject Bloggers, don't forget to share your Challenge 1 Stories in our Facebook Group weekly share thread!
[inlinkz_linkup id=528062 mode=1]