Summer is a time for relaxation, laughter and play. But it can also bring with it a unique set of challenges for moms. How do we juggle all of our responsibilities while still engaging our children and creating lasting memories?
What if we all purpose (right now!) to set aside one day per week this summer to do something new and exciting with our children? And instead of spinning our wheels trying to come up with ideas on our own, let's work together!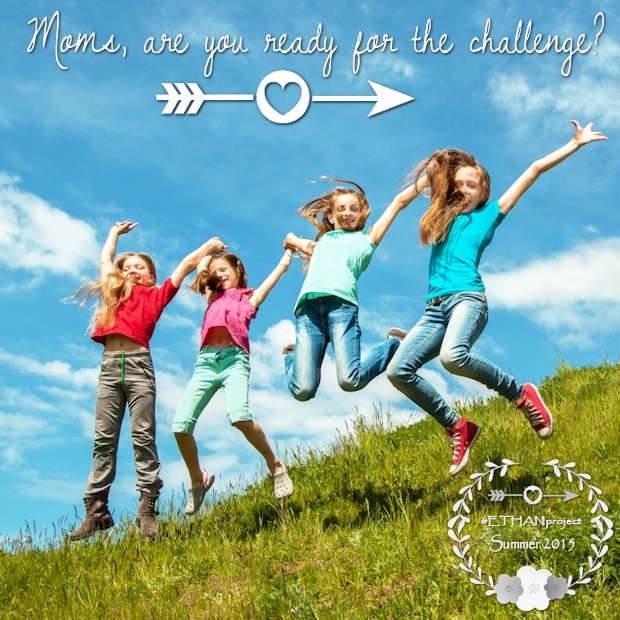 By: Sarah Koontz
Sammi and  I hatched the plan for the #ETHANproject over coffee one day as we discussed our own needs to slow down and enjoy our kids through the summer months.
Being a working mom is a challenge that is never easy to adjust to.  Even when you  have huge aspirations for your business, it is still important to put your family first.  We started brainstorming ideas of how we could focus more of our energy on their kids without losing momentum on our blog.
What is the #ETHANproject?
ETHAN is an acronym for "ENJOY the HERE and NOW."  And that is exactly what we intend to do this summer.
We have created a unique challenge for each week starting June 5 and running through August 15.  We will be encouraging everyone to share their stories on social media using our #ETHANproject hashtag and by participating in our ETHAN Project Facebook Group.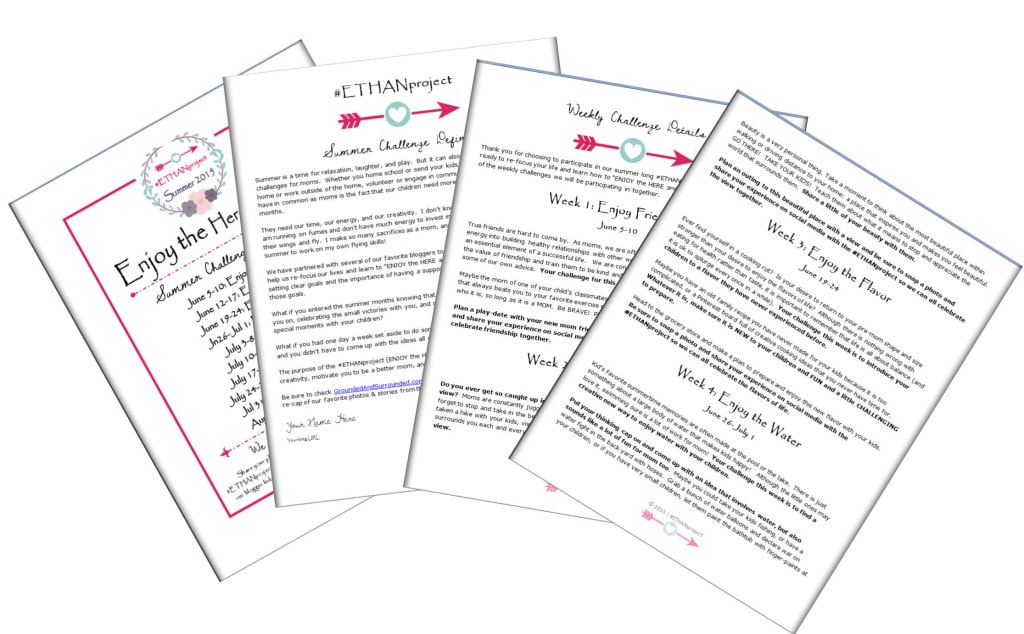 Our kids are out of school and we are having fun deciding exactly how we are going to tackle each of the ten summer challenges.  If you haven't yet downloaded the overview, you can click here to do that now.  The first challenge starts June 5, be sure to check in at our blog for inspiration!
The purpose of the #ETHANproject (ENJOY the HERE and NOW Project) is to inspire your creativity, motivate you to be a better mom and support you through the summer months.
Check in at Grounded & Surrounded every Friday throughout the summer to find creative ideas for the next challenge and for a re-cap of our favorite photos & stories from the previous week. Who knows, maybe you will be featured one week!
The #ETHANproject Summer Challenge Schedule.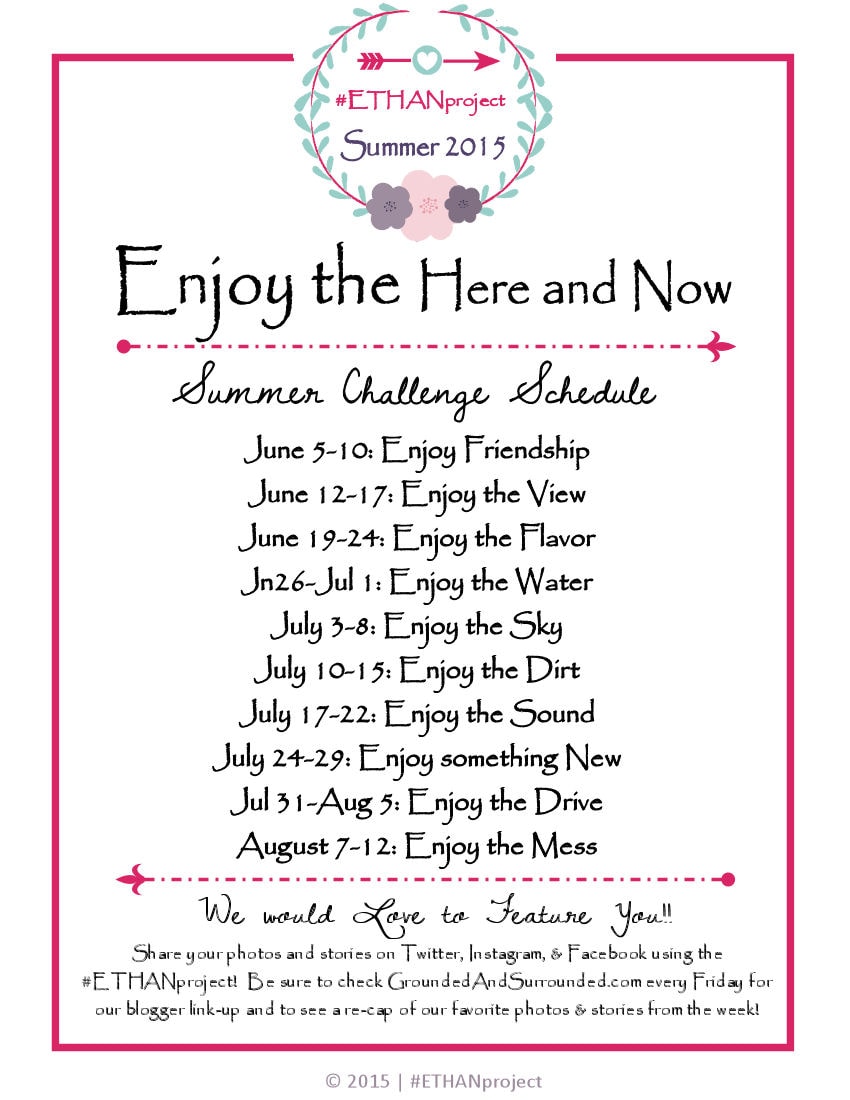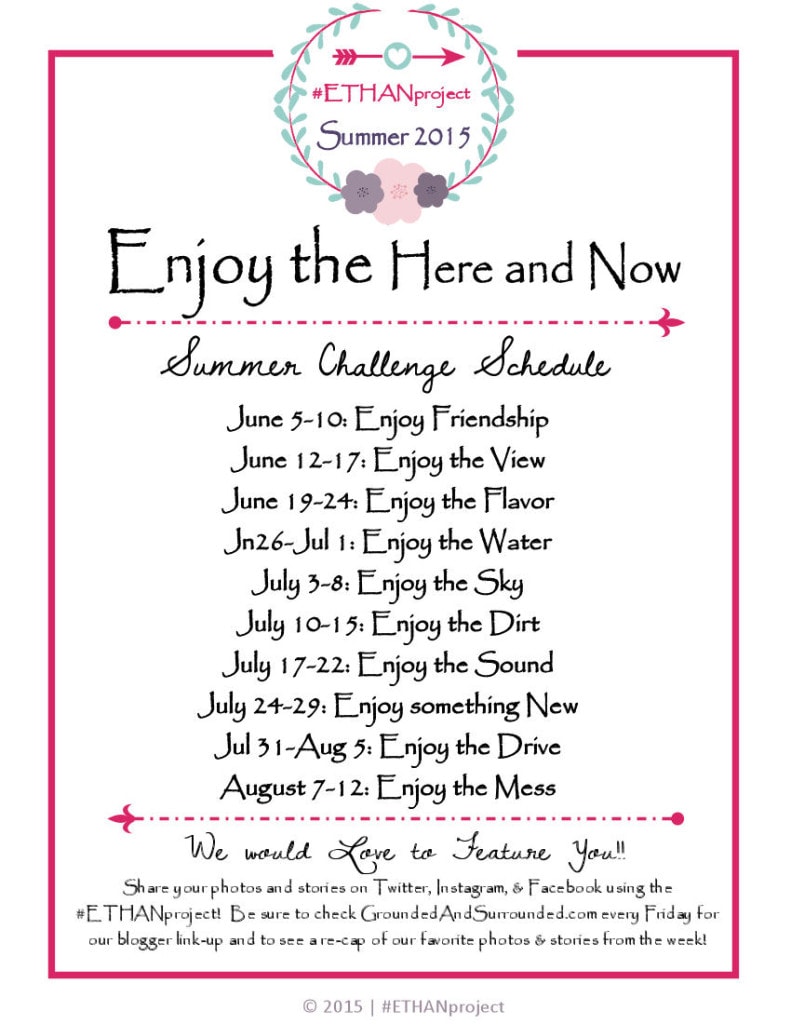 A Free Gift for our Readers
We have created some pretty awesome #ETHANproject Digital Wallpapers for your laptop and mobile devices.  We hope they will serve as a reminder to "ENJOY the HERE and NOW" all summer long!
Just enter your e-mail below to receive #ETHANproject updates from us and you will be automatically redirected to a page where you can download your free gift. Be patient, it takes a moment!  If you are on your mobile device (or if it doesn't re-direct), just drop us a quick e-mail and we will send you a link.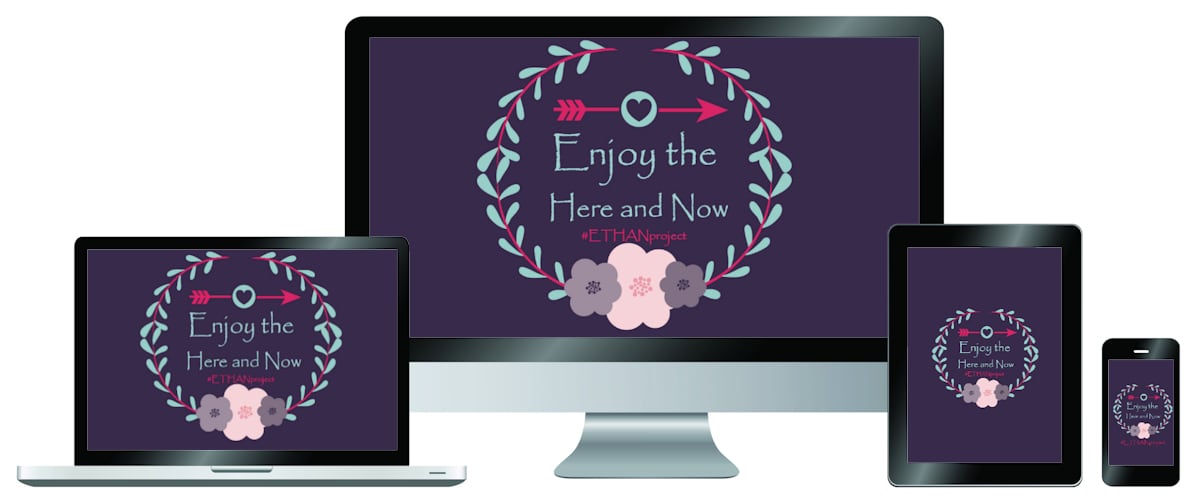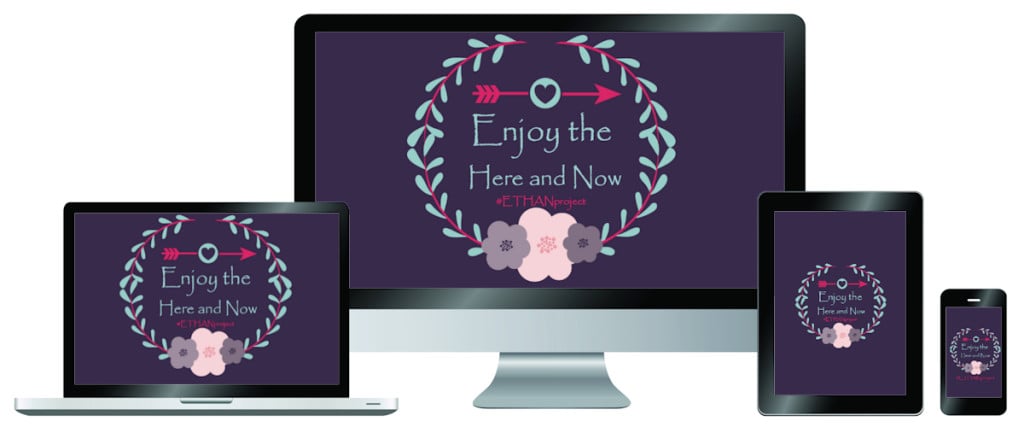 [yks-mailchimp-list id="a232385992″ submit_text="Send me updates on the #ETHANproject"]
Exciting #ETHANproject News!
When we started discussing our own concerns about juggling our kids and our blog this summer, we realized that we were probably not alone! So we created the 
#ETHANproject Blogger Kit for Moms
 and invited our blogging friends to join in on the fun.

Sammi and I have been working hard behind the scenes to do everything we can to make this campaign a success for all of the participating bloggers!  We are super excited to announce that we will be launching our 10-week Summer Challenge in EPIC fashion today on The Humbled Homemaker.  

Erin at The Humbled Homemaker is one of the most successful bloggers in our niche.
 She loves the whole idea of the #ETHANproject and has invited us to share it with her readers.The
last guest post I wrote for Erin
has had more than 15,000 shares on social media.
 This is HUGE exposure for everyone who has decided to partner with us as an  #ETHANproject blogger.
  If you have been on the fence about purchasing the #ETHANproject blogger kit, it's not too late to
get on board
!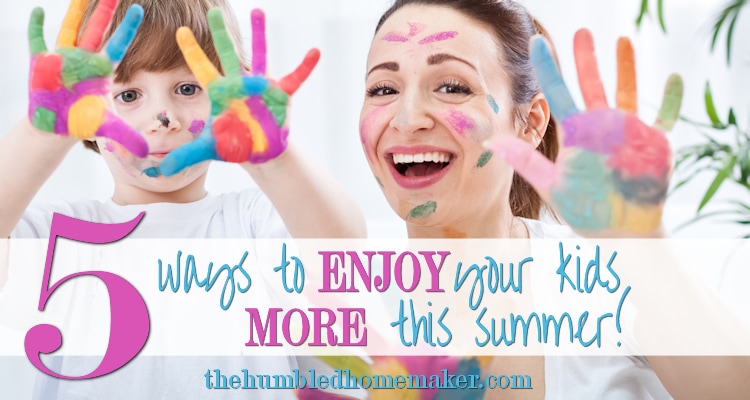 Now head on over to The Humbled Homemaker and get inspired to STOP and ENJOY the summer months with your children!