Everyone can grow their own food, even you! If you have ever tried and failed, we are here to encourage you to TRY AGAIN! We have even written our very own gardening fable to help you see how ridiculous it is to believe that the ability to garden is something a person is born with.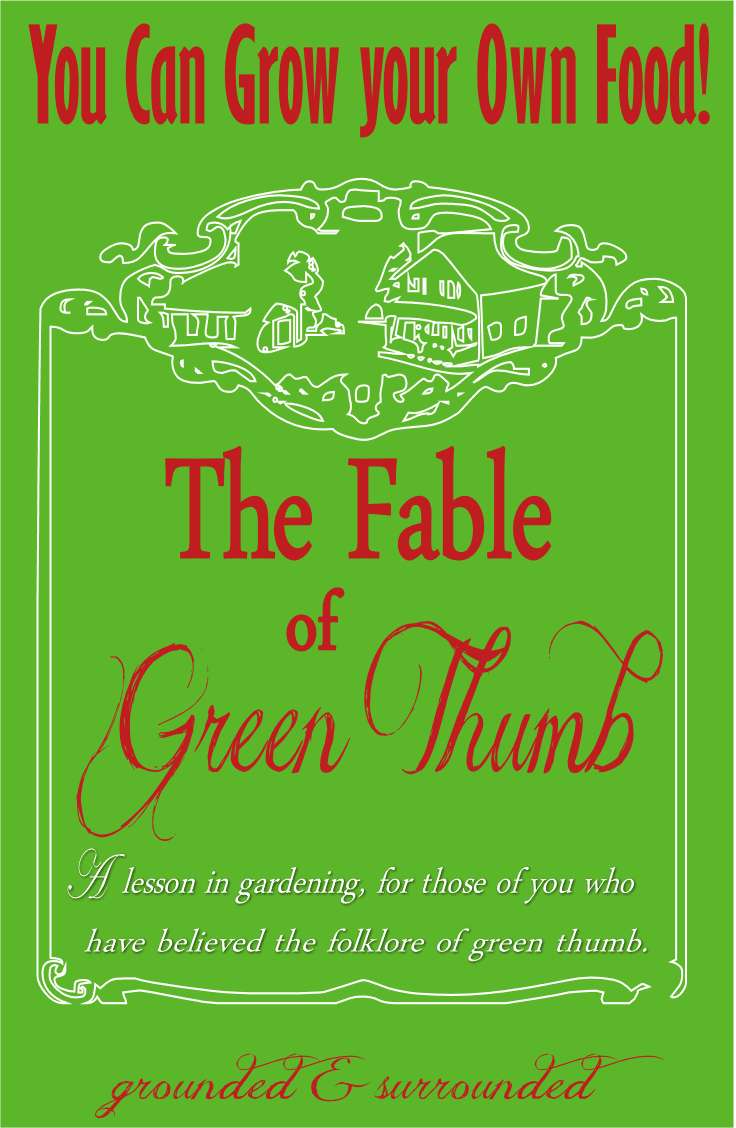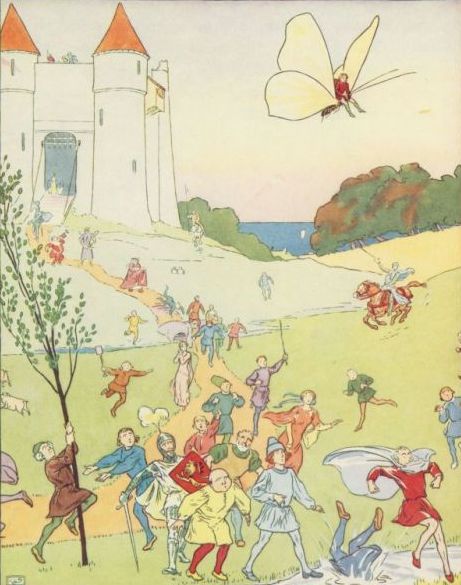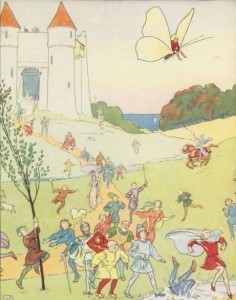 Tom Thumb is a character of English folklore. Here at Grounded & Surrounded, we believe that the concept of a GREEN THUMB, or natural talent for growing things, should also be placed in the category of folklore.
If you believe that a person is born with the ability (or lack of ability) to grow things, then your very first experiences with gardening will determine for you which kind of person you are.
Unfortunately, more often than not, our first attempts at anything result in failure. This is why the majority of people we talk with believe that they do not have a green thumb and therefore will never be good at gardening. What a LIE!
Fables are short stories written for the sole purpose of teaching a lesson. They can be entertaining and enlightening, but they serve a larger purpose. They often teach about morals or share a truth in a unique and creative way.
We decided to write a gardening fable for you today, and entitled it "The Fable of Green Thumb." ENJOY!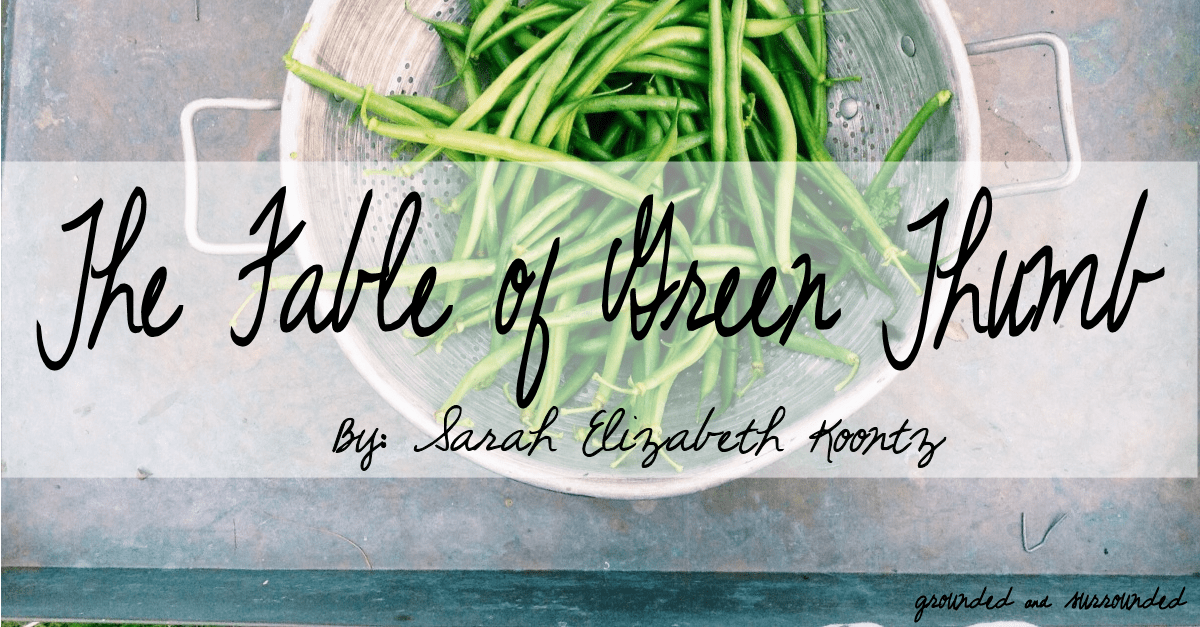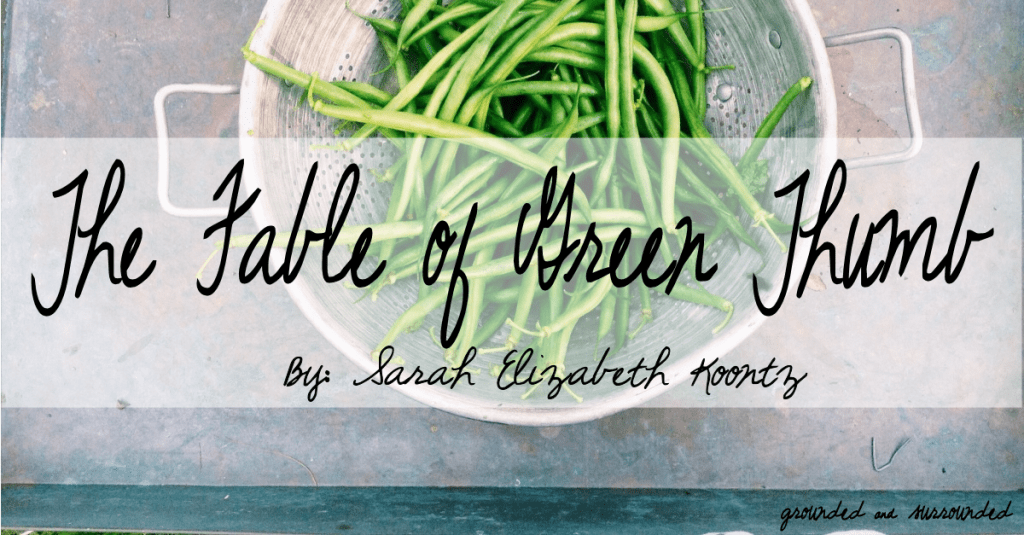 A young mother sat in her home one night, scanning facebook by the fireside, while her husband sat by her side playing angry bird on his ipad. 'How lovely, dear husband, would it be if I could grow beautiful vegetables in a vast garden just like my many friends who have been blessed with green thumbs?'
'What you say is very true,' said the husband, sighing, flinging birds at pigs all the while, 'how happy should I be if I could grow but one cabbage! It would not matter to me if it were the largest cabbage in the land, or no bigger than the size of these tiny birds on my screen. I should be very happy and make the finest coleslaw with it.'
Now – odd as you may think – this young couple's wish was not fulfilled in the very way they had wished it. For, one is not born with a green thumb, nor can they wish it into existence.
But only through hard work and patience will your garden grow, and you will love it all the more for the sacrifices you must make to see it thrive. And you will know, deep in your heart, it was not the color of your thumb that determined your fate, but rather your aching back and dirt stained hands.
Gardening is a skill to be developed, not a gift to be discovered. You will likely have many failures until you learn to love your plants and care for them consistently.
Many people will look at your gardening successes and give credit to some unseen natural gift you must have, but every good gardener knows that their success comes from hard work; nothing more, nothing less.
You can't wish a healthy vegetable or flower garden into existence. Plants are not at all mysterious. They simply need consistent care and attention.
Anybody can learn to grow a garden, even you! So let us bury the fabled Green Thumb once and for all, and begin the hard work of learning how to be successful gardeners.

The moral of this story is that anybody can grow their own food, so long as they are willing to put in the hard work it takes to develop a new skill. We know it is all a bit silly, but the lesson hits very closely to home for us.
Both Sammi and I used to think we were no good at gardening; that we were born without a green thumb. We tried and failed, and quite honestly, we just accepted the fact that we weren't born with the gardening gene.
But then we started learning about health, and the importance of consuming high-quality food. Suddenly we HAD to find a way to AFFORD more natural and organic food. The NEED to grow our own food outweighed the FEAR of failure.
So we tried again! We studied, researched, planned, prepped, and gardened our little hearts out. And we grew some AWESOME cabbage, much larger than we ever expected!

We LEARNED what we needed to know to be successful, and we KNOW you can do the same! Here are our Top 5 Resources for a Beginning Gardener (some links are affiliate links, click here to read our full disclosure):
1. Grow Great Grub: Organic Food from Small Spaces
2. Homegrown Herbs: A Complete Guide to Growing, Using, and Enjoying More than 100 Herbs
3. Four-Season Harvest: Organic Vegetables from Your Home Garden All Year Long, 2nd Edition
4. The Organic Gardener's Handbook of Natural Pest and Disease Control
5. Canning for a New Generation: Bold, Fresh Flavors for the Modern Pantry
Have your previous attempts at gardening been a success or a failure? Did you give up or keep trying until you got it right?


This article has been shared at many of our favorite Healthy Living Linkups.
Visit Grounded & Surrounded Blog's profile on Pinterest.