I was inspired to make these fun little cookies last Christmas to help fill a few bare spots on a goodie tray.
But don't fret, you don't have to wait for the holiday season to make them.
I just served these Gluten Free Chocolate Crinkle Cookies aka Frostbites for dessert and it's not even close to Christmas!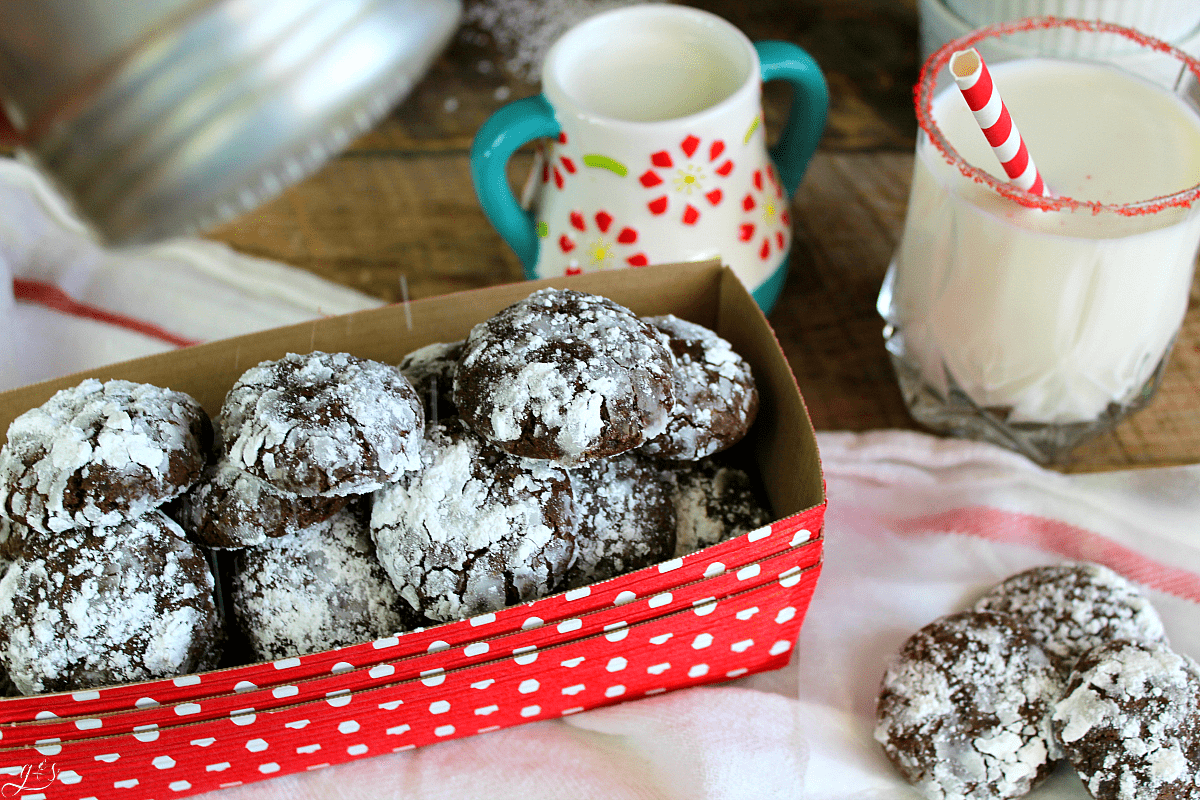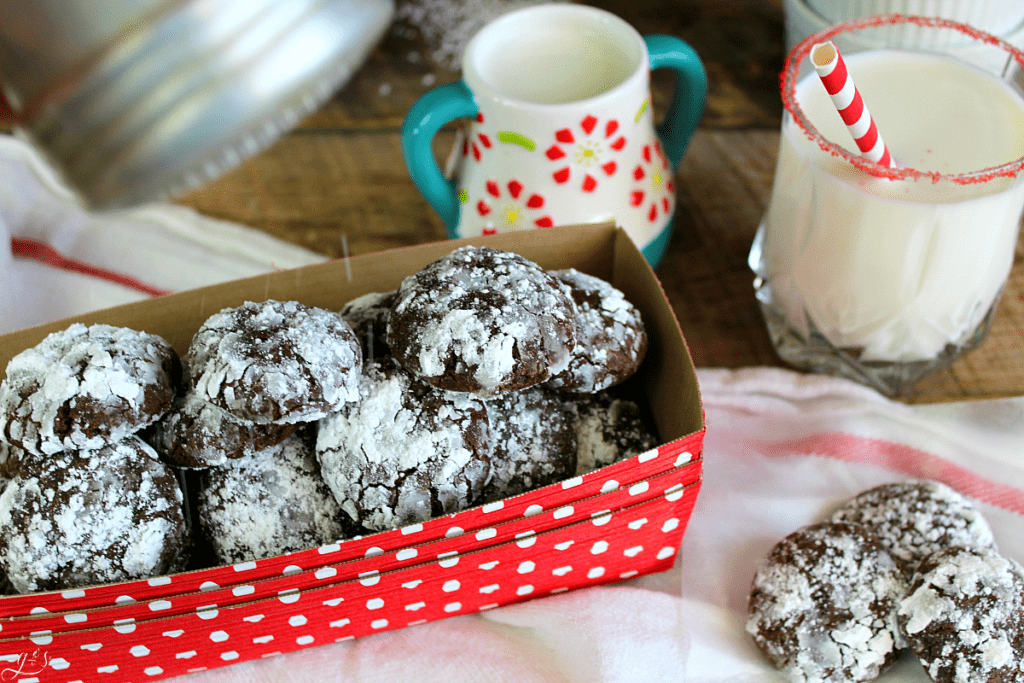 Kids and adults alike will love this recipe. If you have a soft spot for both chocolate and cookies, it's a no-brainer for you to bake up a batch. I will warn you though, there is something difficult about this recipe…
The 1 hour you have to patiently wait for the gluten free Chocolate Crinkle Cookies dough to cool enough to form into balls and then roll in sugar. But I believe in you! You can do this.
Ugggghhhh, I get it though. Waiting IS torture when it comes to delicious dairy free cookies!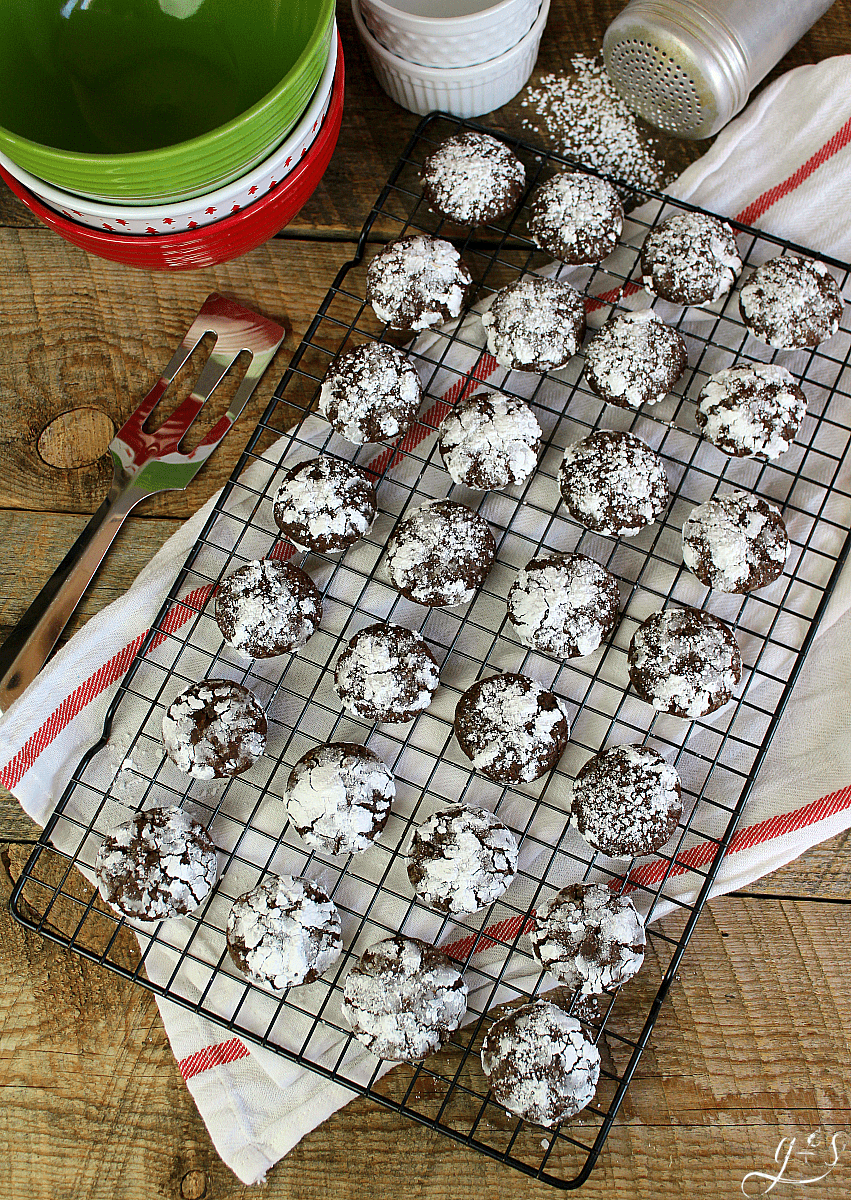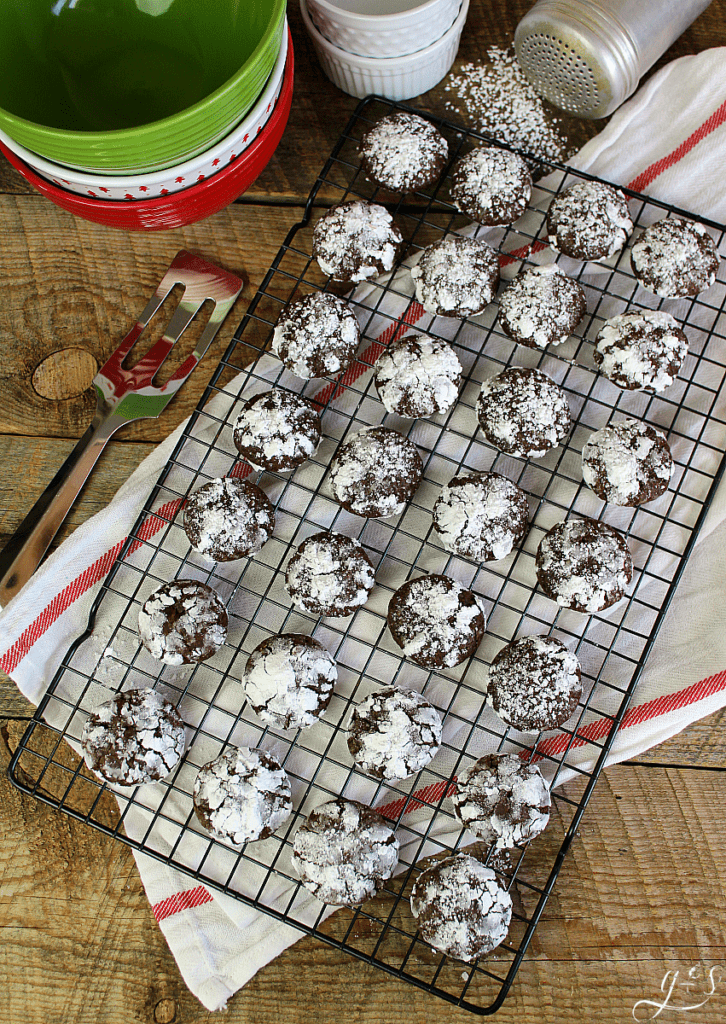 As a recipe blogger, it seems I rarely follow directions to a "T". 😉 Subsequently, these little beauties were born.
I was inspired by Ali's recipe at Gimme Some Oven because let's face it, she is awesome! Her recipes, her photos, everything.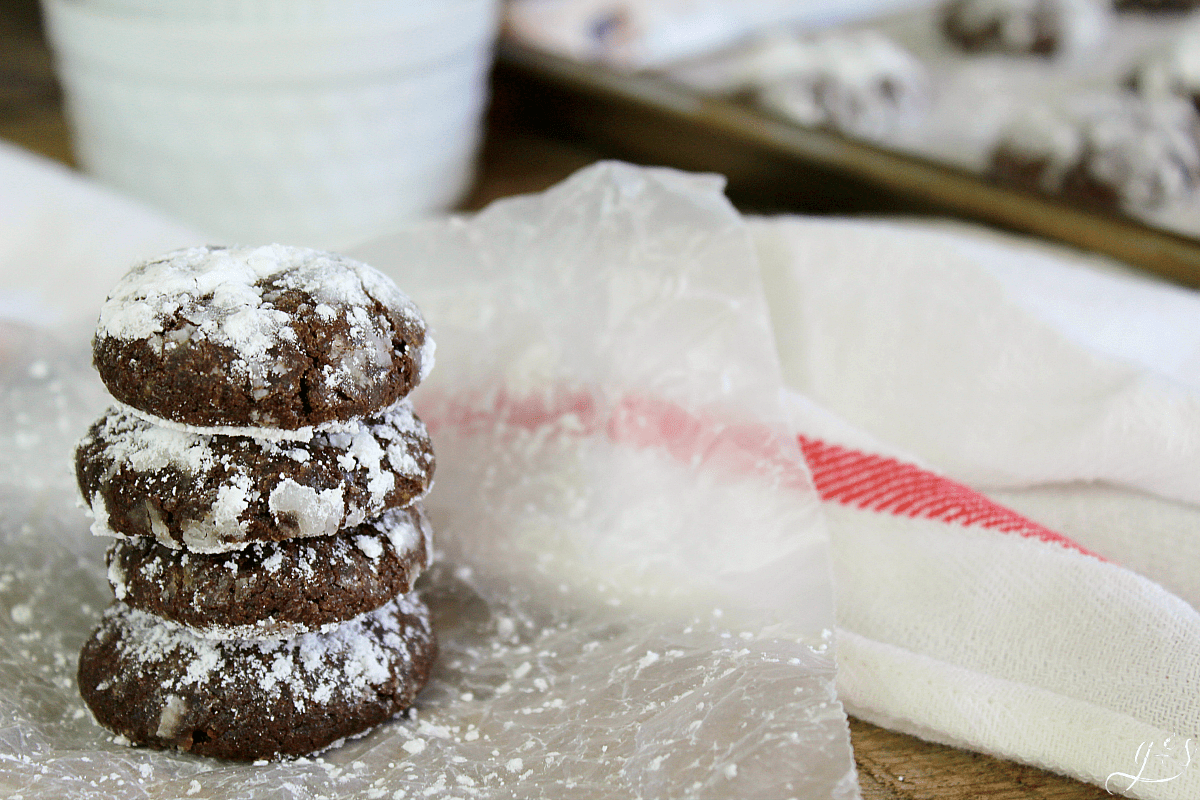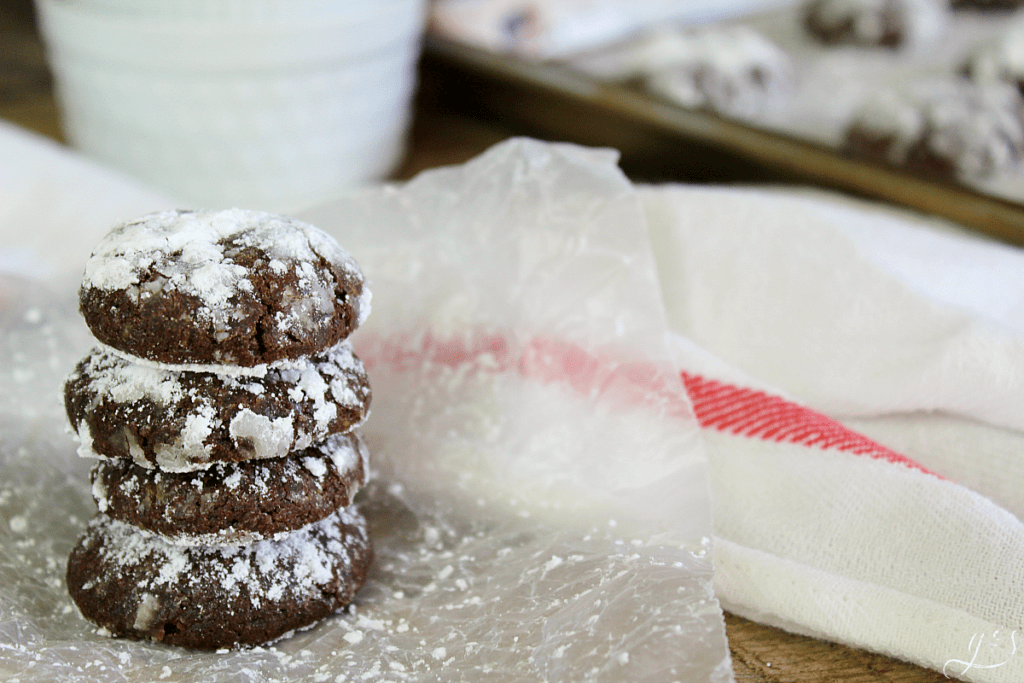 I used gluten-free flour, coconut sugar, and coconut oil. I wish I could say there is no refined-sugar in this recipe, but the look of "powdered" coconut sugar does not produce the pretty results that regular powdered sugar does.
However, by all means make powdered sugar from your coconut sugar by processing it in a food processor or Magic Bullet.
I chose to make these cookies into bite-sized portions, hence the name frost "bites". Yes, I am proud of myself for this creative title. 😉
They are still cookies, soft and sweet, but tiny versions. Gosh, they are just so cute.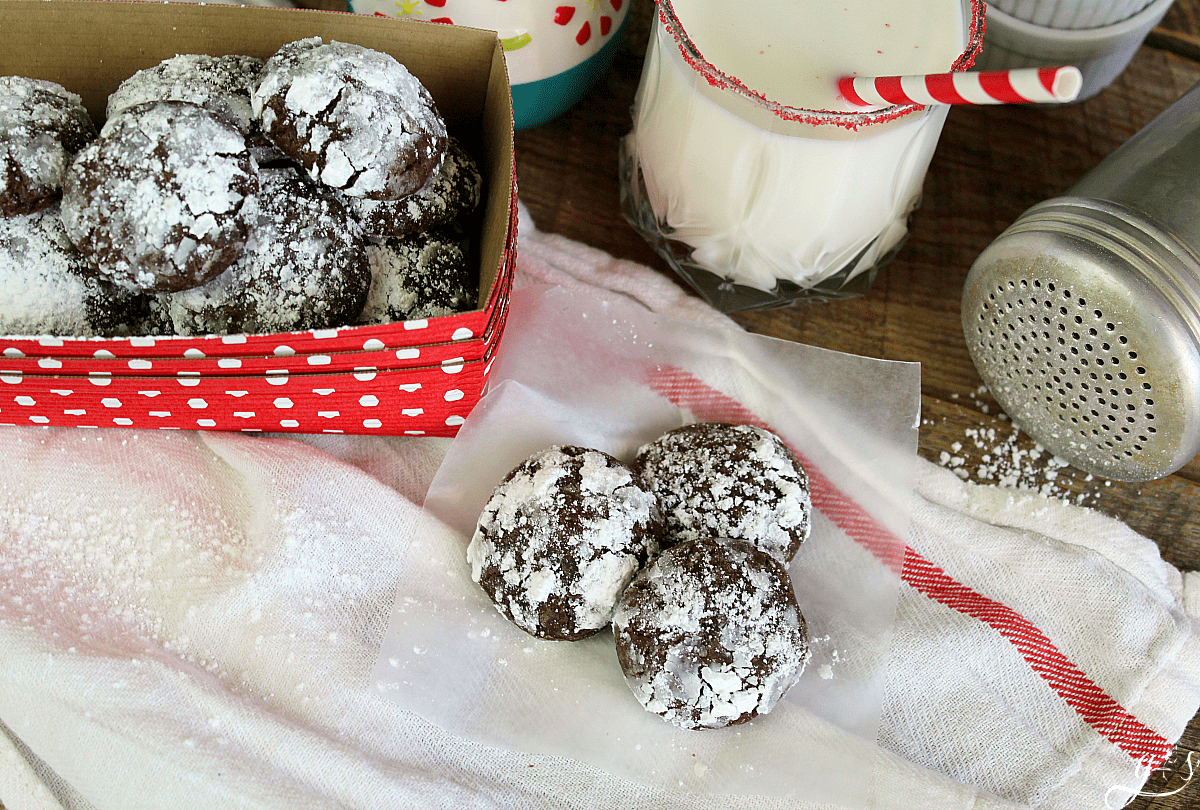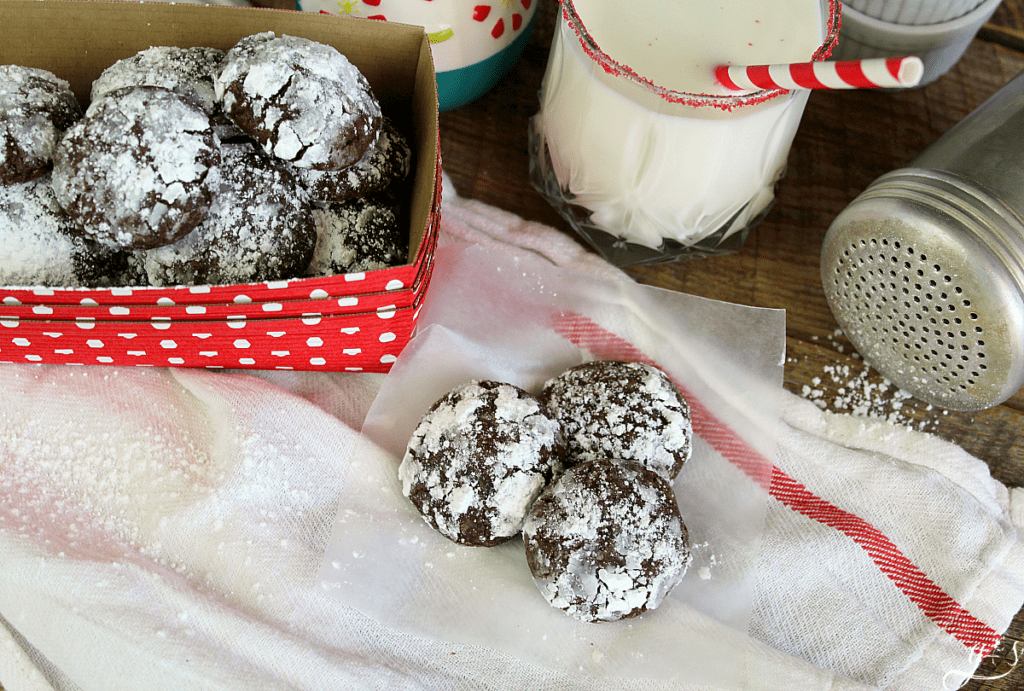 Wheat flour works well in this recipe if you have no need to make them gluten-free. You can also use regular sugar, but I prefer to use coconut sugar as it is a little healthier because it is less refined and is lower glycemic than table sugar.
Okay, enough of me blabbing. Let's get you that recipe for these Gluten Free Chocolate Crinkle Cookies! Toodles and happy baking!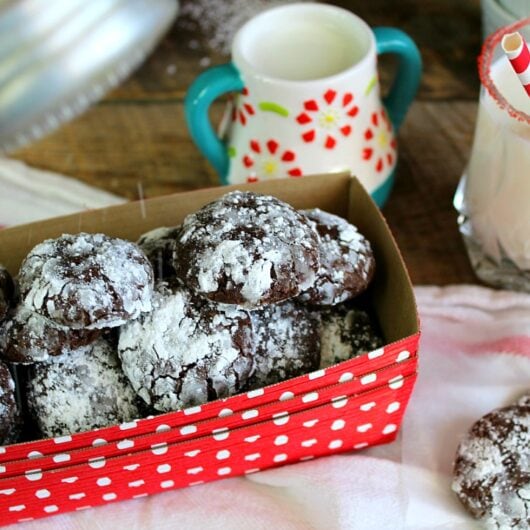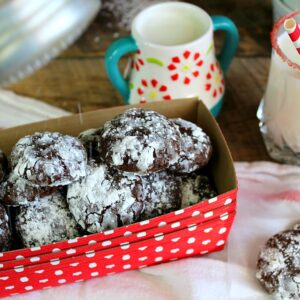 Print Recipe
Gluten-Free Chocolate Crinkle Cookies aka Frost"Bites"
This easy from scratch recipe uses gluten free flour, coconut sugar, and coconut oil. This bite-sized cookie is perfect for Christmas, the holidays, or any time of the year! This fudgy version is more healthy than the regular even with the small amount of powdered sugar. They are soft, moist, and chewy AND it will be so hard to stop at just one!
Ingredients
1

cup

gluten-free flour

1/2

cup

unsweetened cocoa powder

1

scant cup

coconut sugar

1

tsp

baking powder

1/4

tsp

salt

1/4

cup

coconut oil, melted

2

eggs

1

tsp

vanilla extract

1/3

cup

powdered sugar for coating cookies
Instructions
In a medium-sized bowl, mix the melted coconut oil, coconut sugar sugar, eggs, and vanilla with a whisk then add in baking powder, salt, cocoa, and flour. Plop (don't you just love that word? ha!) dough (it will be sticky) on plastic wrap and form into a ball or patty with the plastic wrap. Place dough in the fridge for at least 1 hour (up to 24 hours).

Pour the powdered sugar into a bowl and set aside.

Preheat oven to 350. Roll into small balls/bites. about 1"-1 1/2" in diameter. Roll balls in powdered sugar and place on parchment paper lined baking sheet. They will not spread much. I put 20 on one large sheet. Bake for 8-9 minutes or until crackled top. Do not over bake! Remember, they will continue to set while on the cookie sheet outside of the oven.

Remove from baking sheet after a few minutes and place on cooling rack. Store in an air tight container for a week. I place a cookie stone (link below) in there to keep them moist.
Notes
If you needing something to keep your baked goods soft try this terra cotta cookie stone aka "brown sugar saver". I soak mine for 30 minutes in a bowl of water, dry off with a towel, and place in a cookie container to help preserve the texture of the cookies.