I am just wrapping up my third season of gardening. We had the shortest growing season on record in the past 45 years, and on top of that, we were hit with 7 hail storms and 3 floods.
The weather has been anything but nice to us, but in the midst of it all, I learned so much about myself and the kind of person I want to be. 
I found my health in the country and our decision to live a more grounded lifestyle has impacted every aspect of our lives. I enjoy working with my hands, tenderly caring for my plants and nurturing their growth.  Each time I step foot in my garden I witness both vulnerability and strength.
I see the beauty of the emerging seedling, so much life contained in such a small package. Each moment I spend in my garden brings me one step closer to the life that I envision for myself.
When we built our home in the country, we decided to live a different kind of life.  We chose peace and tranquility over the hustle and bustle of the city.
It took time, but slowly I discovered a new purpose. Encouraging growth in my children, my friends, and my garden taught me that I was created to nurture others.
With my words, my actions, my hands, I help things grow.
About a month ago, I decided to "grow" my own personal blog at SarahKoontz.com.  It is so nice to have multiple places to publish my work and I truly enjoy being able to share another side of myself through this new platform.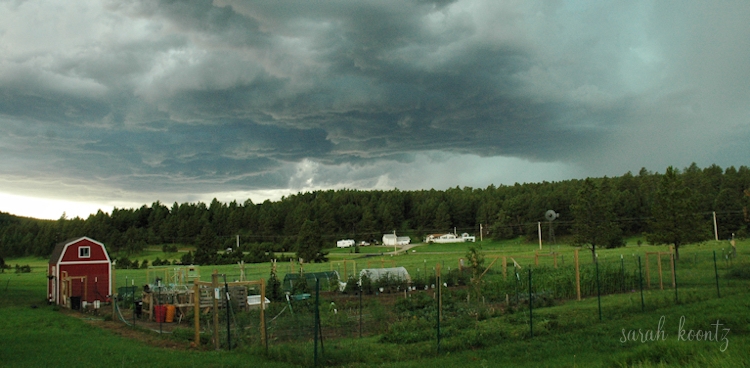 I have already written 13 posts at SarahKoontz.com, and I would like to share three of my very favorite articles about growth and gardening with you today.
I also had the privilege of writing a guest post for my friend Nicole at "Little Blog on the Homestead" last week.  It is entitled "10 Life Lessons I learned on the Homestead".
I had so much fun writing this article for Nicole's audience, but I feel like all of our readers who have enjoyed my gardening and chicken articles will also enjoy this one.
Thank you for all of the support and encouragement you have given Sammi & I through our first year of blogging.  We sincerely appreciate each and every share, question, like and comment we receive from our readers.
You encourage and inspire us each and every day to keep growing and sharing our lives with you.
In what ways are you growing alongside your garden?


This article has been shared at many of my favorite linkups.