By: Ray D. Strand, M.D.
I am very excited to introduce you all to my father, Dr. Ray Strand.  My dad is a physician who specializes in Nutritional and Preventive Medicine.  He has agreed to be a contributing author here at Grounded & Surrounded, and we couldn't be more thrilled! Sammi and I have learned so much about health and nutrition from this man, and you guys are going to love his educational articles.  Don't forget to enter to win our April ARIIX Giveaway GRAND PRIZE (details at the end of this article), and follow our social media channels all month long for our weekly FLASH giveaways. -Sarah
The other day I was making a rare visit to our local Starbucks to get some Refresh Tea, which is my wife's favorite tea.  The gentleman in front of me ordered a Grande Mocha with four extra shots of espresso.  Next, I stopped by the local convenience store to fill my car with gas and the lady in front of me in line was getting her 65 ounce Big Gulp soda.
Unfortunately the consumption of addictive stimulants like caffeine has become normal in our society and as the demand has increased so has the availability.  There is now a Starbucks, Seattle Coffee or some kind of coffee shack on every corner, and the sheer volume of soda that is being consumed is truly frightening.
Fast paced lifestyles, demanding jobs and the down economy are just a few of the reasons that people are fatigued, stressed out and just plain overwhelmed.  Where a cup of coffee or a can of soda used to be an occasional treat, it now seems to be a daily ritual for the majority of our society. 
I know how easy it can be to rely on that morning cup of coffee, or the quick pick me up that an energy drink will offer during the afternoon hours, but I hope that you will begin to think twice.  Not only are energy drinks harmful to your health, they are also counterproductive.   
What makes you feel good for an hour or two is the reason you are so tired later in the day and in need of another pick me up.
I would encourage you to keep track of the amount of caffeine that you are consuming on a daily basis, and work to lower that to an acceptable range.  If you are looking for an alternative option to consuming these harmful and addictive beverages, I think you will like what I have to say next.
The Healthy Alternative
ARIIX has developed a wonderful product called Rejuveniix.  This is a blend of some of the most potent superfruit antioxidants, booster blend, along with natural caffeine.  This is balanced with the addition of kava kava root extract that has a natural relaxation effect.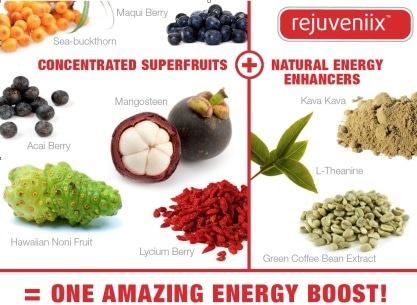 When you put all of this together you have a supplement that will increase your alertness and energy as it gives you additional antioxidant support, which will boost your immune function.
I have always promoted the concept of oxidative stress and that balance is the key.  You want to have more antioxidants on board than the number of free radicals you produce.  Rejuveniix provides excellent doses of a mixture of fruit bioflavanoid antioxidants that will help bring oxidative stress back under control.
It also adds natural caffeine and balances this stimulatory effect with the calming aspect of kava kava.   I recommend this product to anyone who desires more energy and alertness.  It is also a wonderful product for my patients who suffer from any kind of fatigue syndrome.
April Giveaway Details
We are excited to announce a month-long giveaway opportunity for our readers!  We will be giving away 1 bottle of Rejuveniix (a $75 retail value) through our social media accounts EACH WEEK throughout the month of April.  
You also can register below for our GRAND PRIZE drawing to be held on April 30.  The grand prize includes 1 bottle of Ariix Rejuveniix AND 1 Ariix Puriiti Water Bottle with Filter.  This grand prize is valued at nearly $200 retail.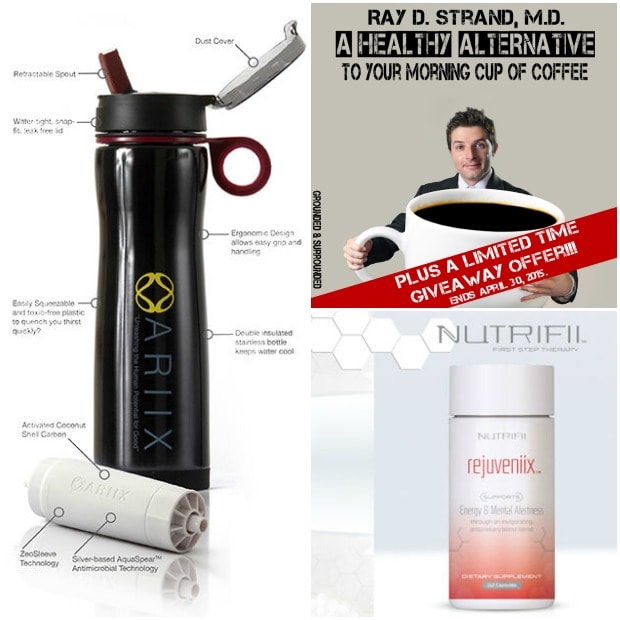 Be sure to follow our Social Media Accounts for updates on our weekly FLASH giveaways!  We could be giving away a bottle of Rejuveniix on Facebook, Twitter, or Instagram right now…….so don't delay!

If you are interested in learning more about ARIIX,  or receiving a 30% discount on all of their products, please let us know.  We have been Independent ARIIX Representatives since the company was founded 3 years ago, and we could not be more proud of the quality of products they  have to offer.  Sammi and I take the Ariix Nutrifii products daily, and we believe that nutritional supplementation is an essential ingredient for optimal health.  Click HERE to contact us for more info about ARIIX today!
Giveaway ends April 30, 2015. Open to Residents of the US only.  The winner will be selected by Random.org and be notified by email. Winners have 48 hours to respond before a new winner is selected. Please note that Sammi Ricke & Sarah Koontz are Independent Ariix Representatives and are providing the product with their own funds, this is not a sponsored giveaway.  The product offered for the giveaway is free of charge, no purchase necessary. Our opinions are our own and were not influenced by any form of compensation.  Facebook, Twitter and Google+ are in no way associated with this giveaway.  By providing your information in this form, you are providing your information to Grounded & Surrounded.  We do not share or sell information.  We will use your information solely for our weekly newsletter list and for notifying the winner.  You can opt out of the e-mail newsletter at any time.