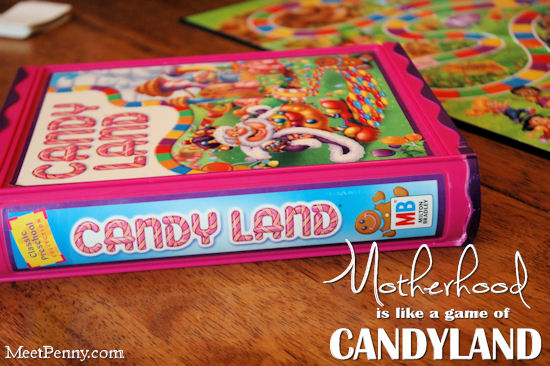 On those days when you feel as though you are moving backwards, remind yourself of this important fact: Motherhood is not nearly as much about racing to the finish line as it is about becoming a better version of yourself.
Candy Land was one of my favorite games as a child.  It is so bright and colorful, and I just love it when you get the special cards that transport you closer and closer to the finish line.
As a grown up, I find this game to be far less enjoyable and sometimes downright frustrating.  All that work to move forward, only to find yourself transported back to the Peppermint Forest.
I have discovered many similarities between the game of Candy Land and the early seasons of motherhood.
To read my full take on the subject, CLICK HERE to check out my guest post on MeetPenny.com.