Dishes are piled up in the sink.  You're pulling clean underwear out of the dryer for your potty training toddler.
Your kids need a bath (and a mommy-powered-tooth-brushing).  Dinner is looking like frozen pizza (again).
And you're pretty sure you didn't win any awards for "the Most Patient and Gentle Mom" today.
By: Sarah Koontz
You snap a shot of your depressing laundry pile after the kids go to bed and share it on Instagram with a self-deprecating comment and the hashtag #momfail.
It's only meant as a joke, of course, but deep down it feels a little truer than you wish it did.
If this sounds even remotely familiar, you need to know two things:
You are not alone. Most of us feel this way far more than we ever admit.
You're doing better than you think.
This article is for all of the moms out there who wear self-condemnation  like a weighted garland around their neck; women who are on the verge of drowning in the ferocious sea of guilt.
There was a time in my life when I too was drowning in a sea of mommy guilt.
With each new milestone my baby met, I found myself sinking all the more; violently thrashing to stay just above the waterline.
My personal sea of mommy guilt was filled with a multitude of vicious predators.
           The expectations of others.
           My desire to be a perfect mom.
          The responsibility I felt to do right by my children.
Even the few successes I managed to claim as a young mom were overshadowed by the guilt I felt when I failed.
I've finally broken free from this self-destructive cycle and I want you to experience freedom too!
Never underestimate the power of a REFRESHED perspective.
Here is my list of 10 things every mom needs to hear on the hard days:
You are doing better than you think, and your mom friends who look like they have it all together probably don't.
The simple phrase, "I'm Sorry" transforms  mothering mistakes into mentoring moments.
You are beautiful in sweatpants, a coffee-stained tee and a messy bun.  But a quick shower and costume change has the power to transform your perspective.
Kids grow up fast!  So, if you are feeling stuck in a certain season of motherhood, take courage in the fact that it will soon be over.
A good night sleep changes everything, and nothing at all.
Your kids don't need you to be perfect, they just need you to be present.
Feeling Overwhelmed?  Stop what you are doing and write a quick to do list (aka a brain dump).
God loves you.  He handpicked you for this task, and He will also equip you for it.
Everybody has bad days, but we don't have to allow our failures and weakness to define us.
YOU ARE NOT ALONE!
Our job is so important, and we really want to do it right.  But so often, we end up feeling discouraged and even like we're failing.
I think the main reason we get so down on ourselves is because mothering is a rather isolating venture.  Sure, we have mom friends.  And sure, we try to be open and honest when we get together for that occasional cup of hot coffee.
But the truth is that we often feel alone as homemakers.  
That's why you've got to check out  The Ultimate Homemaking Bundle 2016.
This sale has now ended.  Please sign up for our newsletter to be notified of future bundle sales.
It's a curated collection of 93 eBooks and eCourses to give you the resources, inspiration and encouragement you need to help you win at homemaking and mothering.
To make you feel less alone and to bolster you in the work you're already doing.  Because every awesome, hard-working mom deserves a little help sometimes.
This post includes affiliate links. Click here for our full disclosure.

The Ultimate Homemaking Bundle includes 93 hand-picked eBooks, eCourses, and printables, on topics that matter to moms such as:
organization, routines & creating a cozy home
recipes, grocery shopping and meal planning
budgeting and saving money
motherhood (no matter what age your kids are)
cultivating a strong marriage
faith (for you & your kids)
and even self-care (like exercise, weight loss, life planning and coloring books!)
and much more…
You have a full year to download the eBooks and printables and take the online eCourses, and everything you've downloaded becomes part of your permanent library, so you can go back to it whenever you need it.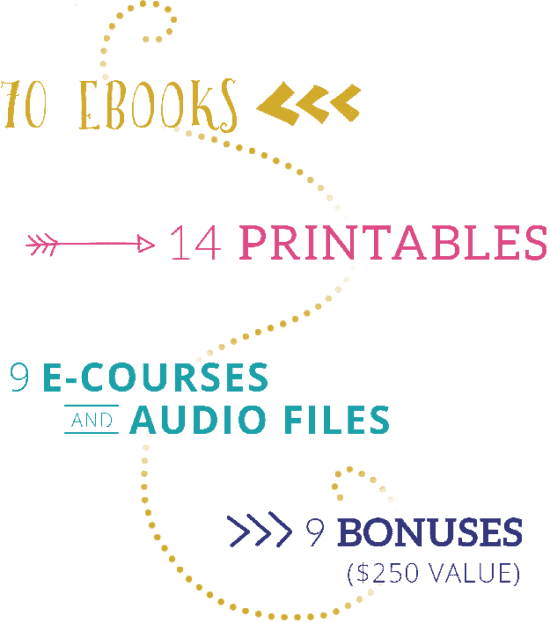 Plus, it comes with these FREE bonus offers from companies who know what homemakers need and want. Some are 100% free; other are yours for the cost of shipping only. You'll get:
It's available for just 6 days – from now until Monday, May 2nd, 2016 at 11:59pm EST.

The total value is an astonishing $1000+ (plus over $300 in bonuses), but you get it for just $29.97. That's 97% off what it would cost to buy everything individually!
I bought the 2015 version of this bundle and have truly enjoyed utilizing the resources this past year.  I remember how much I wavered on whether or not to buy, because if you are anything like me, $30 is still a lot of money to spend on something like this (even if it has a huge value).
I can tell you, from the bottom of my heart, that it is well worth the investment.
Go  HERE to see exactly what it includes and grab yours before this deal ends!
This article has been shared at many of our favorite Linkups.