I love a 5 minute Christmas Gift Project!
This Peppermint Foaming Hand Soap is quick and easy to make, and will end up costing you less than $3 per gift.
This is an excellent price range for teachers, neighbors, and acquaintances.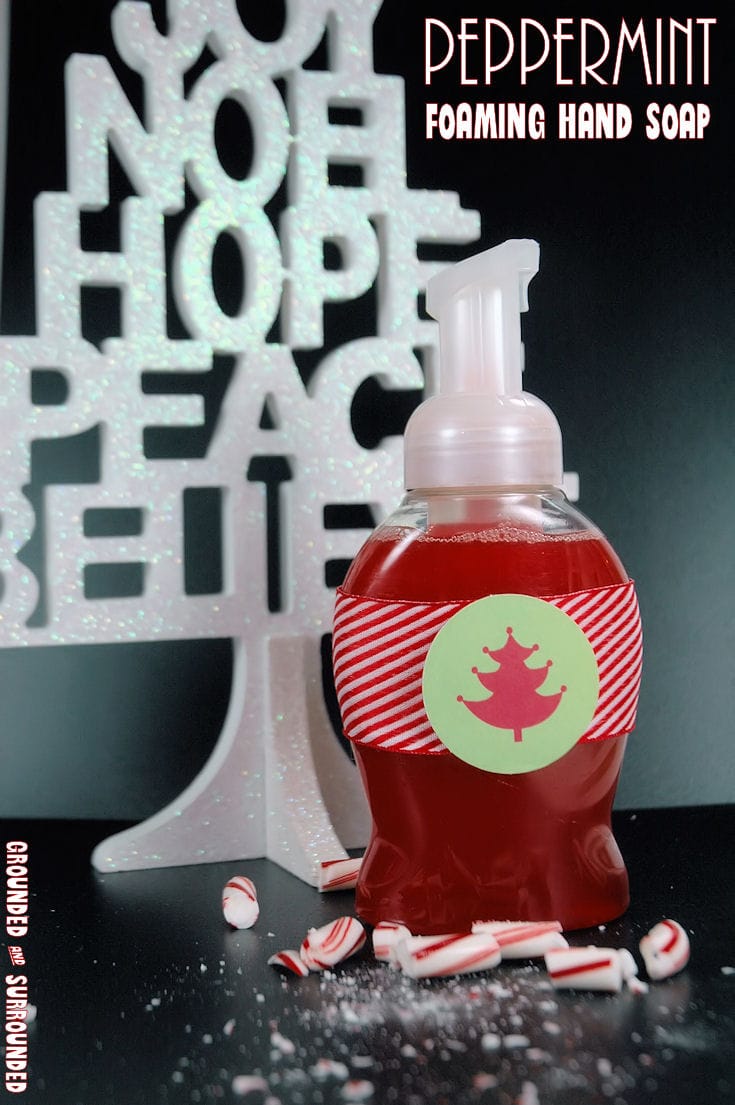 I started making my own foaming hand soap a few years ago, and will never go back to buying the stuff. I was originally inspired by this article written by Erin at the Humbled Homemaker.
I suffer from chemical sensitivity. My liver does not detoxify properly, so I can easily get buildup in my body and become toxic. Because of this, I choose to make most of my own natural cleaning products and personal care items.
It was a bit overwhelming at first, but I have found it to be better for my health, simple, and more frugal than the store bought alternatives. The best resource I can recommend for someone who is interested in getting started down this path is the Simply Clean e-book offered by Frugally Sustainable.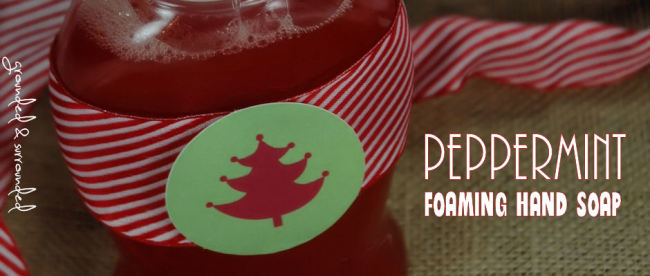 You can make your own Peppermint Foaming Hand Soap in three simple steps!
Make 10 bottles, and you will have enough to give as gifts this holiday season!
Step 1: Gather your Ingredients.
Foaming Hand Soap Dispensers: I recommend saving and reusing old dispensers for this project, but if you don't have 10 of those laying around, the best price I have found is at Bulk Apothecary. They are 89 cents each plus shipping and handling. Be sure to look for an online coupon code HERE before you check out, I was able to score an additional 10% off my order.
Dr. Bonners Peppermint Castille Soap: This is a staple product in my home, so I always have it on hand. But if you need to purchase it, I recommend your local Target store. The 16 ounce bottle is going to cost you about $10, but it will last quite a while!
Peppermint Essential Oil: You can purchase this from Bulk Apothecary when you order your dispensers, or you can pick it up from your local health food store. A small bottle will cost you between 3-5 dollars. Here are 20 other uses for Peppermint Oil if you are interested.
Red Food Coloring (optional): Most of you will have this on hand.
Step 2: Make your Soap.
Fill your dispensers approximately 1/3 full of the Peppermint Castille Soap. You can increase the amount to 1/2 of the bottle if you want to have a richer foam. Then add hot water until the dispenser is about 90% full (don't overfill because the foaming pump takes up quite a bit of space!). At this point, you have foaming hand soap. But if you want it to smell a bit more like peppermint, add 5-10 drops of peppermint essential oil. You can add the red food coloring at this time too. I have a little whisk I like to use to stir it up before I put the lid on, but you can also screw the lid on and gently shake to mix. The hot water will help everything along.
Step 3: Decorate your Bottle.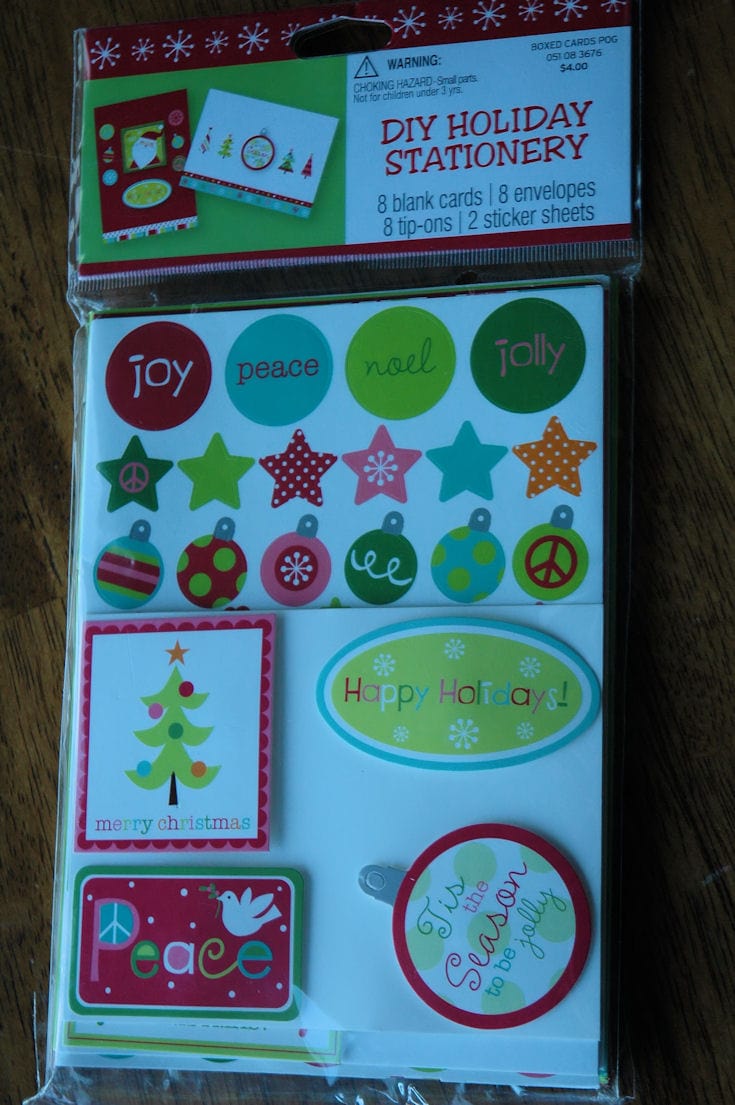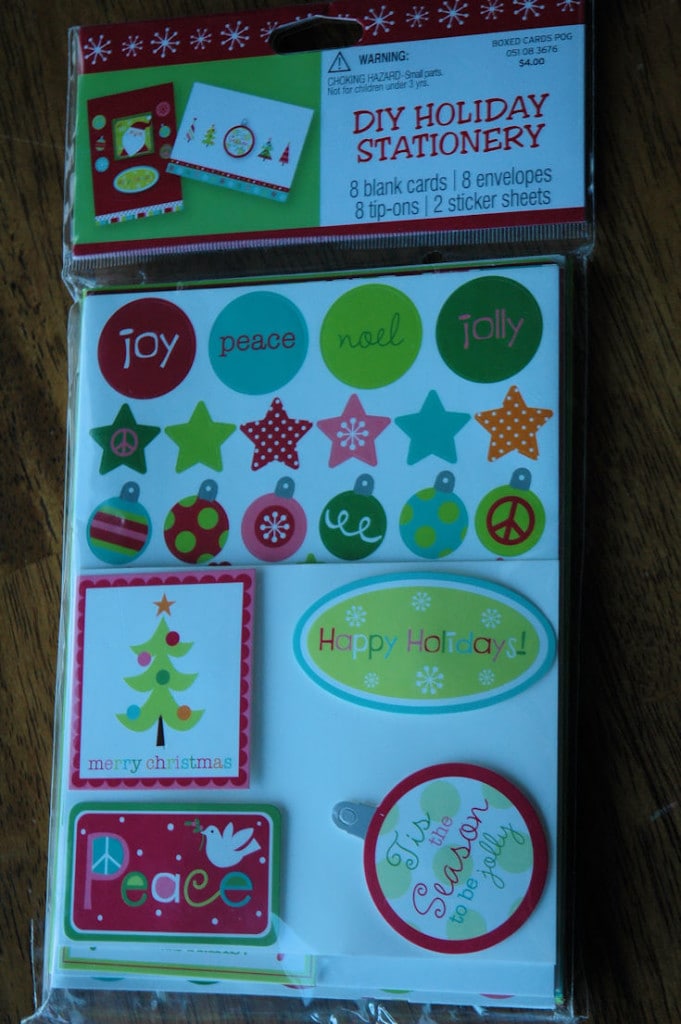 There are a million things you can do to decorate your bottle for the season. But I simply take a piece of ribbon and hot glue it on. For embellishment, I like to go through my old Christmas cards and use bits and pieces of them (can you tell that I am all about reusing stuff?!?). For this picture, I added embellishment from a christmas card making kit I picked up in last year's after Christmas clearance section. Here is a photo if it if you are interested. But you really can't go wrong here, just keep it simple!
That is it. Making 10 of these takes about 30-45 minutes and it is a great project to include your kids on. Most people who come to my house and use my soap have no idea I made it myself. I hope you give it a try and let us know how it turned out for you! If we have at least 5 people post pictures of themselves with their homemade Peppermint Soap on our facebook page by December 31, they will all be entered in a drawing for a $5 Starbucks gift card. Thanks for reading!
#DIY Peppermint Foaming Hand Soap for your #home or as a #gift ! #healthyliving #fun
Click To Tweet