By: Sammi Ricke
I'm going to share a little secret with you all. Hmmmm, how should I put this? This may be totally shocking to you. Brace yourself. Healthier versions of desserts don't always taste as great as rich, sugar-laden, not-so-healthy desserts. You are completely surprised right now aren't you? 😉 I will let you in on another little secret….these Secretly Skinny Double Chocolate Brownies are the exception! I feel as if I have done the impossible, I have made the not-so-healthy chocolate brownie HEALTHY AND DECADENT! The stars aligned and it just happened.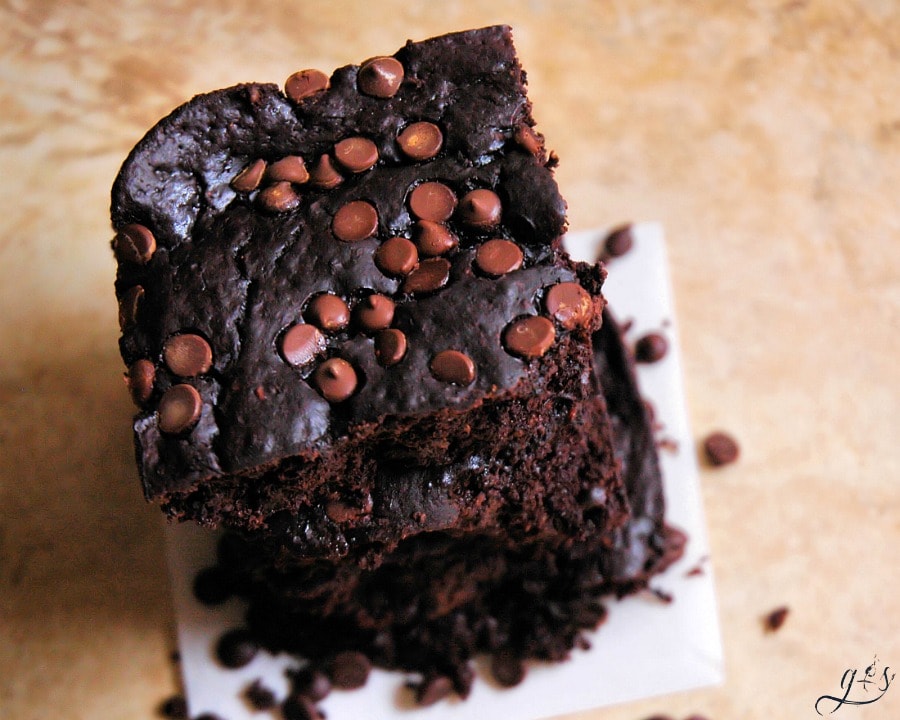 These double chocolate brownies are every bit as indulgent and rich as they sound and only 100 calories per normal sized piece. I say "normal sized piece" because sometimes some people claim such low calories in their desserts, but when you get down to it they are literally offering you a bite-sized piece of cookie or cake. Not cool people, not cool. Ha! This recipe makes 9 regular sized brownies at less than 100 calories per piece, 93 calories to be exact 🙂 These make the perfect dessert for any occasion. They were the perfect treat at a Mother Daughter Date Night Sarah and I did with our girls!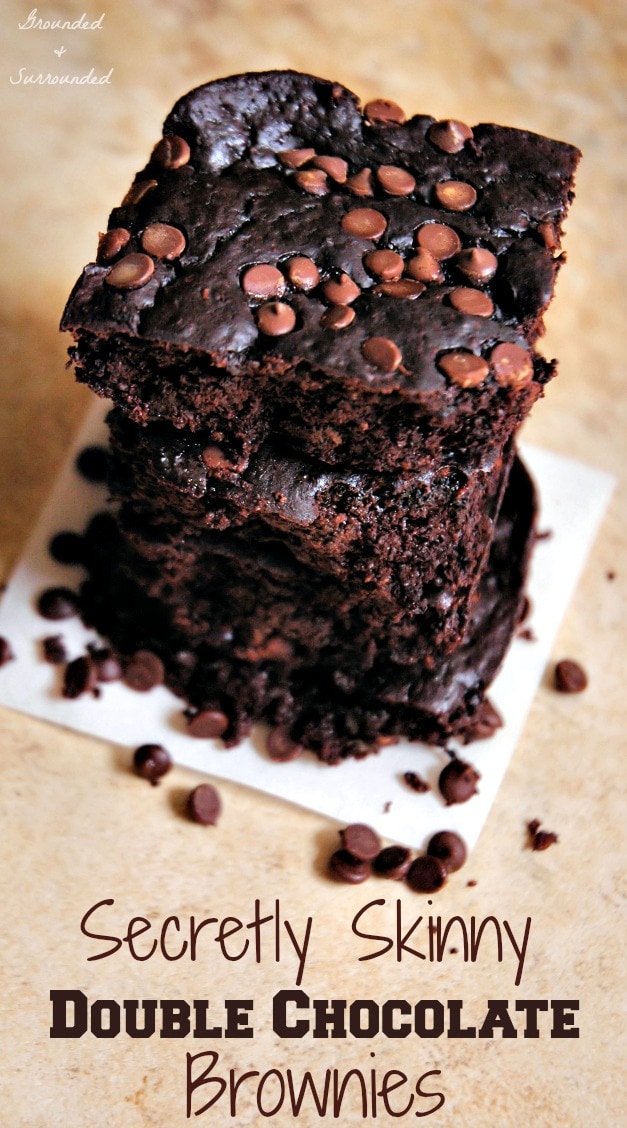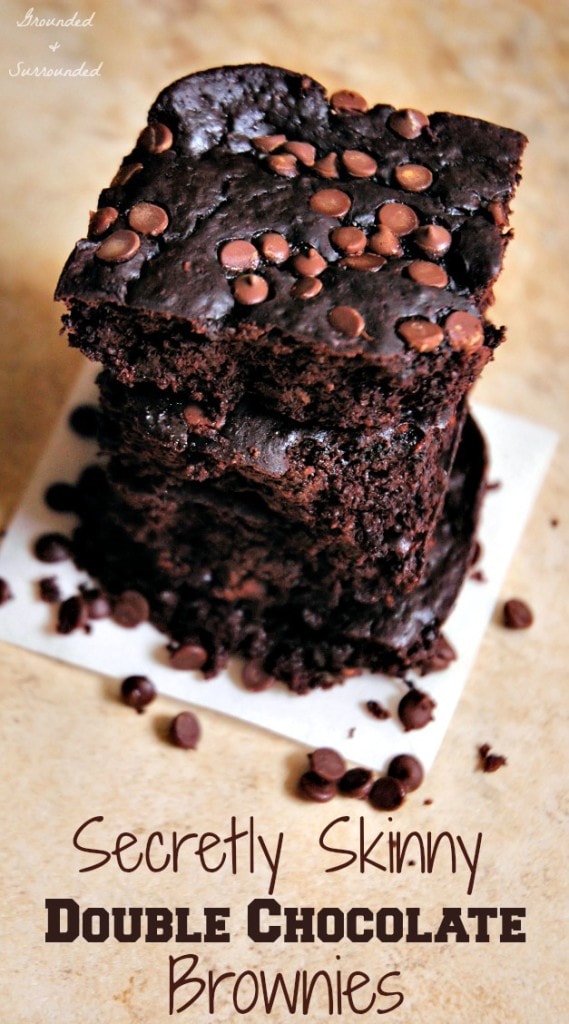 I am not sure how it has happened, but I feel like it has become my life's work (because us wife and mommies don't have enough to do ;)) to come up with healthier versions of meals that are typically full of refined sugar, unhealthy fats, and/or processed foods. This mission, so to speak, is a lot of trial and error. Do you remember our Clean Eating Donuts? I am guessing I baked at least 10-15 batches of those babies, and these brownies were no exception. However, there is nothing more satisfying than finally perfecting your recipe masterpieces!
So these brownies are the real deal! They are dense, moist, oh-so-gooey, and rich in chocolate flavor. They do not contain any flour, just oatmeal so they are gluten-free. No oil was used, instead yogurt and applesauce were added. And coconut sugar and powdered Stevia in place of white sugar. If you are not familiar with coconut sugar, here is a great article: Coconut Sugar – Healthy Sugar Alternative or a Big, Fat Lie? I am a little obsessed with coconut sugar because I love the flavor and using it as a lower glycemic alternative to refined sugar just makes sense to me.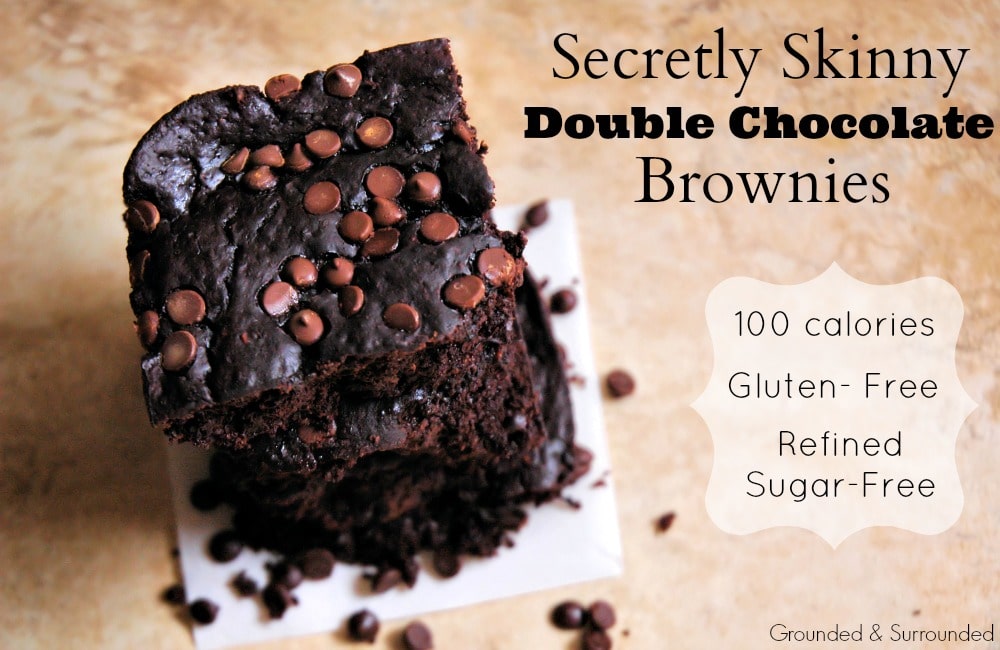 I am SO excited to finally be able to share with delicious recipe with the world! I just know you will LOVE it!
Tell me, what recipe should I try to "healthify" next?
Follow Grounded & Surrounded Blog's board Healthy Dessert Ideas on Pinterest.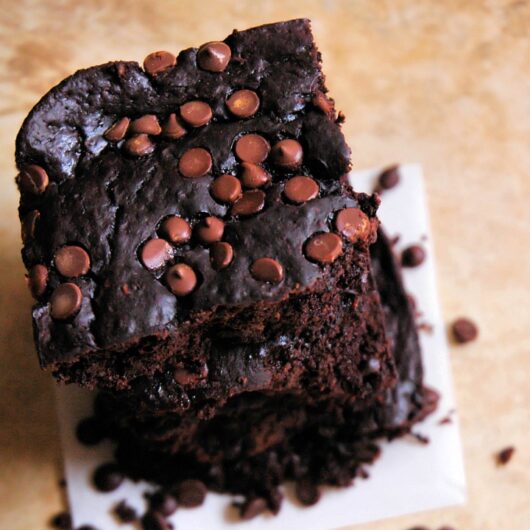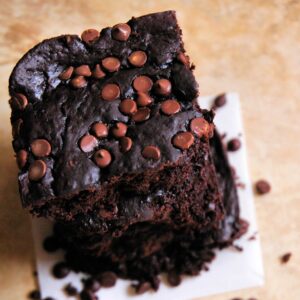 Print Recipe
Secretly Skinny Double Chocolate Brownies
These gluten-free and refined sugar-free brownies are every bit as indulgent and rich as they sound! At less than 100 calories per brownie, you will not feel guilty indulging in these! They are definitely the real deal with their dense, moist, oh-so-gooey, and rich chocolate flavor in every bite. Find more recipes at groundedandsurrounded.com
Ingredients
1/2

cup

old fashioned oatmeal

1/2

cup

cocoa powder

1/2

cup

plain Greek yogurt

1/4

cup

coconut sugar

1/4

cup

almond milk (I used cashew milk)

3

Tbsp

egg whites

2

Tbsp

unsweetened applesauce

1

tsp

baking powder

1/2

tsp

baking soda

1

tsp

vanilla extract

1/8

tsp

stevia powder

4

Tbsp

Enjoy Life mini chocolate chips
Instructions
Preheat your oven to 400 degrees Fahrenheit. Lightly spray an 8x8 glass pan with non-stick cooking spray. Set pan aside.

Add all ingredients except the chocolate chips to your food processor and blend until all ingredients are incorporated. Then add in 2 Tbsp of your chocolate chips and pulse just until chip are incorporated into the batter.

Pour batter into the greased glass pan. Smooth out the batter and top with the remaining 2 Tbsp of mini chocolate chips.

Bake for 20 minutes or until top has cracked. The brownies should be set, but an inserted toothpick should not come out completely clean. If it does they are over baked.