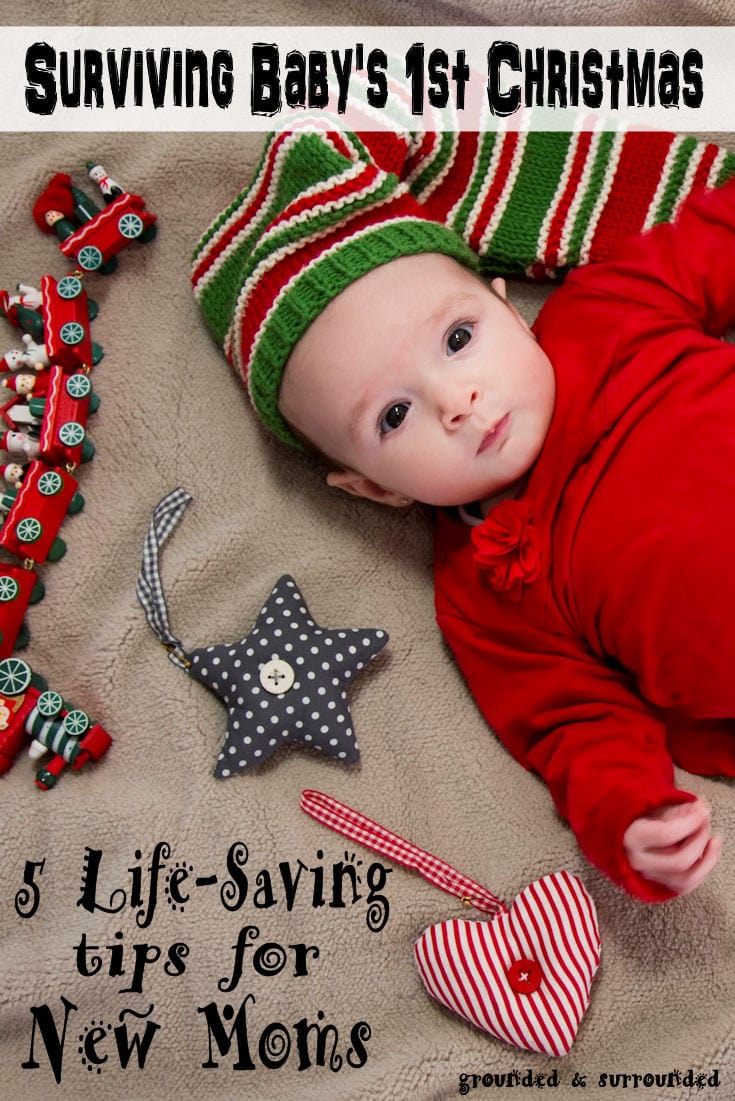 By: Sarah Koontz
Can you believe that the Holiday Season is upon us?  Snow on the ground, turkey in the oven, hot cider in my mug, and friends and family around my table are just a few of the things that I enjoy about this time of year.
I am that person who normally has my house completely decked out in Christmas Cheer by bedtime on Thanksgiving Day, and wraps up my Christmas shopping on Cyber Monday….sometimes sooner!
I prefer homemade gifts to store bought, and often invest countless hours into creating the perfect gift for someone I love.  I treasure the family gatherings and the traditions that accompany the season, frequently spending weeks in anticipation as those precious moments draw near.
But having a baby changes everything!  This is the story of how I survived my first Christmas as a mom, and a few lessons I learned along the way.
Being a mom to young children is tough!  Whether you have a breastfeeding baby, a newly mobile crawler, a tantrum-throwing toddler, or a chatty preschooler…it is easy to become overwhelmed.  Add in the frenzied preparations that accompany the holiday season, and you may find yourself ready to throw in the towel and give up entirely!
When I became a mom, the excitement that used to accompany the arrival of the Holiday Season was quickly replaced with trepidation. Whether it be planning a long road trip to see family, or trying to host out of town guests, I'll be the first to admit that the holidays are just not as relaxing as they were pre-kids!
I realized that things change as you get older and enter new stages of life, but I want to find a way to enjoy this time of year again!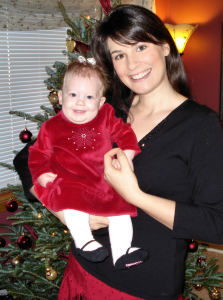 I remember my first Christmas as a mom.  My little baby was 4 months old, and I was so looking forward to spending time with family!  Since I was the first of my siblings to have a child, no one else understood the necessity of our schedule and the importance of nap-time (yes, it was sacred!).
So they just celebrated as they always have; enjoying late breakfasts, frequent shopping trips, eating at restaurants, and our annual Christmas afternoon trip to the movie theatre.  I was beside myself!  I felt like I missed out on everything!  Either I was nursing a fussy baby, trying to get her to sleep in a strange place, or hiding at home because I didn't have the energy to deal with it all!
And the worst part was that no one seemed to notice (except my doting husband….thank God for him!).
Have you had a similar experience?  Are you one of those people whose family expects you to drive ½ way across the country to visit for the holidays, just because that is what you've always done?
Not taking into consideration the fact that you just had your second child and are completely overwhelmed with the thought of being stuck in the car for 12 hours with a cranky toddler and a nursing baby.
I know that our families love us, and are excited to embrace the littlest members of the clan, but sometimes they fail to recognize what their holiday expectations are doing to us young mothers.  What can we do to alleviate this stress?
5 Life-Saving tips for New Moms
1. Don't be afraid to try a new tradition if the old one just doesn't work for you anymore.
2. Have grace for family members who "just don't get it".
3. You are not superwoman, know your limits!
4. Say no to the things that don't really matter so your kids can be rested enough to enjoy the things that do.
5. Remember that all too soon our children will be grown and we will miss this season of our lives (and all the craziness that goes along with it).
This picture was taken a few short years after my first Christmas as a mom.  It is of my two older brothers with their very young sons.  That was my favorite post-mommy Christmas to date.  The fact that we all had children changed everything.
And I was actually the most relaxed parent of the group!
Christmas has now become a very family-friendly affair, and I am glad I was able to encourage and support my brothers and their wives as they learned how to survive their baby's first Christmas.
There have been many years that I haven't had the energy to make make homemade gifts, but I choose not to feel guilty about it.  I have been forced to retire early from more than one Christmas Party, but I know that is what I must do to avoid the meltdowns that accompany late nights out with my children.
And most importantly, I am learning to focus my time and energy on my beautiful young family;  giving myself permission to let some of the other things slide.  What will you let slide this year so that you can have energy to focus on what really matters?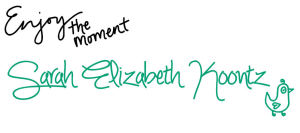 title photo credit: shisuka25 via photopin cc