Want to build a healthier family life, but don't know where to start?
Unfortunately, there is no magical formula, no secret recipe and no simple way to cultivate a healthier family.  You've just got to try!  And keep trying until you find what works for your unique version of "The Brady Bunch."
In this article, I'm going to share my #1 secret for building a healthy family and some amazing resources to help encourage and inspire you to begin making positive changes today!
By: Sarah Koontz
Many families succeed at being healthy in one segment of their life while allowing unhealthy habits to go unchecked in another.  You may be good at preparing nutritious food for your family, but your daily  schedule is so packed that you never have time to sit down and connect on an emotional level.  You may be nailing it in the "quality time" department, but struggle with overwhelm on a daily basis (dishes, laundry, carpool, dinner prep….aaaaaaaaahhhh!).
Each positive change you make will improve the quality of your family life and bring you one step closer to having a healthier, happier family. Building healthy habits within your family  requires persistence, practice, and just a bit of know-how!
Building a healthier family life requires a can-do attitude and just a bit of know-how!
Click To Tweet
As I have journeyed toward a healthier family life, I have discovered the secret to success is quite simple:

Share this quote:  Facebook  |  Twitter  |  Pinterest
Comparison cripples our efforts, it limits our ability to learn from and be inspired by others, it traps us in a destructive cycle of self-effort and nearly guarantees failure.
The resources I am going to share with you today have the power to transform the fabric of your family life, but if you get stuck in the comparison trap, you will never fully benefit from them.
The 7 women who developed these resources are far from perfect, yet there is much we can learn from each and every one of them.  They have done the hard work of building a healthier family and created powerful tools to help you do the same.
---
by Tsh Oxenreider at The Art of Simple ($59)
Why I love it:  First of all, I'm a huge fan of anyone who promotes swimming against the current.  Secondly, I'm ready to leave behind our culture's expectations and find out what my family's purpose is….aren't you?
This guide includes all forms of media.  Podcasts, downloadables, facebook community, and even music playlists to get you head space where it needs to be to make a game plan that works for you!  I'm sold!
---
By Arabah Joy at ArabahJoy.com ($15.00)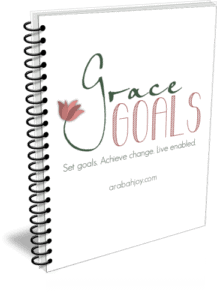 Why I Love it:  Let's start by establishing the fact that Arabah is one of my very favorite bloggers.  I have had the privilege of reviewing her "Trust without Borders" book and I always find encouragement and hope in her words.
This resource is life-changing.  People just can't say enough good things about it & I love the focus of the book: Grace Goals is a Scripture-saturated resource designed to help you revolutionize your goal setting, cultivate vision for your life, work in conjunction with God's Spirit and achieve godly change. Yes, please!
---
by Kayse Pratt at The Only Hope I've Got ($17.99)
Why I love it: I'm not going to lie, the name of this e-course pulled me in.  What mother doesn't feel overwhelmed 99.9% of the time?  I love how she focuses on "setting boundaries to protect your schedule and your family."  I am a huge fan of margin and routine and am always looking for like-minded women to learn and grow with.
I'm also a huge fan of drip e-mail courses (in fact, I have my very own free e-mail course on healthy living) and printable worksheets, so I say this e-course is a no brainer.
---
by Saren Loosli at Power of Moms ($18)
Why I Love it: Are you really inviting me to eavesdrop on a series of 18 fun and meaningful conversations between a mother and her grown daughters?  That's #awesomesauce!  Podcasts are the "fast food" of the internet because you can grab them quick and listen on the move.
I love the wide varieties of topics included in this series: discipline, routine, gratitude, dealing with hard days and finding contentment in your role as a mother.
---
by Myquillyn Smith at Nesting Place ($29)
Why I love it: If podcasts are the fast food of the internet, then video courses are fine dining!  This course includes 20 videos and teaches you how to do some pretty "super-mom" things like using your frustration as a weapon to fight the chaos of a messy home,  make friends with empty surfaces, the difference between storage and decor, and how to take control of the toy situation.
---
by Kimberly Sourgius at Not Consumed ($15.00)
Why I Love it: One of the most healthful habits I've established in my life is a regular quiet time.  I know it is important to teach my kids how to study the Bible, but let's be honest….I'm sort of intimidated by the whole idea!
I love how Kimberly offers a practical step-by-step approach to Bible study and encourages kids to begin keeping a journal.  On top of that, she offers a three-part series to help us parents help our kids through the book.  I am open to all the help I can get in this department!
---
by Aby Garvey at Simplify 101 ($49.00)
Why I love it:  I am desperate to make the most of the time I have here on earth, but somehow the time keeps getting away from me.
I could use some help from an expert to become more intentional with my time, along with tools and techniques to help me make efficient use of my time.  This course is PACKED with valuable information and even includes access to a community to help you stay accountable and succeed!
---
So, are you ready to break free from the comparison trap and lead your family on their own healthy living journey?
Many people who promote healthy lifestyles only focus on the physical body but I have discovered that there is so much more to healthful living than just the condition of our physical body. We must also be aware of emotional and spiritual stumbling blocks that will cause our health to spiral quickly out of control.
7 Powerful Tools to Help You Cultivate a Healthier Family Life
Click To Tweet
I hope these tools and resources give you a jump start on the whole process of building a healthier family THE RIGHT WAY.  Remember, it's your job to do the best with what you have.  Nothing more, nothing less!
Which resource in this looks the most interesting to you? I'd love to chat with you about it in the comments.