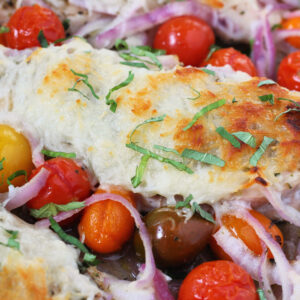 Print Recipe
Bruschetta Chicken Sheet Pan Dinner
This healthy and low carb sheet pan meal is perfect on nights when you need easy meals. Add chicken breasts, Italian seasoning, colorful cherry tomatoes, red onion, and mozzarella cheese for the best oven baked meal! You can substitute other gluten-free vegetables like broccoli, potatoes (cauliflower), or green beans too. Clean eating and meal prep have never been so delicious!
2

cups

colorful cherry tomatoes

1

red onion, sliced thinly

6

Tbsp

extra virgin olive oil, divided

1

tsp

garlic powder

1/2

tsp

salt

4

chicken breasts

1

Tbsp

Italian seasoning (see recipe notes)

1

cup

shredded mozzarella cheese

5

basil leaves, julienned

balsamic glaze (optional)
In a large bowl, gently mix together cherry tomatoes, sliced red onion, 2 Tbsp extra virgin olive oil, 1 tsp garlic powder, and 1/2 tsp salt. Set aside while you prepare chicken.

Preheat oven to 400F.

On a baking sheet, place the 4 chicken breasts. Pour 1 Tbsp of extra virgin olive oil on each chicken breast and make sure each side is coated. Next, season each side of the chicken breasts generously with Italian seasoning, salt and pepper.

**Have you ever had chicken that was over-seasoned? Me neither! Don't be afraid to sprinkle more salt and pepper than "feels comfortable".**

Pour marinated tomatoes and onions on sheet pan in between chicken breasts.

Lastly, top each chicken breast with 1/4 cup shredded mozzarella cheese. Bake for 30 minutes or until chicken is cooked through and cheese is melted.

Remove from oven and let cool for 5 minutes. Sprinkle pan with chiffonade (sliced thinly) basil and drizzle with balsamic glaze (optional). Store leftovers in the fridge...if you are lucky enough to have any!
*I make my own Italian seasoning, because I don't prefer the ones sold in most grocery stores. Most of the store-bought varieties only contain basil, rosemary, oregano, and thyme. However, I want garlic, onion, and salt in there as well. I'm extra like that. Ha! So if you are using a store-bought variety, make sure to add a little garlic powder to the chicken along with the Italian seasoning.