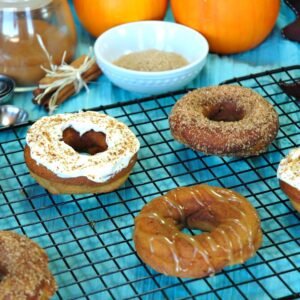 Print Recipe
Purely Pumpkin Baked Donuts 3 Ways
How sweet it is to bake healthy, gluten-free, and delicious donuts with all the flavors of fall! This seasonal breakfast is packed with flavor, yet low in calories. The best part about these skinny pumpkin donuts is that you can choose your favorite of 3 topping recipes! These are a perfect option for anyone choosing a clean eating or whole foods lifestyle! Find more healthified recipes at groundedandsurrounded.com
Maple Cream Cheese Frosting
1

oz

cream cheese, room temp

1

Tbsp

maple syrup

1

tsp

milk
Maple Coconut Butter Glaze
1

Tbsp

maple syrup

2

tsp

coconut butter
Cinnamon and Sugar Topping
2

Tbsp

butter, melted

3

Tbsp

sugar

1

tsp

cinnamon
Donuts
Preheat oven to 375F. Spray donut pan with non-stick cooking spray.

Mix dry ingredients together in small bowl. Mix wet ingredients together in separate small bowl. Add the wet ingredients to the dry ingredients and stir until combined.

Scoop dough into the corner of a quart-sized storage bag. Cut off the tip of the bag and pipe into greased donut pan. (You may need to wet your fingers and smooth out the batter to make it more even.)

Bake for 25 minutes or until a toothpick inserted into donut comes out clean and donuts are a deep golden brown. Allow to cool before adding your favorite topping!
3 Toppings Options
Maple Cream Cheese Frosting: Whip together all 3 ingredients in a stand mixer or with a hand mixer until combined. Spread frosting on donuts with a knife and sprinkle with cinnamon or coconut sugar.

Maple Coconut Butter Glaze: Mix the 2 ingredients together and drizzle over donuts with the tines of a fork.

Cinnamon-Sugar Topping: Place melted butter in a bowl just wide and shallow enough to dip the donut. Then mix together the cinnamon and sugar together in a small bowl and pour out onto a small plate. Dip one side of the donut in the melted butter and then place that same side into the sugar mixture to coat the top of the donut.
I have used whole wheat flour to make these donuts and they turn out just as well. I do add another Tbsp of milk to thin out the batter a little.
The gluten-free version of these donuts is best eaten straight out of the oven as gluten-free treats just don't have the same texture the next day. The whole wheat version, however, does taste well after being refrigerated. I usually remove them from the refrigerator and allow them to warm to room temperature and add my topping of choice!
Are you in need of a donut pan? Click HERE to see the one I use!