Welcome to Grounded & Surrounded! In this article, you will learn how to write your own personal manifesto in 5 simple steps. About halfway through we will give you the option to download a Free Workbook to make the process even simpler (no strings attached!). We appreciate you taking the time to stop by and hope you enjoy this post!
No matter what your journey looks like, or what dreams you are pursuing, having a clear purpose and goal set out before you will increase your chances of success ten-fold!
It's not always easy to sit down and put words to your hopes and dreams, but it is a worthwhile endeavor.
This exercise and free workbook helped me to define my purpose, goals, and vision for my career and narrow my focus on the things that truly matter.
I just know it will do the same for you!
By: Sarah Koontz
Whether you are a full-time mom, a teacher, a pastor or a writer like me, taking a few moments at the beginning of the new year to establish your purpose, mission, and vision is a worthwhile endeavor.
Purpose = What?
Your purpose is your passion.
It is the thing that gets you out of bed in the morning and gives you strength to press through the obstacles of each day.
A purpose statement tells others what you do. It is a brief explanation of your heart's desire.
My Purpose: I write so that others may have hope.
Mission = Why?
Your mission defines why you do what you do.
It serves as a guide as you choose how you are going to pursue your purpose.
It is important that all major decisions about your work are in line with your mission.
My Mission: To inspire others to embrace the story God has inscribed on their hearts.
Vision = How?
Your vision is the second half of your overall mission statement.
If the mission is the definition, the vision is the practical application.
A vision statement is how you intend to accomplish your mission.
My Vision: By consistently sharing my own story and actively inviting others receive the hope that is in Christ alone.
Rooted in the Scriptures
This is the motto of the church I attend and I just love the allusion it creates.
I cannot overstate the importance of making certain your mission, purpose, and vision are thoroughly rooted in the scriptures.
Scripture plays a huge role in my life and ministry, and I absolutely love that the Lord has given me a Bible Verse that also serves as a prayer I pray fervently for my readers.
Verse: "I pray that the eyes of your heart may be enlightened in order that you may know the hope to which he has called you, the riches of his glorious inheritance in his holy people, and his incomparably great power for us who believe." -Ephesians 1:18-19
Setting aside some time to find a Bible verse that serves as a compass for your Purpose, Mission and Vision is a valuable investment.
Writing Your Manifesto
Manifesto: a written statement that describes the policies, goals, and opinions of a person or group
Once you have discovered your Mission, Purpose, and Vision, its time to write your manifesto.
As you sit down and try to put a few words to your hopes and dreams for the upcoming year, I encourage you to ask yourself the following questions:
What is my unique calling or talent?
How can I use those talents for God's glory?
What are some obstacles I will need to overcome in order to accomplish this?
What is my heart's desire?
What are some practical steps to help me get closer to that desire in the next year?.
Your answers to these questions will help you get started on your own manifesto.
I have created a Free Digital Workbook to help simplify the process even more for you. Simply click on the image above to download your copy. All that we ask in return for the free download is that you take a moment to spread the word on your favorite social media platform.
Share the Free "How to Write Your own Manifesto Workbook" with your friends Now!
There is no right or wrong way to write a manifesto, the important thing is that you put pen to paper.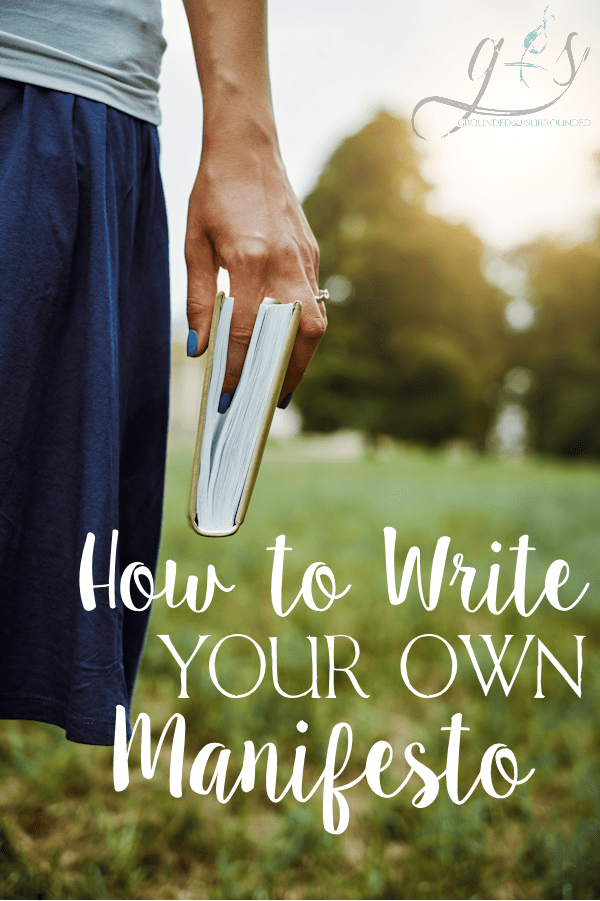 Conclusion
Experience has taught me that knowing and understanding your why is a crucial element of any ministry or business venture.
My personal manifesto turned into a sort of prayer or snapshot of the person I long to be.
Once you have taken the time to define your own personal WHY, WHAT, and HOW I would love it if you would share them with me in the comments of this post!


This Article has been shared at many of our favorite Faith and Family Linkups.