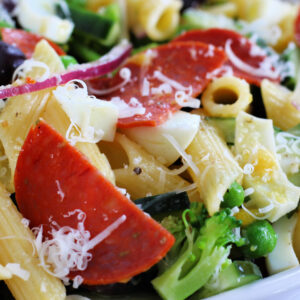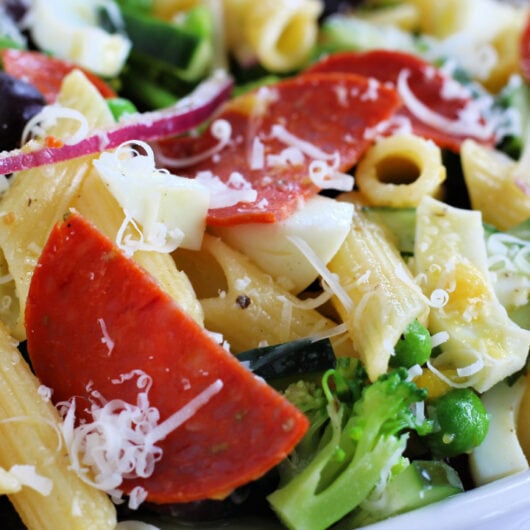 Print Recipe
Loaded Veggie Pasta Salad (GF)
This healthy and easy cold salad is perfect year round, but especially in the summer. Gluten free recipes like this are few and far between, but the wheat free penne pasta pairs perfectly with all the vegetables, Make this vegetarian by omitting the turkey pepperoni and eggs, replace with a can of white beans. Take this simple meal for lunch as meal prep for the week or serve to a crowd.
Salad
6

oz

gluten free penne pasta (or pasta of choice)

2

cups

broccoli, chopped into bite-sized pieces and blanched

1/4

cup

red onion, sliced thinly

1

cup

frozen peas, thawed

1

cup

cucumber, cut in bite-sized pieces (about 1/2 a large cucumber)

3

hard-boiled eggs, diced

1/2

cup

kalamata olives, sliced in half

1

cup

turkey pepperoni, sliced in half

1/4

cup

Parmesan cheese, shredded or freshly grated
As you bring a pot of water to a boil, set a metal colander in the water. Add the chopped broccoli and let it cook 1-2 minutes or until the broccoli has turned bright green. Quickly remove from the hot water and run broccoli under cold water to stop the cooking process. Set the broccoli aside to drain off the excess water before adding it to the salad.

The water will look a little green, but once it starts to boil add the pasta. Cook to "al dente" according to the package. Once it is cooked, drain the hot water and run the pasta under cold water. Drain and set aside.

In the bottom of a large bowl, whisk together all the dressing ingredients.

Add the chopped veggies, pepperoni, hard boiled eggs, Parmesan cheese, and pasta to the bowl with the prepared dressing. Mix gently until all the ingredients are coated with dressing. Add more salt and pepper to taste if needed. Serve immediately or store in the refrigerator until ready to eat.
*I make my own Italian seasoning, because I don't prefer the ones sold in most grocery stores. Most of the store-bought varieties only contain basil, rosemary, oregano, and thyme. However, I want garlic, onion, and salt in there as well. I'm extra like that. Ha! So if you are using a store-bought variety, make sure to add a little garlic and onion powder to the dressing along with the Italian seasoning.