You don't see a whole lot of pastas here but this Gluten Free Loaded Pasta Salad is one of our favorite recipes.
I have always loved cold pasta recipes, but rarely do I find ones that are fairly healthy!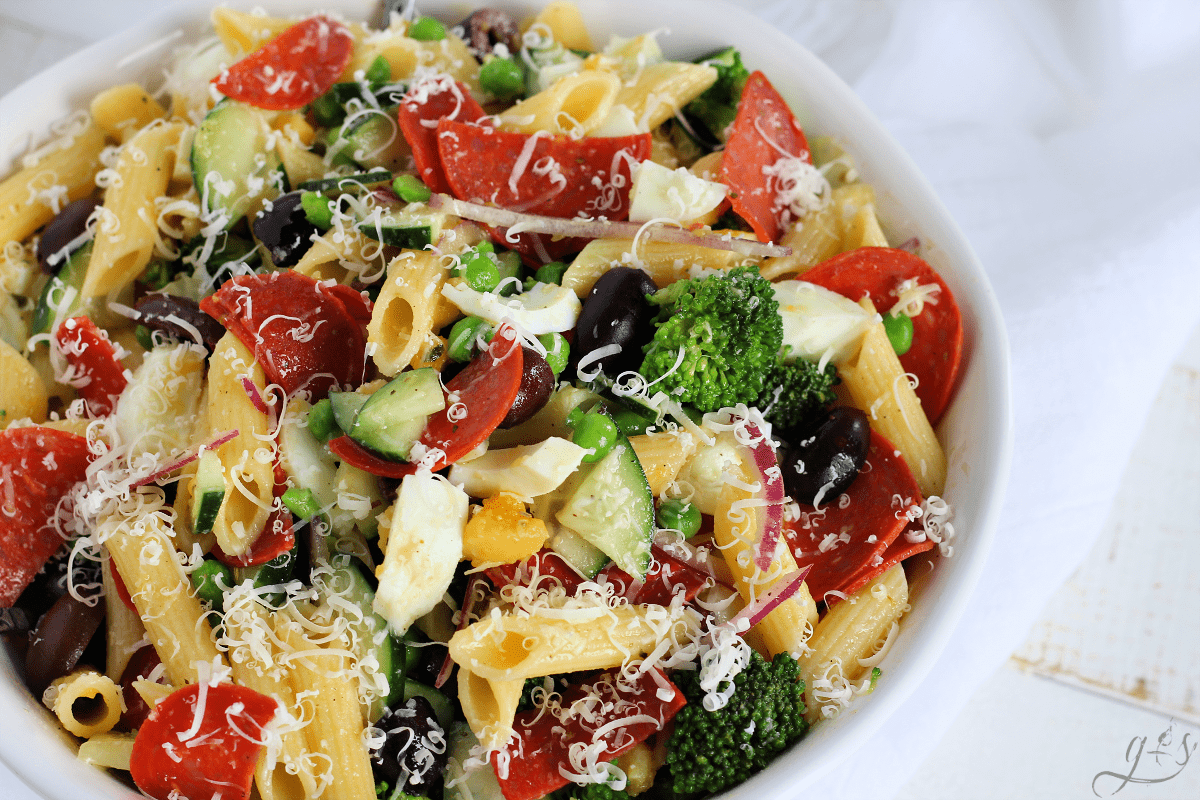 My favorite pasta as a kid is my mom's cold tuna pasta salad that she serves in the summer. It has elbow macaroni (hello, every kids likes elbow macaroni!), drained cans of tuna, Miracle Whip, salt, and thinly sliced hard boiled eggs on top.
I know what you are thinking, " Ummmm, what? This doesn't sound that great."
But I assure you, this Gluten Free Loaded Veggie Pasta Salad is delicious and perfect on a hot summer day!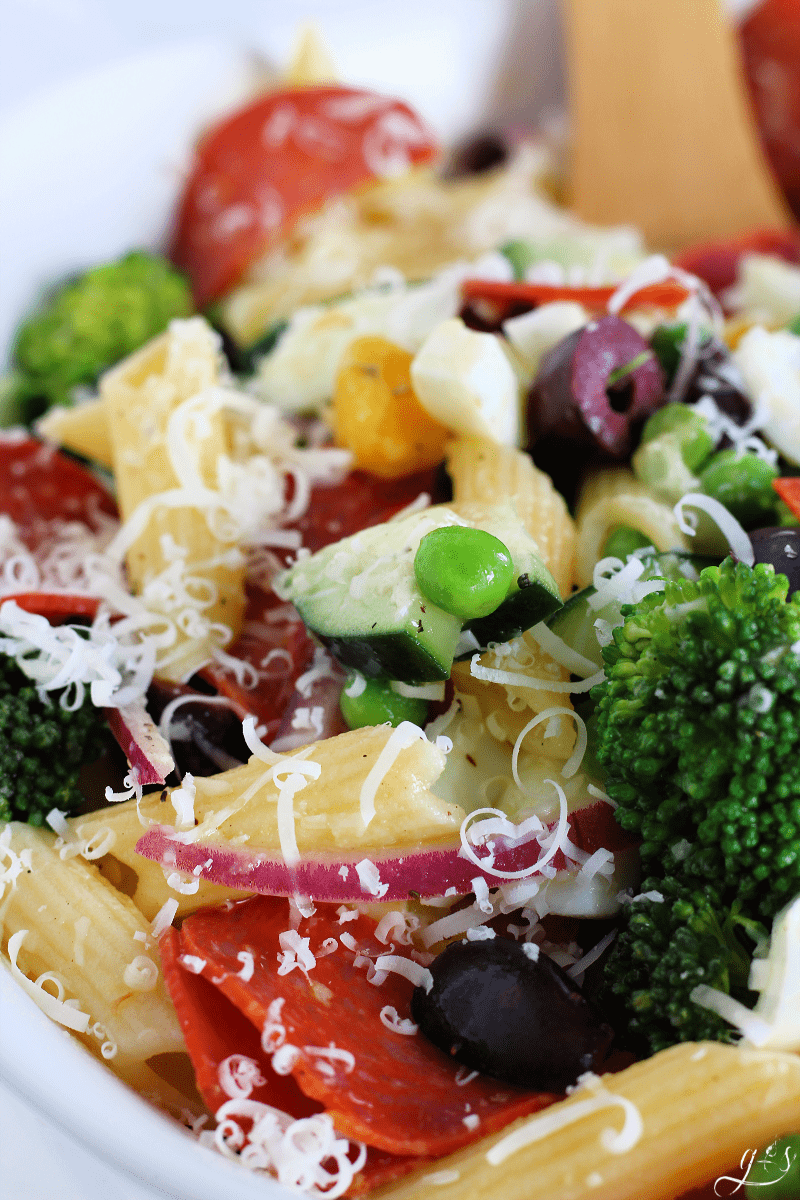 I haven't had her recipe in years, but this Loaded Veggie Pasta Salad trumps hers. Sorry mom! I think she may agree though, because like me she eats more veggies and nutrient dense dishes these days too.
Because even I will admit, the tuna pasta salad didn't have a whole lot going for it in the nutrition department aside from the healthy fats in the tuna and protein from the eggs.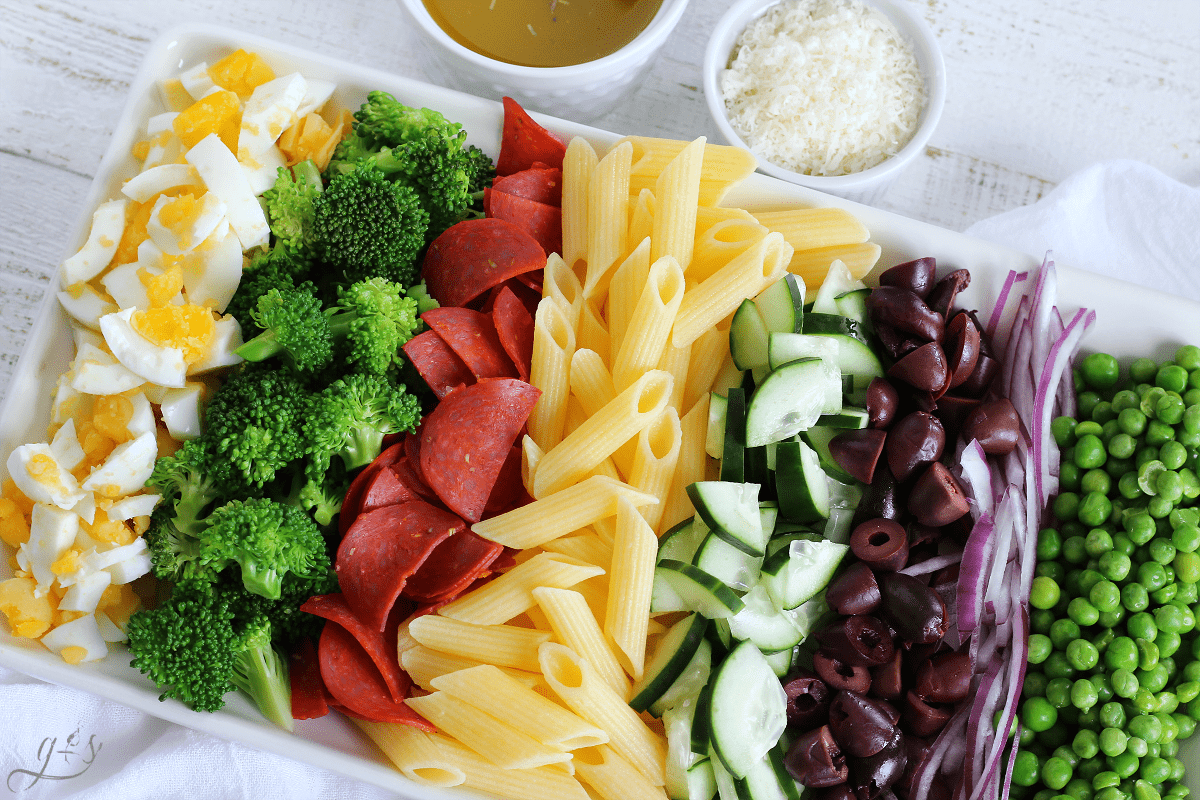 Let's face facts though, the enriched flour pasta and Miracle Whip totally cancels out anything healthy. Ha!
However, this veggie pasta has TONS of nutrients thanks to ALL the veggies, eggs, and olives.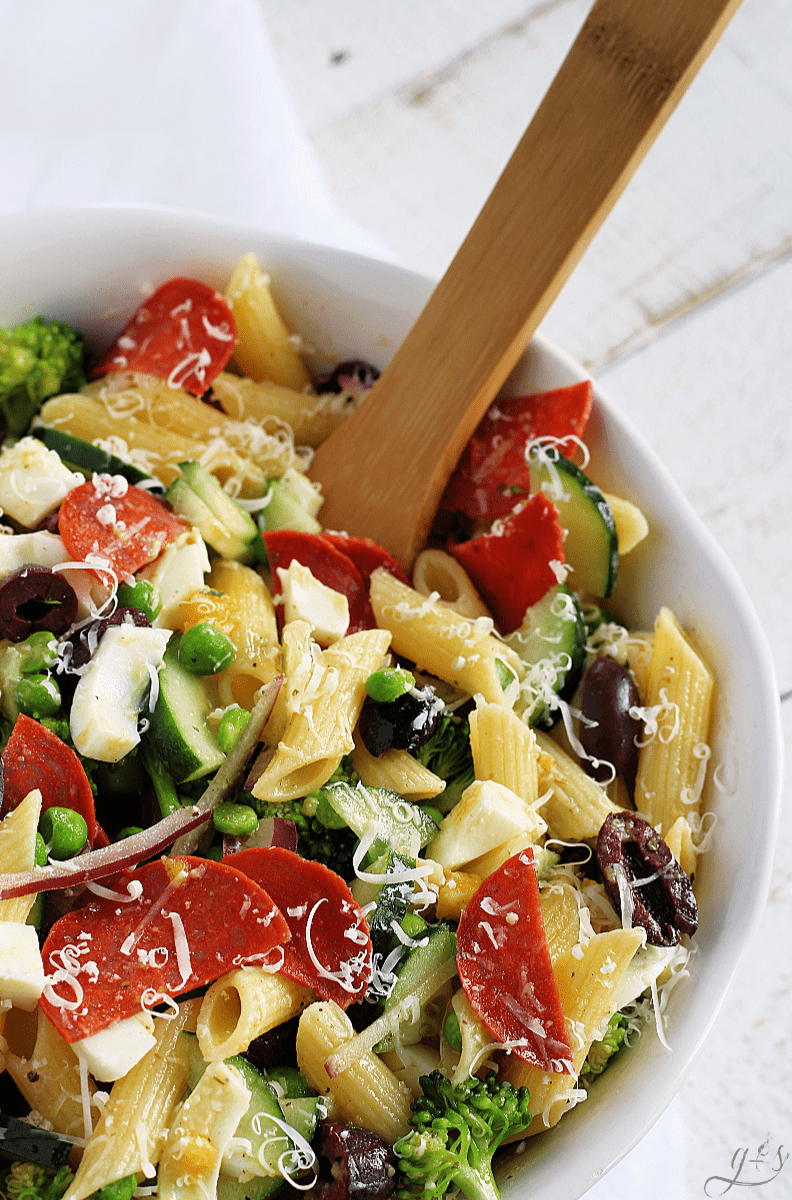 Feel free to use any pasta you have on hand even if it's not gluten-free. I used gluten-free pasta made with corn because I wanted to be sure the pasta tastes amazing with either a gluten-free option (which we all know can be hit or miss in the flavor and texture dept) or wheat pasta.
**Update: I recently used chickpea and lentil pasta which added a TON of protein to this pasta along with the hard boiled eggs and turkey pepperoni. Definitely our go-to now!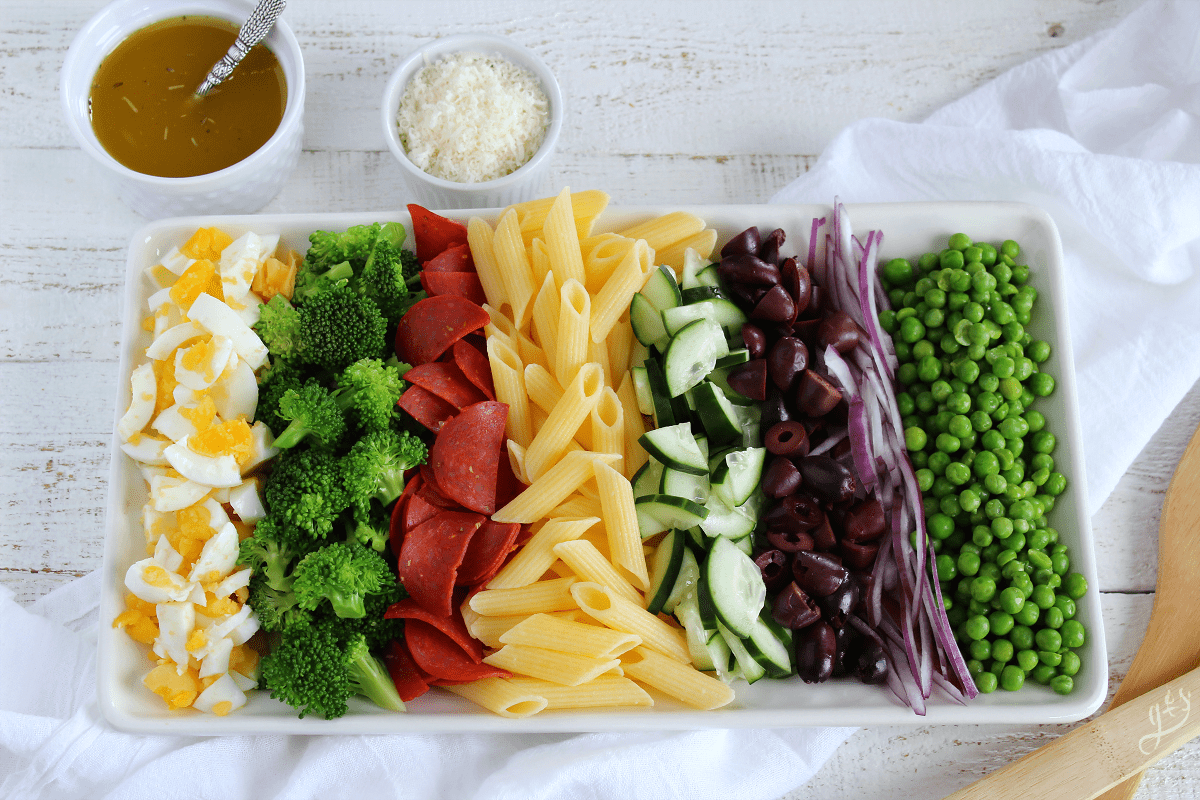 This particular recipe uses gluten free penne pasta, but the original recipe called for rotini pasta. Anything goes!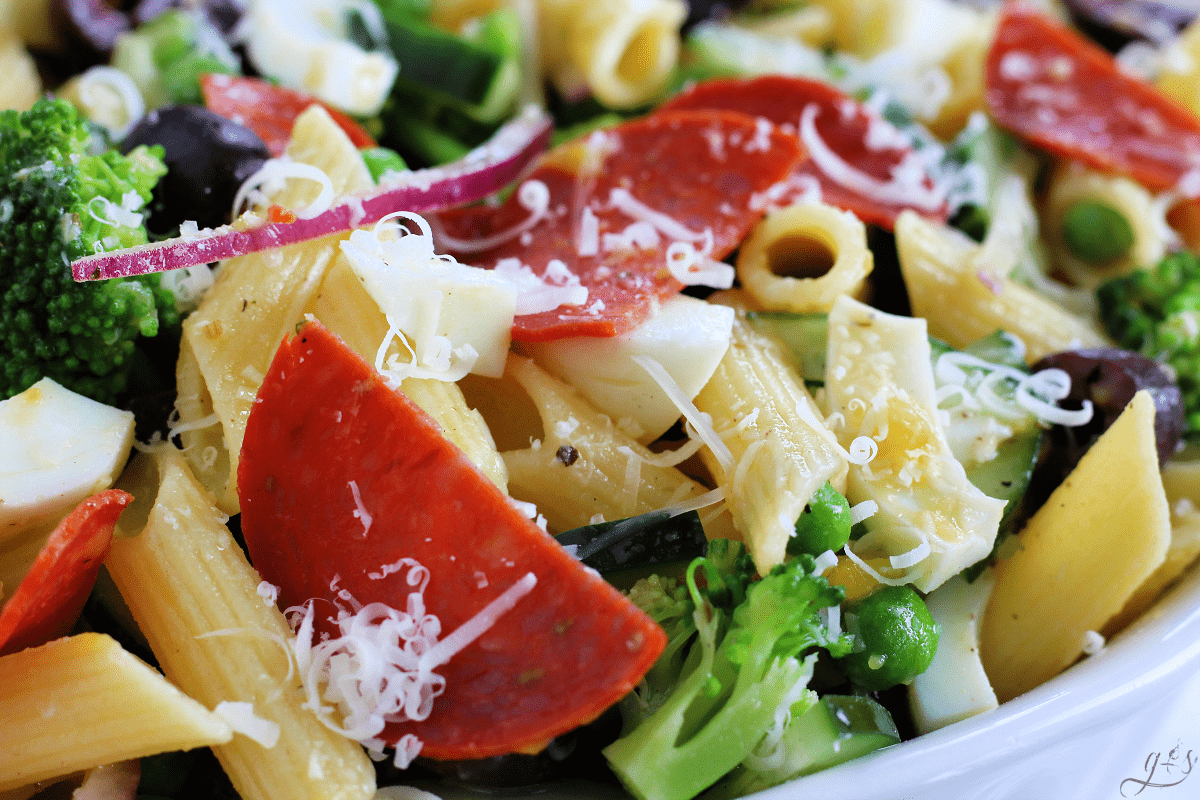 This pasta will be the hit of your next potluck or summer picnic. It also makes the perfect lunch recipe.
You can even say, this is meal prep at it's best. 😉
Make this salad on a Sunday night and you have a complete meal for the week. #winning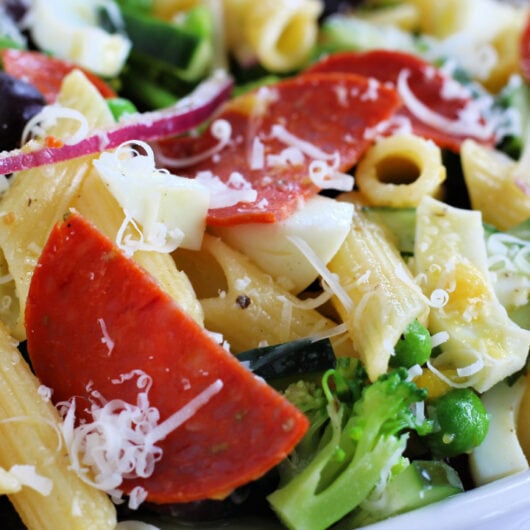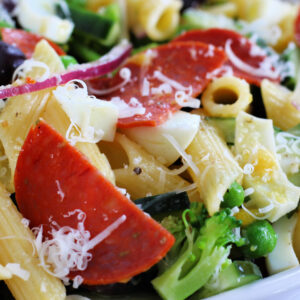 Print Recipe
Gluten Free Loaded Veggie Pasta Salad
This healthy and easy cold salad is perfect year round, but especially in the summer. Gluten free recipes like this are few and far between, but the wheat free penne pasta pairs perfectly with all the vegetables, Make this vegetarian by omitting the turkey pepperoni and eggs, replace with a can of white beans. Take this simple meal for lunch as meal prep for the week or serve to a crowd.
Equipment
medium sized pot

colander

spoon

large bowl

cutting board

knife
Ingredients
Salad
6

oz

gluten free penne pasta (or pasta of choice)

lentil or chickpea works well too

2

cups

broccoli, chopped into bite-sized pieces and blanched

1/4

cup

red onion, sliced thinly

1

cup

frozen peas, thawed

1

cup

cucumber, cut in bite-sized pieces (about 1/2 a large cucumber)

3

hard-boiled eggs, diced

1/2

cup

kalamata olives, sliced in half

1

cup

turkey pepperoni, sliced in half

1/4

cup

Parmesan cheese, shredded or freshly grated
Dressing
1/3

cup

extra virgin olive oil

1

Tbsp

red wine vinegar

1

Tbsp

lemon juice

1

Tbsp

dijon mustard

1

tsp

honey

1

tsp

Italian seasoning (see recipe notes)

1/4

tsp

salt

1/8

tsp

black pepper
Instructions
As you bring a pot of water to a boil, set a metal colander in the water. Add the chopped broccoli and let it cook 1-2 minutes or until the broccoli has turned bright green. Quickly remove from the hot water and run broccoli under cold water to stop the cooking process. Set the broccoli aside to drain off the excess water before adding it to the salad.

The water will look a little green, but once it starts to boil add the pasta. Cook to "al dente" according to the package. Once it is cooked, drain the hot water and run the pasta under cold water. Drain and set aside.

In the bottom of a large bowl, whisk together all the dressing ingredients.

Add the chopped veggies, pepperoni, hard boiled eggs, Parmesan cheese, and pasta to the bowl with the prepared dressing. Mix gently until all the ingredients are coated with dressing. Add more salt and pepper to taste if needed. Serve immediately or store in the refrigerator until ready to eat.
Notes
*I make my own Italian seasoning, because I don't prefer the ones sold in most grocery stores. Most of the store-bought varieties only contain basil, rosemary, oregano, and thyme. However, I want garlic, onion, and salt in there as well. I'm extra like that. Ha! So if you are using a store-bought variety, make sure to add a little garlic and onion powder to the dressing along with the Italian seasoning.
Using chickpea and lentil pasta which added a TON of protein to this pasta along with the hard boiled eggs and turkey pepperoni. Definitely our go-to now!