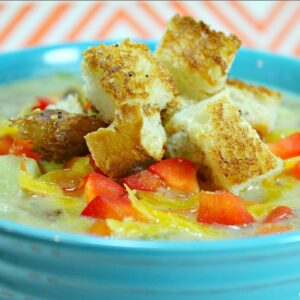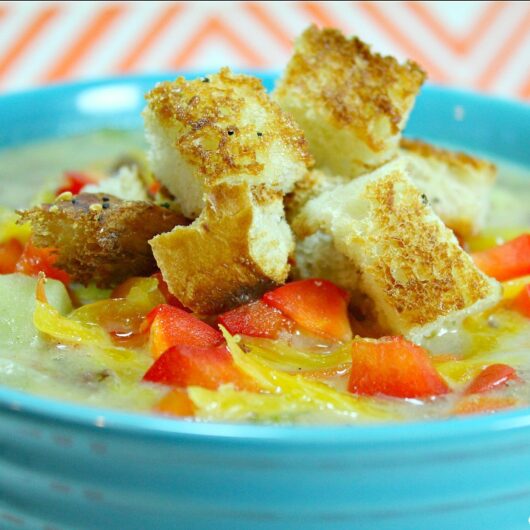 Print Recipe
Whole Food Makeover: Cheeseburger Soup
This healthy soup has all the flavors of a cheeseburger, yet packed with tons of vegetables and a lean protein. This quick and easy stovetop soup is healthy and gluten free! Try using lean ground venison or ground turkey like we did. You can also make this low carb by omitting the potatoes, there are 4 other veggies, you won't even notice. This skinny recipe is the best we have tasted especially garnished with pickles! Find more recipes like this at groundedandsurrounded.com
1

lb

ground venison (or ground beef or turkey)

2

Tbsp

butter

omit if using ground beef

1

onion, diced

3

carrots, thinly sliced

3

celery, thinly sliced

2-3

red potatoes, diced

peeling is optional

1/2

red bell pepper, diced

4

cups

chicken broth

1

tsp

dried mustard

1 1/2

tsp

garlic powder

2

Tbsp

cornstarch

1/2

cup

cold water

1

cup

shredded cheddar cheese

2

tsp

dried parsley or 1/4 cup fresh

1- 1 1/2

tsp

sea salt

1/2

tsp

black pepper

1/4

cup

half & half
Brown venison in 2 Tbsp butter in large soup pot. If using ground beef, you can omit the butter. I would use the butter with ground turkey as well as it helps add flavor to the meat.

Add in all chopped veggies, chicken stock, garlic powder, and dried mustard powder. Bring to a boil. Cover and simmer 10 minutes or until veggies are tender. Turn heat to low.

Whisk together cold water and cornstarch in small bowl. Slowly pour and at the same time stir this into the pot of soup. You will feel the soup start to thicken. At this point turn off burner.

Next add in shredded cheese, parsley, and 1 tsp salt and pepper. Once cheese is completely melted and incorporated, stir in half & half. Add in more seasonings as needed especially the salt.

Viola, you are done! Top with dill pickles, additional shredded cheese, and/or crackers!