The terms "cheeseburger" and "healthy" can finally be reunited!
It has been far too long.
"Delicious" just happens to be joining the reunion too.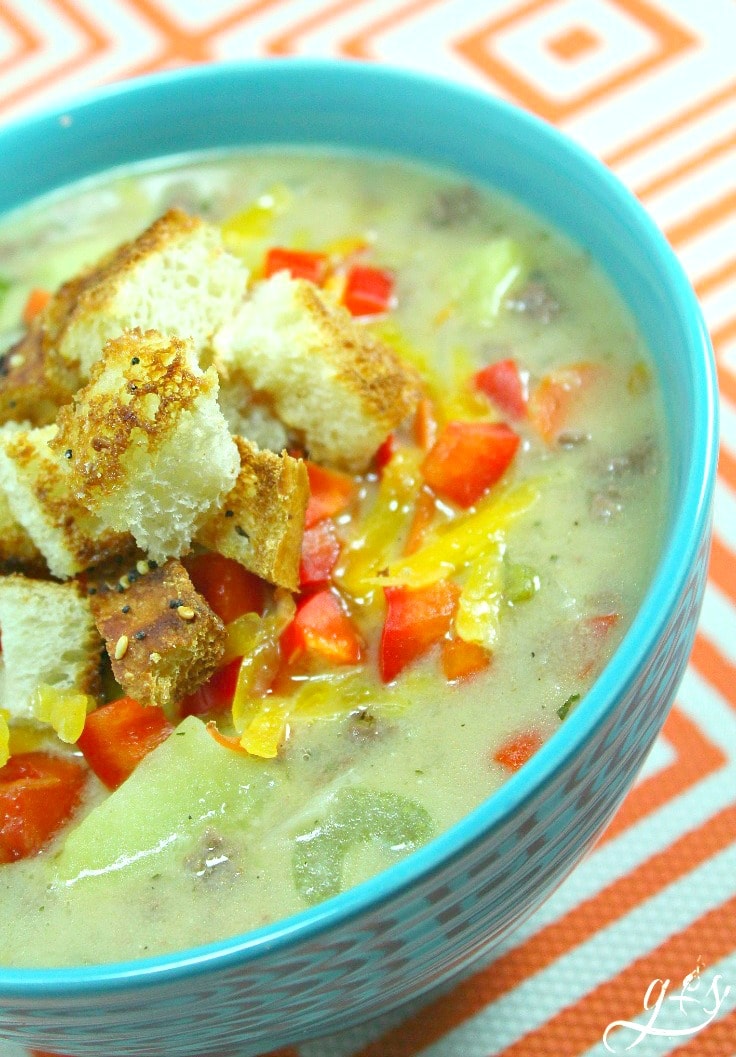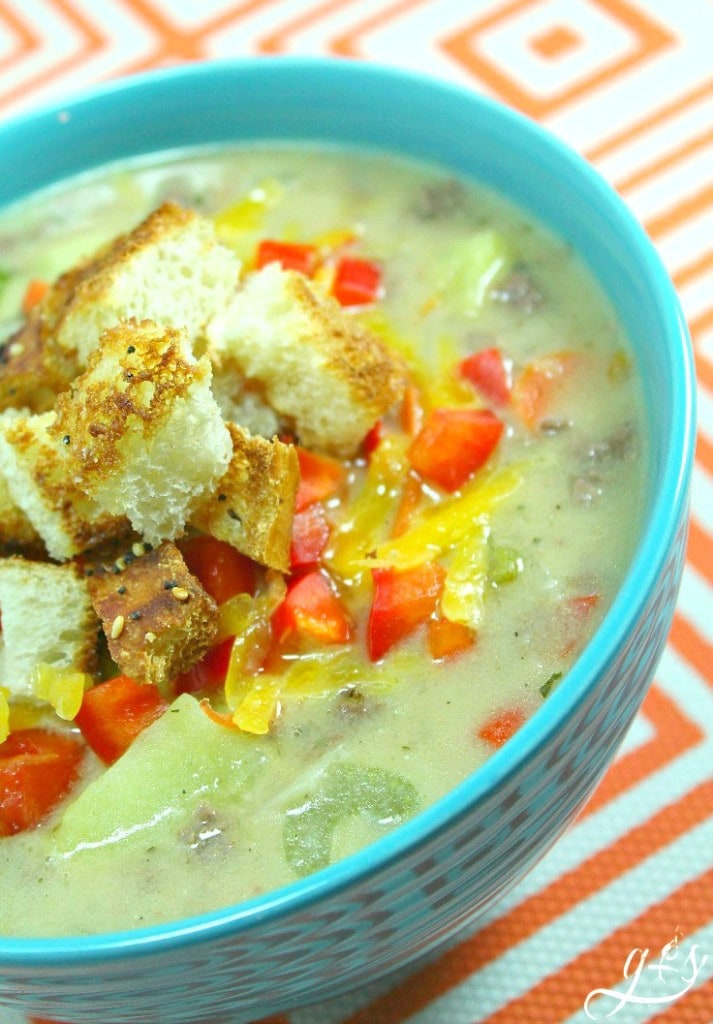 I was first introduced to Cheeseburger Soup years ago by Jacque, my sister-in-law and BFF (Best Foodie Friend). She loved the recipe so much she had us over for dinner one night.
I, of course, loved it too and took a copy of the recipe home with me.
I made it several times throughout the next couple of years and it was always a favorite. Thick, cheesy beyond belief, and totally UNHEALTHY! At the time I didn't realize it though. Ha!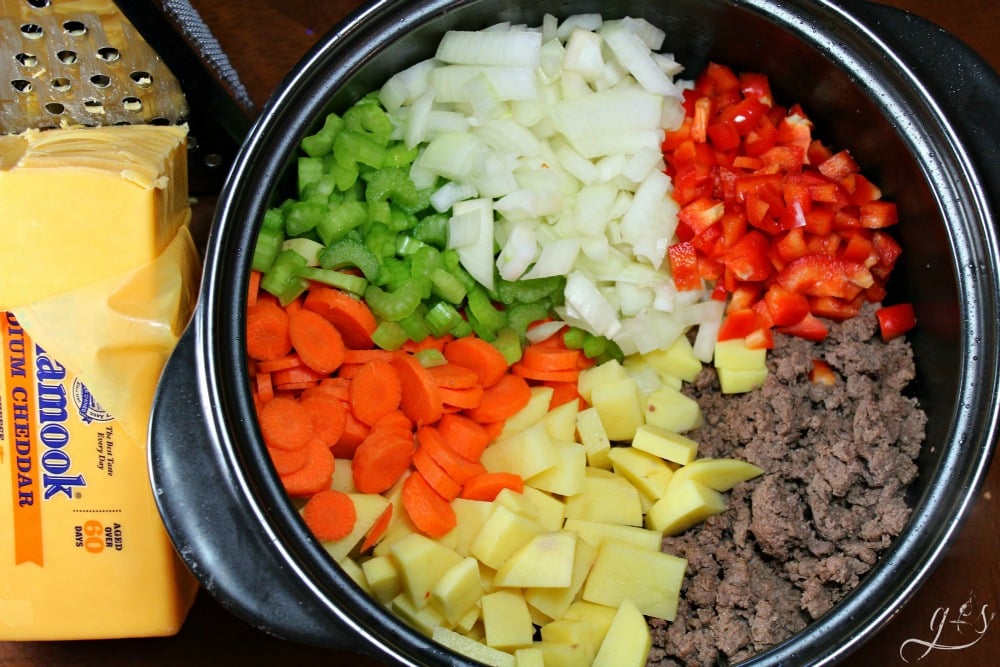 Then things changed and we all started to eat differently. We started following the Triad of Healthy Living that my boss at the time (and Sarah's dad) developed in his Healthy for Life Program.
14 oz of Velveeta cheese, much to my surprise, was nowhere on Dr. Strand's recommended foods list.
Hmmmm…the end had come. No more Cheeseburger Soup.
But then years later, the days between Christmas 2015 and New Years came…I honestly didn't know what I was doing with my life. Such a weird time frame am I right? Your kids are out of school, you are in between holidays, friends and family are busy or bored or just not in the mood to hang out anymore and it leaves a lot of time for thinking.
So in my case I was thinking about food. Because it's one of my favorite things 😉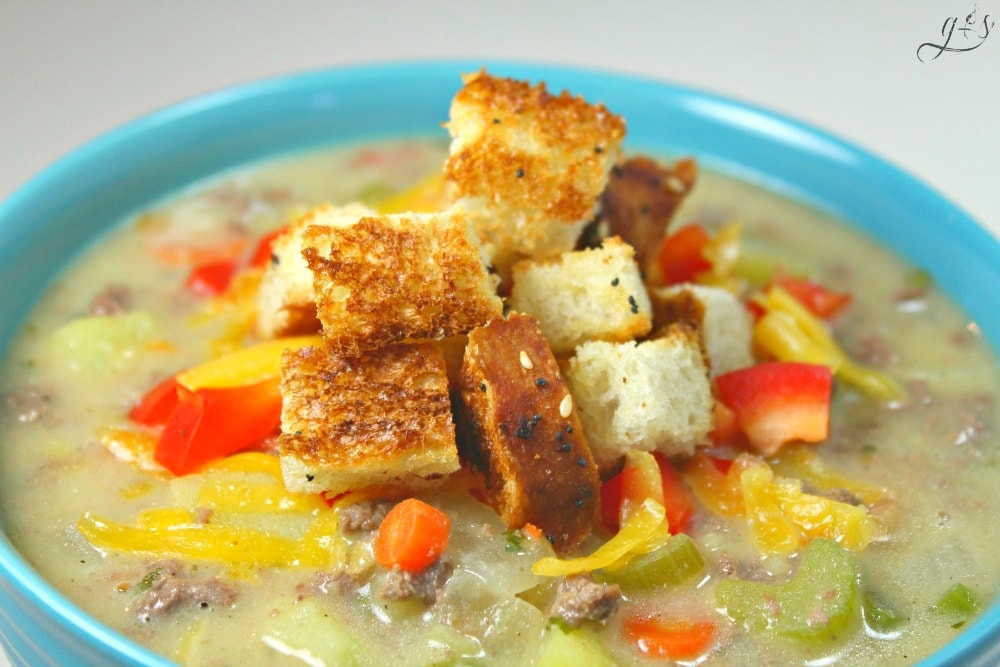 I must have been craving a cheeseburger from my high blood sugar due to the sheer amount of sugar I had ingested during the month. I suddenly remembered that old unhealthy, yet delicious, Cheeseburger Soup I had loved.
Lightbulb moment.
I knew I HAD to make it over. And I did. Boom.
I even used ground venison. Yes, you read that right. Anybody who has cooked with venison knows it can be tricky. It can taste either amazing or awful. There is no in between.
My trick? Use butter. Butter has magical qualities that turn game meat into something delectable.

This Whole Food Makeover: Cheeseburger Soup will knock your socks off! It has all the flavors of a cheeseburger, yet full of healthy ingredients.
You may be wondering why I classified this recipe in the "Sustain" category rather than the "Slim". The reason is because of the cheese and half & half.
Do I think the small amount of these ingredients is unhealthy? Absolutely not.
With that though, when I am in weight loss mode, I choose to not eat those foods often or at all. No big deal, just my opinion and I made the recipe so I get to choose how it is categorized 😉
Follow Grounded & Surrounded Blog's board Healthy Soups and Stews on Pinterest.
Now without further adieu here is the ahhhmazing recipe!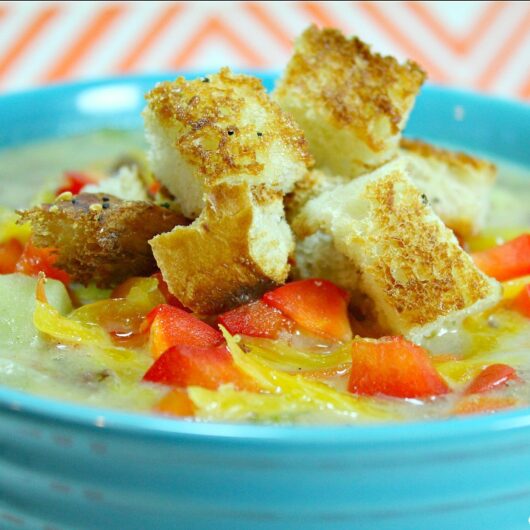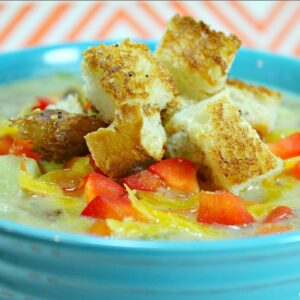 Print Recipe
Whole Food Makeover: Cheeseburger Soup
This healthy soup has all the flavors of a cheeseburger, yet packed with tons of vegetables and a lean protein. This quick and easy stovetop soup is healthy and gluten free! Try using lean ground venison or ground turkey like we did. You can also make this low carb by omitting the potatoes, there are 4 other veggies, you won't even notice. This skinny recipe is the best we have tasted especially garnished with pickles! Find more recipes like this at groundedandsurrounded.com
Ingredients
1

lb

ground venison (or ground beef or turkey)

2

Tbsp

butter

omit if using ground beef

1

onion, diced

3

carrots, thinly sliced

3

celery, thinly sliced

2-3

red potatoes, diced

peeling is optional

1/2

red bell pepper, diced

4

cups

chicken broth

1

tsp

dried mustard

1 1/2

tsp

garlic powder

2

Tbsp

cornstarch

1/2

cup

cold water

1

cup

shredded cheddar cheese

2

tsp

dried parsley or 1/4 cup fresh

1- 1 1/2

tsp

sea salt

1/2

tsp

black pepper

1/4

cup

half & half
Instructions
Brown venison in 2 Tbsp butter in large soup pot. If using ground beef, you can omit the butter. I would use the butter with ground turkey as well as it helps add flavor to the meat.

Add in all chopped veggies, chicken stock, garlic powder, and dried mustard powder. Bring to a boil. Cover and simmer 10 minutes or until veggies are tender. Turn heat to low.

Whisk together cold water and cornstarch in small bowl. Slowly pour and at the same time stir this into the pot of soup. You will feel the soup start to thicken. At this point turn off burner.

Next add in shredded cheese, parsley, and 1 tsp salt and pepper. Once cheese is completely melted and incorporated, stir in half & half. Add in more seasonings as needed especially the salt.

Viola, you are done! Top with dill pickles, additional shredded cheese, and/or crackers!