French Toast. Yum.
Granola. Yum.
Let's combine them, shall we? 🙂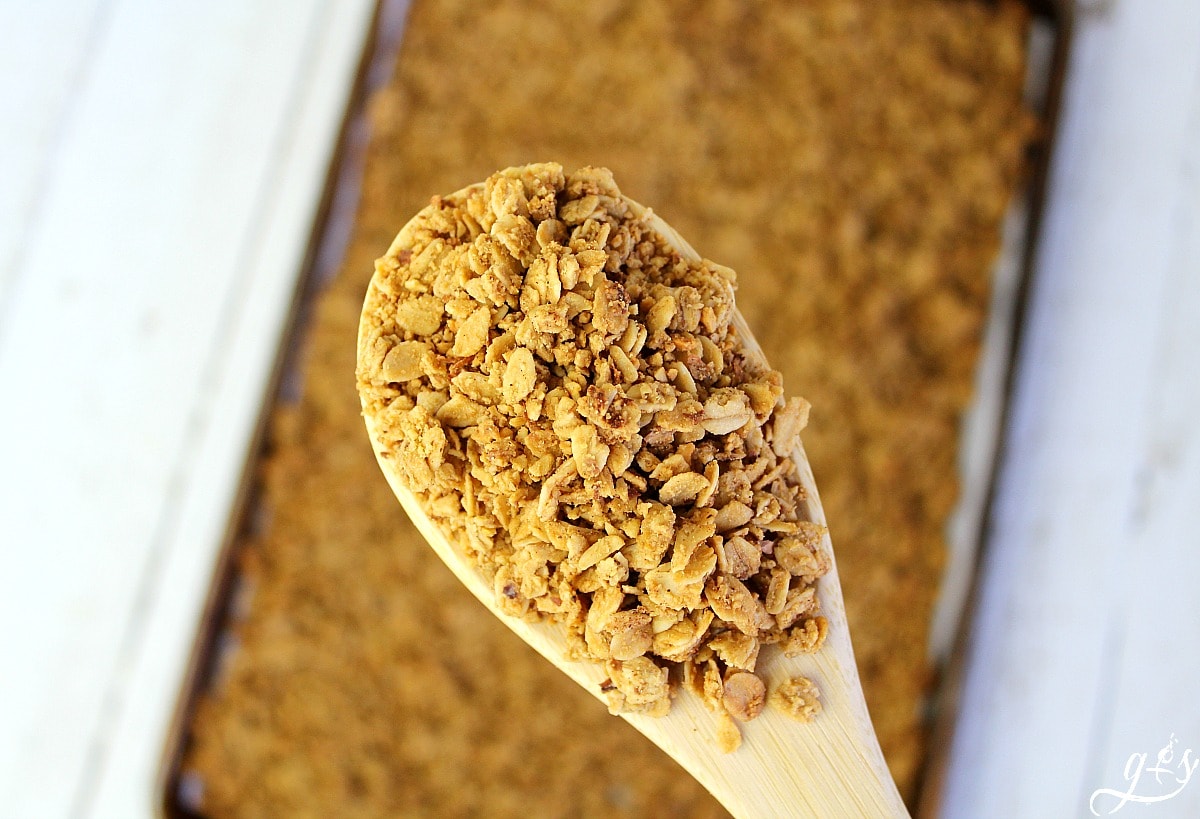 This delightful French Toast Granola recipe was born from my love for homemade almond milk (thanks Ellie's Best!) and well…breakfast. Ha!
As you know if you have made your own almond milk, you are left with the almond pulp AKA almond meal.
We can all agree that almonds are pretty pricey so letting course almond flour go to waste was definitely not an option for me.
You all know I am WAY to frugal to let that happen.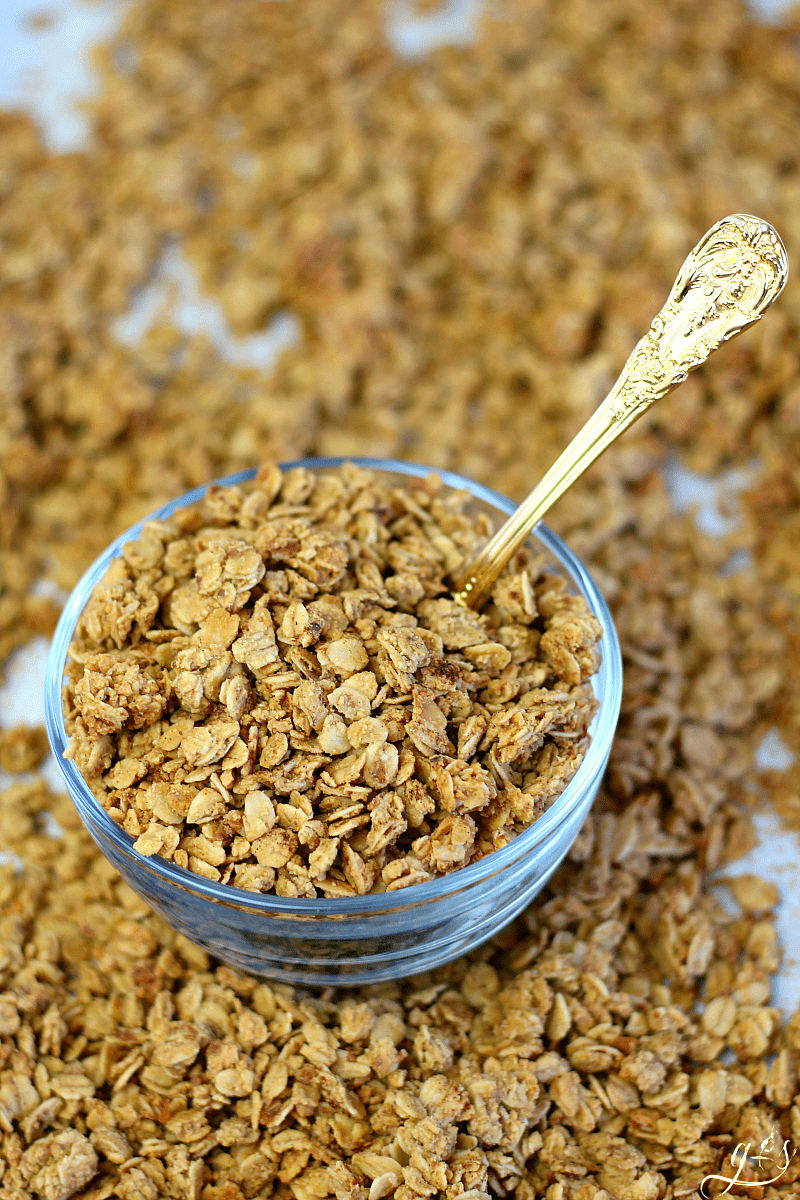 So in my attempt to find a way to re-purpose these leftover almond bits, I came across this recipe from Evergreenkitchen.ca. This granola recipe was fantastic and just what I was looking for.
PSA: Keep reading even if you don't have almond pulp. You can still make this granola without it! I will explain how in a few paragraphs. 🙂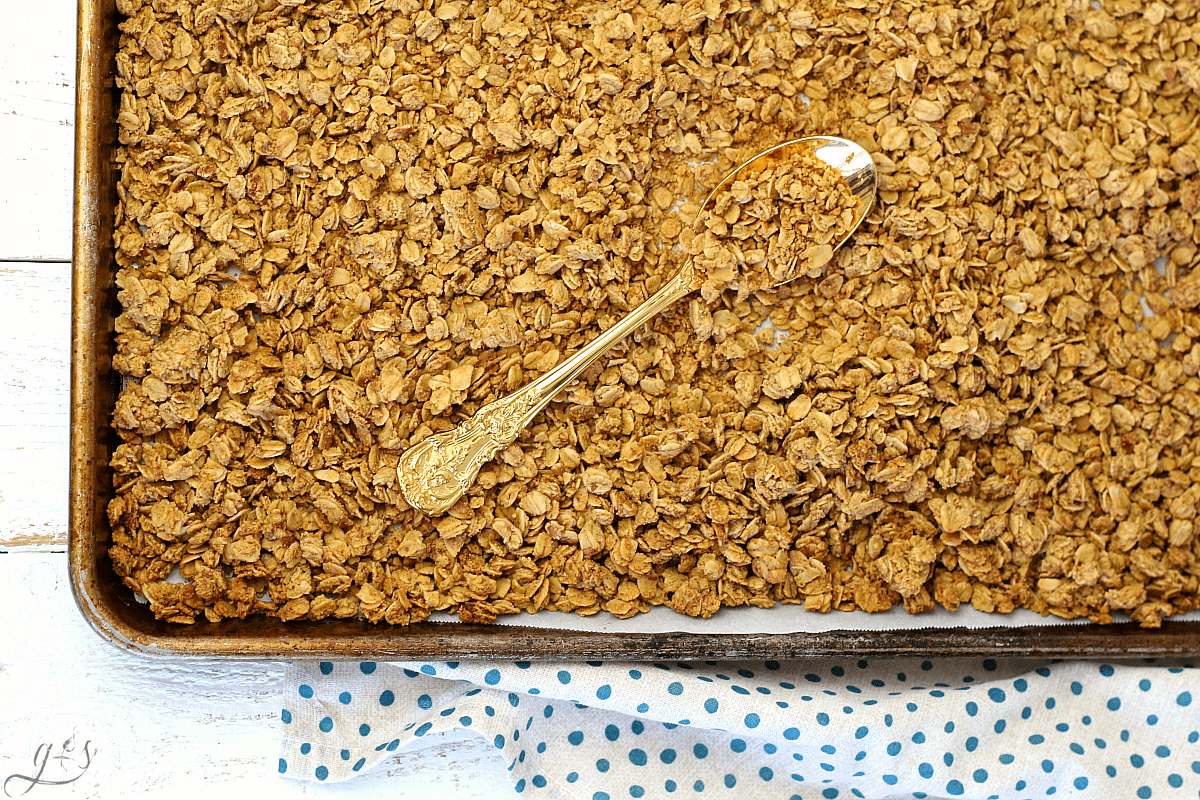 I omitted the hemp seeds and coconut shreds (even though I really like them!) and used maple syrup and maple extract to bump up the flavor profile. Oh, and I added cinnamon!
Just to make sure I was on point with this French Toast Granola I had a few friends try it. They stated they loved the texture best as it is not too hard, but not soggy or soft.
"Just perfect" was a phrase used. #winning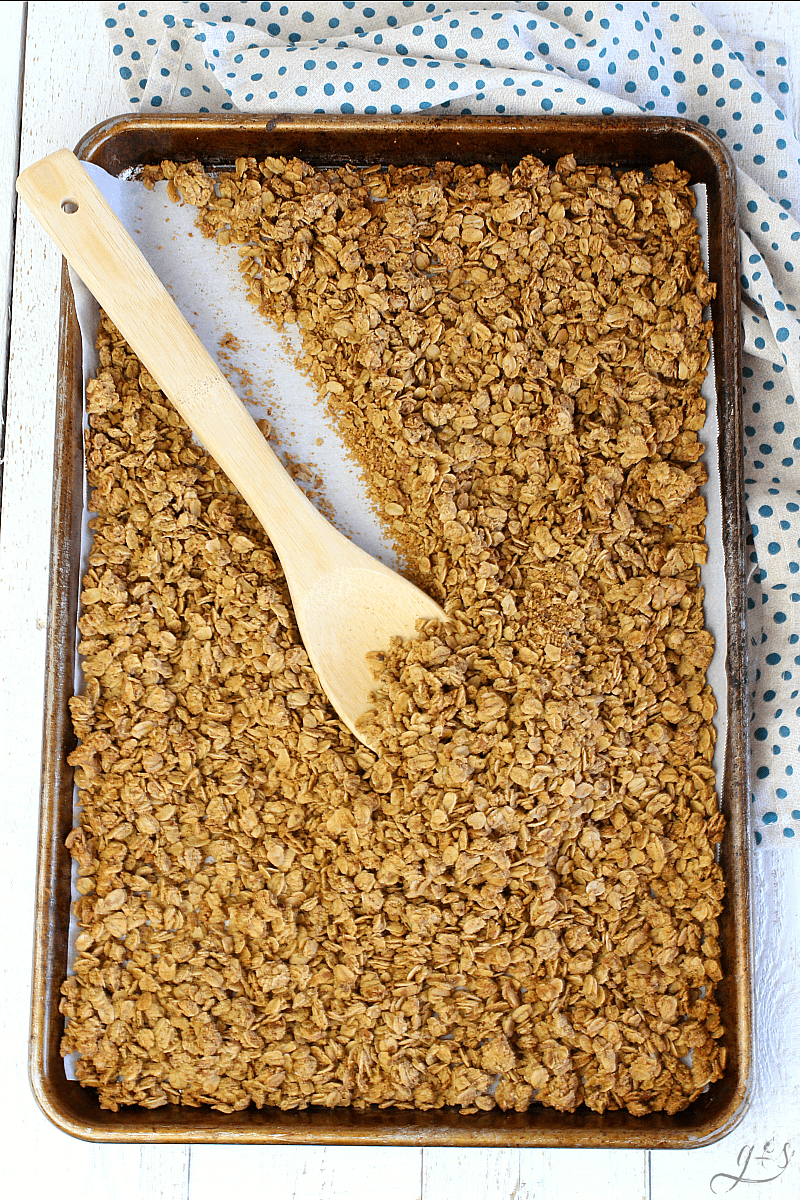 We often eat this gluten-free granola as a snack or for breakfast. For a snack, we just eat it straight up out of the jar. When the fam enjoys it for breakfast, we pour a whole lot of almond milk in it.
Whether you have homemade almond milk, store-bought, or cow's milk this granola will taste just as amazing with any milk choice.
You can also use this granola as a yogurt or ice cream topping!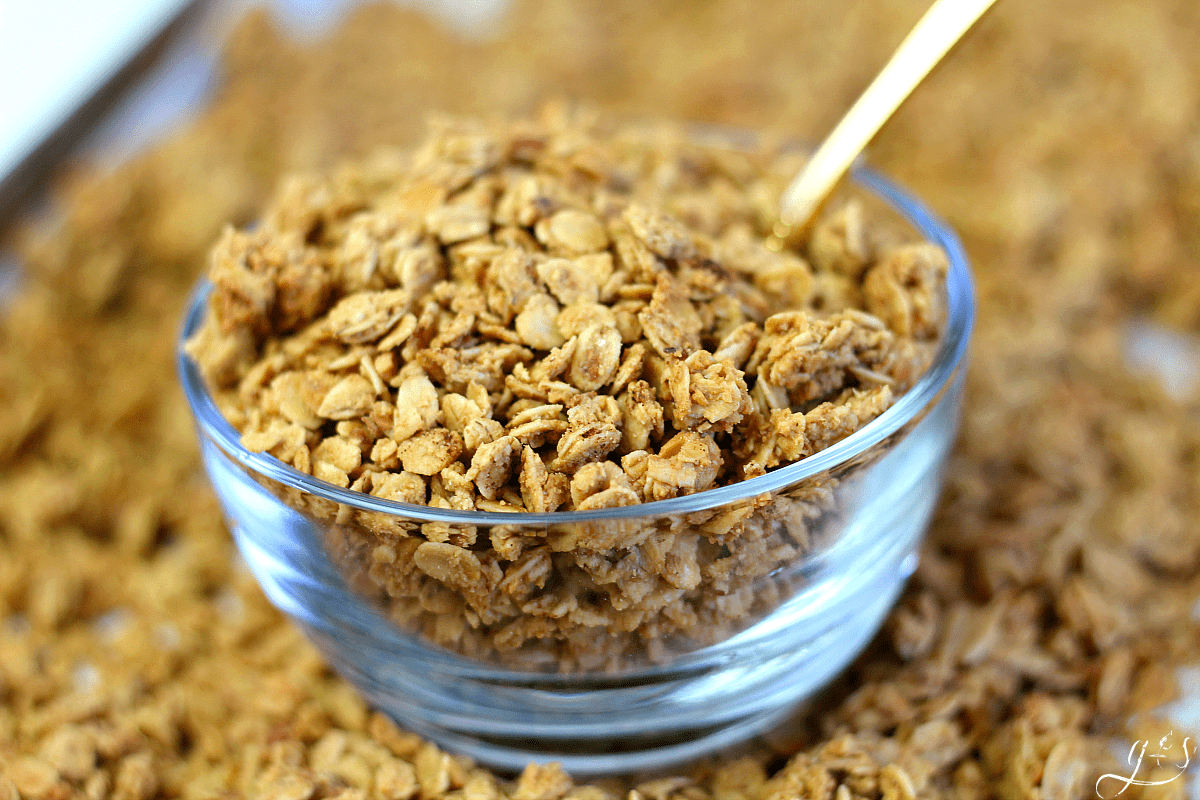 Okay, let's get you that recipe! Toodles!
*Oh, I almost forgot! Okay, if you don't have almond pulp to use in this recipe, there are a few substitutions you can make. use unsweetened coconut shreds, hemp seeds, add in more oatmeal, use pecans, walnuts, or pepitas.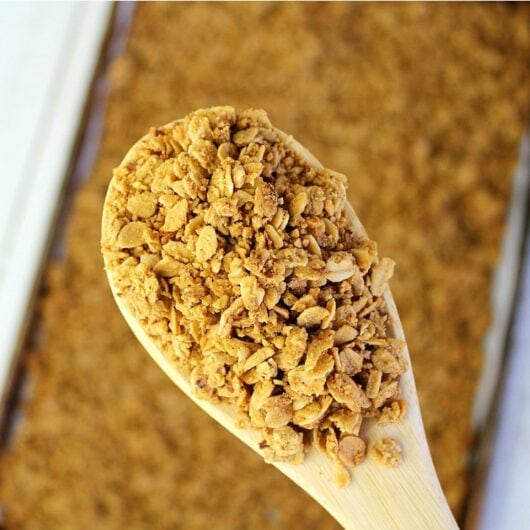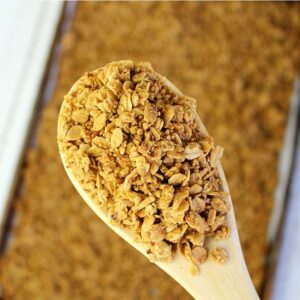 Print Recipe
French Toast Granola
Homemade is always better right? It's usually more healthy! This gluten-free recipe has delicious clusters of almond pulp and oatmeal in a syrup-y caramel sauce that tastes just like your favorite breakfast. Use almond butter, vanilla, and maple extract to achieve this easy vegan snack. If you don't have almond pulp use coconut shreds or nuts.This clean eating and no sugar granola makes a great yogurt topper or eat it like cereal with milk!
Equipment
1 sheet pan

1 large bowl

1 wooden spoon
Ingredients
3

cups

old fashioned oatmeal

1

cup

almond pulp (or substitute ingredient)*

1/4

cup

coconut oil

1/3

cup

maple syrup

1/4

cup

coconut sugar

1/4

cup

almond butter (or any nut butter)

1

tsp

vanilla extract

1

tsp

maple extract

1/4

tsp

cinnamon

1/4

tsp

salt
Instructions
Preheat oven to 300F and place parchment paper on a baking sheet. Set aside.

In a large bowl, combine oats and almond pulp,

In a small sauce pan, add coconut oil, maple syrup, coconut sugar, and almond butter. Whisk together over low-medium heat until combined.

Remove pan from heat and stir in the vanilla extract, maple extract, cinnamon, and salt into the syrupy goodness.

Next, pour the warm syrup over the bowl of oats and almond pulp. Stir to combine well.

Pour the granola mixture onto the parchment lined baking sheet. Bake at 300F for 30 minutes then stir with a spoon. Bake another 20 minutes or until granola is golden-brown.

Store in an air-tight container.
Notes
*If you don't have almond pulp to use in this recipe, use unsweetened coconut shreds, hemp seeds, add in more oatmeal, use pecans, walnuts, or pepitas.
This recipe was inspired by Evergreen Kitchen.