Inside: This post is for all of our blogging friends who have been loving our new look and asking about our Angie Makes WordPress Theme.  I will be sharing how I stumbled upon Angie Makes along with a comprehensive list of all of the incredible functionality and usability their wordpress themes have to offer bloggers.
I have  a love/hate relationship with Pinterest.
I love how beautifully shiny and enticing everything looks on Pinterest, but I detest the fact that Pinterest sparkle rarely transfers into real life.
There have been a few glorious moments where I have managed to capture the brilliance of Pinterest and release it into my lackluster little corner of the universe.
I am going to share one of those brilliant moments with you today, so buckle up and throw on a pair of sunglasses ('cause you're going to need them)!

By: Sarah E. Koontz
Disclosure: This post contains affiliate links to products or services I personally use and would recommend to my closest friends.  Please read my full disclosure statement here.
About 9 months ago, I happened upon a blog that was simply gorgeous.  It was clean and sparkly and  wonderfully easy to navigate.  I eagerly clicked through to discover where the blogger had found this modern feminine WordPress theme.
That's the fateful day I met and fell in love with Angie and Chris from Angie Makes.
I will admit that it was a rather one-sided relationship at first.  I would stop by their Pinterest page and eye-guzzle all their beautiful WordPress themes from time to time, imagining how glamourous their life must be.
I envision Angie wiling away the hours crafting beautiful artwork with Chris forever at her side patiently transforming her art into delicate yet robust WordPress themes.  I am convinced that Angie makes the most delicious scones and Chris is a master on the grill, and whether they are a couple or just business partners…I am 100% certain they complete each other's sentences.
I know it sounds like I have taken this all a bit too far, but that is what Pinterest does to me!
I call it the "Pinterest Effect."
Everything on Pinterest is so wonderfully composed and not at all like real life, it's a colorful place where I go to escape my black and white world.
Pinterest is that colorful place I go to escape my black and white world. #ThePinterestEffect
Click To Tweet
I was perched on the fence of indecision and Pin-fatuation for months until I finally decided that it was time for me to take this relationship to the next level.
I picked my favorite theme from their wide selection and gave them $70 dollars from my blogging fund (which now has a balance of -$70 dollars).
I decided to go with the Jasmine WordPress Theme but I also love the Honeycrisp and Love themes.
You guys….I cannot tell you how much value they pack into their WordPress Themes.  And the combination of artistry and functionality is truly remarkable!  It was a lot of money for me to spend on a theme, but I can honestly say it was the best blogging purchase I have made to date.
It's hard to narrow my praise for their themes into a simple list of 10, but I'm going to do my best!

# 1 – It's super flexible & highly customizable.
You don't have to be a coding wizard to take the theme out of the box and personalize it to fit your own style needs.
[wc_divider style="solid" line="double" margin_top="" margin_bottom=""]
#2 – It's clean and clutter free.
White space is a blogger's best friend!  I love how clean and simple the theme is and how it allows me to have a minimalistic appearance to my site without sacrificing functionality.
[wc_divider style="solid" line="double" margin_top="" margin_bottom=""]
#3 – It's pretty. I mean, seriously pretty!
I love everything about it. And I didn't spend a ton of time on the design; I just added my own personality in a few key places.
Everything Angie….well…..everything Angie makes is magic!  Just look at this amazing showcase of themes she has.  #drool  #myfuturebff #shejustdoesntknowityet #sorrysammi
[wc_divider style="solid" line="double" margin_top="" margin_bottom=""]
#4 – They allow you to use it on multiple sites (that you own personally).
I run two blogs, and I love that I can use the same theme all the while creating a unique feel and user experience on each blog.
Can you believe these homepages are running the same WordPress theme? And they were so simple to design using the database of tips and tutorials Chris provides through the Angie Makes Knowledgebase.
[wc_divider style="solid" line="double" margin_top="" margin_bottom=""]
# 5- There are options to customize EVERYTHING!
It can be a bit overwhelming if you switch to an Angie Makes theme from another theme, because there are a zillion options to customize colors, fonts and layouts through their simple to navigate built-in system.  But it is so cool!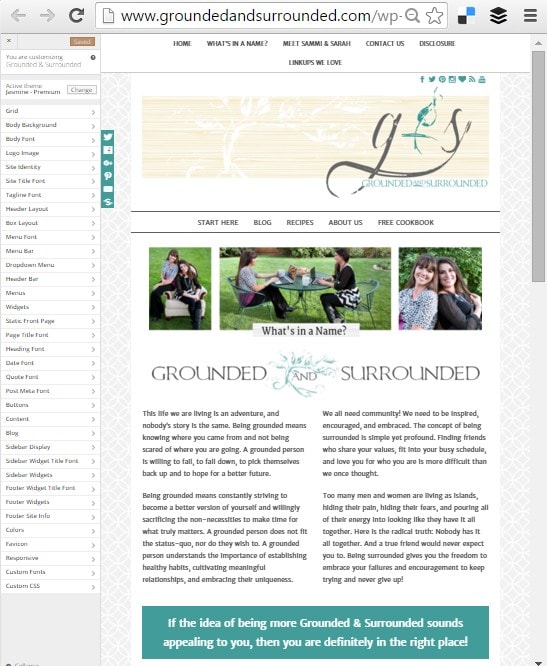 Look at all those tantalizing options, I could just gobble them up they are so decadent!  And if you are anything like me, you want to taste a bit of everything before you invest (just to make sure it is worth the calories!).
That's why you'e got to check out this awesome demo site they created for my theme (and every WordPress theme they sell) giving me ample opportunity to taste test  before I signed on the dotted line.
[wc_divider style="solid" line="double" margin_top="" margin_bottom=""]
#6 – Chris & Angie have done all the hard work for you.
The Angie Makes team has already built the pages that go along with their sample theme sites and you can download them with your theme.  This means that instead of having to build pages from scratch, you have a template to start with.  This is a huge time saver for busy bloggers!
[wc_divider style="solid" line="double" margin_top="" margin_bottom=""]
#7 – It transports you into the wonderful world of shortcodes.
Words cannot express how wonderful shortcodes can be for a blogger.  My Angie Makes WordPress Theme has supplied me with an abundance of shortcodes to make the reader experience on my blogs even more enjoyable.
Here's just one example of how we have used shortcodes on our "Recipes" page: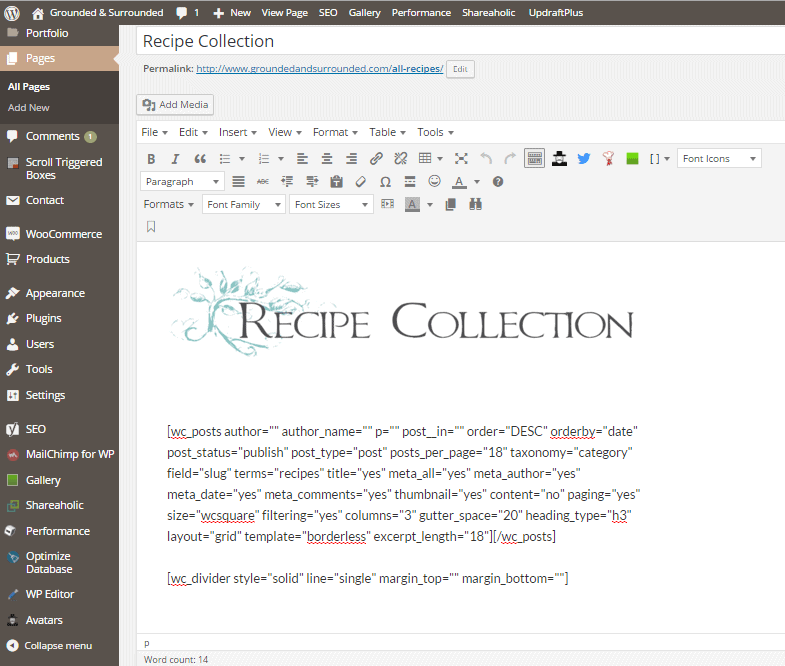 If you are a WordPress newbie, don't be scared by the fact you don't understand the shortcodes.  Chris and Angie provide a bunch of sample pages full of code that you can just copy and paste into your site.
There's also a bunch of tutorials on how to make the most of this feature.  It took me a while to get used to, but it has quickly become one of my favorites!
[wc_divider style="solid" line="double" margin_top="" margin_bottom=""]
# 8 – They offer a generous affiliate program.
As bloggers, we are always looking for products and services we love and we are going to shout it from the rooftops when we have a good (or bad) experience with a particular company.  It's always nice when a company rewards your efforts by paying you a small percentage on the sales you generate for them.
[wc_divider style="solid" line="double" margin_top="" margin_bottom=""]
#9 – Customer service is A++.
I had a few dumb questions and totally-my-fault problems when I was adding the theme to my blogs, but Chris was on top if it and so willing to help me fumble through.  Bless you and your computer genius.
[wc_divider style="solid" line="double" margin_top="" margin_bottom=""]
#10 – It feels great to support a small business.
I love supporting small businesses who offer a unique product and high-quality service.  I really wish Angie and Chris lived next door because they seem like super cool people and I would love to have them over for tea or a bbq sometime.  Their commitment to excellence really shines through their products, and I look forward to being  a repeat customer.
[wc_divider style="solid" line="double" margin_top="" margin_bottom=""]
How's that?!?
It's a pretty great list, don't you think?
Angie and Chris didn't ask me to write this review, because unfortunately, they haven't a clue about my obsession with (them and) their work.  But maybe, just maybe, they will see this review and Angie will send me her scone recipe as a thank you.
Hey….a girl can dream, can't she?
Although my obsession with the  two brilliant individuals behind Angie Makes is borderline creepy, I can say with absolute confidence that their fantastic WordPress theme loves me just as I am.
So, if you are sick and tired of having a one-sided relationship with your WordPress theme, try one of Angie and Chris' themes….and join me in the world of happily ever after!


P.S. I had so much fun putting this theme up on my site, I would probably say YES if you asked me to help you redesign your site with an Angie Makes WordPress Theme.
I've designed many sites over the years, and although I'm not a professional web designer…I find a way to get it done.
Feel free to drop me a note if you are interested in transitioning to an Angie Makes Theme but need a blogging friend to help with the details. I would love to send you a quote for my time.
This article has been shared at many of our favorite blogger link-ups!