Are you ready for this Brainy Breakfasts Cookbook? You will LOVE the recipes we created for it PLUS all the others.
Blogging has brought so many wonderful new friends into my life.
Trisha from Intoxicated on Life is one of them.
When she asked me to participate in a new cookbook she was creating I was ecstatic! Well to be completely honest…I was a little excited and a lotta nervous.
Could I really come up with 3 amazing recipes that would be good enough to be featured in the Brainy Breakfasts Cookbook?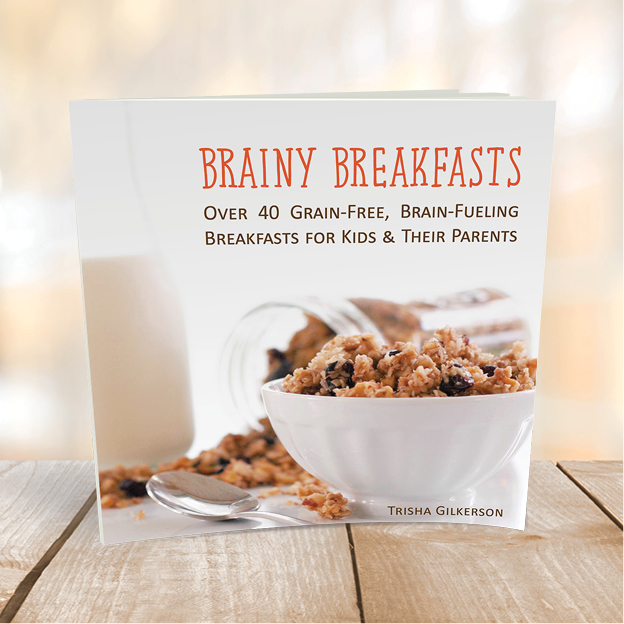 Are you the parent that wants to feed your kids a healthy breakfast, but you don't know where to start? Maybe your kids eat way too much sugar-laden cereals, pop tarts, and toast.
Or maybe you already do feed your kids a healthy breakfast without much sugar, but they are getting tired of the same ole', same ole' day after day. Are you stuck in a rut?
If you are on a journey towards healthy eating, grab a copy of Brainy Breakfasts: Over 40 Grain-Free, Brain-Fueling Breakfasts for Kids and Their Parents. This cookbook is filled with grain-free recipes that will delight your taste buds and fuel your brain.
All the recipes are delicious, grain-free, and most importantly, kid-friendly.
After a lot of thought and trial runs, I decided to include my Apple Cereal recipe and create a delicious Apple Butter N'Oatmeal and Mint Chip Smoothie for the cookbook.
I am excited to share the highlights of all three recipes with you today.
Apple Cereal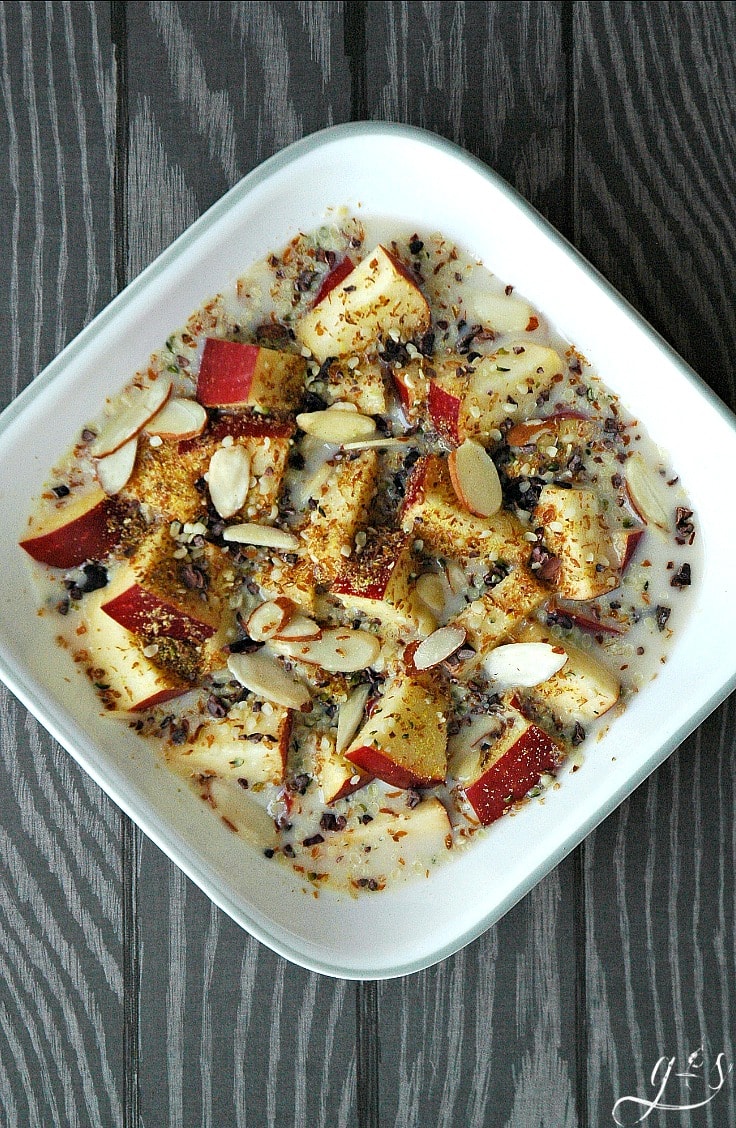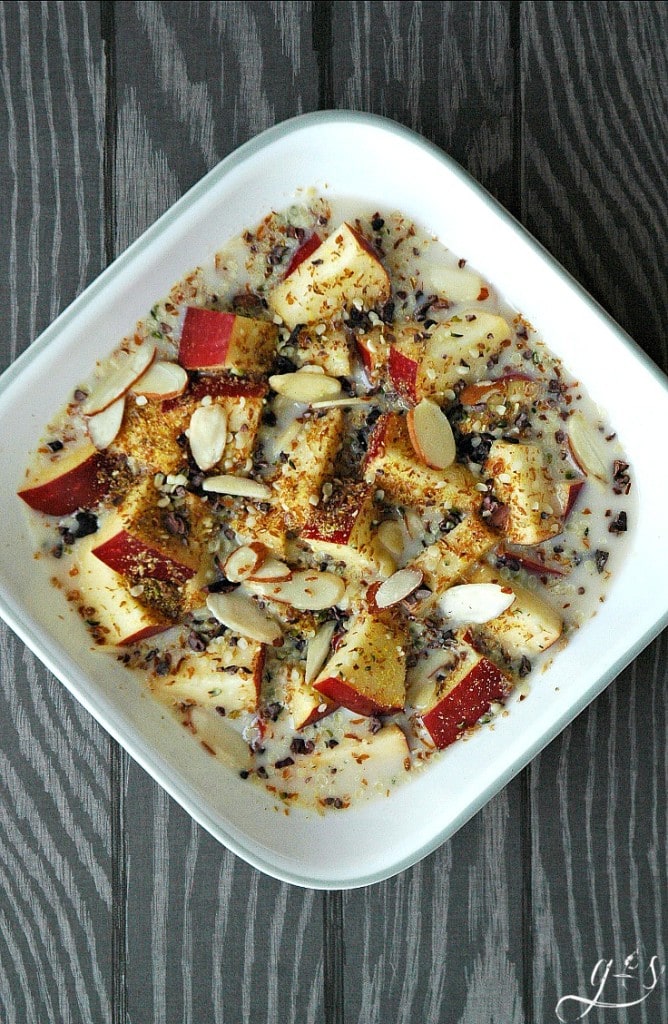 The Apple Cereal recipe is a simple mixture of fresh apples, nuts, seeds, and almond milk.
This will quickly become your go-to snack after you experience the texture and flavor of this recipe. The great thing is, you can substitute any "superfoods" you have on hand!
Apple Butter N'Oatmeal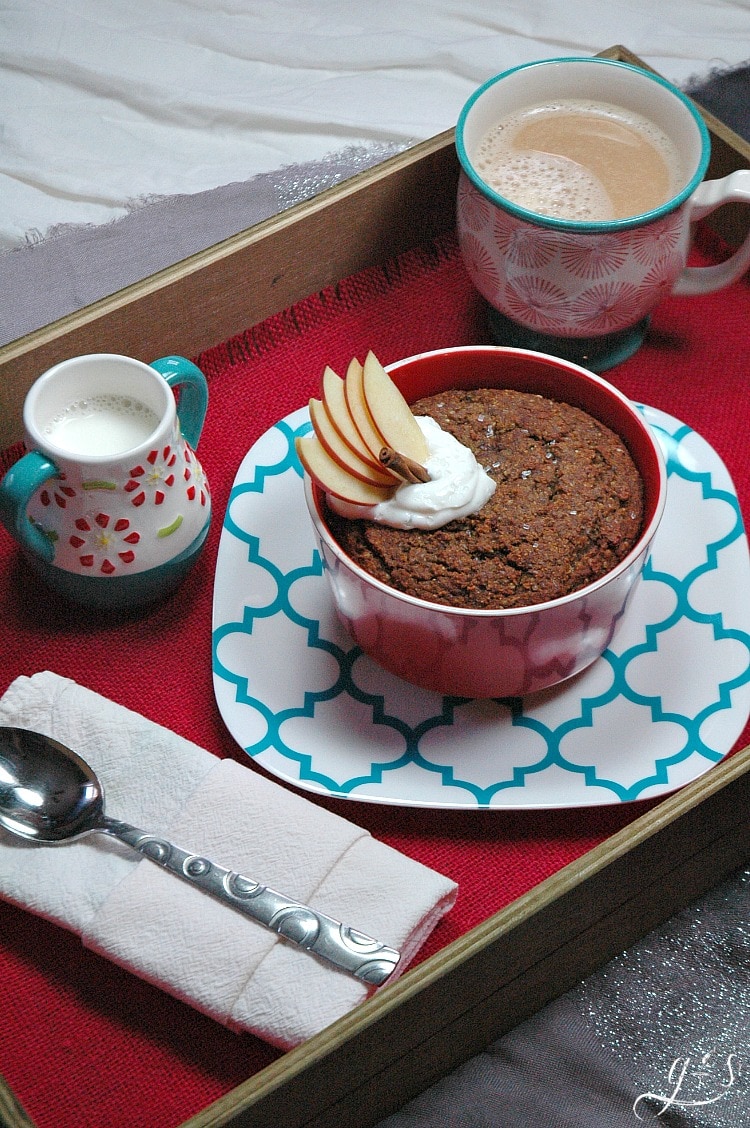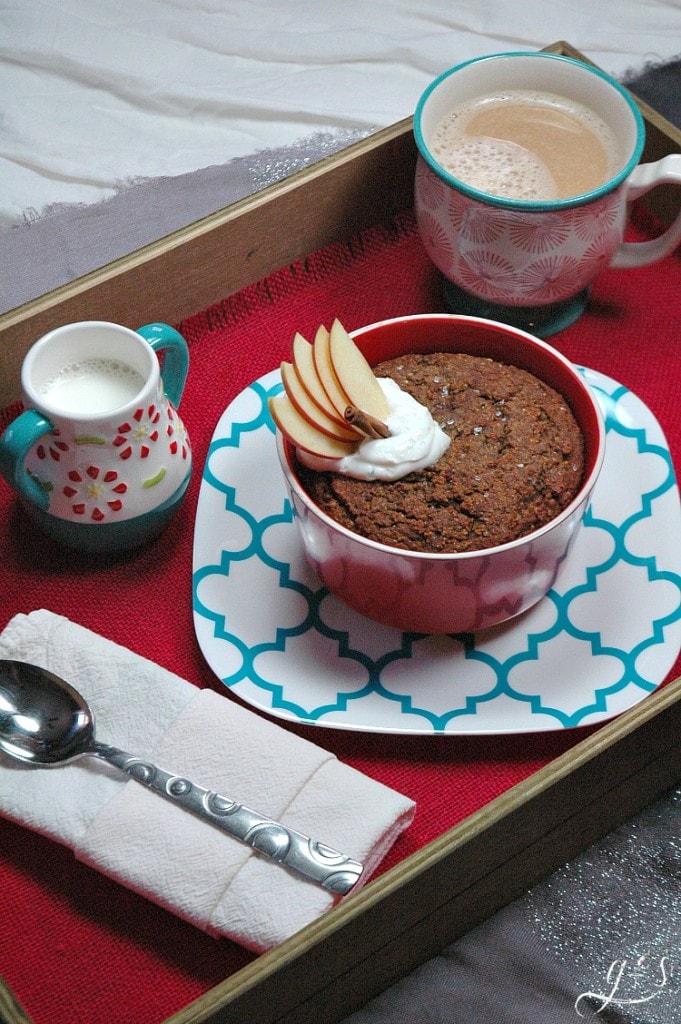 There is nothing better than homemade apple butter so I knew an Apple Butter N'Oatmeal would be just the recipe to feed your kids on a cold winter day.
This fakeout oatmeal is made with quinoa and coconut flour instead of oatmeal and packed with brain-fueling foods such as pumpkin and ground flaxseed. I love to pour a splash of milk on top and a few pecans before I dig in.
Nutritious Mint Chip Smoothie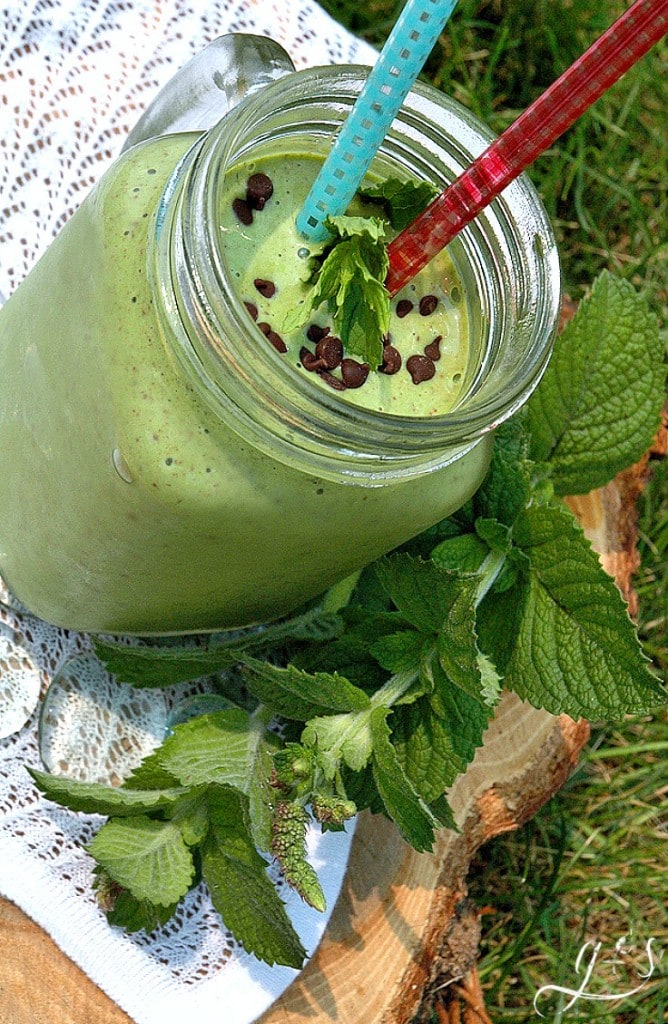 This Nutritious Mint Chip Smoothie recipe is simply out of this world! It tastes just like it's alter ego, Mint Chip Ice Cream, yet doesn't contain loads of refined sugar.
Spinach, plain Greek yogurt, honey, and a few chocolate chips combine to make a shake worthy of praise! It's light, yet hearty, and feels every bit as indulgent as the ice cream, but full of superfoods.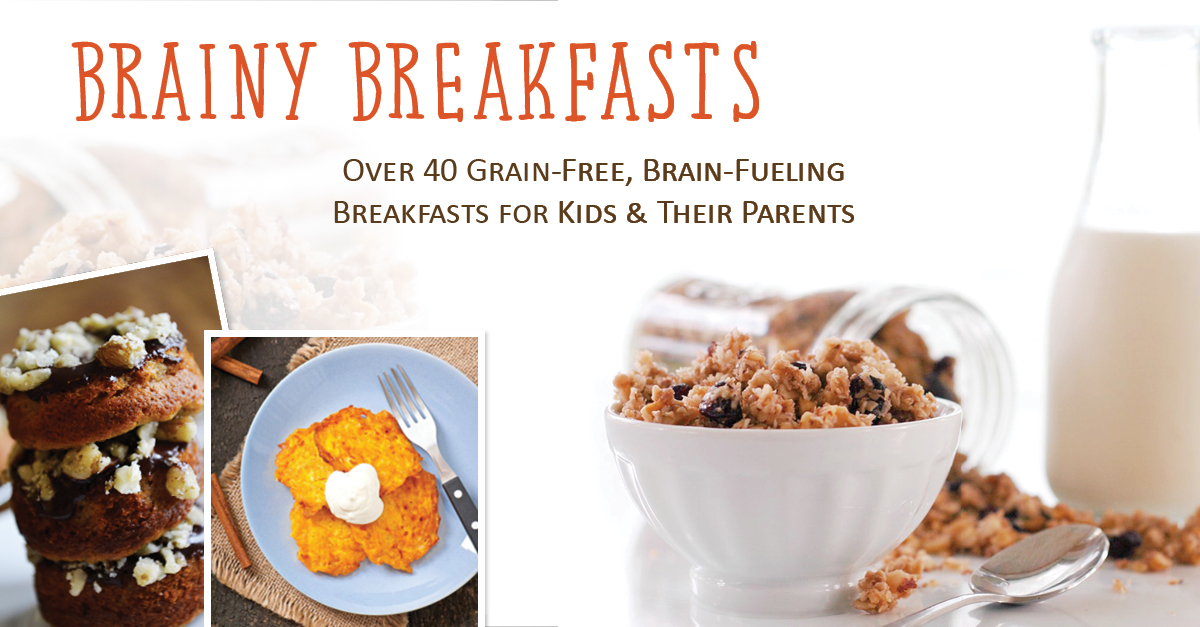 Research says breakfast is an important meal, especially for our kids who have developing brains. The literature on what types of foods are most important really isn't all that complex. This topic can be summed up quite concisely:
Breakfast-eaters consistently academically out-perform non-breakfast-eaters.
High-carb breakfast content negatively impacts test scores.
Lack of protein in breakfast correlates with low school performance.
The most important components of a breakfast that supports brain function and neurotransmitter activity include: protein, fat, B vitamins, iron, choline, and antioxidants.


The vision behind Brainy Breakfasts was to create a resource you can use to make delicious, brain-fueling breakfast options for your family.
We collaborated with several other bloggers to create recipes that fit these criteria. These recipes include nourishing ingredients like eggs, walnuts, coconut, spinach, and more "brainy" foods! All 40 recipes are gluten and grain-free and full of "brainy foods" such as flaxseed, coconut, spinach, and fruits/veggies, or nuts.
You will find egg dishes, homemade cereals, baked goods, waffles, donuts, and pancakes, smoothies, and many other fun breakfast options!

Brainy Breakfasts is a beautiful full-color digital book that includes printable recipe cards and an easy-to-print black & white PDF version to keep in your kitchen drawer. You are sure to find some recipes even the pickiest of eaters will enjoy!
So, are you ready to start incorporating healthy ingredients into your own breakfast routines?


This cookbook aligns perfectly with our Whole Food Family mission. We believe that by adding at least one more whole food to your meals will impact the health of your family in BIG ways.
My hope is that we can all "take back breakfast" and start serving our families more whole foods at the beginning of the day. What does that look like you may ask? CLICK HERE to find examples and recipe ideas.
What's your biggest breakfast battle? Let's chat about it in the comments.