Learn How to Make Granola Bars to save money and to incorporate healthy ingredients.
These gluten free granola bars have been a staple in our house for a while now.
I was finding it incredibly difficult to find healthy granola bars that didn't cost a fortune.
So I decided to make my own and haven't looked back since!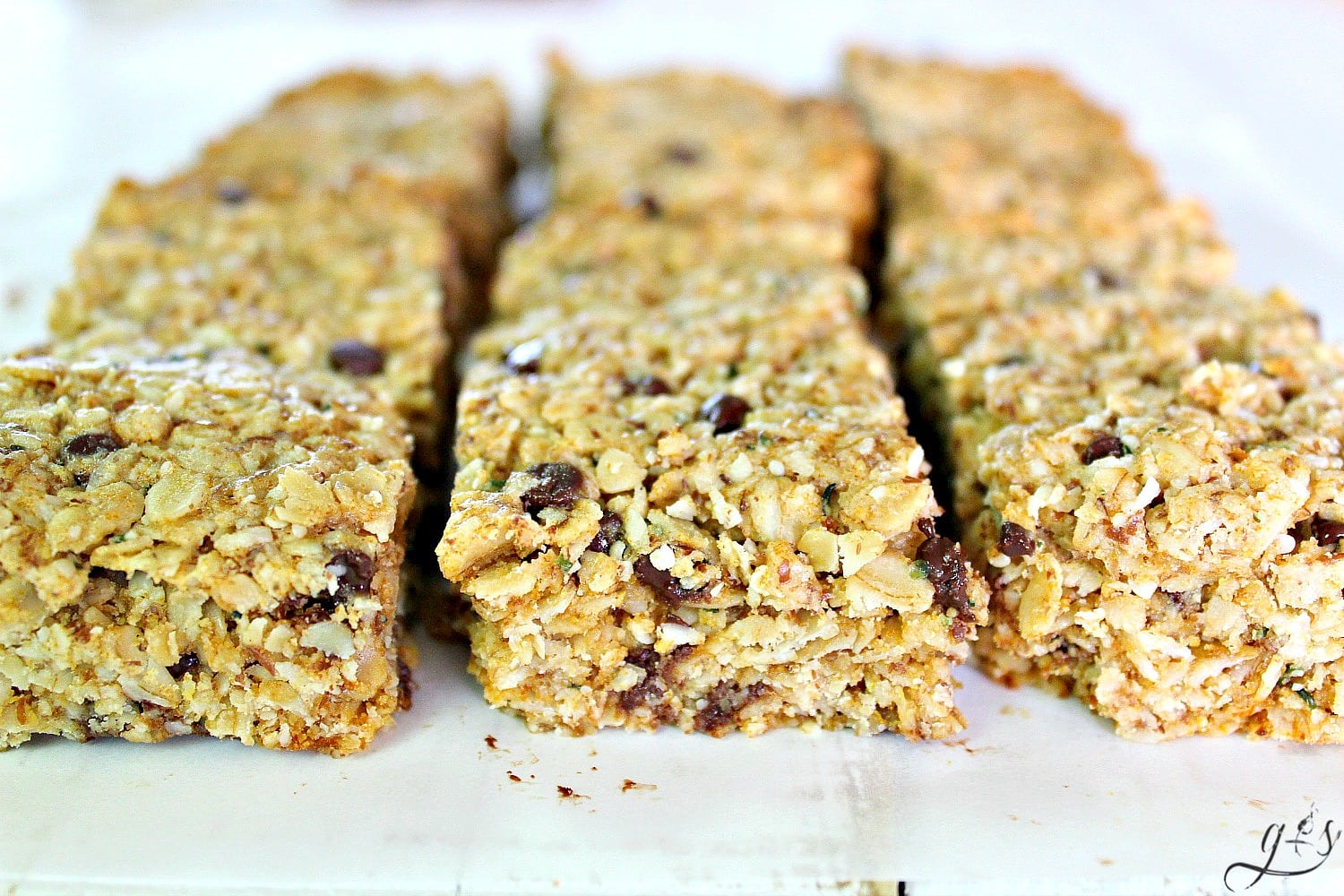 I was so discouraged to discover that most "healthy" pre-packaged granola bars contain soy and mystery ingredients I can't pronounce. Soy seems to be in everything these days and I would just as soon avoid it if possible.
When I found this simple recipe I knew I wanted to make it my own and add in some "superfood" ingredients. The term "superfood" may be a little overused, but don't let that distract you from the fact that our bodies really need these nutrient dense foods!
Did you notice the tiny flecks of green in my bars?
Those are hemp seeds, and they are one of my favorite superfoods. These soft seeds are full of protein and essential fatty acids. Besides adding them to these granola bars, I also enjoy them in smoothies and Apple Cereal.
Related Article: Every Mom's Guide to Packing Healthy School Lunches
I also added ground flax seeds and unsweetened shredded coconut to these chewy bars. I feel great about feeding my family these nutrient dense granola bars that also fill them up. I know that you will too.
Did you know that coconut is packed with iron, zinc, and fiber? Sounds like a superfood to me!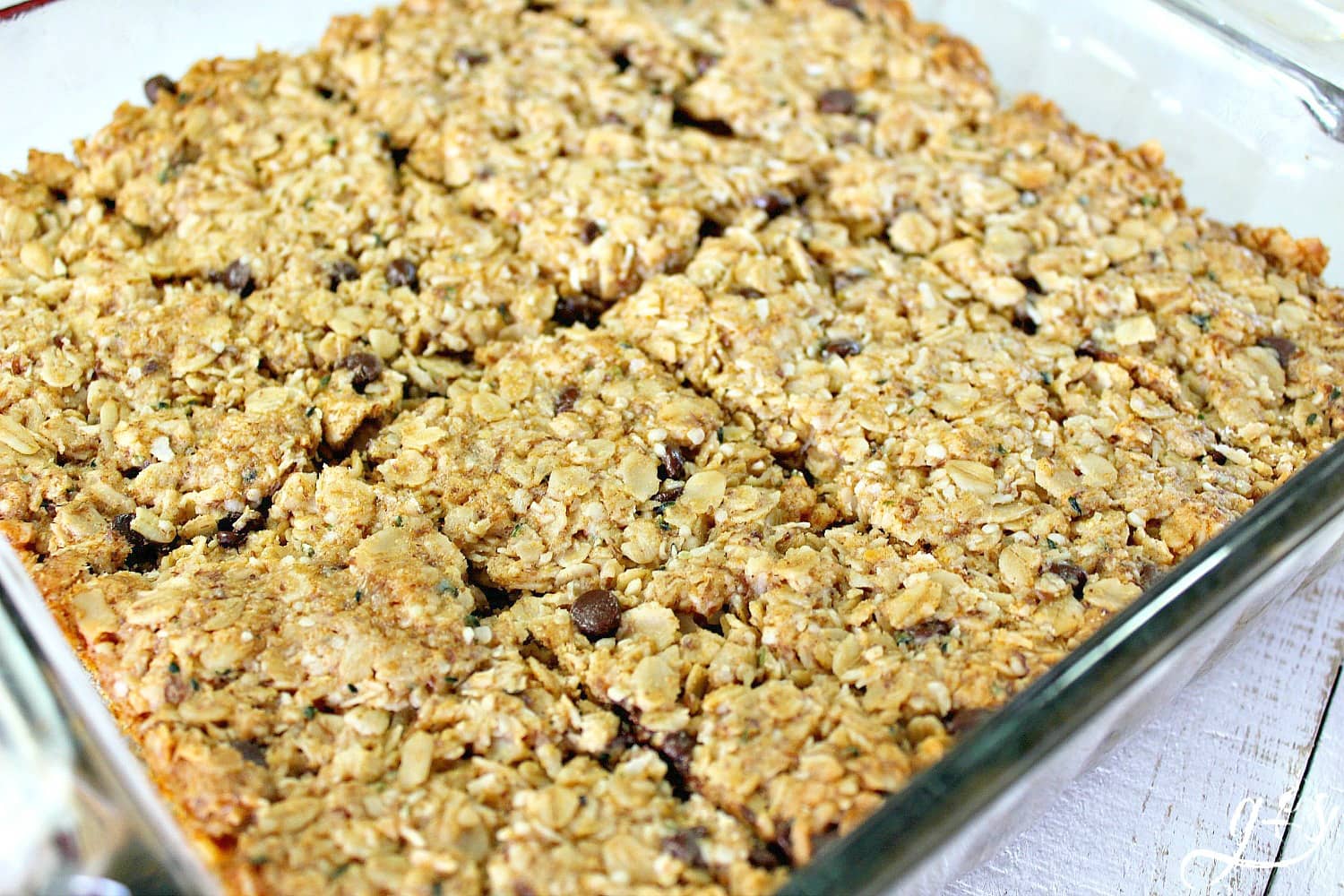 The serving size of these bars is completely up to you!
You can get as many as 16 small squares or at least 10 normal-sized granola bars. I typically cut them so I have enough to put in kids' lunches all week which is 10-12 bars for us.
Who needs a #healthy #snack? Try our Fit & Frugal Homemade Granola Bars #superfood
Click To Tweet
Most months I will make these one week, energy bites the next week, and then muffins…and by the end of the month, I'm all tuckered out and we just pick up a box of something "sorta healthy" at Wal-Mart.
By the way, have you noticed Wal-Mart has really stepped up their game lately with clean eating options? I have been pleasantly surprised to find these crackers and fig bars that the kiddos just LOVE!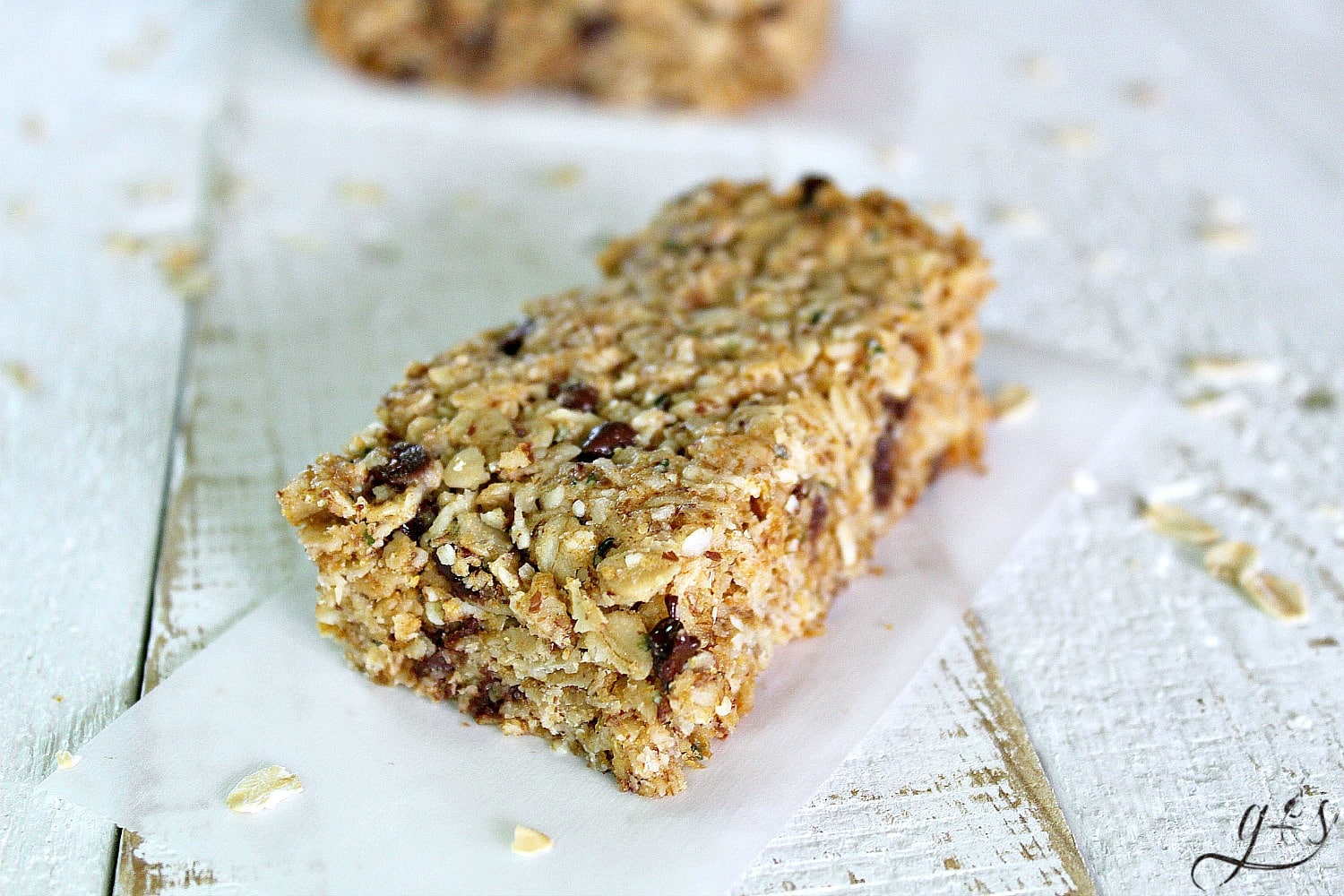 Okay, back to the recipe! Feel free to use whatever nut butter, seeds, or other additions you have on hand. If I don't have hemp seeds, I don't sweat it. I just add a little more ground flax or finely chopped almonds.
I have been wanting to try a different nut butter other than peanut butter. Our friend, Kari from She's Nuts!, has the most delicious nut butter flavors without all the sugar. The Cinnamon Almond Pecan would be an excellent choice in this recipe. My mouth is watering…
Related Recipe: Apple Nachos with Salted Caramel Peanut Butter Sauce
I can't wait for your own family to try this healthy recipe! Let me know down in the comments what add-ins you used!
Are you read to learn how to make granola bars? You'll do great!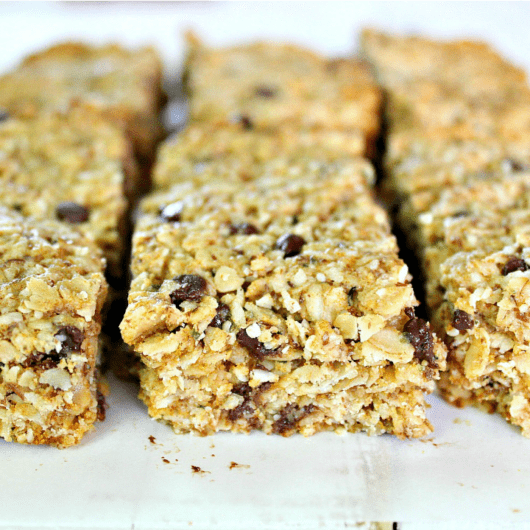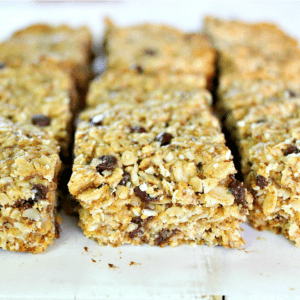 Print Recipe
How To Make Granola Bars
These Fit & Frugal Granola Bars are made with healthy gluten free ingredients to create chewy granola bars you feel good about feeding your kids. This homemade recipe is a perfect snack or addition to any school lunch. They are packed with superfoods like ground flax seeds, hemp seeds and coconut! But any add-ins will work! We never skip the chocolate chips but the possibilities are endless. Look no further, you have found the BEST granola bar recipe on Pinterest! Find more "healthified" recipes at groundedandsurrounded.com.
Equipment
1 large bowl

1 8x8 glass pan
Ingredients
1/4

cup

butter, softened

1/4

cup

peanut butter (I use Adams Natural)

1

tsp

vanilla extract

1/2

cup

honey (I use a local raw variety)

2 1/4

cups

oatmeal (I use old fashioned)

1/4

cup

flour (whole wheat or GF)

Try our G&S GF Flour Blend Recipe

1/2

tsp

baking soda

1/8

tsp

salt

1/2

cup

unsweetened coconut shreds

1/4

cup

ground flaxseeds

1/4

cup

hemp seeds

1/4

cup

mini chocolate chips
Instructions
Lightly spray an 8 x 8 glass pan with non-stick cooking spray. Preheat the oven to 325 F.

Cream together the butter, peanut butter, honey, and vanilla in a large bowl. Add in the rest of the ingredients and mix well.

Press the mixture into the greased pan. It' will be a little sticky, so use the back of your spatula to press it down or wet your fingers a little with water to press the mixture in firmly. You want your batter to become very compact and tight in the pan.

Bake at 325 F for 30-35 minutes until the top is slightly golden brown. They will firm up and hold together nicely once cooled.

After they have cooled completely, cut into bars and wrap each bar in plastic wrap. Store the bars in the fridge for 7-10 days or store in your freezer for months.
Notes
Don't panic if you batter is really sticky. Depending on the variety of nut butter and honey you use, the consistency of your batter will vary. I use a very thick peanut butter and honey so my batter is very thick and not too sticky.  However, when I used a more "syrupy" honey, my batter was a little more challenging to press into the pan. Despite the difference between batters, my bars always turned out well!
This recipe was adapted from a recipe at Brown Thumb Mama.