It is so fun to take a simple muffin recipe and make it truly spectacular!
I can honestly say I have never had a muffin like these Chunky Monkey Surprise Oatmeal Muffins.
I think it may become a trend. 😉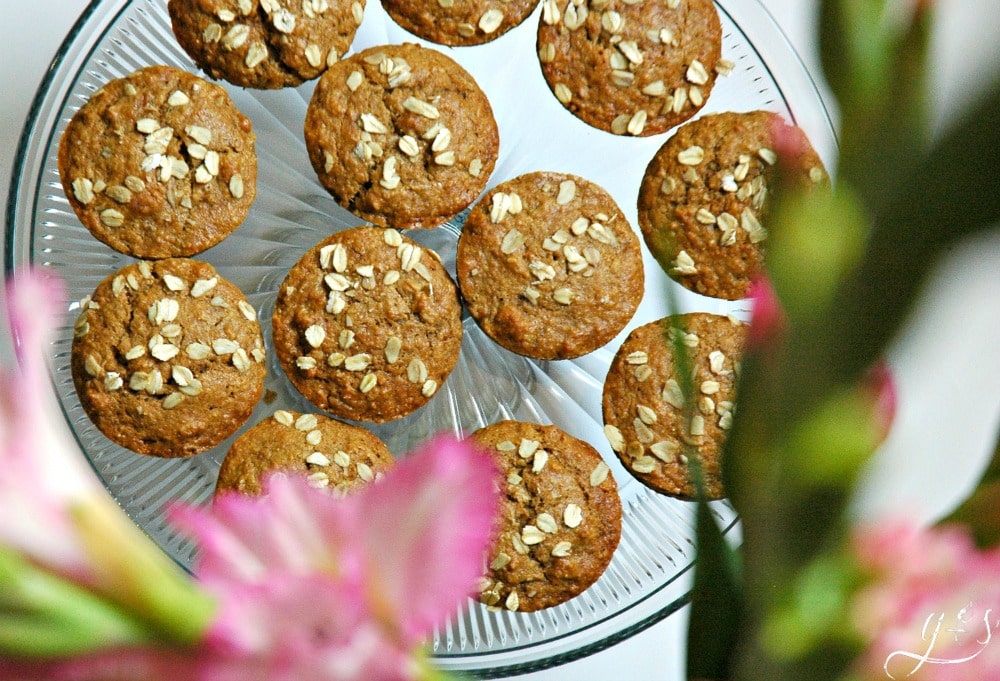 Surprises are hard to come by these days, am I right? Everybody knows everything because of Facebook, Instagram, and SnapChat.
So when my mom turned 60 years old last month, it was a miracle upon miracle that all 4 surprises we planned for her birthday weekend remained a surprise. God definitely ironed out all of the details and allowed all of us to have a truly wonderful time celebrating her.
Surprise #1:
Surprise birthday lunch with my mom's 3 closest friends and my sister, who arrived a day early! If you live or travel to Rapid City you HAVE to eat at Que Pasa. It is our favorite Mexican restaurant! Homemade churros with 3 dipping sauces. Need I say more?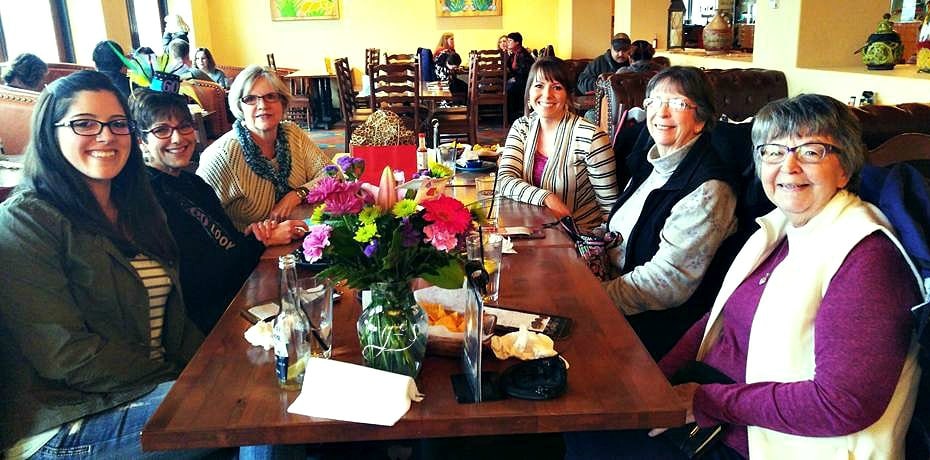 Surprise #2:
We planned another surprise lunch and chose the The Alpine Inn, a historic landmark in our area, that serves the most amazing European food (we may or may not be obsessed with food…). We pretended the entire half hour drive to turn into different businesses and streets and the look on my mom's face was priceless.
Surprise #3:
My aunt traveled 4 hours to surprise my mom during our German lunch! It was so fun for all of us to have my sweet aunt here to celebrate. After lunch we shopped in Hill City and made a quick stop at Prairie Berry Winery on our way home. You have to try the Gold Digger, it's my favorite!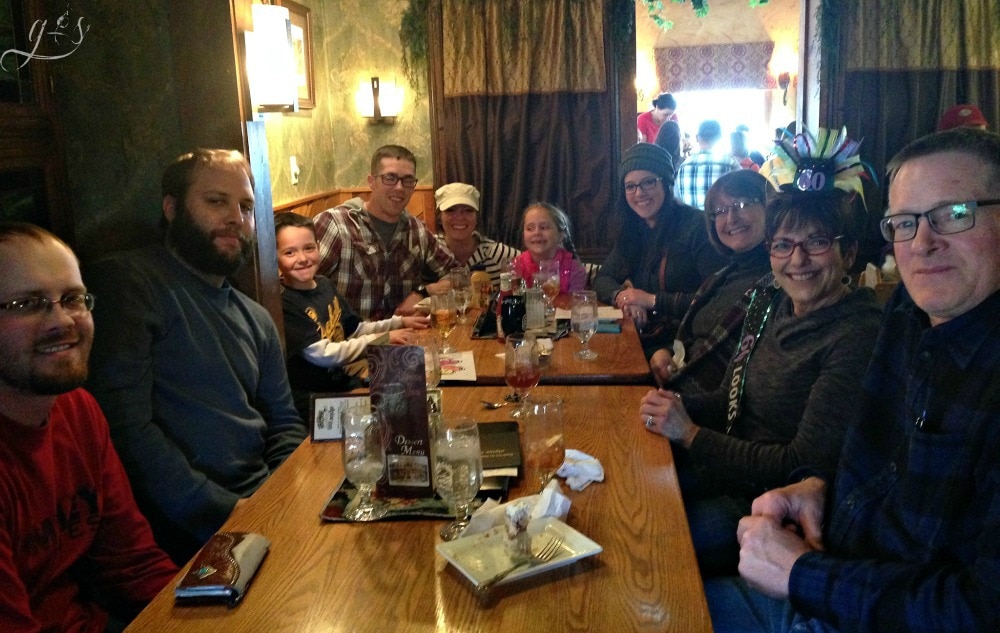 Surprise #4:
We topped off the birthday festivities with this 3 Layer Death By Chocolate cake that was nothing short of a masterpiece. Being a foodie, I knew exactly what I wanted the cake to look like and Kim from Star Spangled Batter delivered! We all "oohed and ahhhed" over this gorgeous cake for as long as we could stand it before we HAD to dig in and enjoy every.single.bite.!!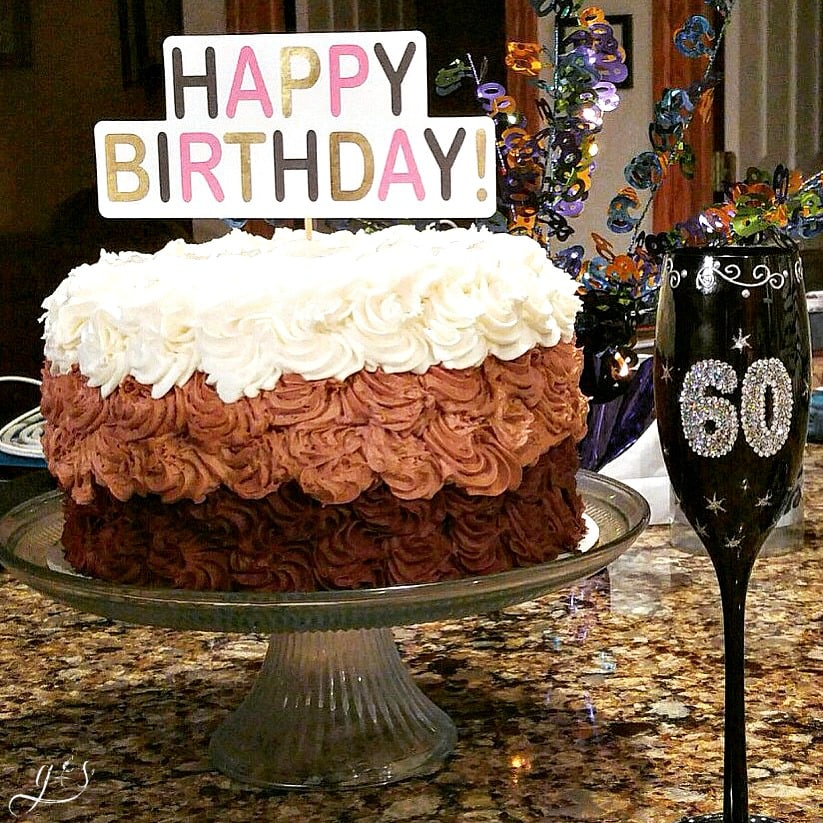 So to say the weekend was a success is an understatement.
Everything, and I mean everything we had planned actually happened.
My mom felt loved and later stated it was the best birthday she has ever had. WIN!!!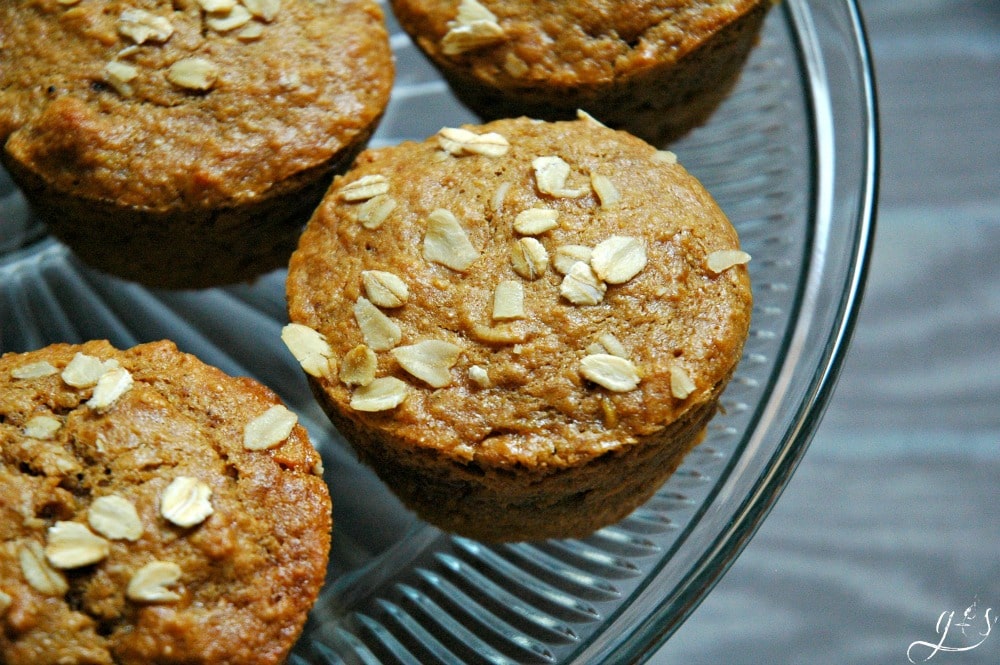 Okay…we better talk about these Chunky Monkey Surprise Oatmeal Muffins for a minute.
What's not to love? Bananas, oatmeal, peanut butter, and chocolate. Slam dunk if you ask me!
The best part? No one even expects the chocolate flavored center!
They are already in love with the marrying of the bananas, oatmeal, and peanut butter that when they get to the chocolate they are completely mind blown!
As a side note, these muffins freeze really well. I make a batch and stash half in the freezer to pack in lunches or pull out when the kids have friends over.
YUMMO, who doesn't love a surprise chocolate center! #mindblown #healthy #muffin
Click To Tweet
Chunky Monkey Surprise Oatmeal Muffins contain no refined sugar and have whole wheat flour and old fashioned oats as the base.
….But they aren't the "skinniest" compared to other recipes we share so that is why I had to put them in the "eat these sparingly" category if you are trying to follow a whole foods/clean eating lifestyle. 😉
Now onto the fabulous recipe!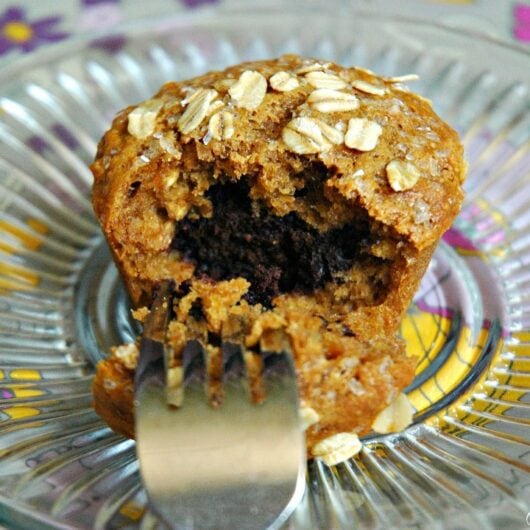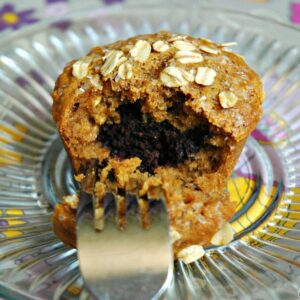 Print Recipe
Chunky Monkey Surprise Oatmeal Muffins
These easy Chunky Monkey Muffins have a surprise twist! Not only does this healthy breakfast recipe contain bananas, peanut butter (or PB2), and oatmeal...but a surprise chocolate center! If you want to "WOW" your friends and family with a new recipe this is it! It's a fun idea for kids after school snacks too! These also contain simple and nourishing ingredients such as coconut oil, coconut sugar, and oats!
Equipment
1 muffin tin

1 large bowl

1 medium sized bowl

1 wooden spoon
Ingredients
Wet Ingredients
1/3

cup

coconut oil, melted

3/4

cup

peanut butter*

2

eggs

3

ripe bananas, mashed

1

tsp

vanilla extract
Dry Ingredients
3/4

cup

oat flour

1/2

cup

old fashioned oats

1

cup

whole wheat flour

1

cup

coconut sugar

1/2

tsp

baking soda

2

tsp

baking powder

1/2

tsp

sea salt
Surprise Chocolate Batter
3

Tbsp

cocoa powder

1

Tbsp

water
Instructions
Preheat oven to 350. Spray your silicone muffin pan with non-stick cooking spray or line with paper liners. Set aside.

Combine wet ingredients in a medium-sized bowl. (Save this bowl!) Combine dry ingredients in separate large bowl. Pour liquid mixture into dry ingredients and mix until combined.

Pour ½ cup batter back into the wet ingredients bowl to make the secret chocolate batter. Add the 3T cocoa powder and 1 T water. Mix.

Now comes the fun part! Creating the chocolate surprise!

Using a Tablespoon, pour 1½ Tbsp PB batter into the bottom of the muffin tin or liners. Then add 1½ tsp of the chocolate surprise batter to the center of the PB batter. Now cover the chocolate batter with another 1½ Tbsp PB batter. My silicone muffin pan makes fairly large muffins, so if you are using paper liners use your best judgement and make sure you liners don't get too full. Filling them up ¾ full is best!

Sprinkle the tops with some oats and sparkling sugar granules if you wish!

Bake 20-30 minutes depending on the size of your muffins. Mine baked perfectly in 27 minutes!
Notes
*1 cup PB2 powder mixed with water (use your judgement, it should be the thick consistency of typical peanut butter) makes 3/4 cup of peanut butter and works well in this recipe too!
-If you use regular sugar, I would use ¾ cup as it is sweeter than coconut sugar.
-You can use ¼ cup oil and 2 bananas and the muffins will turn out well, but they will not be as moist and have the soft and light texture these ones do.