If you have followed this blog for a while, you know…I can't stand clutter!
Clutter is both my constant companion (I have 2 grade school kids!) and a threat to my peace of mind.
I am always looking for new ways to control the clutter in my home, and this Pre-Christmas Purge has been a real winner for our family!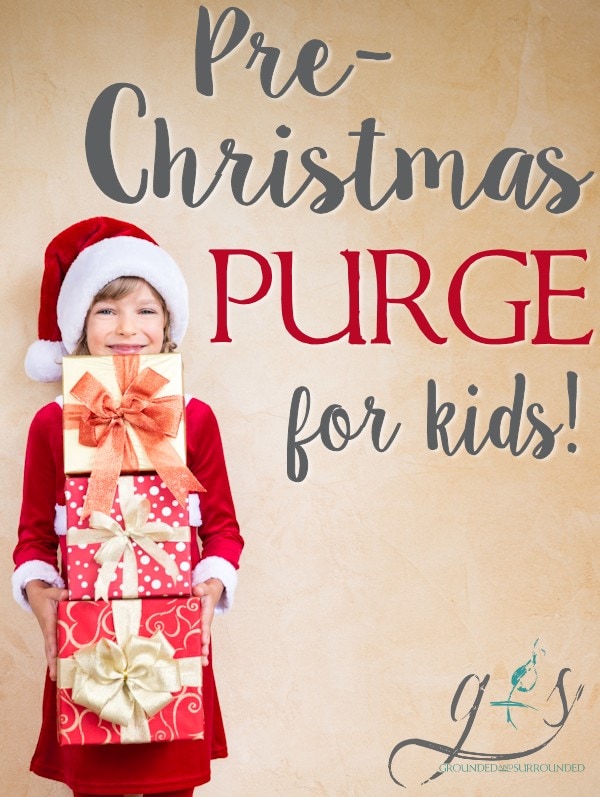 By: Sarah Koontz
I have read more blog posts than I can count about the holiday season and all of the gifts children receive.
There are endless debates about whether or not to request fewer gifts from grandparents, tell aunts and uncles to give our kids "experiences" rather than gifts, or give up on the idea of exchanging gifts all together.
My husband and I have always been frugal when it comes to holidays and birthdays. Our kids don't expect elaborate or expensive gifts. 
But because we choose not to dictate to our extended family what they can or cannot buy for our kids, by the end of December we are literally swimming in new stuff!
So, I choose to use the expectation of new things to motivate my children to do a pre-Christmas purge. 
I have been doing this for the past 3 years, and it has worked exceptionally well for my family.
Unfortunately, if you have young children, you will find that you are doing the majority of the purging.
But you are setting an excellent example for your kids, and you are teaching them a habit that will benefit them for the rest of their lives!

Here are the steps we follow in our home!
Step #1: Make a plan & set up some guidelines
You know your kids the best.  You want to do this close enough to Christmas that they are super excited about it, but you don't want to be thinking about this on Christmas Eve-Eve either!
[wc_box color="secondary" text_align="left"]
I find that the ideal time to start is the second weekend of December.  We always start with the bedrooms, and then we move to the playroom.
[/wc_box]
We have a standing rule in our home: When we move something from the bedroom to the playroom, we must also move something from the playroom into storage (more about this later!). 
My kids are 6 & 8 and I have found that they can only work for about 1 hour at a time before I start losing them.  I have also discovered that I cannot expect them to do this task without parental guidance. 
So we usually pick 2 separate days to do the work (one day in their bedroom, and 1 day in the basement/playroom).  We set aside  2 or 3 one hour chunks of time and generally rent movies to watch in between.
Slow and steady wins the clutter clearing race!
[wc_divider style="solid" line="single" margin_top="" margin_bottom=""]
Step #2: Keep, Trash, Move
The first thing we have them do when they go through a space is an initial keep/trash/move cycle.  I like to set up a keep laundry basket, a move laundry basket, and a trash can in their room and help them go through all of their toys and papers.
[wc_box color="secondary" text_align="left"]
You will find that kids first instinct is to keep everything, it is important that as a parent you help them to make good decisions. 
[/wc_box]
Once we have removed the trash, we take the move basket down to the basement, and find new homes for the keep items in their bedroom.  When we progress on to the basement playroom, the method is the same, except the items in the move basket get boxed up and put in storage.
[wc_divider style="solid" line="single" margin_top="" margin_bottom=""]
Step #3: Promise to keep items in Storage for at least 3 months before selling/giving-away.
Notice how I have used the word "move" rather than give-away or sell when I am communicating with my children.
[wc_box color="secondary" text_align="left"]
I have found that the fear of making a mistake or changing their mind about something is truly crippling to my kids.
[/wc_box]
I am a big fan of selling old stuff so we have room for the new stuff, but my children are in the process of learning this skill and I find that this middle step is crucial.
My kids know that mommy won't get rid of any of the stuff in our "move" box for at least 3 months.  I promise them that if there is something they miss, we can take it back out during that time.
Once 3 months has passed (and they almost NEVER miss any of it), I either give it away, put it in my garage sale pile, or trash it.
ONE LAST THING:  When you do decide to go through these boxes a few months later, don't you dare do it when your children are around!  They will want it all back if they see it, kids are funny like that.
So that is our pre-Christmas purge!  My kids are so proud of themselves when they are done, and the whole process of receiving gifts is a lot less stressful for this clutter-hating mom!
Why not use the expectation of new things to motivate your children to do a pre-Christmas purge?
Click To Tweet
[wc_divider style="solid" line="single" margin_top="" margin_bottom=""]
Giveaway Announcement!
CLUTTER…we all have it, we all hate it, but most of us feel powerless to overcome it.
That is why I am so excited to tell you about this fantastic book I have been reading.
The book, written by Ruth Soukup, is entitled "31 Days to a Clutter Free Life" and it truly is a step-by-step guide for regaining control of your cluttered life.
I have enjoyed getting to know Ruth through the process of writing multiple guest posts for her blog and was honored when she sent me a copy of her book to review.
In this book, Ruth divides the de-cluttering process down into simple and manageable daily tasks that are truly transformative.
The challenges can be completed by dedicating 30-60 minutes per day over the course of a month, or you can choose to work through the process at your own pace.
I love how she has laid out each daily challenge into four main categories:
1. Objective
2. Assignment
3. Checklist
4. Inspiration
My favorite challenges were "Day 24: Digital Data" and "Day 30: Calendar and Schedule;" those are two areas of my life that could really use some de-cluttering.
Ruth's book gave me all the tools and resources I needed to de-clutter my home and de-stress my life.
Because of that I have decided to bless one of our readers with a free copy!
Woot! Woot!
Everyone who answers the following question in the comments below will be entered in a drawing for a free copy of Ruth's book.
[wc_testimonial by="" url="" position="left"]Do you have any pre-holiday routines that have benefited your family over the years?  If not, please share something you would like to try this year.[/wc_testimonial]
The drawing will take place on Friday, December 11.
Please share your answer with us in the comments and be sure to follow on social media and our newsletter where we will be announcing the winner!


This post has been shared at many of our favorite Linkups!
[wc_divider style="solid" line="single" margin_top="" margin_bottom=""]
More Holiday Inspiration from Grounded & Surrounded: