The holidays are here and so are these delightful Peppermint Cocoa Energy Bites!
Peppermint and chocolate are meant to be together.
Like Batman and Robin.
Bert and Ernie.
Coffee and mornings.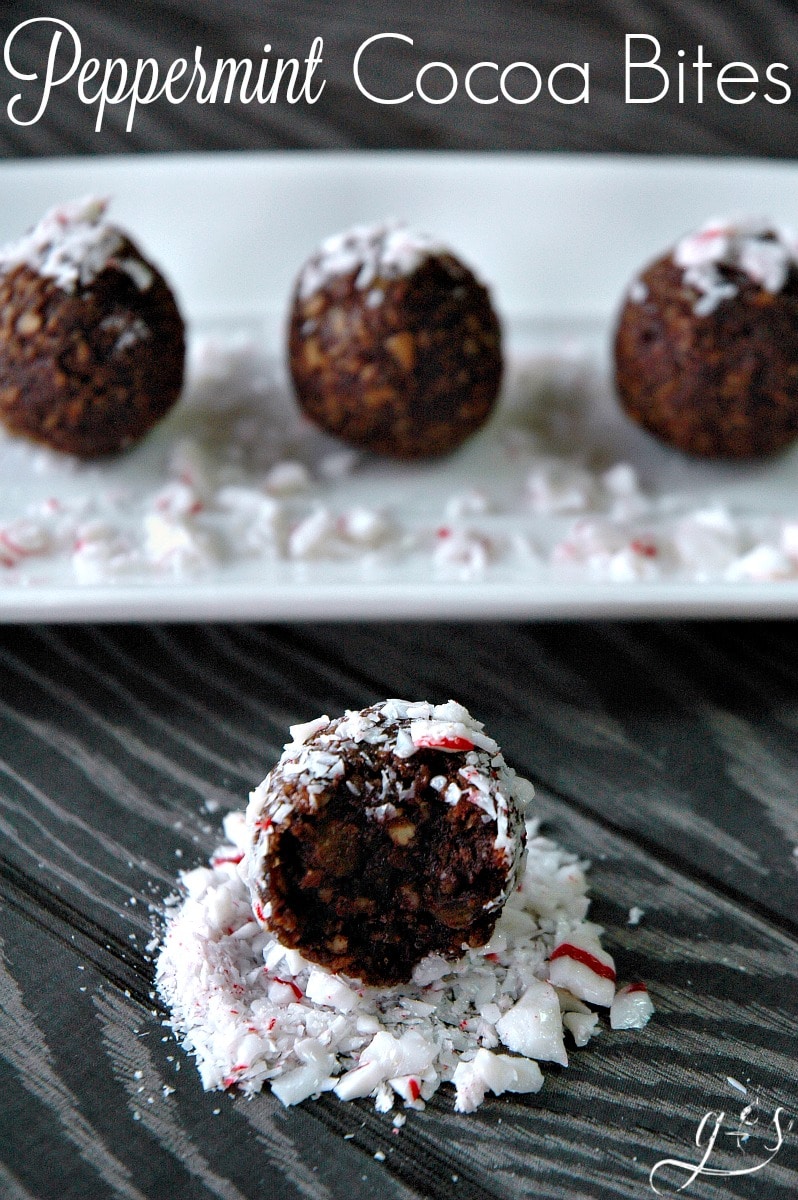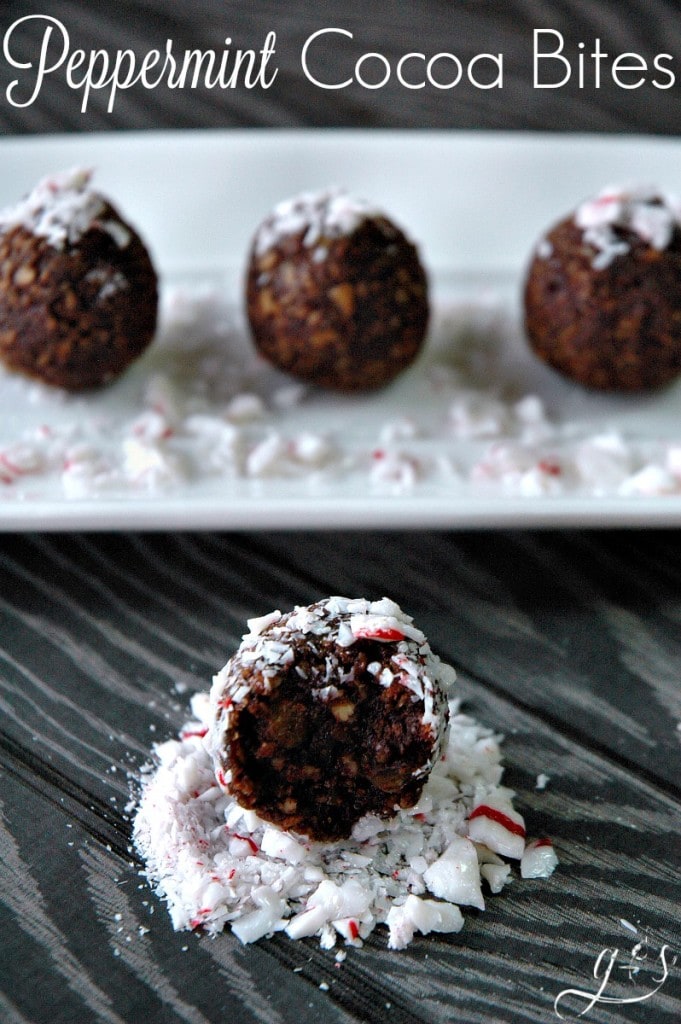 I may or may not be slightly obsessed with making energy bites. I mean, who can honestly gauge that sort of thing? But is a Peppermint Cocoa Energy Bite obsession really that big of a problem in light of what's going on in the world today? 😉
I have made it my mission to create a perfect energy bite recipe for every season.
This past summer there was this amazing lime coconut version we packed for our hiking trips and, as soon as the leaves started to turn, we pulled out the Thank"slimming" Pumpkin Bites recipe.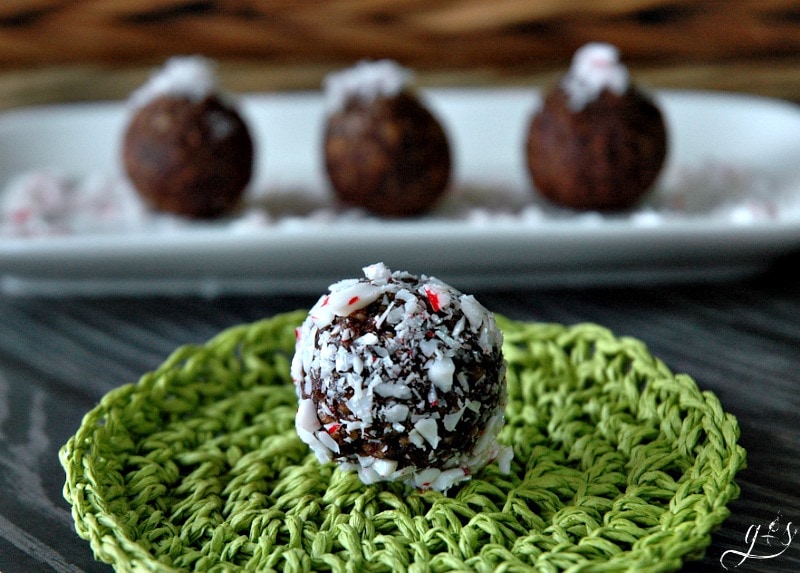 Energy bites are one way I can sneak healthy nuts and dates into my kids diets, and they don't even know….Muhaha!!!! [That was my futile attempt at an evil laugh, by the way.]
I usually freeze them and pull them out a few at a time to stick in my kids school snack pouches.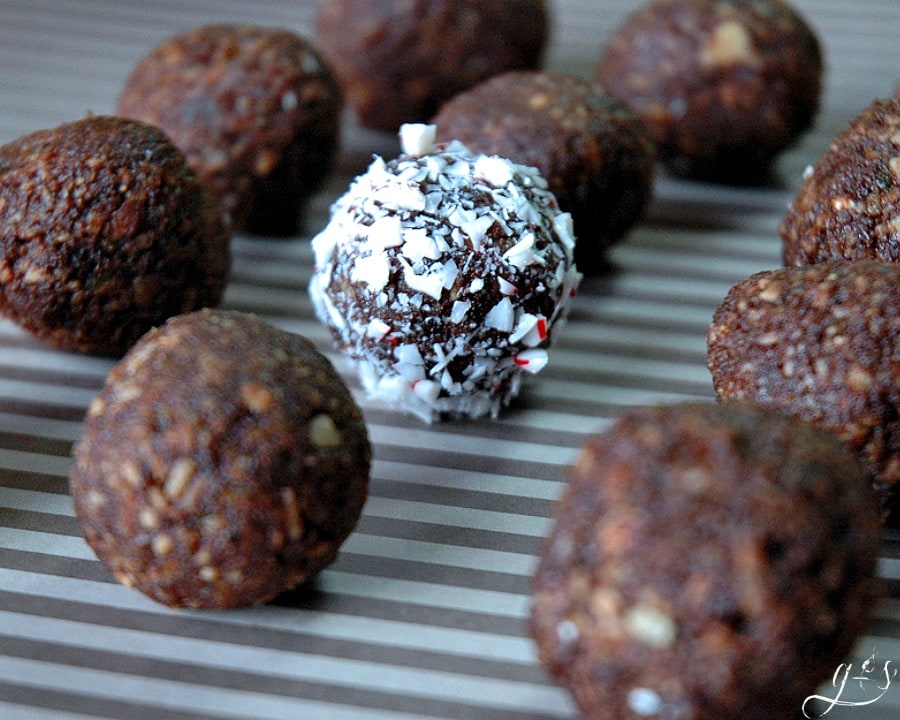 Okay, you got me. I put them in the freezer because "out of sight out of mind". I can't eat the whole batch if they are not taunting me every time I open the fridge.
Oh, and I always make a double batch of these Peppermint Cocoa Energy Bites!
That way you will not have to make them again so soon because we all know we hate washing out our food processors. Such a pain.
So these are SUPER healthy, right? Downright slimming you might say. Just perfect for everyday enjoyment.
So, in honor of the holiday season, we have also created a 4-Ingredient Peppermint Fudge, and it's epic!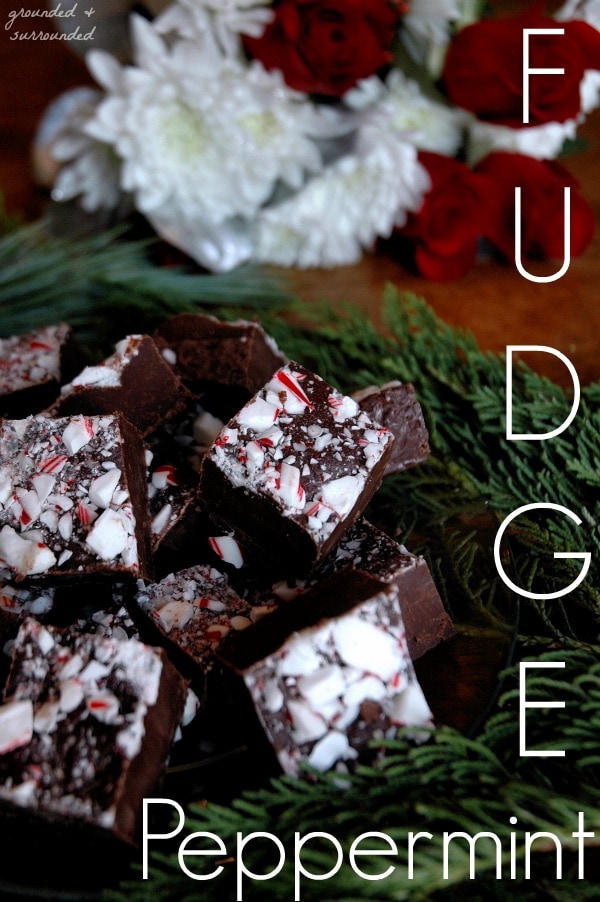 I mean what are the holidays if we don't splurge a little. So there you have it. A slim and a splurge recipe to take you through this beautiful holiday season.
For more holiday recipes and ideas be sure to check out our Holidays Page and Christmas Pinterest Board!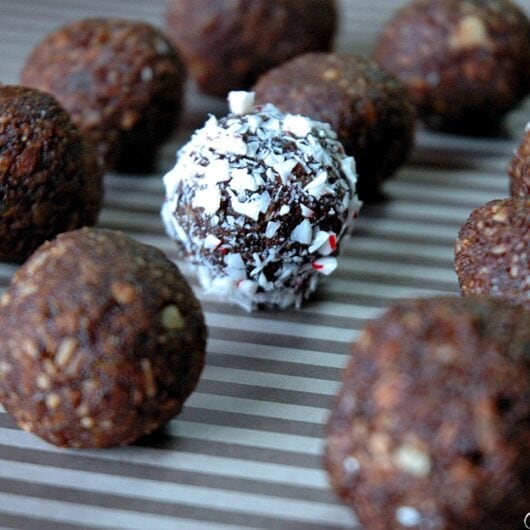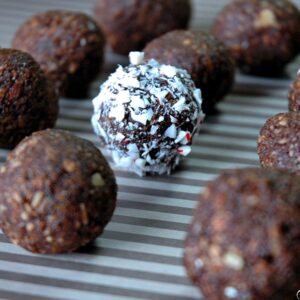 Print Recipe
Peppermint Cocoa Bites
These - healthy - no-bake - raw - 5 Ingredient Peppermint Cocoa Energy Bites are every bit as delicious as they sound. Chocolate + peppermint = BLISS! Gluten free and sugar free, these little holiday treats use the most simple of ingredients: nuts, dates, cocoa powder, & peppermint extract. Roll in crushed candy canes or shredded coconut for an added dose of yumminess! Find more healthy recipes at groundedandsurrounded.com
Ingredients
1

cup

dates

1

cup

sliced almonds, pecans, or walnuts

1/4

cup

cocoa powder

1/2

tsp

peppermint extract

1-2

tsp

cold water

if needed

1

candy cane or peppermints, crushed

optional

1/3

cup

finely shredded unsweetened coconut

optional
Instructions
Place your dates, nuts, cocoa powder, and peppermint extract in a food processor. Process on low until course crumbs form.

If your mixture is not holding together due to the lack of moisture in the dates, add a few teaspoons of water a little at a time while your processor is running until the crumbs stick together and form into a ball. Be careful to not add too much water as the mixture should not be sticky, just "wet" enough to hold together.

Remove mixture from food processor and form into Tbsp size bites by rolling between your palms.

If desired, roll the bites into the crushed candy cane or coconut. Enjoy!

Store in an air tight container in your refrigerator or freezer.
Notes
Our bites have been adapted from this recipe at The Lemon Bowl.