Protein is How to Stay Full longer and is an essential part of our daily diet because it gives us the energy we need to get through the day.
In many cases, the more active our daily activities are, the more protein consumption is needed.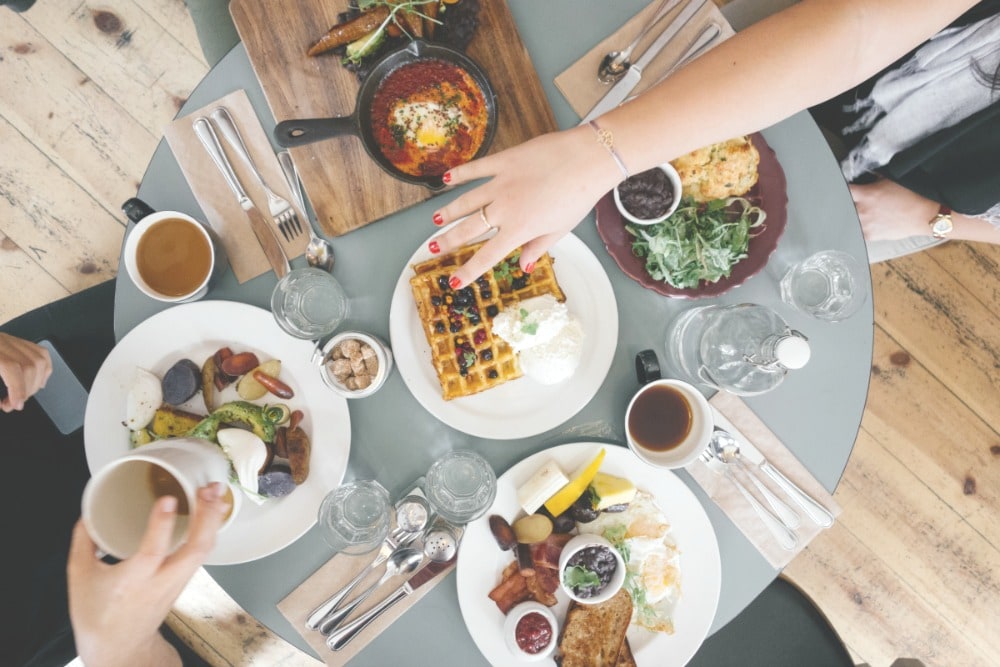 When eating breakfast, include protein-rich food to jump start your body with energy.
Studies show that consuming protein at each meal can help you stay full longer.
In that spirit, we have gathered a list of foods that is high in protein and perfect for breakfast because…Protein is How to Stay Full!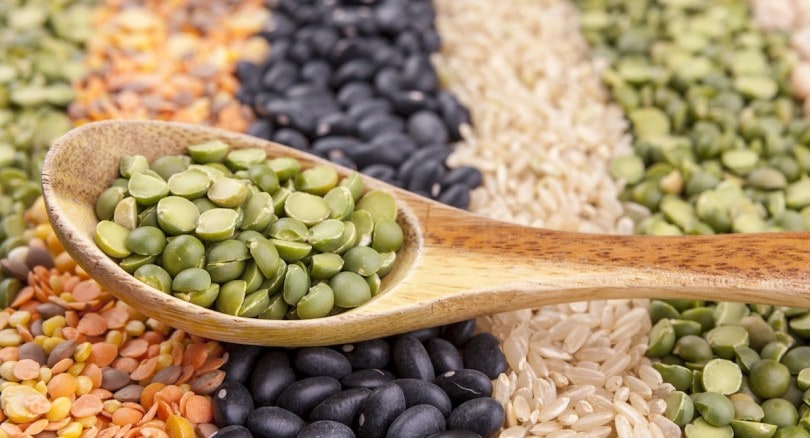 1. Veggie-Based Proteins
Recent studies have shown that beans and peas have the same amount of protein content as the regular meat. One plus to this protein are beans and peas have low calorie and fat content compared to most meats. This means soya and other kinds of veggie-meat can be taken as a substitute for regular meat and you will stay full as long as for both.
---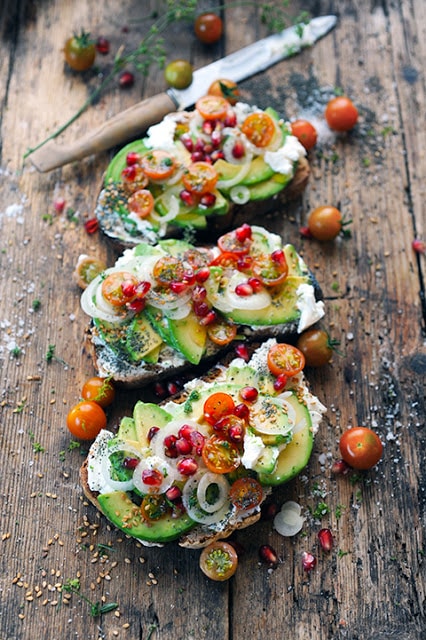 2. Avocado and Ricotta Tartines
With 16 grams of protein per serving, avocado and ricotta tartines can be a perfect breakfast choice. Complete with protein-based ingredients, just enough carbs with the wheat bread and avocado for your fruit plus a lot more vitamins, this type of breakfast is complete and tasty. You can also add a squeeze of lemon as topping to add a zesty, sweet flavor.
Related Recipe: The BEST Guacamole EVER
---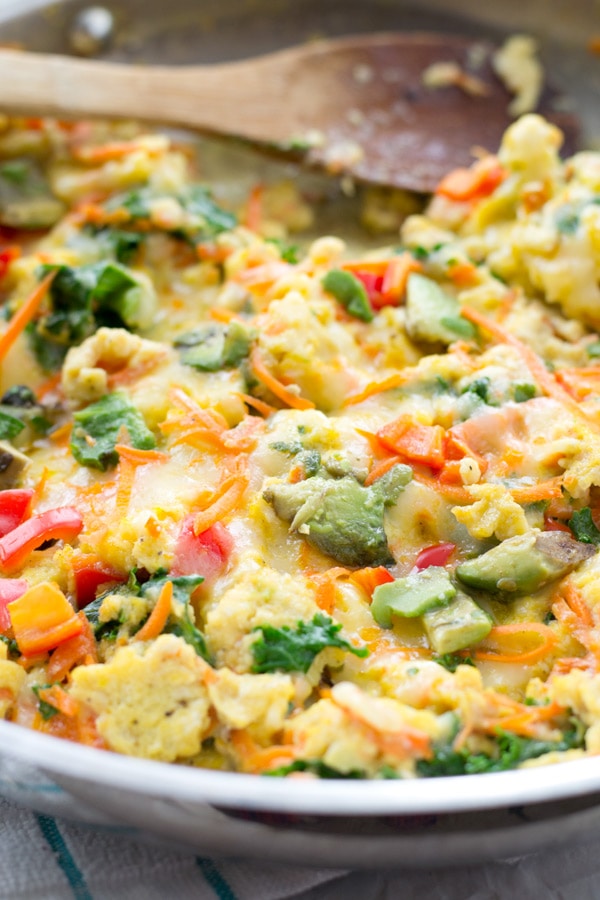 3. Scrambled Eggs
If you want to whip up a quick and easy breakfast on the go, this is your choice. Scrambled eggs are a popular breakfast choice mainly because it is simple and fast to cook. Did you know that eggs contain just the right amount of protein that you will need for the whole day? With that meal in your stomach, you are guaranteed to stay full for hours with the right energy to keep you going. You can give your scrambled eggs recipe a little tweak and twist by adding spices and vegetables to it. Scrambled eggs can also be a tasty tortilla treat, foregoing the cheese and meat ingredients.
Related Recipe: Clean Eating Scrambled Egg Waffles
---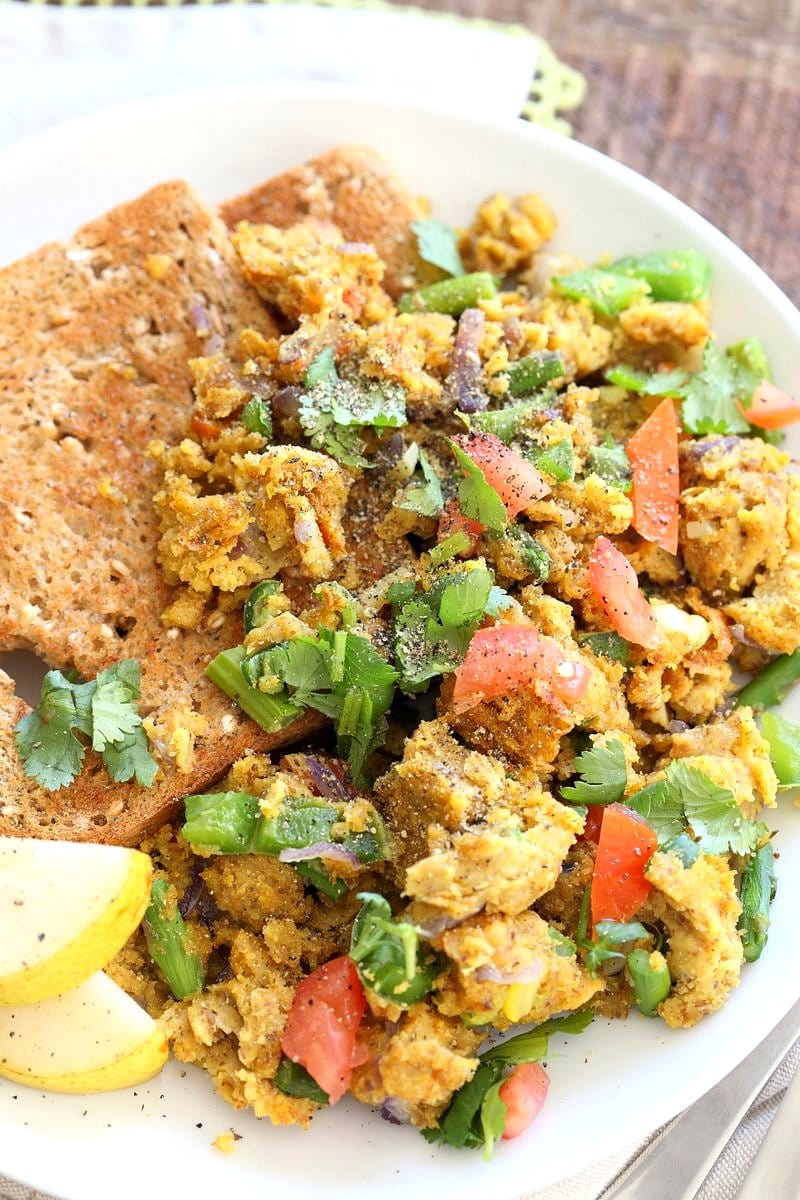 4. Chickpea Flour Scramble
Chickpea flour is one of those protein-rich meatless ingredients that can be perfect substitutes for regular meat on your breakfast meals. It has about 10 grams of protein per half cup. You can cook chickpea flour and add spices just like scrambled eggs. You can also throw in veggies of your choice for a perfectly healthy breakfast.
---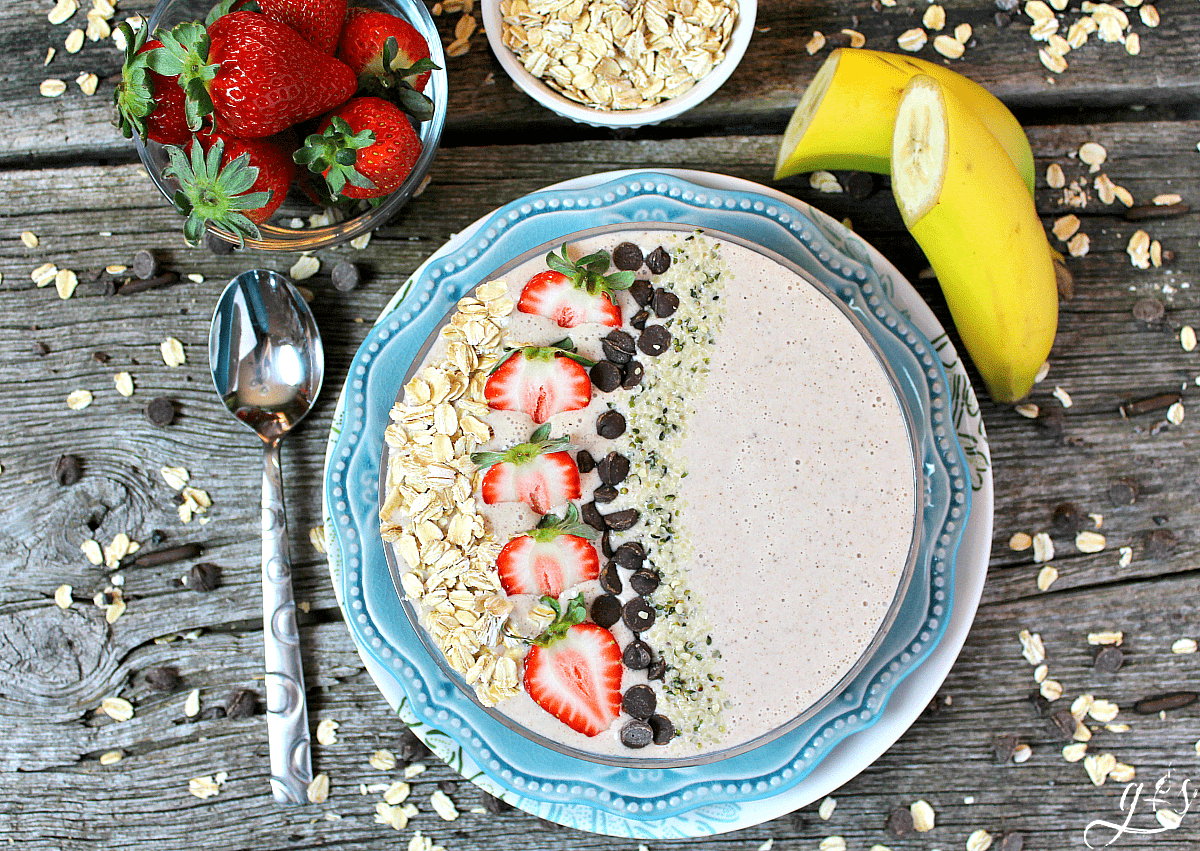 5. Greek Yogurt Oats
Yogurt is already a rich source of protein and plenty of vitamins as it is. Oats is a type of dish that is rich in vitamins and minerals. Put together, they combine with a tasty palate and healthy combination that is great for breakfast. A few oats can keep you feeling full for a long time, combined with the protein content of yogurt.
---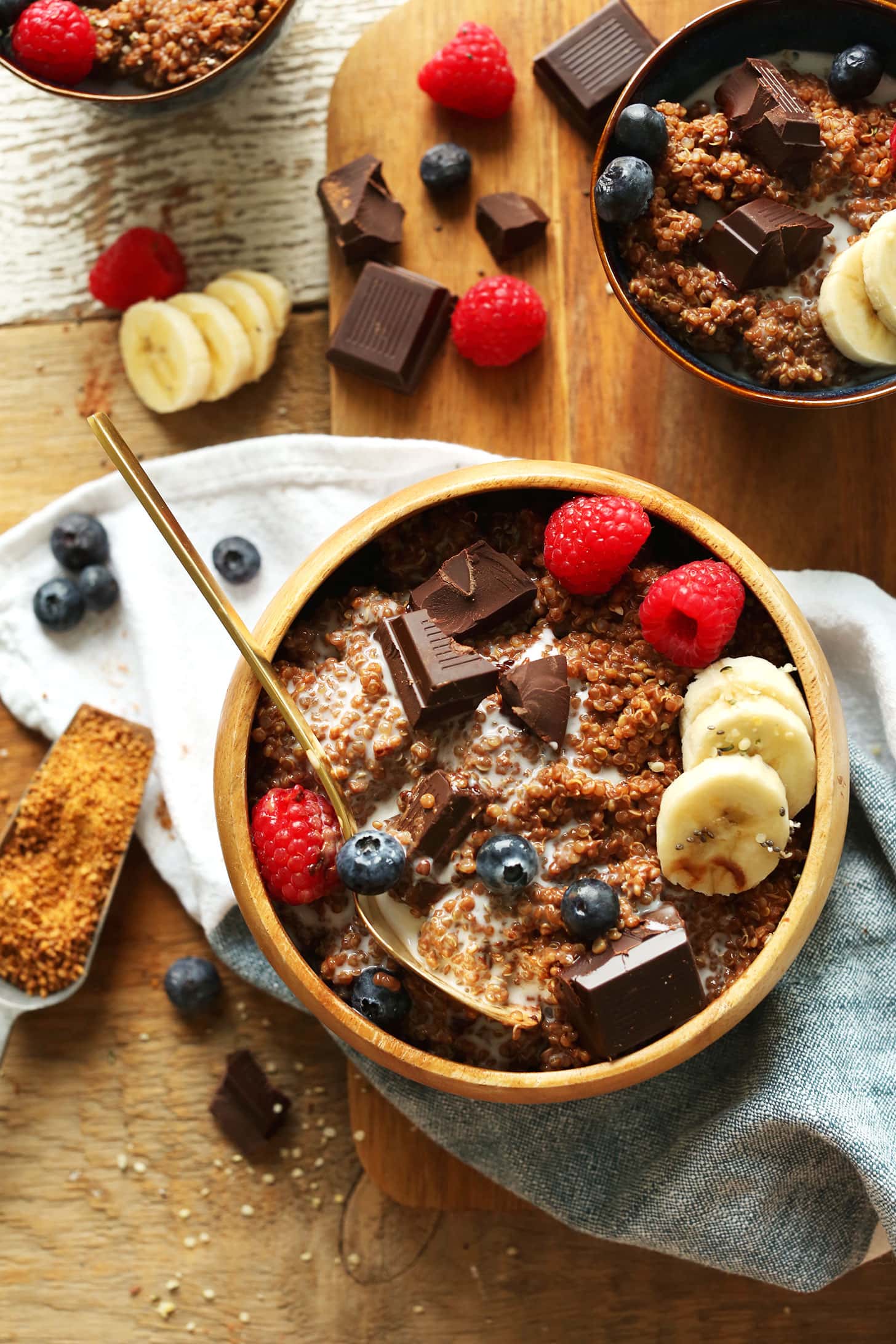 6. Chocolate Quinoa
In case you missed that, chocolate can still be good for breakfast as a full meal. Quinoa is gluten-free and rich in protein. This chocolaty meal can be a sweet start to your day if you have a sweet tooth, and it has the right amount of protein content that can keep you full until your next meal. You can top it with fruits such as strawberries or bananas to add flavor.
Related Recipe: Whole Food Makeovers: Baked Pumpkin N'Oatmeal
---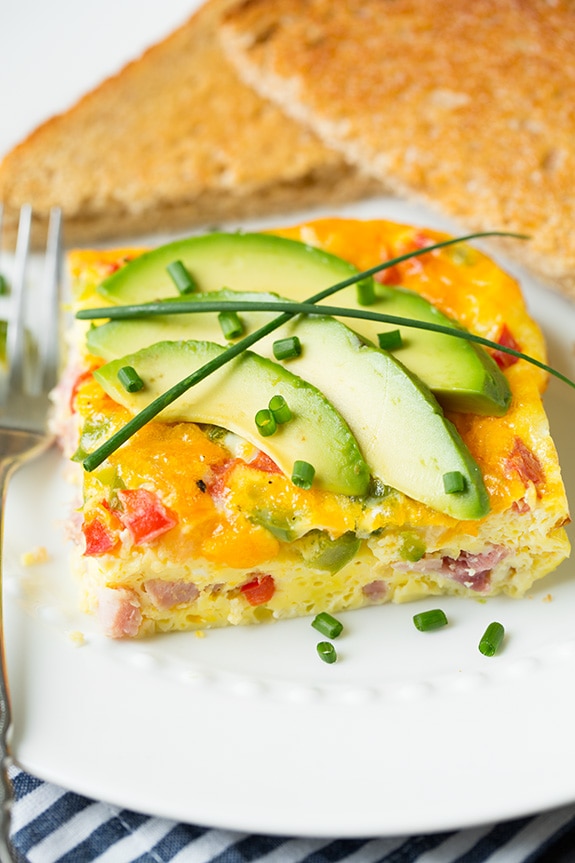 7. Baked Denver Omelette
Omelet is another recipe to cook eggs and is rich in protein that is enough to keep you full. You can use lean ham to lower the fat content of the recipe while keeping the protein proportion steady.
The right amount and kind of protein you eat can have significant effects on your body, especially your muscles. This can go a long way in keeping your energy up and doing more than your regular daily routines. Also, even distribution of healthy protein can be of great help in losing weight and keeping your body fit.
I hope this Protein is How to Stay Full Longer article helps you!
CLICK HERE to find more guides and suggestions on the perfect eating habits to maintain a healthy and fit body!
Related Post: Take Back Breakfast: 30 Whole Food Recipes
Eat This Type of #Protein at #Breakfast to Stay Full LONGER #HealthyEating #Foodie #recipes
Click To Tweet
[wc_box color="primary" text_align="left" margin_top="" margin_bottom="" class=""]
Julian writes for TrainingInTheBay.com, a site that showcase's companies in the Tampa Bay area that are dedicated to helping you achieve your health and fitness goals. Read my blog to gain valuable knowledge like Nutrisystem reviews, dieting safety and much more.
[/wc_box]
What foods would you add to this "Protein is How to Stay Full" list?