Cooler days call for chili and cornbread.
Cooler FALL days call for this Clean Eating Pumpkin Chili!
Am I right or am I right? 😉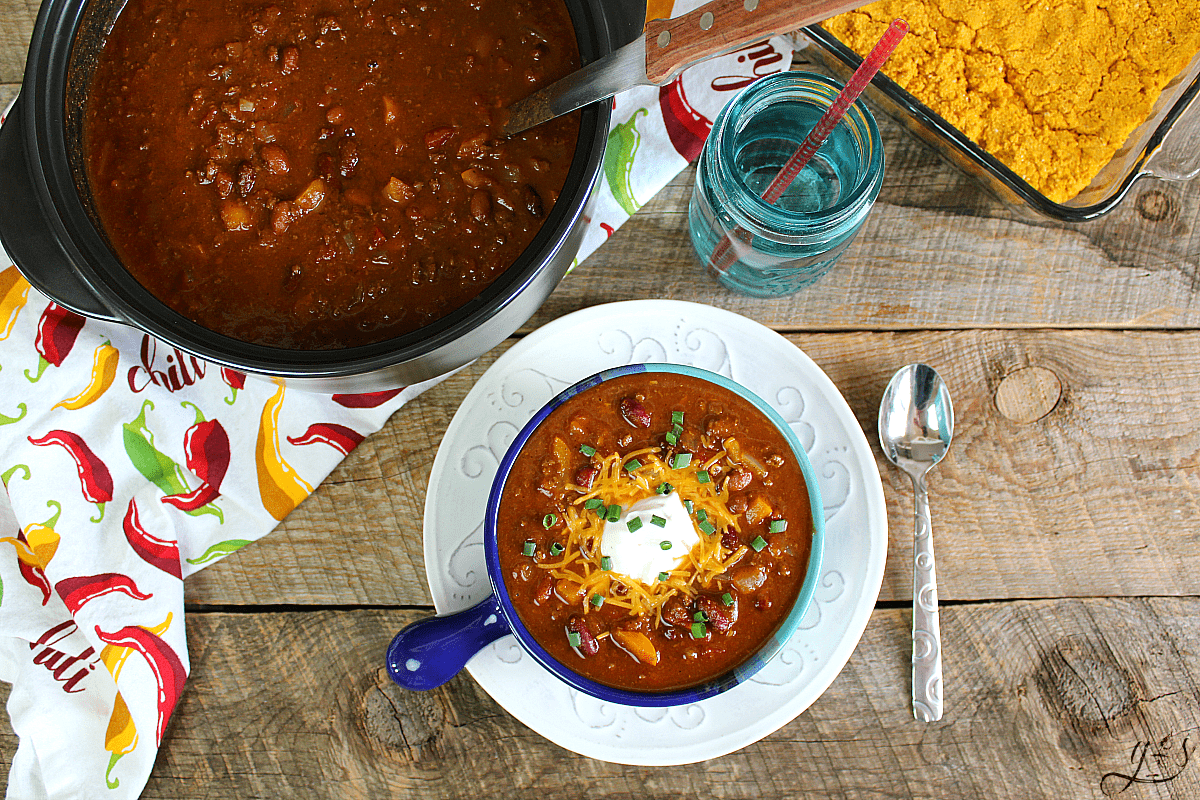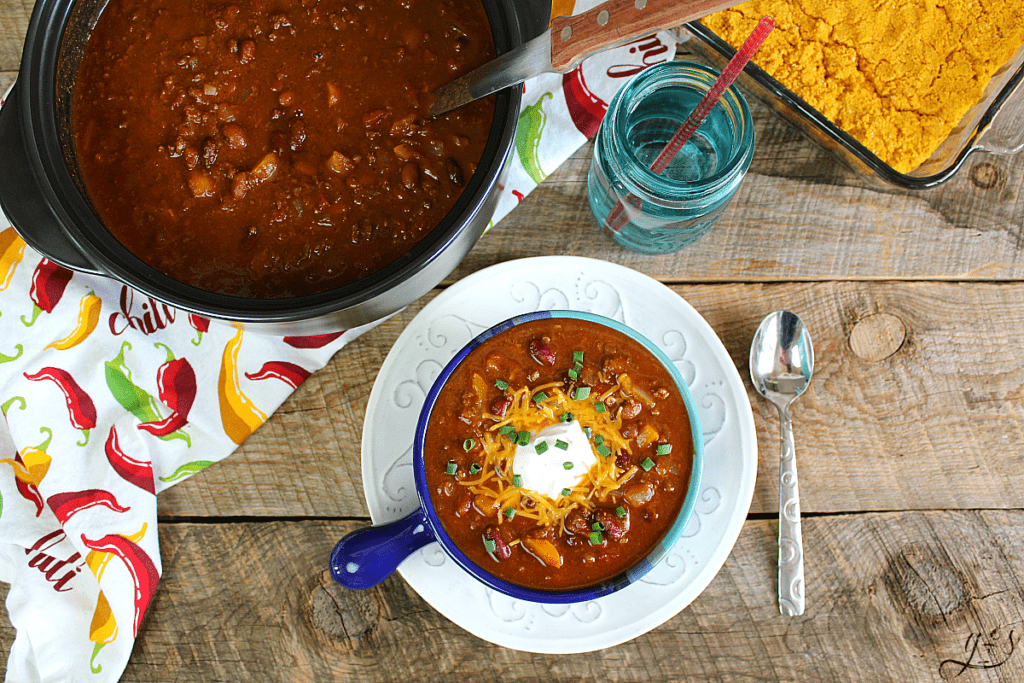 If Clean Eating Pumpkin Chili is just a little too far out there for you, even though you love fall flavors, let me ease your mind. You actually can't taste the pumpkin. To be honest, you won't even know it's there.
#CleanEating Pumpkin Chili is what's for #dinner! #fall #healthy
Click To Tweet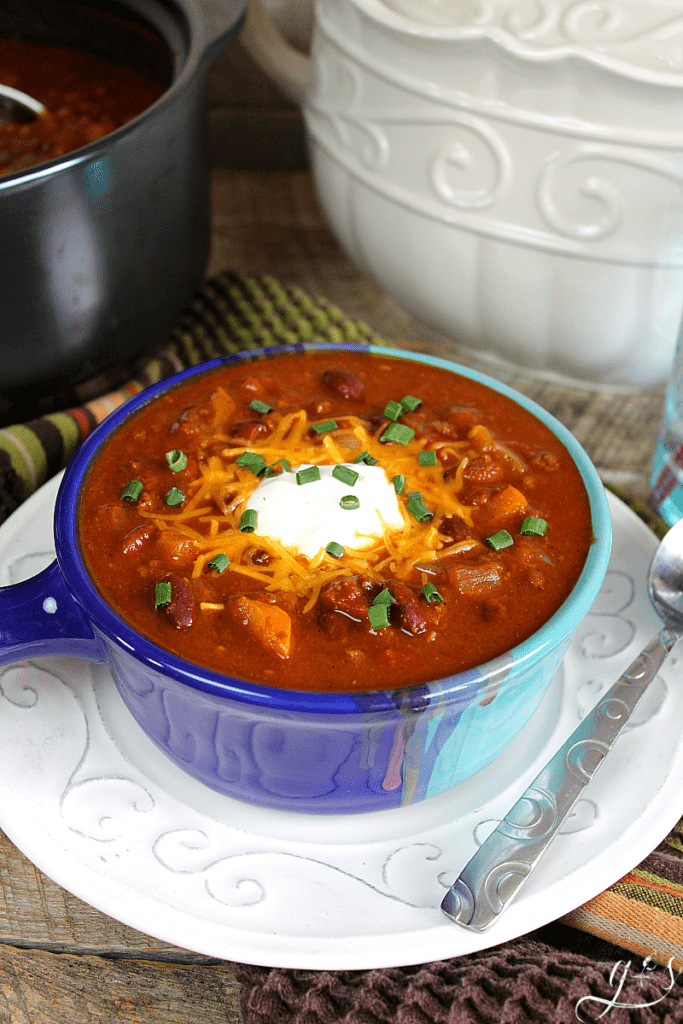 Why add it if you can't actually taste it?
#1 – It's fall and pumpkin needs to be added to EVERYTHING. (It's a rule.)
#2 – Pumpkin is SUPER healthy.
– 1 cup of cooked pumpkin contains more than 200% recommended daily intake of Vitamin A.
– Cooked pumpkin is a fiber rich food that helps keep you full.
– Pumpkin can help boost your immunity with it's high Vitamin C content.
#3 – It thickens the chili to a lovely consistency.
#4 – It's fall and pumpkin needs to be added to EVERYTHING. Whoopsies, it seems I have already stated that… 😉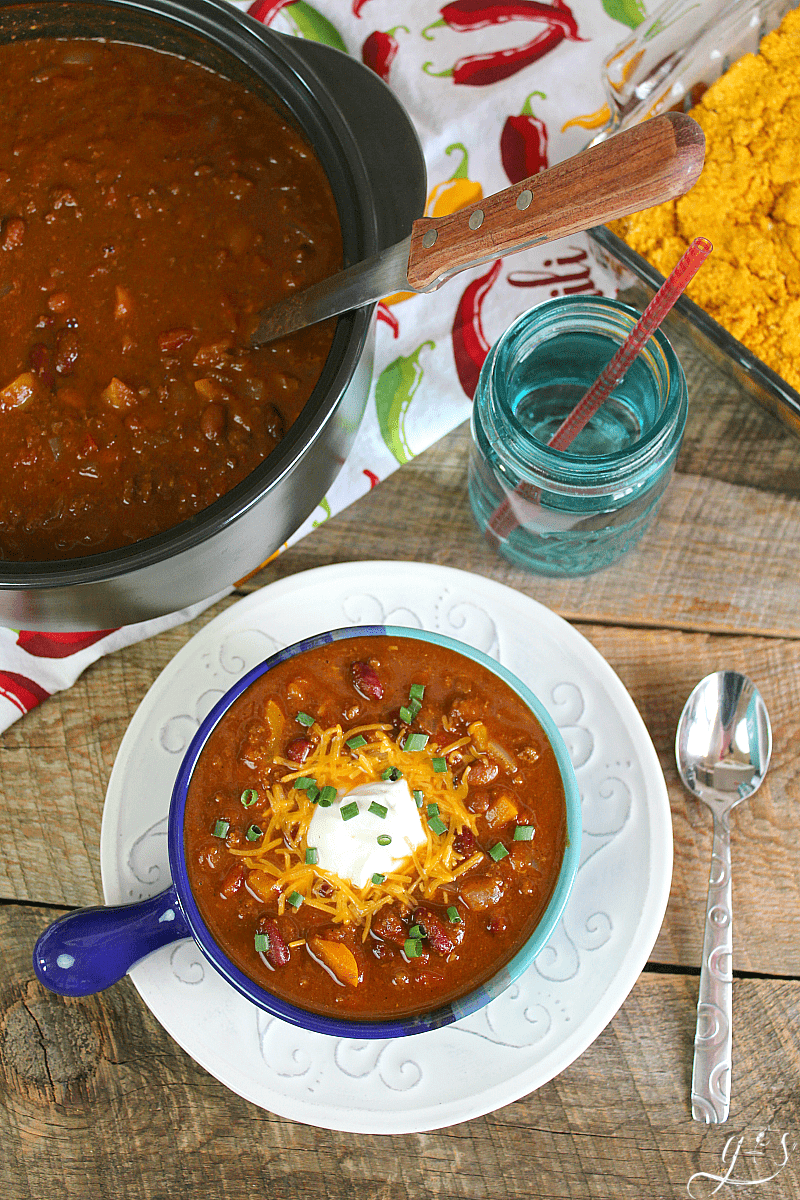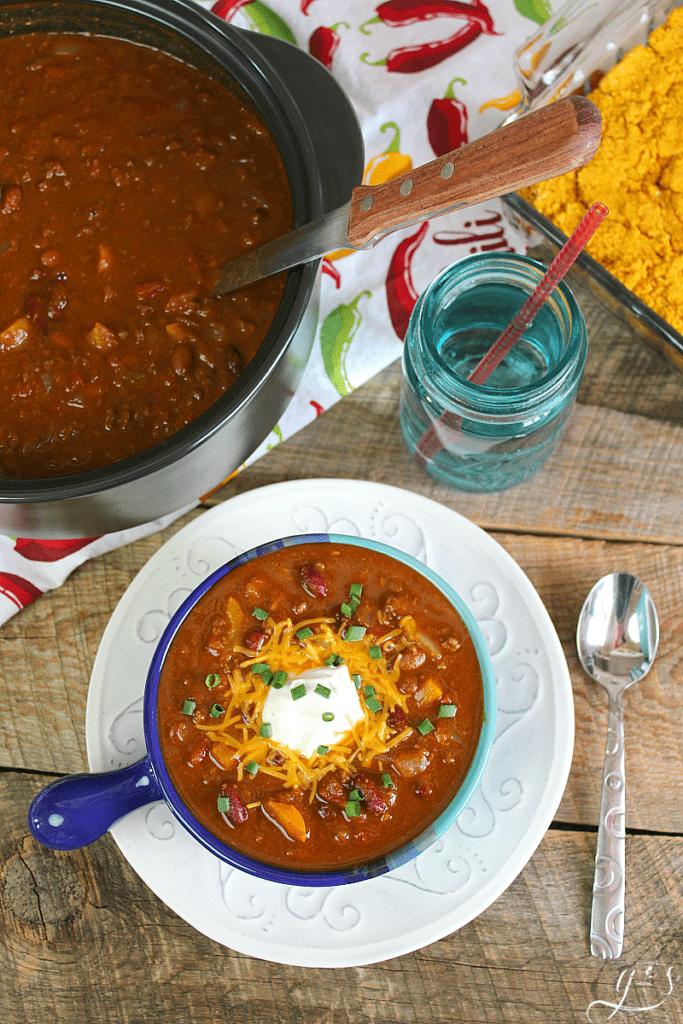 With the addition of fall spices like allspice, nutmeg, and cinnamon this meal tastes like autumn.
The subtleness of the honey takes this typically spicy dish to the next level! Don't worry though, the chili isn't actually sweet. Because like gross me out!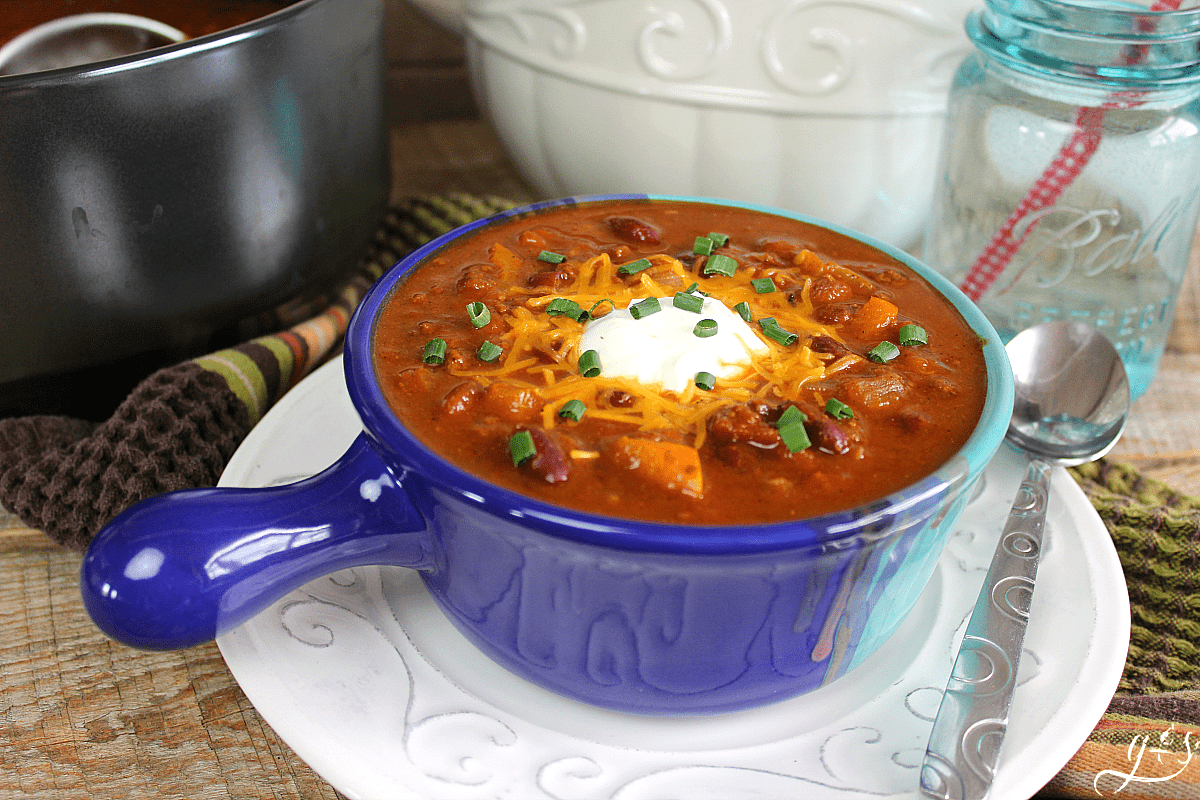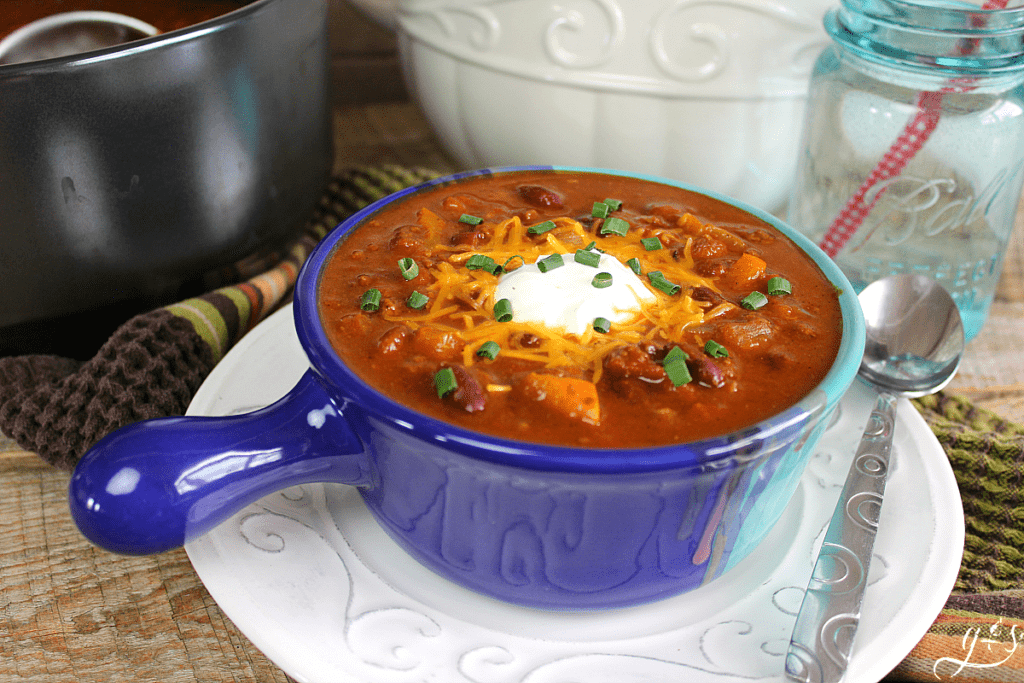 The slightly sweet and very savory marry perfectly. And if you are thinking that you should substitute pumpkin pie spice for the other warm spices in this meal let me know how it goes.
I was hesitant to do it because my homemade pumpkin pie spice contains ginger, but not allspice. Maybe the addition of the ginger would be yummy, but I was skeptical.
Like I said, PLEASE let me know if you make your Clean Eating Pumpkin Chili with that substitution. 🙂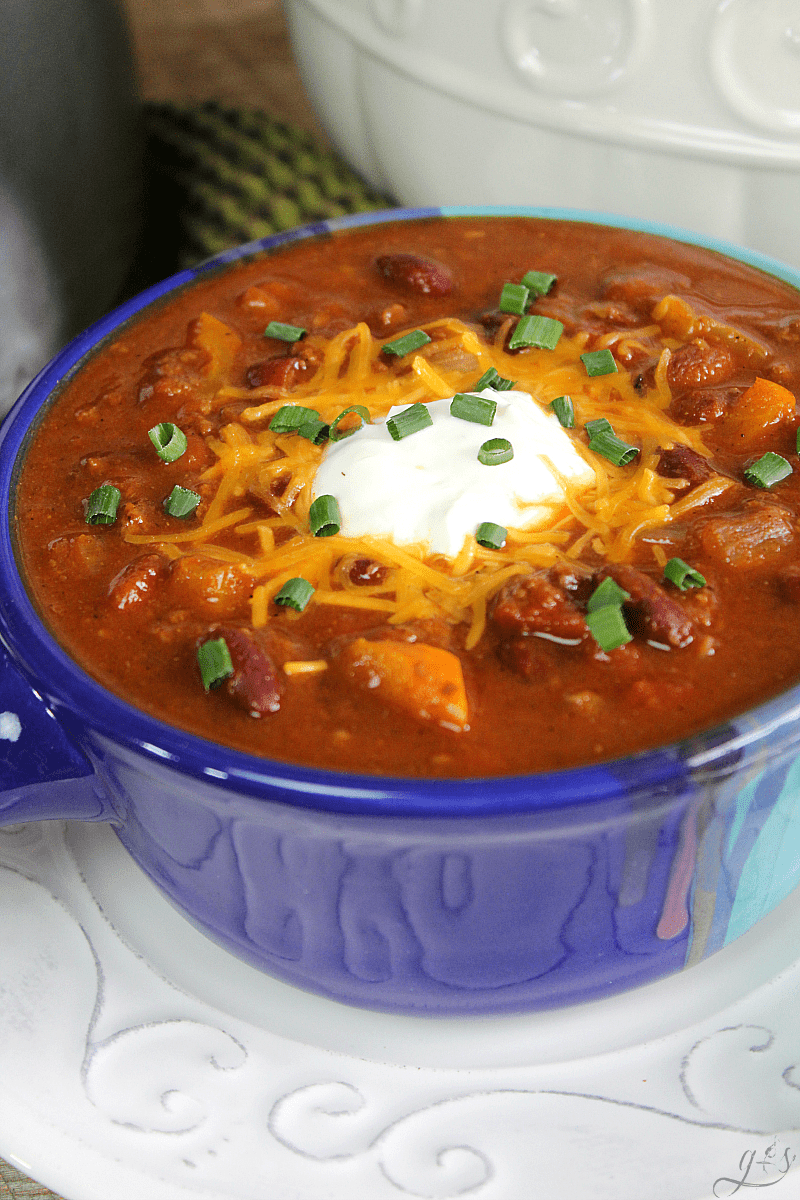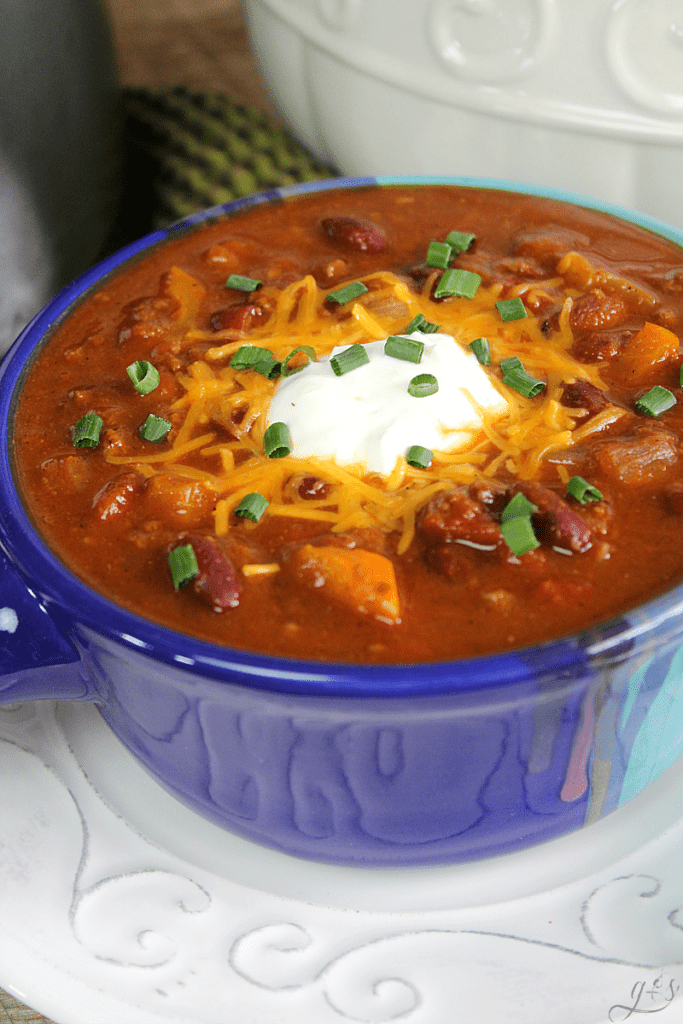 Oh, I almost forgot. Did you spy that delicious bread in the background? Well do I have a treat for you.
Yep, pumpkin chili and pumpkin cornbread.
Seriously, could fall be any more delicious?
Please enjoy both of these delightful recipes and all.the.pumpkin. this time of year!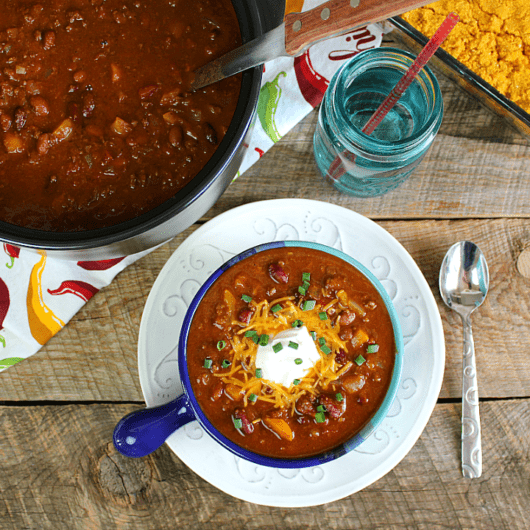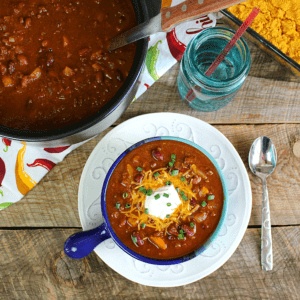 Print Recipe
Clean Eating Pumpkin Chili
Fall begs for healthy and easy stove top recipes like this main dish. Use ground beef, turkey, buffalo, or venison in this crockpot friendly dinner. Gluten free soups and low carb stews are always my go-tos when it gets cold and this spicy chili is no exception. Adding a little fresh produce like bell pepper, onion, and canned or fresh pumpkin bumps up the nutritional content too! Kids and adults alike will love this chili! For more recipes like this check out GroundedandSurrounded.com.
Ingredients
1

lb

ground meat (turkey, beef, venison, buffalo)

1

onion, diced

1

orange bell pepper, diced

15

oz

can pumpkin puree

15

oz

petite diced tomatoes

15

oz

tomato sauce

15

oz

chili beans, undrained

15

oz

kidney beans, undrained

2

cups

water

4

tsp

chili powder

1

Tbsp

ground cumin

1

tsp

garlic powder

1/4

tsp

cayenne powder

1 1/2

tsp

sea salt

1/2

tsp

black pepper

2

Tbsp

honey

1/2

tsp

cinnamon

1/2

tsp

allspice

1/4

tsp

nutmeg
Instructions
In a large soup pot, brown ground meat.

Add in remaining ingredients and bring to a simmer. Simmer for at least 30 minutes.

Let rest for 15 minutes and serve in a bowl with tortilla chips, shredded cheese, sour cream (plain Greek yogurt), or sliced avocado. Store leftovers in the refrigerator.
Notes
This can be made in the crock pot. Brown ground meat and add to crock pot along with remaining ingredients Cook on LOW for 6 hours.