Whether they are made from muesli, granola or oatmeal, there are a lot of breakfast bars out there that you can choose from.
These Apple Cinnamon Breakfast Bars are perfect for quick meals on-the-go, as well as snacks throughout the day.
Unfortunately, not every breakfast bar features only unprocessed ingredients. If we are not careful, these so-called "nutritious snacks" can actually increase our glucose intake and contribute to unwanted weight gain.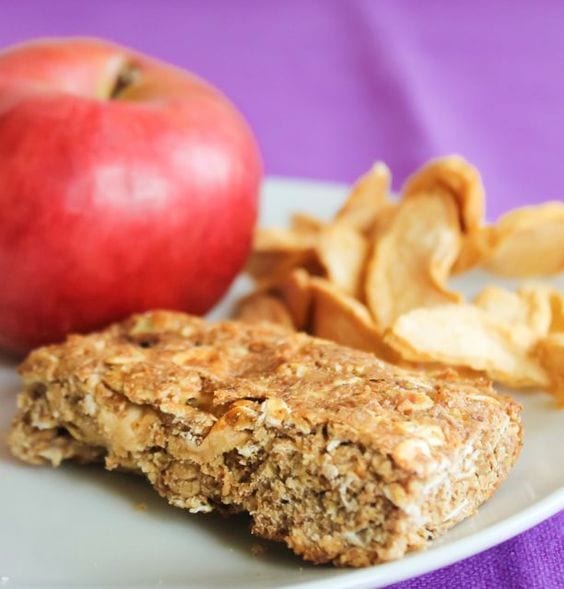 A lot of the time, breakfast or snack bars in supermarkets are packed with loads of sugar. It is not really any one particular company's fault, it has much to do with our culture and business.
Additionally, our surroundings tend to shape what food we make for ourselves.
Even pop culture has manipulated our taste buds to crave sweets over something naturally sweet such as fresh fruit.
Not only are crazy dessert trends sparking our curiosity for donut cones and birthday cake truffles. As well as tech developers creating more visually appealing images of sweets at places like Pop Sugar and Buzz Feed.
One of the companies that have used candy symbols to their advantage is King, which continues to make a fortune through their Candy Crush Saga series.
We've all played it…let's be real. Ha!
It's creation has led to a slew of candy-themed games, including Fruit vs. Candy from the online gaming hub Spin Genie that cleverly pits nutritional snacks against junk food.
But the lesson that can be learned here is to not let our eyes fool us.
Our minds might tell us to buy snacks with dried fruits that have sugar added to the drying the process, but the reality is that we can imitate that same sweetness with fresh ingredients and whole food sweeteners.
Okay, enough about technology and gaming and their monopoly on sweets! Let's get back to these healthy and delicious breakfast bars.
If we look at most energy bar recipes, the majority of them still contain unnecessary amounts of sugar. Thankfully, health nuts (yes, it's true I'm a little nutty) have come up with sugar-free versions, such as this one from Bright Eyed Baker.
These Apple Cinnamon Breakfast Bars are easy to make and they require only 6 ingredients.
Can I get an amen? 😉
You guys…this recipe…like YUM! I am so honored to have Alexandra from Bright Eyed Baker sharing her fabulous recipe with all of you.
Have I told you lately how much I adore you? Hugs Hugs Hugs!!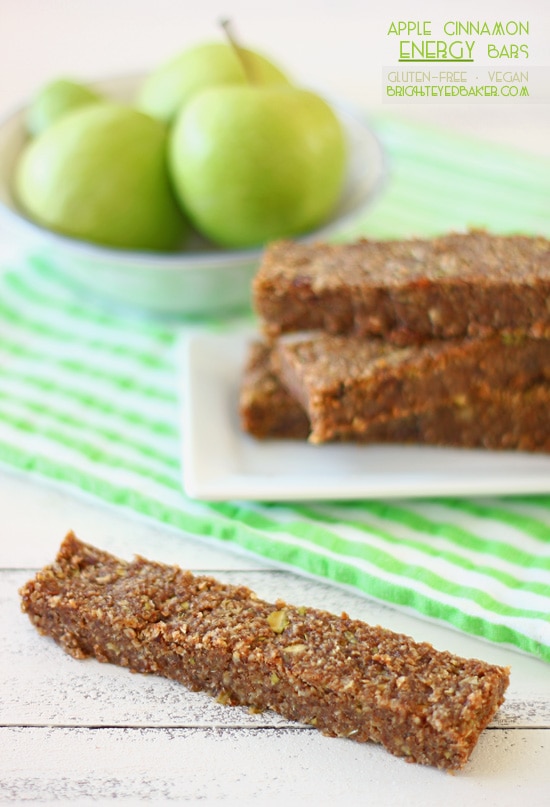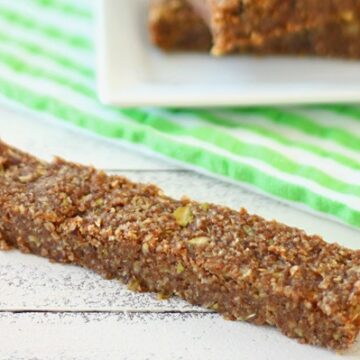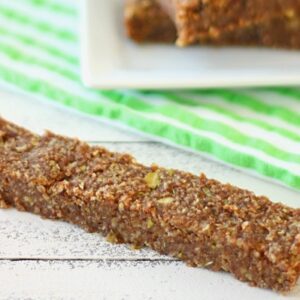 Print Recipe
Apple Cinnamon Breakfast Bars
Ingredients
2

cups

pecans

2

cups

old fashioned oatmeal

1 1/2

cups

pitted dates, halved

2

tsp

cinnamon powder

1/4

tsp

salt

2

Granny Smith apples, peeled and chopped
Instructions
1) Preheat the oven to 350°F, then line a cookie sheet with parchment paper. Spread pecans and oats evenly on the pan and bake for 10-15 minutes. Leave the oven on.

2) Line an 8x8" square pan with parchment paper. Make sure the paper covers the sides too.

3) Combine toasted oats and pecans with dates, cinnamon and salt in a food processor. Process until there are no large pieces left. Add the apples and pulse until there are no large chunks left. You may use a spatula to help combine ingredients.

4) Spread mixture into the pan, flattening it with a spoon or spatula. You may want to layer parchment paper on top and then pat down with the spatula to help flatten the surface.

5) Bake for 20 minutes or until edges start to brown slightly. Allow to cool for 15 minutes. Slice the bars, but leave in pan until they are completely cool. Store bars in an airtight container in the fridge.