Well….let me tell you something.  
Having multiple young children in my garden at one time sort of freaks me out!
I am a bit of a perfectionist and put a ton of care into my plants from the seed starting stage all the way through to planting, weeding, watering and harvesting.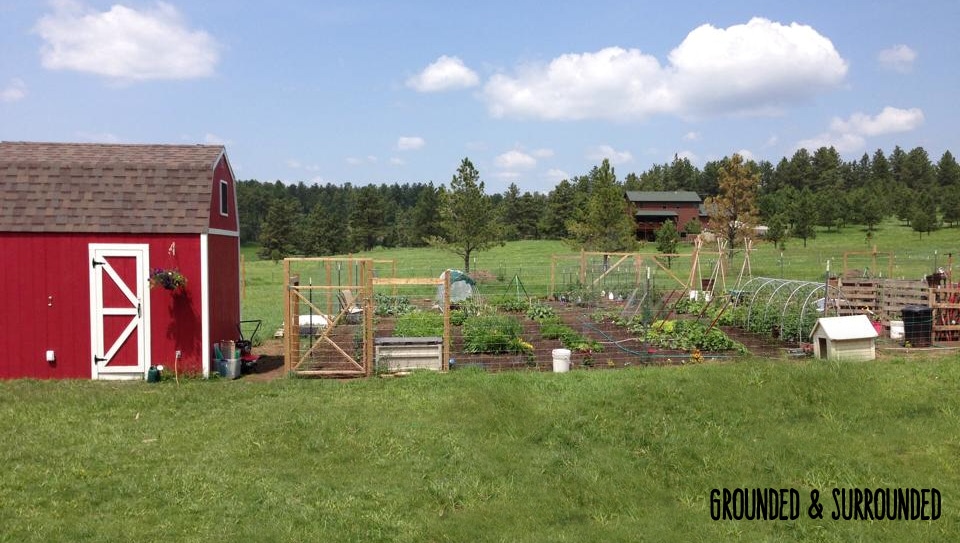 By: Sarah Koontz
The benefits of having children in the garden definitely outweigh the risks.  I have had so much fun teaching my children how to start seeds, care for our garden and harvest the bounty. When we decided to quadruple our garden space this year, I knew I would need all of the help I could get from my family in order to care for it.
I have had great success motivating my "little gardeners" to help in the garden by paying them for the accomplishment of specific tasks.  A 5-gallon bucket full of weeds is worth 5 dollars and takes my six and seven-year-old daughters approximately 90 minutes of focused energy to complete.
Rocks are worth a quarter per 50 picked.  Just the incentive of earning money to buy a small toy has been enough to get my kids into the garden with me, and there is nothing nicer than a Saturday morning with the whole family out in the garden.
Sometimes it is difficult to know where to start with kids and gardening.  So for this challenge, we invited a few of our closest friends and their children over for a lesson in gardening basics.
Prior to our little event, I created a list of 6 kid-friendly gardening tasks. It was so fun to introduce the children to each task and watch them play in the dirt with reckless abandon (sometimes a bit too reckless)!
The very first thing we did when the children arrived was hand them a copy of the worksheet we created for our "Seed Starting with Kids" tutorial.  I spent a few minutes teaching them what seeds need to grow into plants while they filled out and colored the worksheet.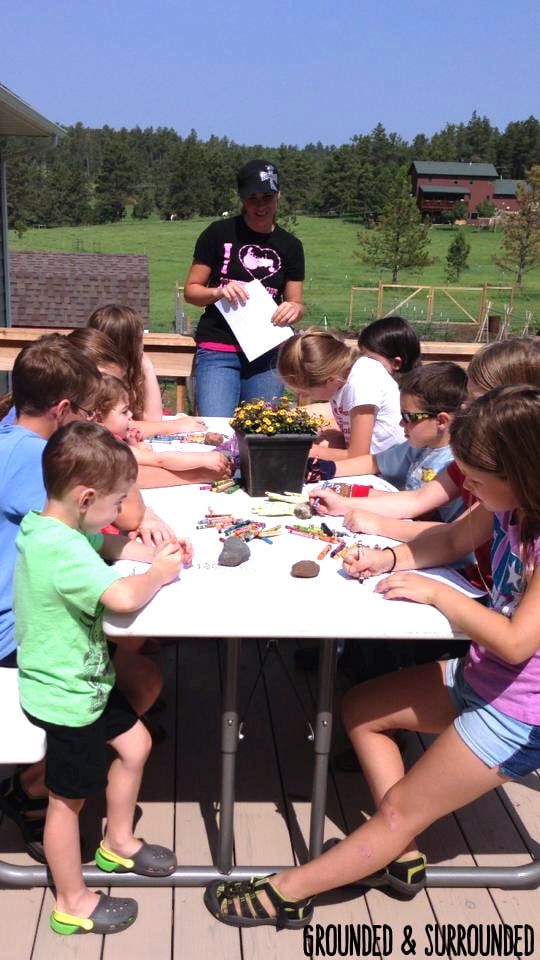 After that, we went through a few of the "Koontz Family Garden" rules (in hopes of avoiding any incidents where loss of plant life may occur).
Here are our 3 main rules for kids in the garden:
 Watch where you step and stick to the paths.
No running, pushing or rough housing.
If you aren't sure it's a weed, don't pull it out of the ground.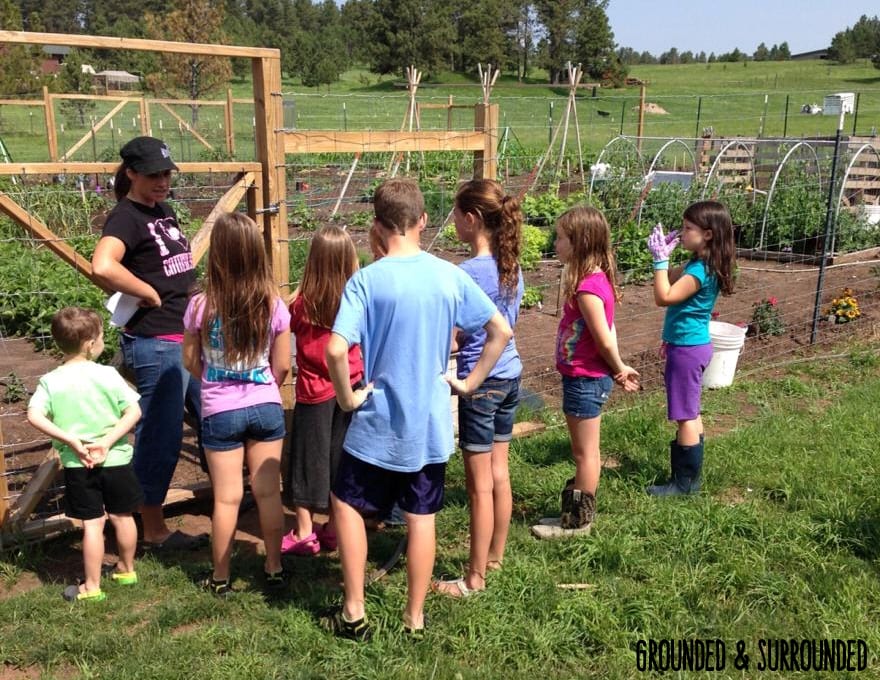 Once the rules were established, we took all the kids down to the garden and let them try their hands at each of the 6 gardening tasks.  Even though we had a few stressful moments (don't step on that, ooohh…honey…..that's not a weed!), overall it was a great time and I think the kids learned a lot.
Before they left the garden to go enjoy their yummy "Mud and Worms" pudding cups that Sammi prepared, I asked them which of the gardening tasks were their favorite.  I have included their answers below.
1. The Hole Digger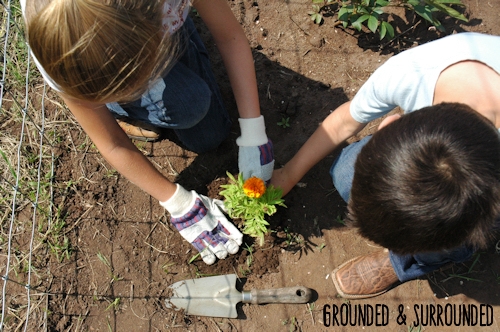 Kids are more connected to plants they helped put into the ground.  So give them a shovel and let them help you dig holes and plant young seedlings.
It is late enough in the year, I was able to get 6 packs of annuals on clearance for $1 each.  The kids did a really great job of picking a spot for their flowers and putting them into the ground.
Although, this was not among their favorite jobs!
2. The Rock Collector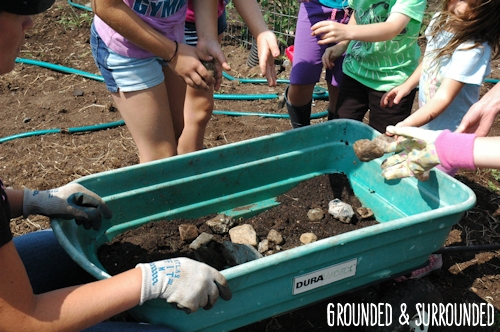 We get the most amazing compost from Sammi's parents.  The only downside is it is full of rocks (there are some really pretty ones though!).
A great job for little hands is to pick up the rocks around the garden.  My youngest has acquired quite the rock collection over the past few years.
We timed the children and they were able to pick up 100 rocks in right around  a minute.  I tried to get them to see how long it would take to pick up 1,000, but no one would go for it!
The younger boys LOVED this task and listed it as their very favorite job to do in the garden.
3. The Weed Warrior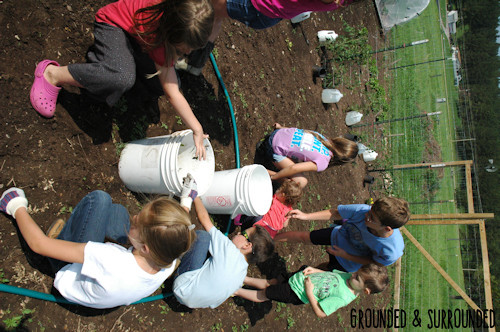 Let's be honest, this is nobody's favorite job.  But the kids pulled weeds for a full 5 minutes and they all said it was more fun than they thought it would be.
Weeds are a constant in my garden as we don't use any chemicals at all.  The garden is so large that I spend at least an hour a day working on pulling weeds.
My children are getting more involved in helping with this task (due to the bribery methods mentioned above) and I find it is a great time to connect with them and talk about our day.  
4. The Bug Spotter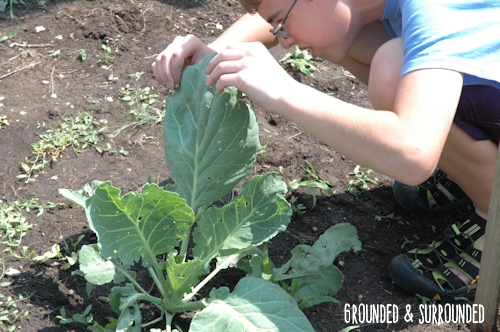 This job was a hit!  Who knew finding cabbage worms and potato bugs would be so interesting to a group of kids.
Having an eager flock of chickens on standby to feed the bugs to was an excellent motivator for the children.  My poor potato and cabbage plants, I have been picking bugs off them twice a day and the bugs are still winning!  I've got a feeling I am going to have to step up my pest control methods over the next few weeks.
I think my daughters are going to be eager little bug spotters from now on, as I discovered them in the garden looking for bugs long after we said goodbye to their friends today.
5. The Rain Maker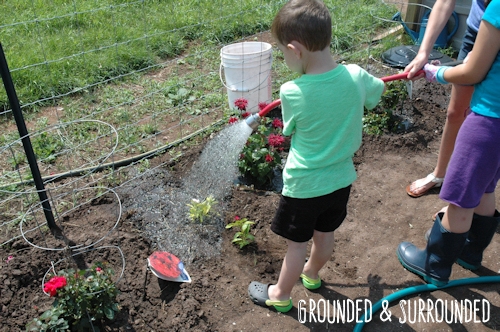 Kids love to play with water.  We shared 35 ways to enjoy the water with your children in week 4 of the #ETHANproject. But one of the simplest is to have them help you water the plants in your garden.
We have sprinklers set up in our garden and scheduled to run each day and I cannot tell you how many times I have caught my kids playing in them.  They were actually out there in their PJ's just this morning trying not to get wet…..they failed by the way!
The younger children seemed to enjoy this task more than the older ones, but everyone was willing to give their freshly planted flowers a nice drink.
6. The Harvester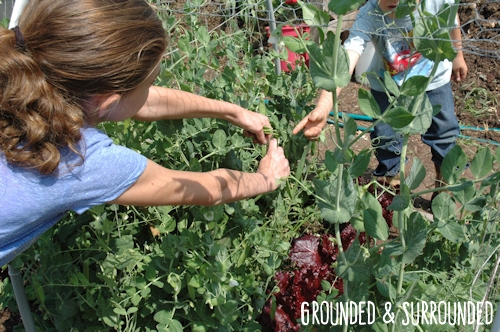 An important lesson to teach children is that there is a lot of work that goes into growing our own food. Everyone has to help with the work in order to enjoy the harvest.  
That is exactly why we had the children do the other jobs before they were able to enjoy their harvest.  My garden isn't fully producing yet, but the kids were able to sample carrots, snap peas, borage flowers and leaves, dill, peppermint and red lettuce.
The snap peas were their favorite to harvest and eat.  It was pretty adorable to watch their reactions to some of the herbs and edible flowers.  Definitely an experience for everyone!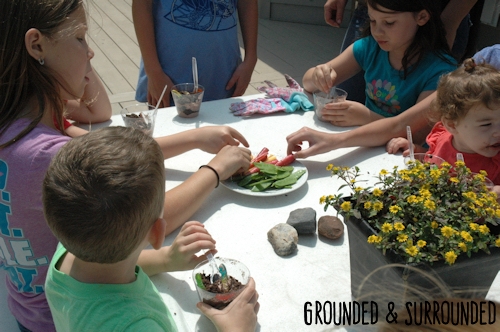 We wrapped up the day with these cute little dirt cups that Sammi made for everyone.  The kids also enjoyed some freshly harvested peas and carrots.
The moms came up to me afterward and shared that they even learned a thing or two about gardening.  So all in all, I would call the day a success!
I am happy to say that no plants were harmed in the making of this blog post (phew!), and I learned a lot about letting go of my perfectionist tendencies in order to share the beauty of our garden with friends.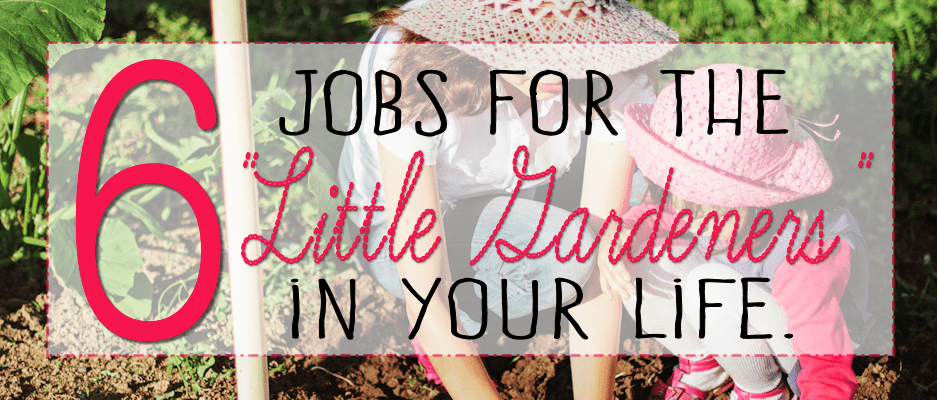 What are you going to do to get out and enjoy the dirt with your children this week?


This article has been shared at many of my favorite linkups.