These Gluten Free Carrot Cake Jars has been in the making for over a year.
I knew after posting a photo of this cute cake in a jar on Instagram and ALL the recipe requests that flooded in, I had to get it posted.
…And then I didn't. Ha!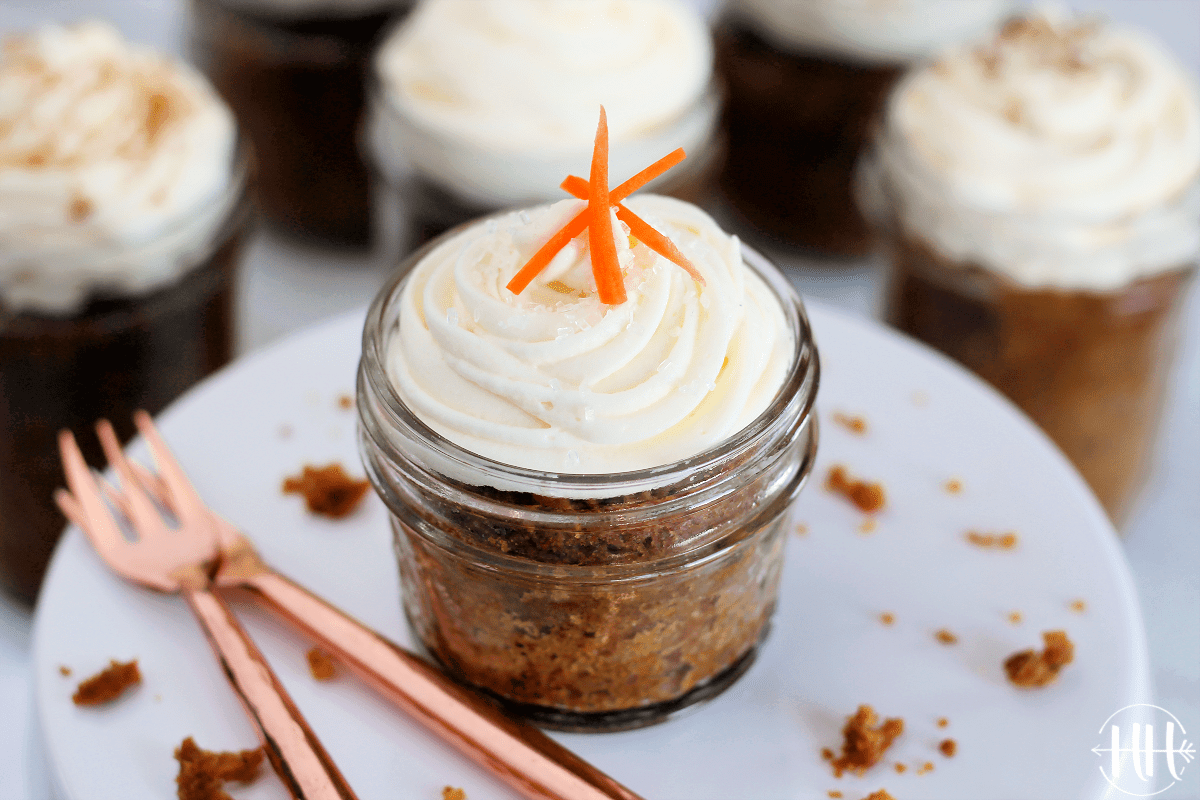 This easy and delicious carrot cake is made with gluten-free flour, but regular flour can be substituted.
There are very minimal ingredients in this recipe and I love that all of them are relatively healthy.
Coconut sugar, coconut oil, eggs, 2 cups of shredded carrots, and a few simple spices are all you need.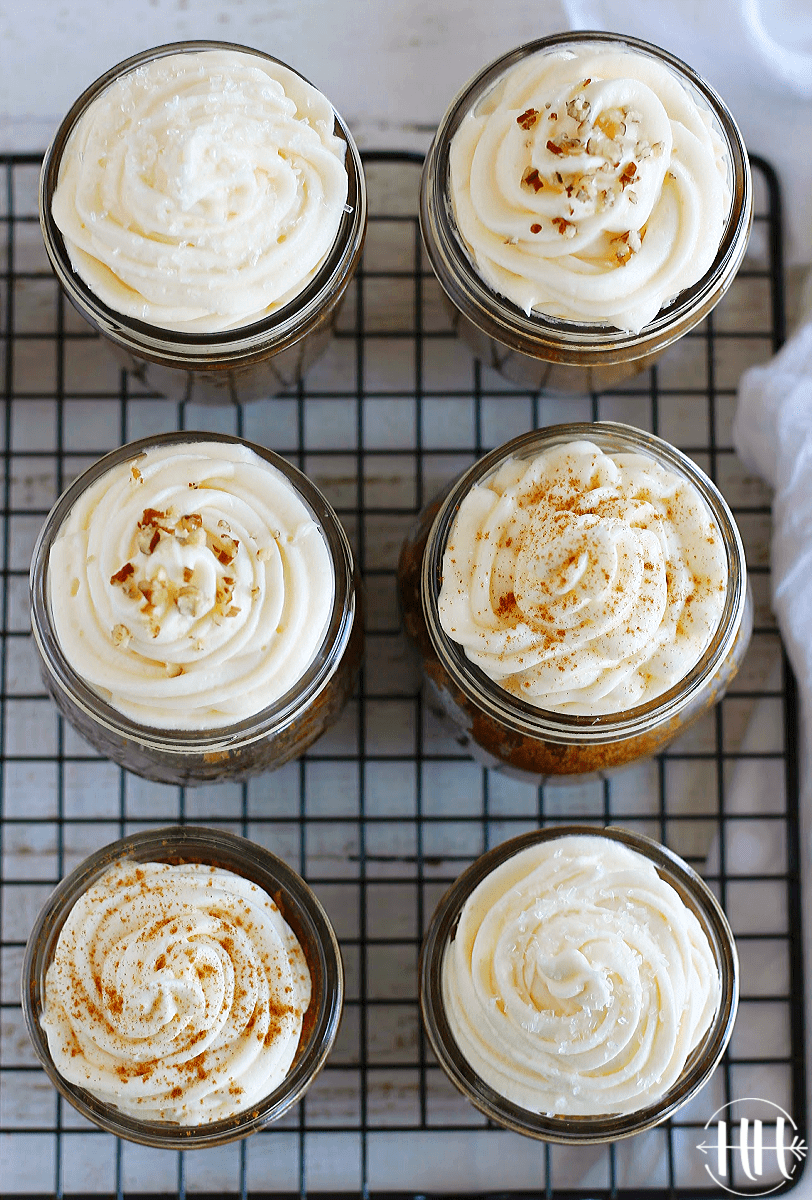 Although every ingredient in the cake is fairly healthy, the frosting recipe is not.
However, I decided to use it because, well, I like it and it tastes ahhhhmazing. 😉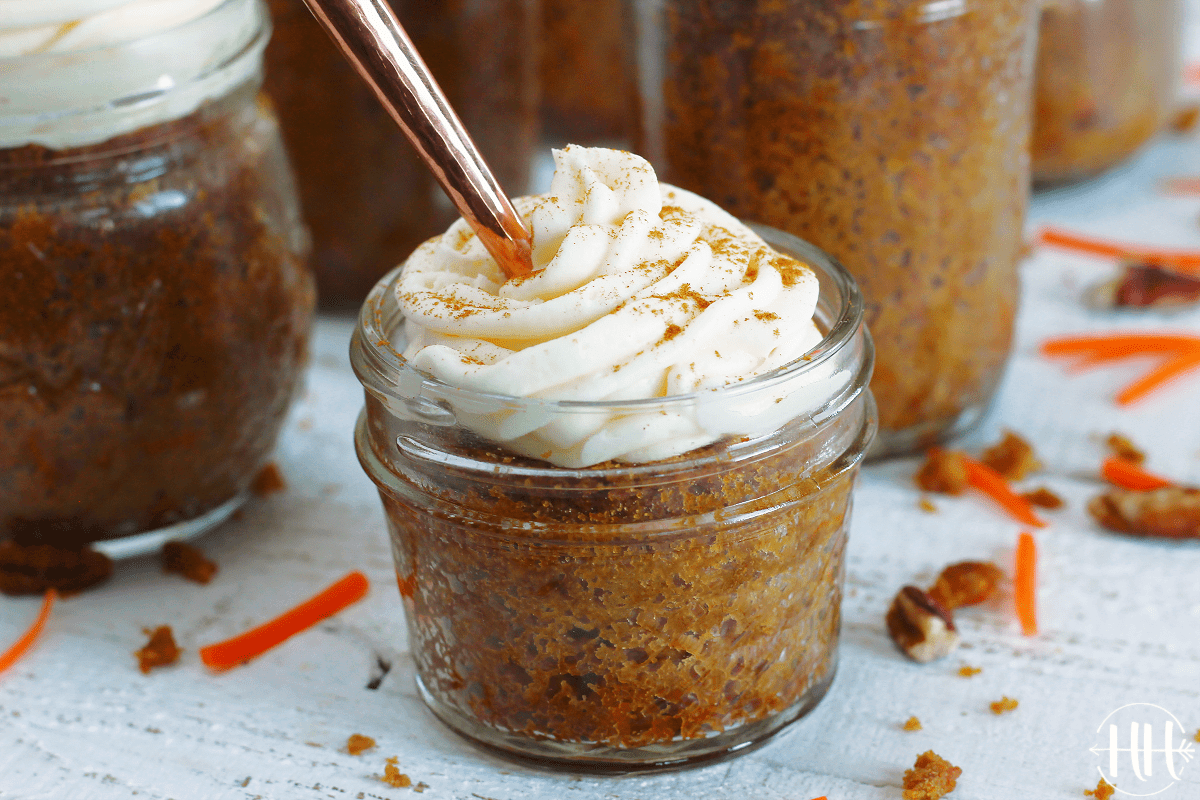 You can use any frosting recipe you choose, though, or omit it all together. I topped the cakes with cream cheese frosting and sprinkled the jars with either cinnamon, course sanding sugar (this is the brand I use), or chopped pecans.
A creamy coconut milk whipped cream frosting or simply topping the jars with a little scoop of your favorite clean eating ice cream like Arctic Zero or Halo Top would be yummy too.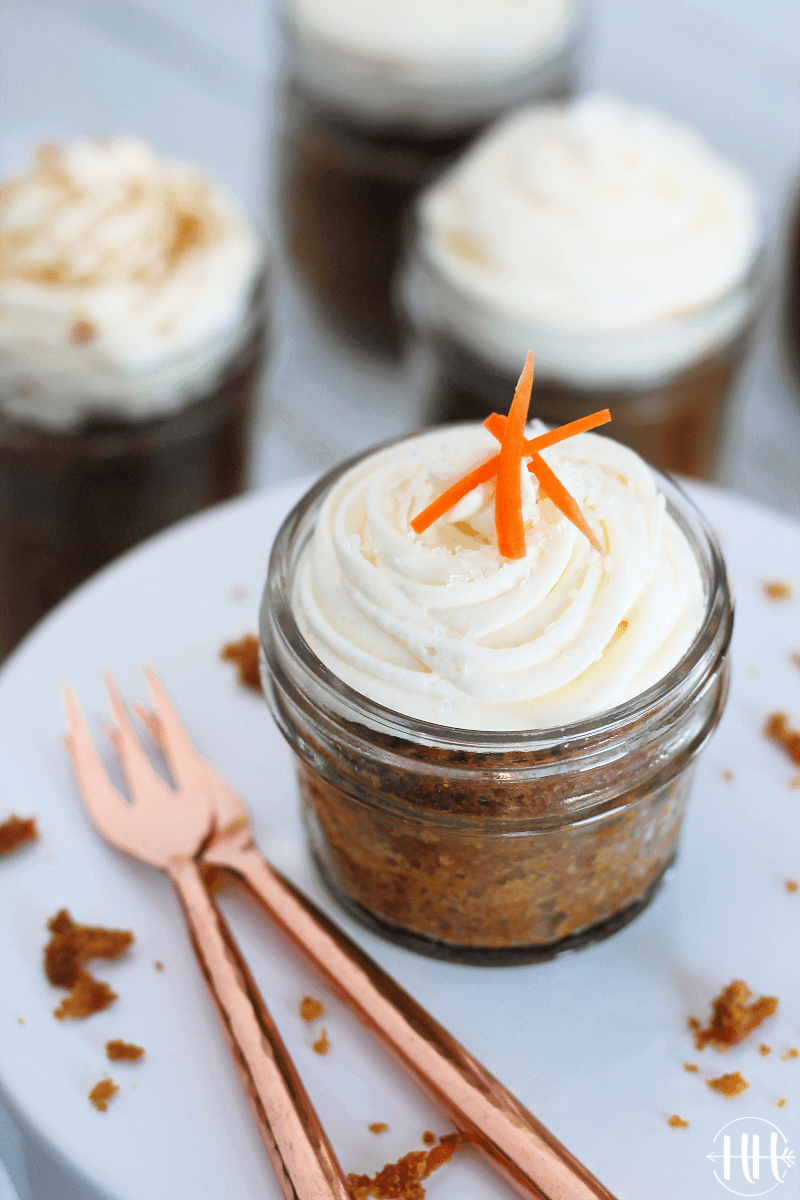 I'm sure this dairy free cake batter can be used in any cake pan, but cakes in mason jars are just too cute so I use jars. Depending on who you are serving this recipe to will determine what size jars you use.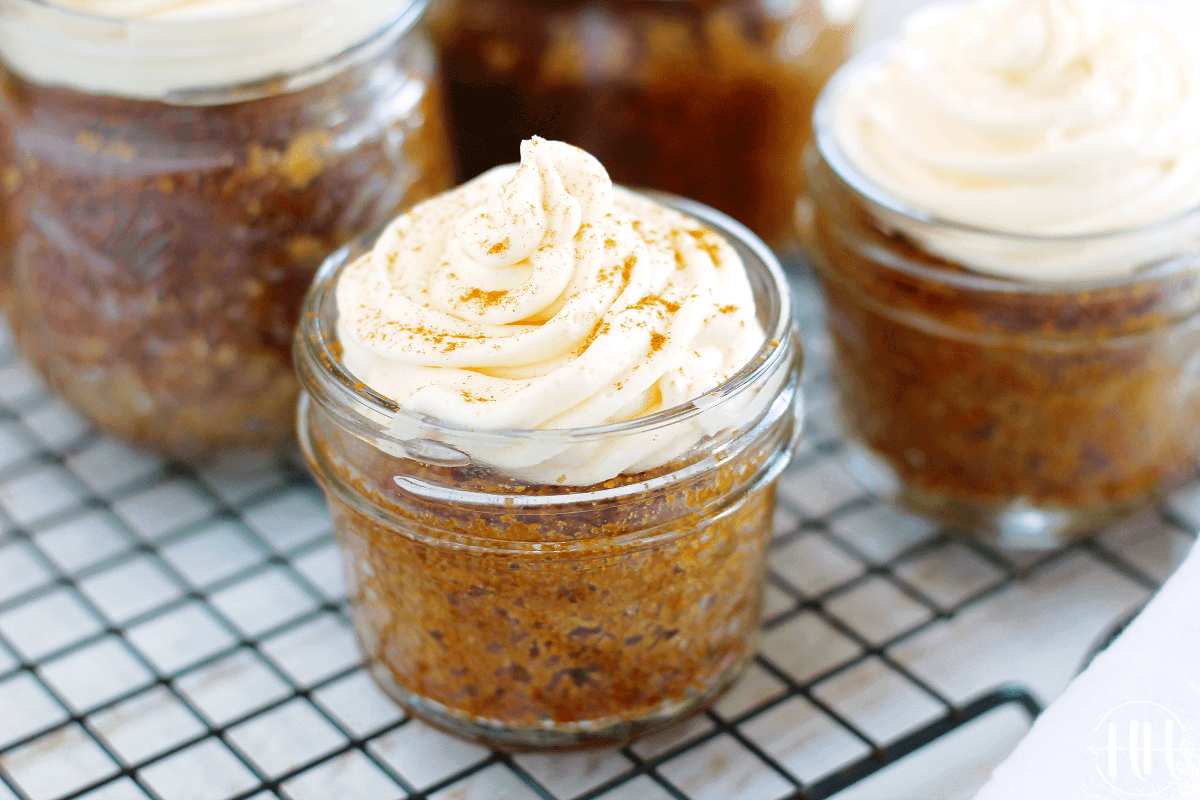 I typically use both the 4 oz and 8 oz jars when I bake these cakes. The 4 oz jars are perfect smaller portions for kids or those that want a sweet treat, but only a small amount.
Eating the cake and frosting from an 8 oz jar is my favorite portion size for good reason.
It's super satisfying and filling like a typical slice of cake. Yum!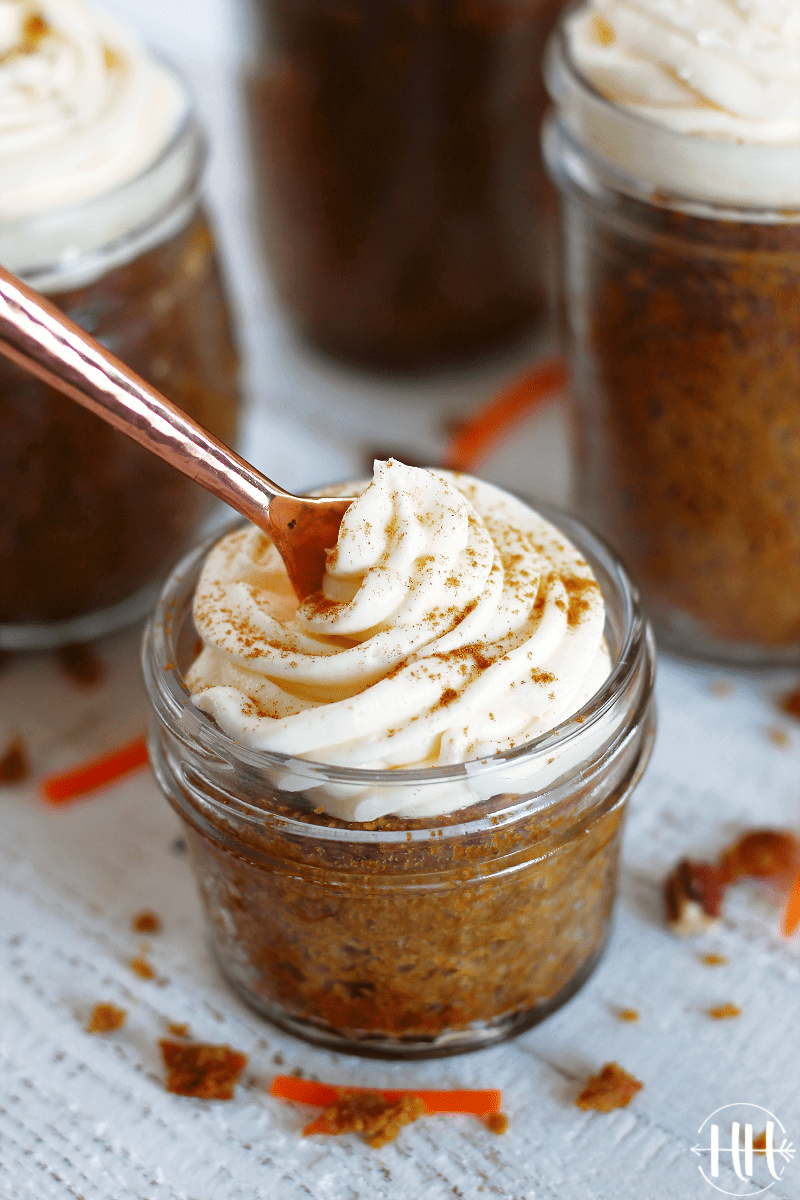 So are you all so happy to have this recipe just in time for, ummmm, tomorrow? These cutie pie cake jars don't need a special occasion like Easter or a birthday to be enjoyed.
Bake them just because it is Tuesday. 😉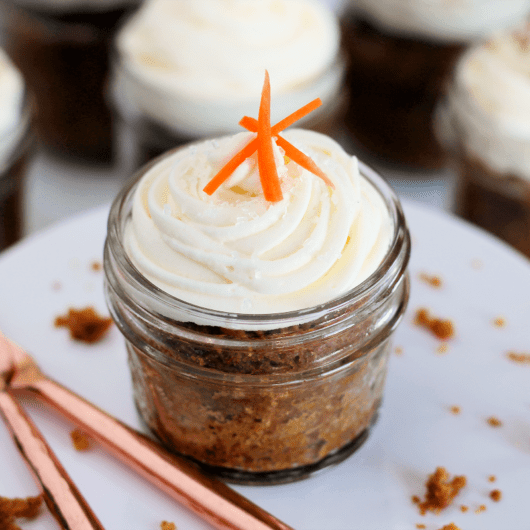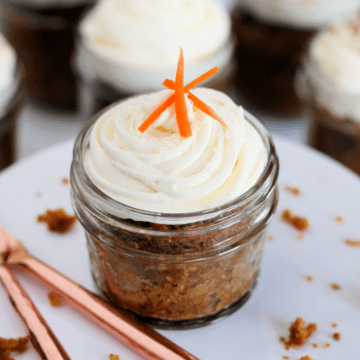 Print Recipe
Gluten Free Carrot Cake Jars
This healthy and easy dessert mason jar recipe is fancy without the fuss. Use mason jars to create the cutest gluten free and refined sugar free (no sugar) recipe. These clean eating cakes are moist and the from scratch batter can be made into muffins or cupcakes too if you don't have jars. Top with cream cheese frosting or ice cream. These are also a great low sugar snack minus the frosting!
Equipment
mason jars

bowl

whisk

rubber spatula

baking sheet
Ingredients
1 1/4

cups

coconut sugar

1/2

cup

coconut oil, melted

2

cups

grated carrot, lightly packed

4

eggs

1

tsp

vanilla extract

1

tsp

cinnamon

1/4

tsp

ground ginger

1 1/2

cups

gluten-free flour

2

tsp

baking powder

1/2

tsp

baking soda
Instructions
Preheat oven to 350F.

Spray generously the inside of 12- 4 oz mason jars or 6- 8 oz mason jars. The 4 oz is great for kids and/or portion control and the 8 oz jars are more like a portion of a typical slice of cake.

Place greased mason jars on a rimmed baking sheet.

In a large bowl, whisk together coconut sugar, melted coconut oil, shredded carrots, eggs, vanilla, cinnamon, and ginger.

Next add in flour, baking powder and baking soda and stir until combined.

Pour batter into each mason jar until it is 2/3 full. The batter should not come up to the neck of the jar. Don't overfill the jars, otherwise, the batter will overflow.

Bake 25 minutes for 4 oz jars and 30 min for 8 oz jars or until golden brown and toothpick inserted into center comes out clean.

Remove jars from oven and let cool. Once cooled, frost cakes with cream cheese frosting (recipe below) or frosting of choice.
Notes
Cream Cheese Frosting:
8 oz cream cheese
½ cup butter
2- 2 ½ cups powdered sugar
2 tsp vanilla
In a large bowl with a hand mixer or Kitchen Aid mixer, combine butter and cream cheese until well blended. Add 2 cups of powdered sugar and vanilla and beat until fluffy. If the frosting is too loose and does not form light peaks, add in 1/2 cup powdered sugar and mix until the frosting is stiff enough to pipe on the cakes or spread with a knife.
Calorie count only includes cake, not frosting.