I will admit…
I have a love / hate relationship with granola, especially this Salted Dark Chocolate Almond Butter Granola.
I LOVE making it and eating it.
But I HATE how I have absolutely NO self-control when it's in the house. Like none. It's embarrassing.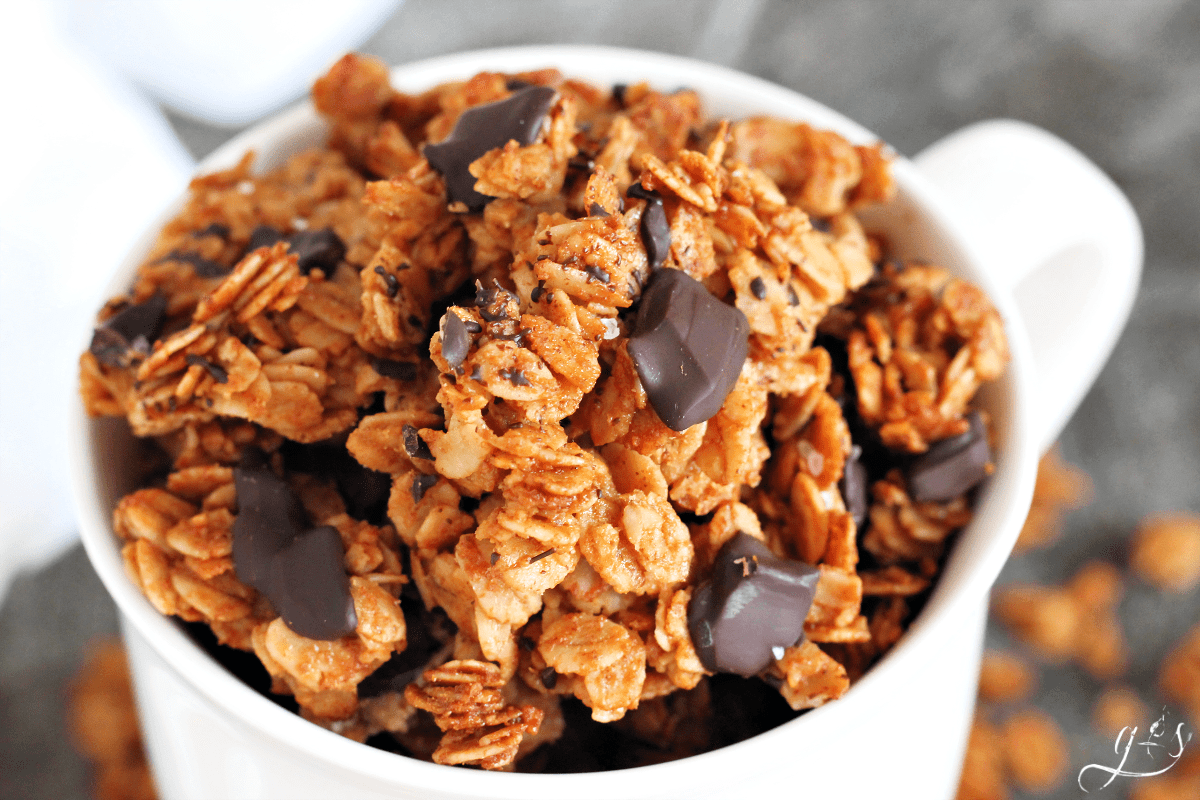 I eat it straight out of the jar. Pour it into a bowl with almond milk. Sneak bites all the live long day. Justify late night bowls of granola and almond milk. You get the picture.
No self-control. Nada. Zilch.
You will literally be drooling when you see the ingredient list and all the pretty photos of this Salted Dark Chocolate Almond Butter Granola.
I mean, it's basically the best tasting granola EVER.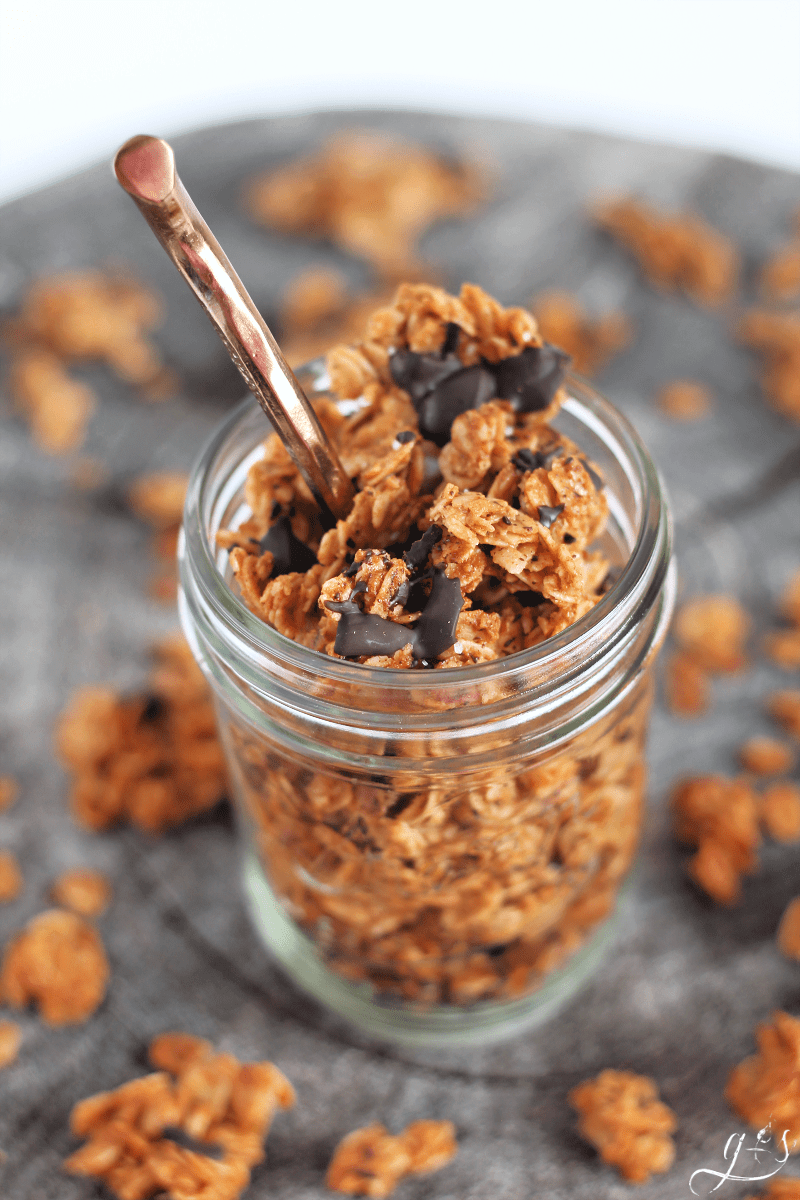 Did I mention the contrast of the sweet and salty is absolutely divine! D.I.V.I.N.E.
There are only 6 wholesome ingredients. Not calorie free, mind you. But wholesome, nonetheless. 😉
Actually, 1/2 the ingredient list is within the title. Ha!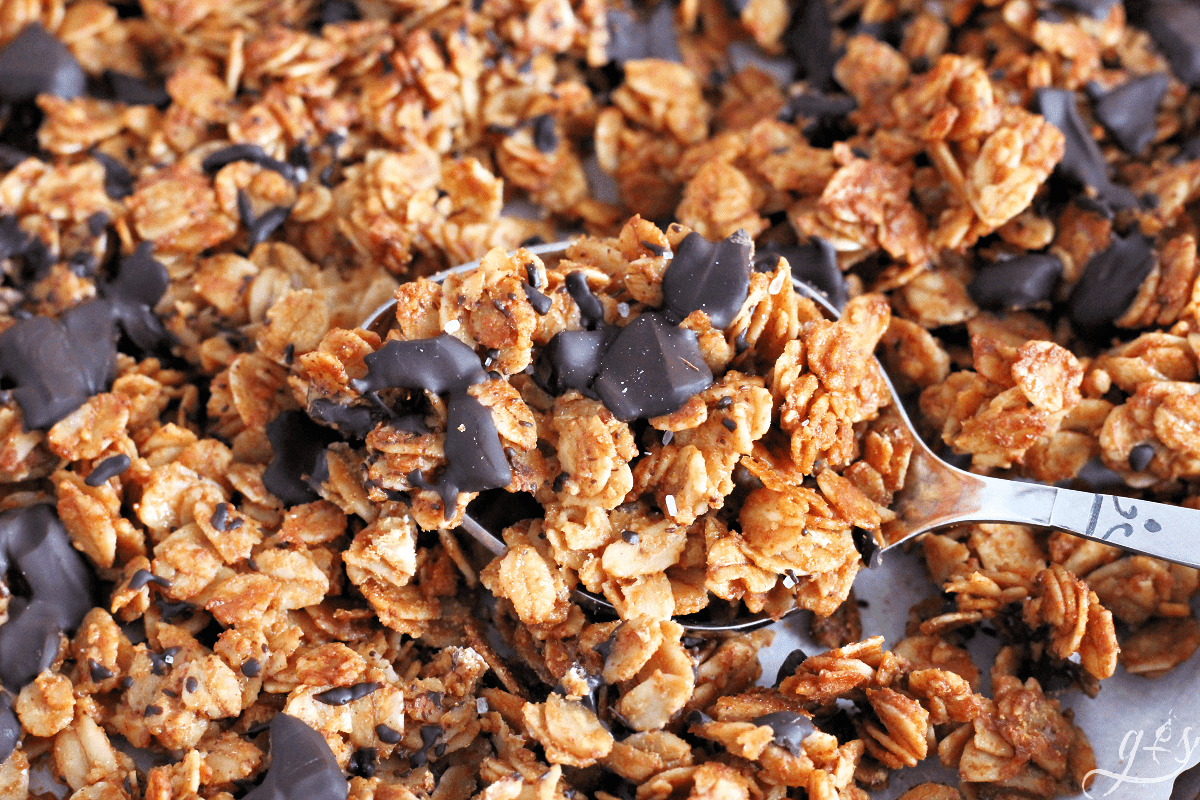 Here are the dEATS:
Use flaked sea salt or whatever salt you have on hand will work just fine. However, the larger the salt flakes the prettier this Salted Dark Chocolate Almond Butter Granola looks!
Almond butter or whatever butter you have on hand such as peanut, cashew, or pecan will be delicious. Literally anything will work, but my favorite almond butter to use is She's Nuts. My friend, Kari, makes the most delicious clean eating butters EVER! Her Vanilla Espresso Almond Pecan would be divine in this.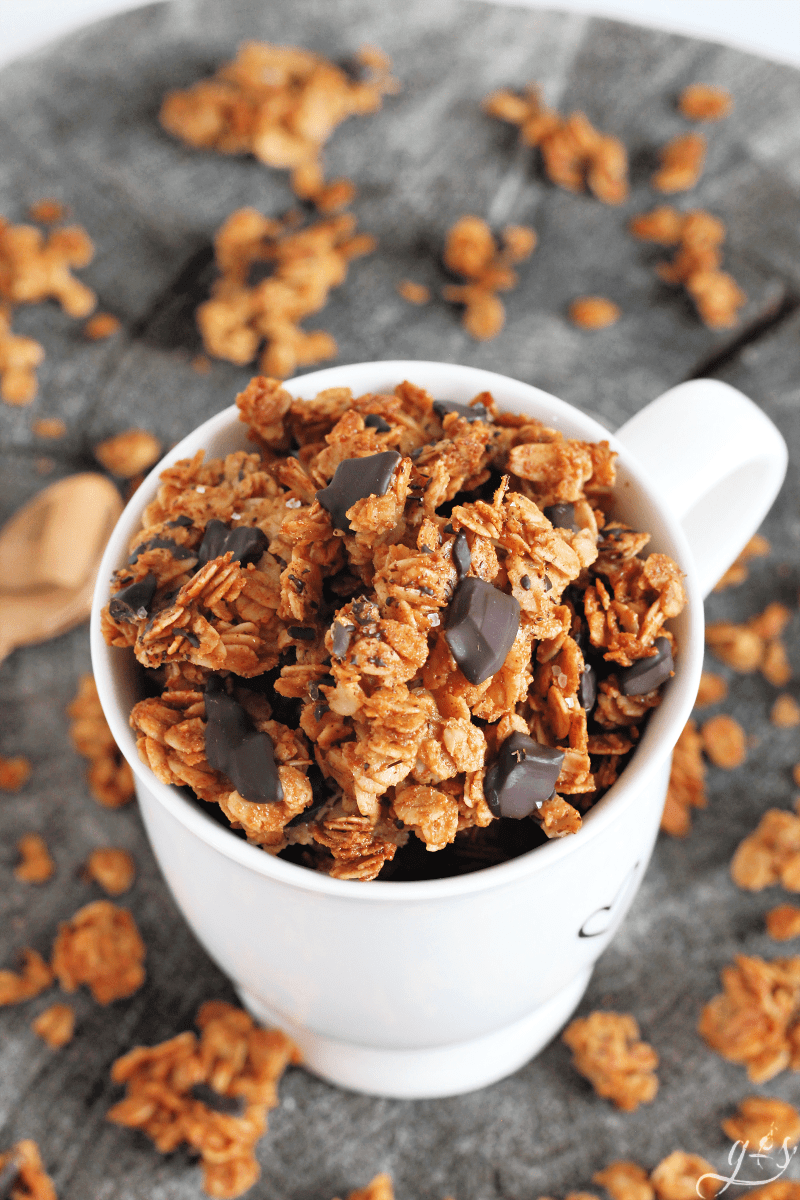 The espresso would only enhance the dark chocolate. #drooling
An 85% dark chocolate bar was used in this recipe, but I know some can't go quite that dark, so any dark chocolate will do or use dark chocolate chips. I prefer the pureness of super dark chocolate bars because there are minimal ingredients and very little sugar, but tons of chocolate flavor. The richness is just so good too!
As for the honey, I like raw unfiltered honey.
A couple bee legs won't hurt me. 😉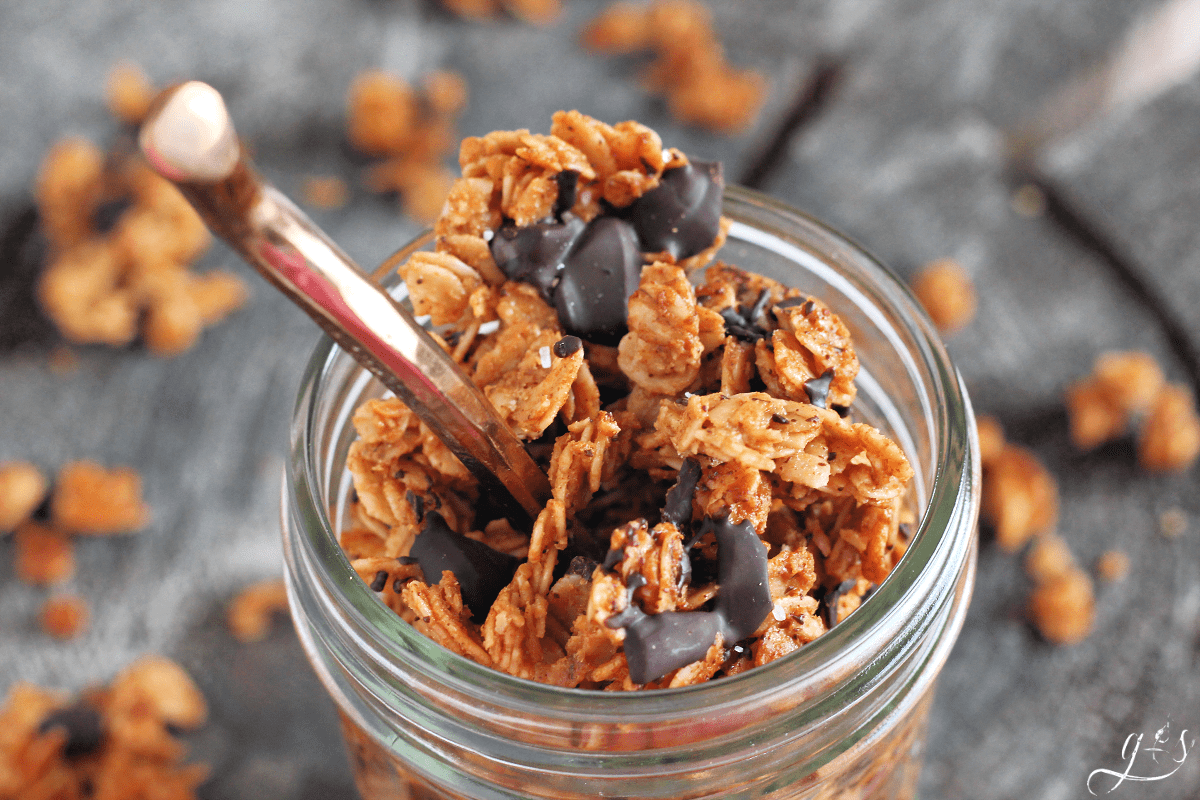 Coconut oil is my choice oil in this recipe, but butter or a light extra virgin olive oil should work well too.
And last but not least, I use old-fashioned oatmeal. Quick oats are fine too, but are a little more processed than old-fashioned or rolled oats.
So there you have it. Minimal ingredients, short bake time (20 min), and a delicious snack, breakfast, or dessert at midnight. 😉
Hey, no judging. We're like Planet Fitness here. You do you. 🙂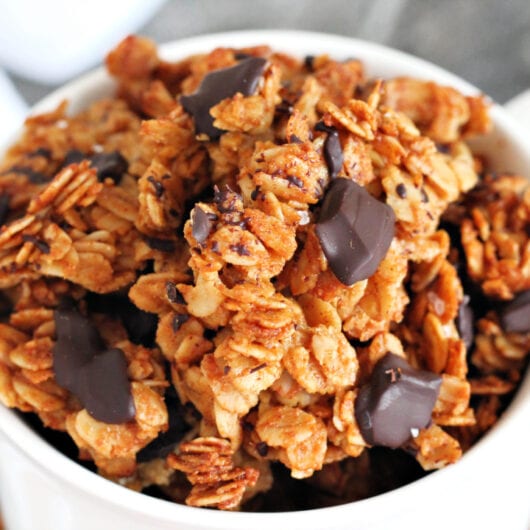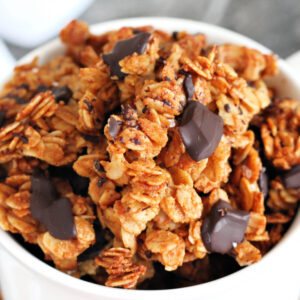 Print Recipe
Salted Dark Chocolate Almond Butter Granola
A homemade and healthy granola recipe is my weakness. This easy almond butter (or peanut butter) snack boasts clusters of salty and sweet with it's flaked sea salt. Eat this for a simple breakfast with almond milk, gluten free brunch, snack, or dessert. Honey and coconut oil are also used. Learn how to make this clean eating 6 ingredient recipe and you will have deliciousness all week!
Equipment
1 medium sized bowl

1 rubber spatula

1 baking sheet
Ingredients
1/4

cup

coconut oil, melted

1/4

cup

almond butter

1/4

cup

honey

3

cups

old fashioned oatmeal

1/3

cup

dark chocolate pieces

a bar coarsely chopped or dark chocolate chips

flaked sea salt
Instructions
Preheat oven to 350F. Line a baking sheet with parchment paper.

In a medium-sized bowl, whisk together melted coconut oil, almond butter, and honey. Add oatmeal and mix to combine.

Pour coated oatmeal onto parchment paper lined baking sheet. Spread out evenly. (While the granola is baking, coarsely chop the dark chocolate bar into small pieces.)

Bake for 15 minutes, then stir granola. Set oven timer for another 5 minutes. The granola will go from not done to burnt in 5.3 seconds, so keep an eye on it. Seriously! The granola is done when you can start to smell it and it has turned a golden brown. Mine bakes in exactly 20 minutes, but every oven is different and yours may take a little more or a little less time to brown.

Remove baked granola from oven and don't stir it! Too much stirring will not allow for the large yummy granola clusters to form.

Then evenly scatter coarsely chopped chocolate pieces on top of the warm granola. The chocolate will melt into the oats and be evenly distributed when you are eating it. Otherwise, if you add the chocolate after it is cooled, the chocolate pieces tend to fall to the bottom of the jar.

To finish, lightly sprinkle a little flaked sea salt on top of the warm chocolatey granola. Use your discretion. A little bit goes a long ways and you can always add more if you need to. The contrast of the sweet and salty is absolutely delicious!

Let the granola cool for 1-2 hours to allow the chocolate to harder. I sometimes pop it in the freezer if I am in a hurry. Store in an airtight container.