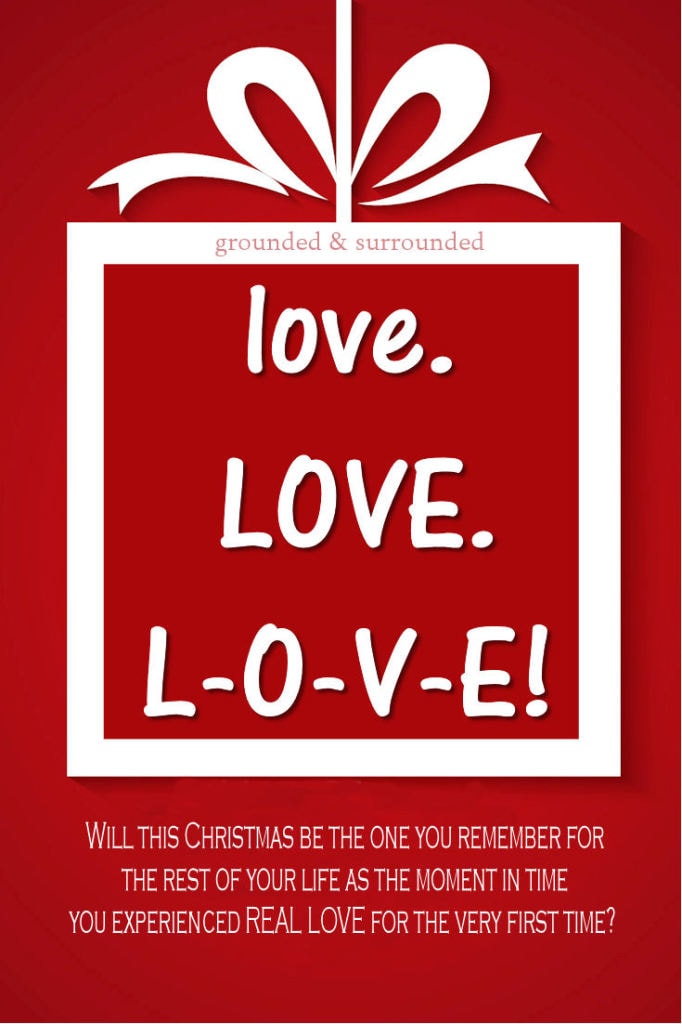 Sammi and I wanted to do a special post for Christmas Week.  So we set out to write this article, in hopes that it would be utterly life-changing for anyone who took the time to read it.  We sure did set the bar high, didn't we? What topic has the power to change someone's life?  As we pondered this question, we realized there was only one possible answer: Jesus!  We know that the name of Jesus can bring about many emotions in a person, but we ask that you stick with us to the end even if you are tempted to click that little x at the top of the page right now.
We would never consider ourselves to be experts in anything, especially something as huge as this. But we can say with 100% confidence that Jesus changed our lives in a way we could have never believed if we didn't experience it for ourselves.  If you don't have your own experience with Jesus, would you be willing to take a moment to hear ours?  Maybe it will show you another side of religion that you have never seen before, maybe it will give you the hope that you are missing in your life.  And if there is even a small possibility of this post being as life-changing as we believe it is, wouldn't it be ridiculous to stop reading right now?
love. LOVE. L-O-V-E.  If you don't got it, you want it.  If you got it, you fear losing it. And if you lost it, you want it back. We all have a yearning deep inside of us, an unexplainable need to be loved; truly, completely, unconditionally, and forever.  And no matter how loved we are, it never seems to be enough.  It is almost as if love is a bubble bath.  It makes you feel great, but those bubbles just don't last!
Jesus changes everything. It doesn't matter how young or old you are when you meet him for the very first time.   It doesn't matter what your life was like before you met him, it will never be the same again.  How could one person have such power, especially someone who lived so long ago? It is impossible to know Jesus unless you are willing to accept that TRUE LOVE requires FAITH.  You must choose to trust in Someone you won't completely understand until after you have made the step of faith necessary to know Him..  But once you believe, you will experience, for the very first time in your life, the kind of love you were created to know.  The kind of love that fills you up to overflowing and will never, ever, ever leave you alone again.
Sammi and I made the leap of faith many years ago, before we ever met and became friends.  Our own stories vary some on the details, but here is what we have in common:
1. We believe that the God of the Bible exists, the He is our Creator and loving Father, and that He chose to send his Son, Jesus to

die on the cross to rescue us from our sin

.
2. We believe that we are sinful, that we mess up constantly, and that on our own we will never be good enough to measure up to God's perfect standard.
3. We believe that Jesus Christ is the bridge between us and God. Because of Jesus' perfect life, sinless death on the cross, and resurrection to eternal life, we all have an opportunity to be forgiven of our sins and to live a life full of God's Love.
4. We believe that God loves you too, and that He wants you to accept the FREE GIFT OF SACRIFICIAL LOVE He is offering you.
Will this Christmas be the one you remember for the rest of your life as the moment in time you experienced REAL LOVE for the very first time?  It is a step of faith, we know!  But it is the best step you will ever take.  Jesus is no longer in the manger; He is passionately knocking on the door of your heart.  Find a Bible, open it up to the book of Mark, and discover who Jesus REALLY is.  Read about his life, his ministry, the reason behind his death, and find the L-O-V-E  you have been searching for your whole life.  LOVE ETERNAL!
Here's to the Best Christmas of Your Life!
Sammi and Sarah
P.S. A huge and heart-felt thank you to our pastor, Dave Greenhood, for looking over this article and helping us make sure that the message we are sharing is Biblically accurate.  We Love you Pastor Dave!
Title Image: Designed by Freepik