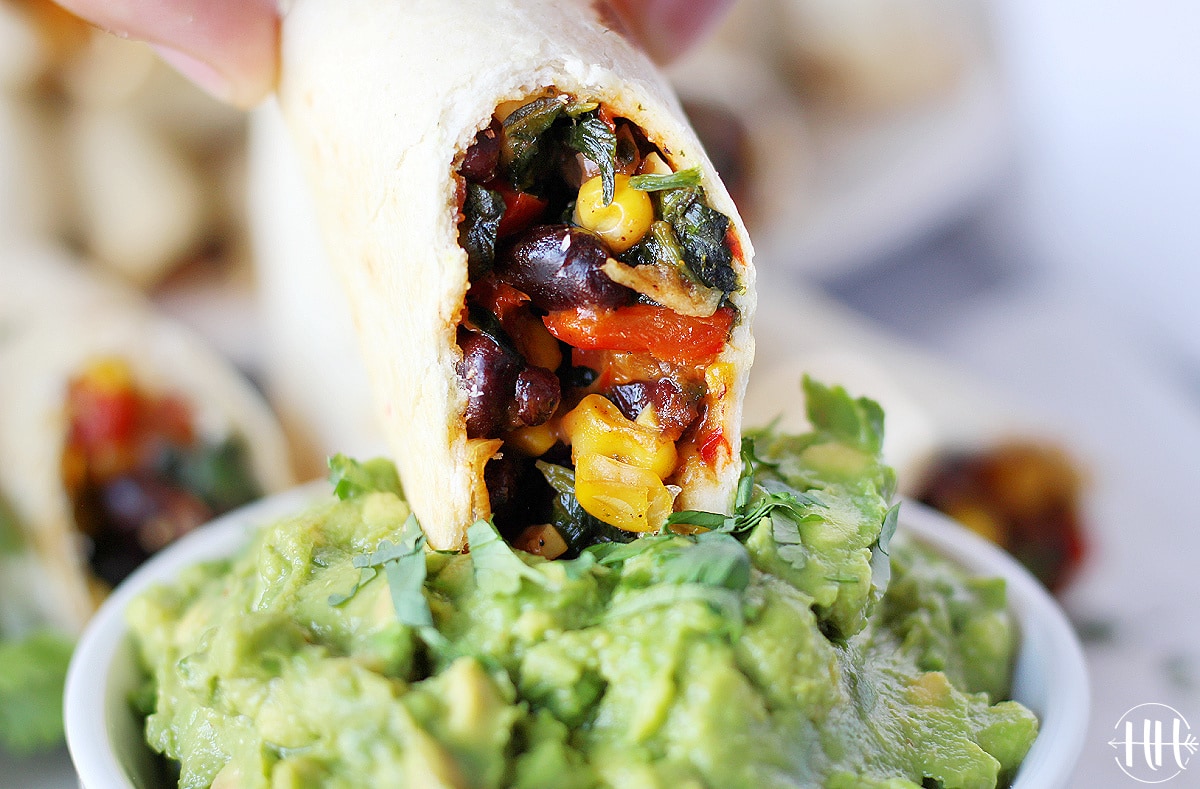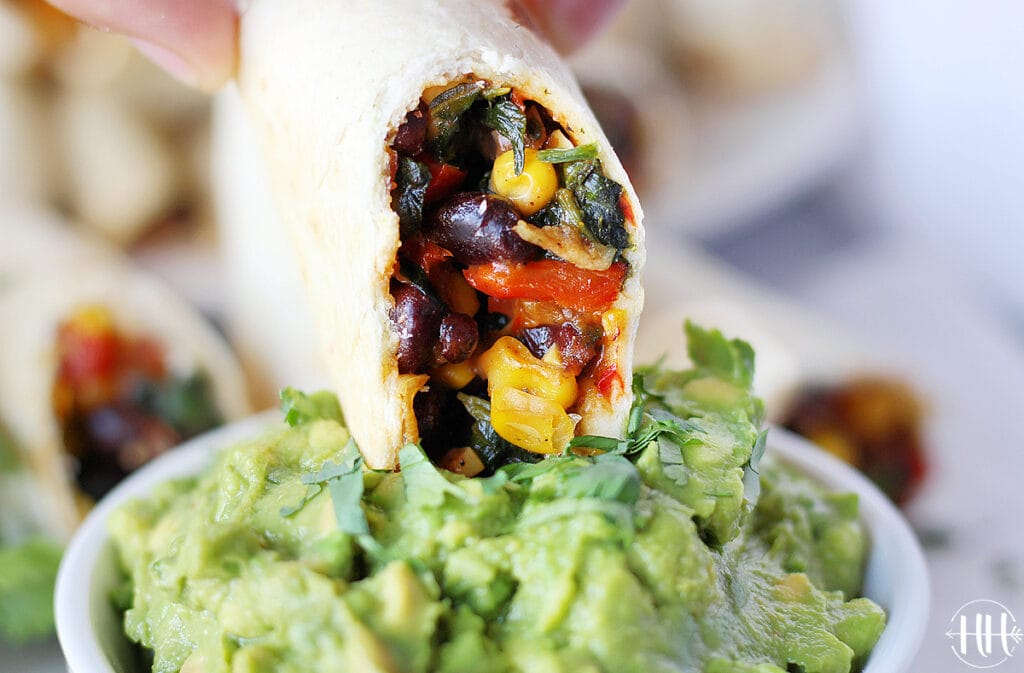 I have forgotten about these Vegan Southwest Egg Rolls for a few years now.
How in the world?!
They taste so amazing and the kids LOVE them.
Needless to say, I will not forget about them now because they are here on the blog and for the world to see.
If I forget again, promise me you will send me a message, okay? 😉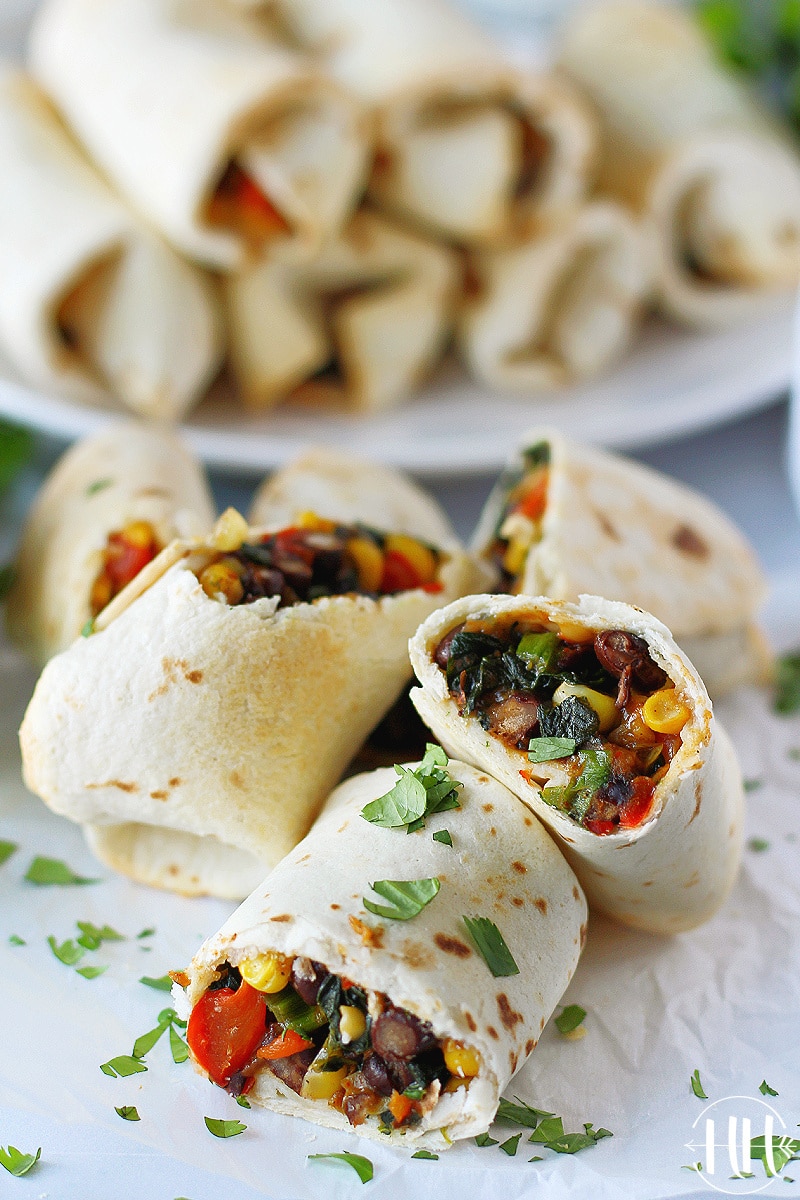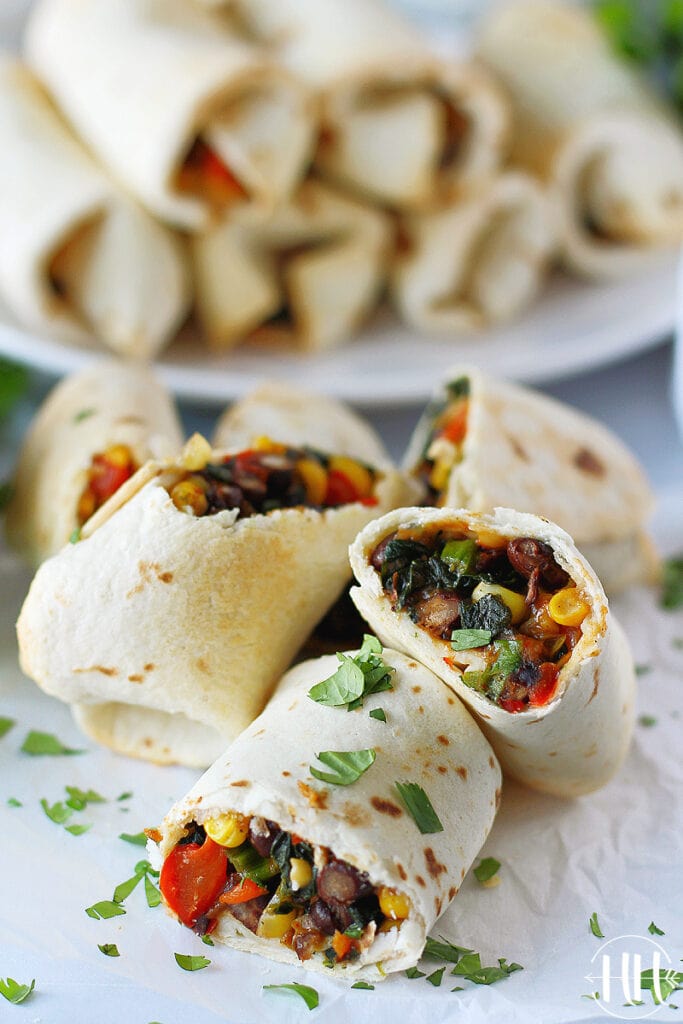 This recipe has slight changes from the original such as omitting the chicken breast and using an entire can of black beans. Plus, I subbed vegan shredded cheese so our little guy can eat them too.
Daiya shredded cheese is my favorite brand of vegan cheese because it actually melts and definitely taste like real cheese. I don't know how they do it, but I'm glad they did. Ha!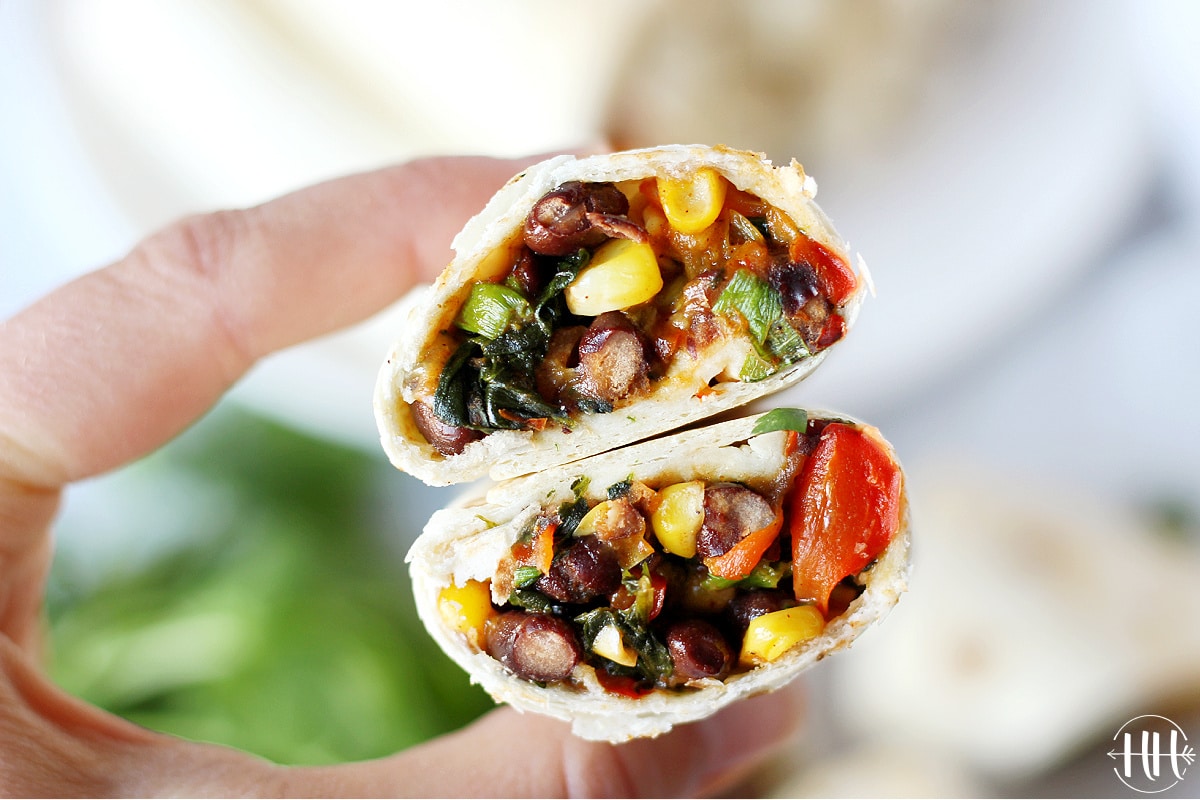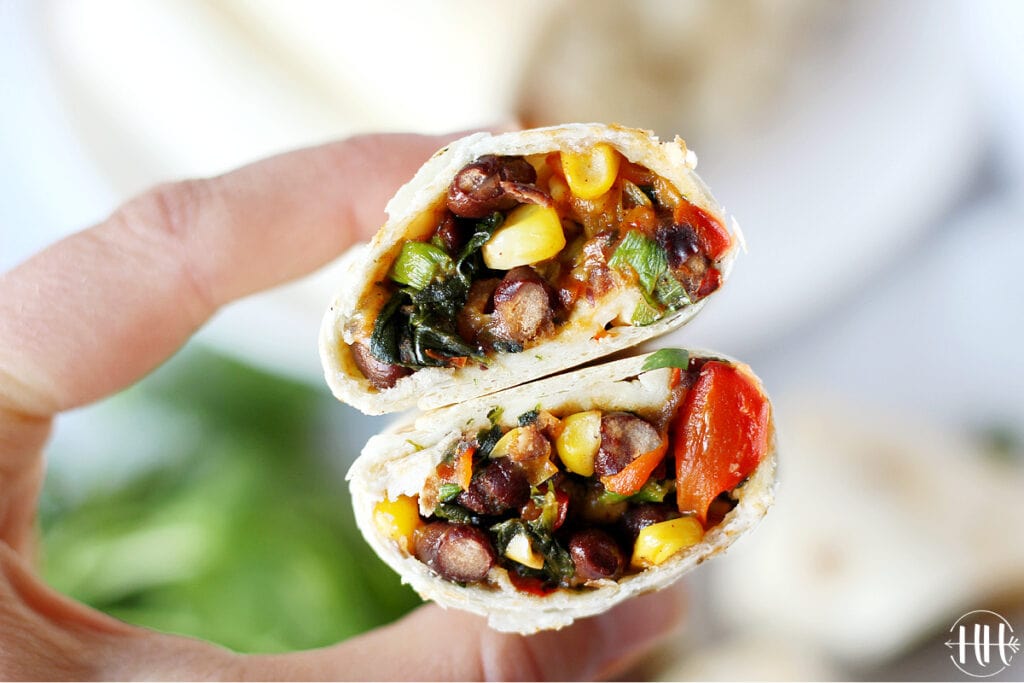 I also cut the baking time in half (at least!) by using my Cosori air fryer! These baked southwest egg rolls only fry (bake) for 3-4 minutes and you don't have to use any oil. It's ahhhhmazing! Plus, you don't have to preheat your air fryer either.
I told ya, this is seriously the quickest recipe.
If you know me at all, you know that my air fryer is my favorite appliance. I use it on a weekly, if not a daily, basis.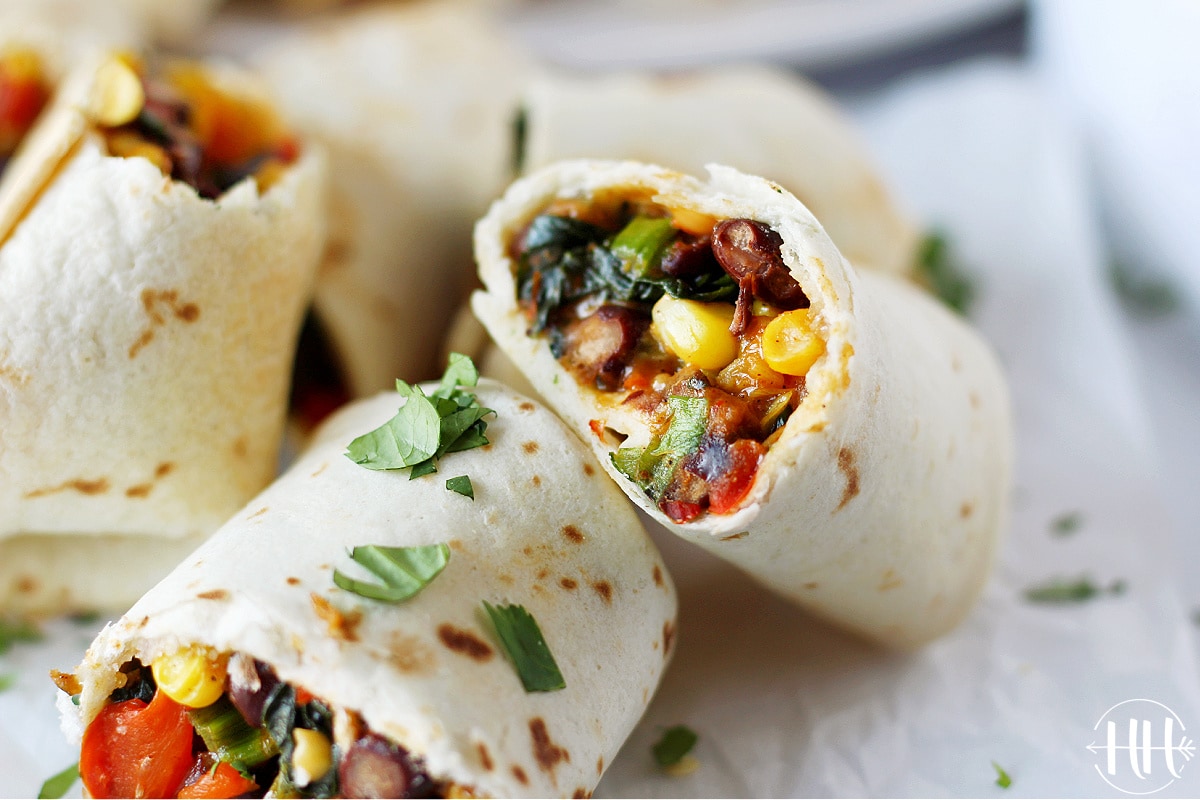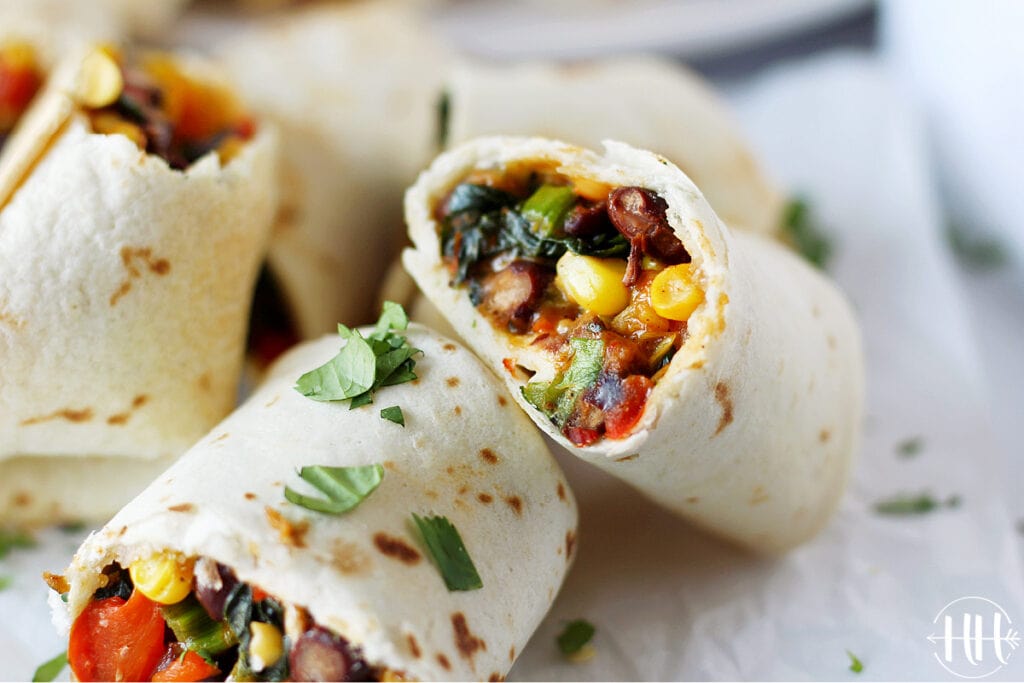 Ingredients for Vegan Southwest Egg Rolls:
15oz can black beans, drained and rinsed
1 red bell pepper, finely chopped
3 green onions, finely chopped
1 cup frozen corn, thawed
1 heaping cup frozen spinach, thawed and water squeezed out with paper towels or 2 heaping cups fresh spinach leaves
1/2 cup plant based cheese or regular
1/16-1/8 tsp cayenne pepper powder (optional, not optional 😉 )
1/2 tsp salt
1 tsp ground cumin powder
1 tsp chili powder
12 – 6″ soft fajita tortillas (gluten free if needed) or 10 – 8″ soft taco tortillas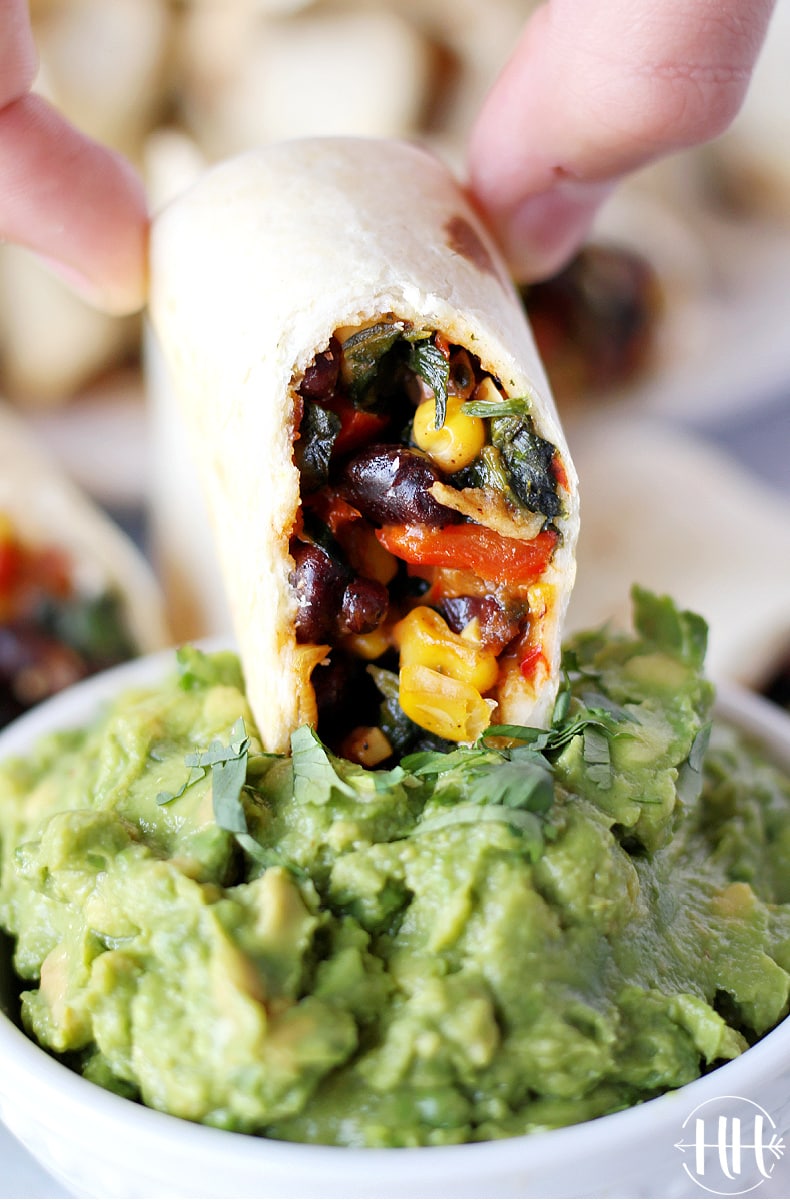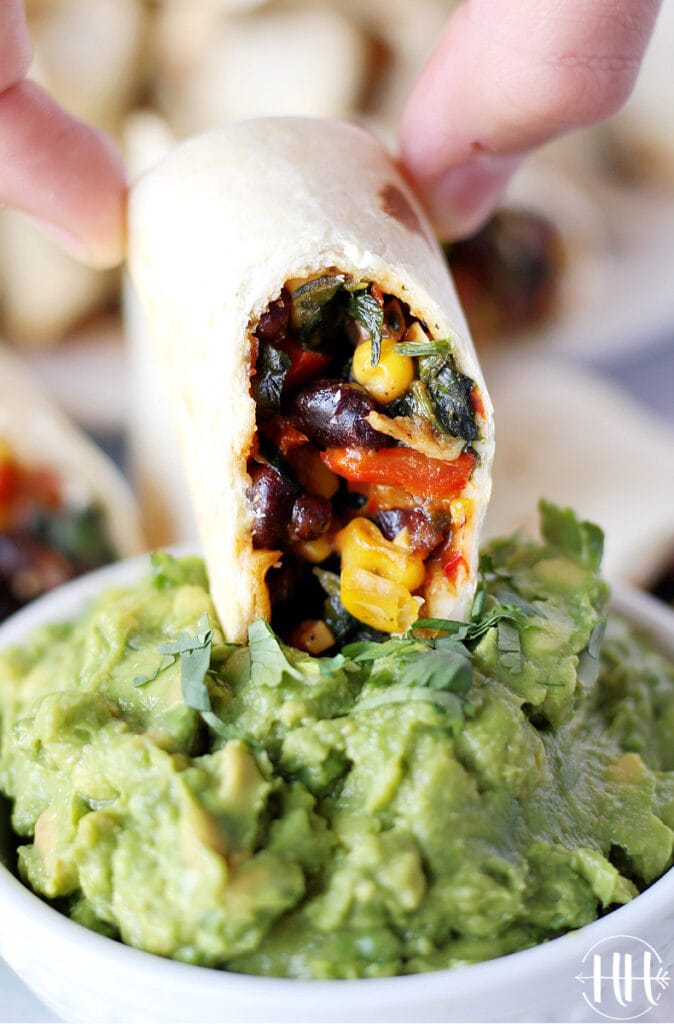 Talk about healthy! So these egg rolls are vegetarian and vegan friendly if you use plant based cheese like Daiya shredded cheese.
Our family eats plenty of meat dishes, but we have found we really enjoy adding more and more plant based recipes to our meal rotation!
We usually dip this Vegan Southwest Egg Roll recipe in ranch dressing or guacamole.
You can't go wrong with a homemade creamy sauce like sour cream or plain Greek yogurt mixed with the sauce from a can of chipotle peppers.
That little recipe is a hack from my friend, Holly. You're welcome. 😉
Okay, let's get you in the kitchen to whip up this delicious recipe!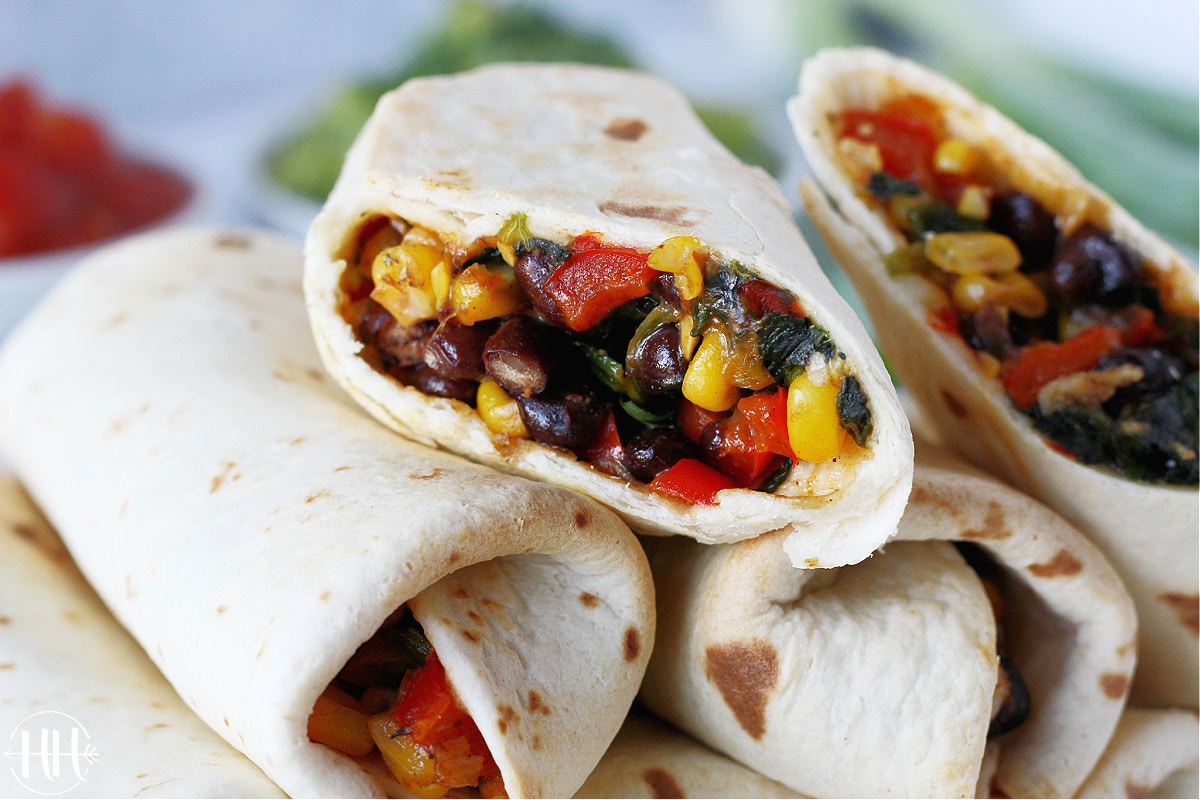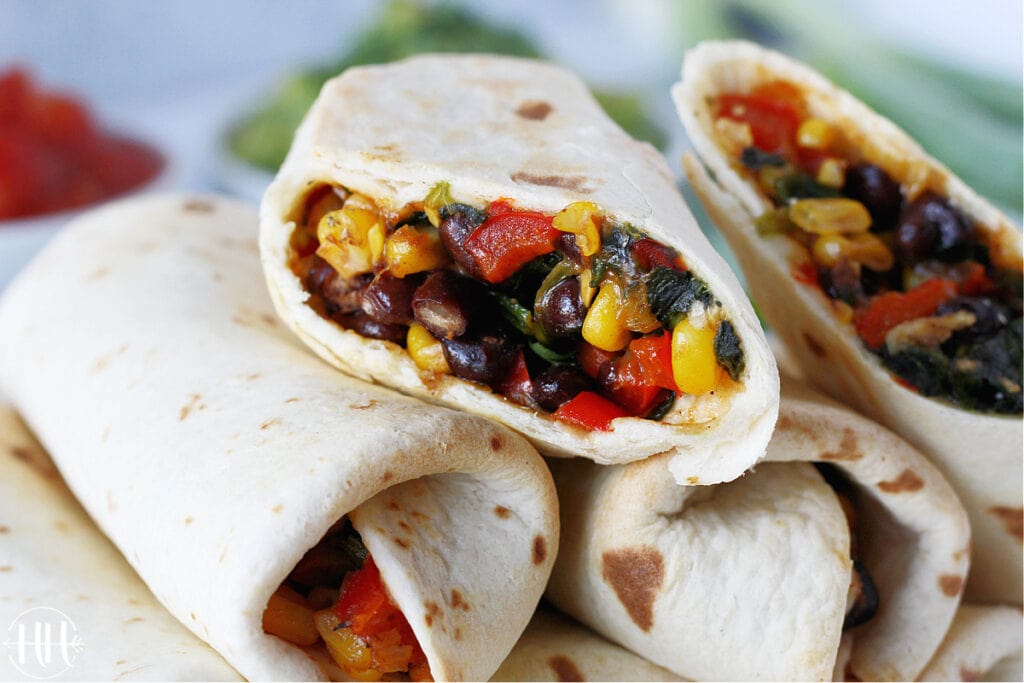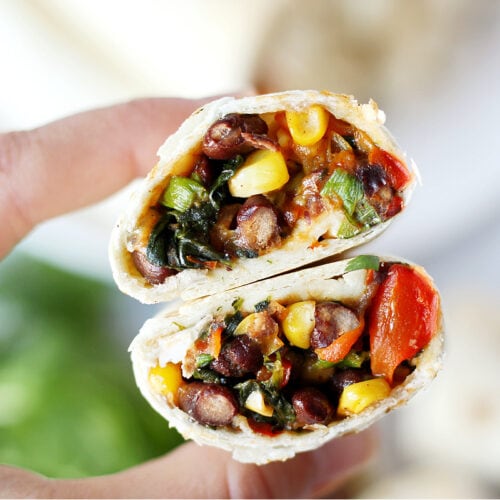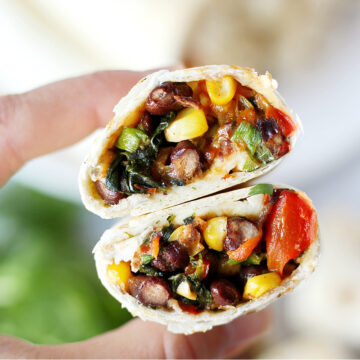 Print Recipe
Vegan Southwest Egg Rolls
This healthy lunch or dinner recipe is so simple to make. Use your air fryer to bake these plant based beauties in 4 minutes! No preheating required. Air fried foods are healthier than fried and in this recipe you don't use any oil. Use ranch dressing or guacamole as a dipping sauce. You can substitute gluten free tortillas in this vegetarian meal. Clean eating and vegan has never tasted so good!
Ingredients
15

oz

can black beans

drained and rinsed

1

red bell pepper

finely diced

3

green onions

chopped

1

cup

frozen corn

thawed

1

heaping cup

frozen spinach

thawed and water pressed out with paper towels or 2 cups fresh spinach

1/16-1/8

tsp

cayenne pepper powder

(optional)

1/2

tsp

salt

1

tsp

ground cumin powder

1

tsp

chili powder

1/2

cup

plant based cheese

or regular

12

6" soft fajita tortillas or 10- 6" taco tortillas

(gluten free if needed)*
Instructions
Add red bell pepper to stove top pan. Saute until bell pepper is tender.

Add in black beans, corn, spinach, green onion, cayenne pepper, cumin powder, chili powder, and salt. Heat mixture until hot.

Mix in shredded cheese until melted.

Score your skillet of filling with your wooden spoon or spatula into 12 portions.

Add 1/12 of your filling to one end of your tortilla and fold in the sides around the filling and roll the tortilla up to cover the filling with the entire the tortilla. These will not be perfect. If it is easier, roll them up like taquitos with each end open, but make sure the filling is not falling out.

Bake in your air fryer for 3-4 minutes at 400F or until egg rolls are slightly browned. There is not need to preheat your air fryer or spray the tortillas with oil. Do not overcrowd the egg rolls so they brown on all sides. You may need to do 2-3 batches.

Enjoy your egg rolls with ranch dressing, guacamole, or a dip made of sour cream and a little bit of sauce from a can of chipotles.
Notes
If you bake these in the oven, preheat to 425F and bake for 10-15 minutes or until slightly browned.
*10 – 8″ soft taco tortillas can also be used. Calories will total about 570/serving if you have 3 1/3 servings. Which who honestly does that? My advice- enjoy this meal wholeheartedly and start tracking again tomorrow. 😉