This post is sponsored by BabbleBoxx. #HolidayEntertainingBBxx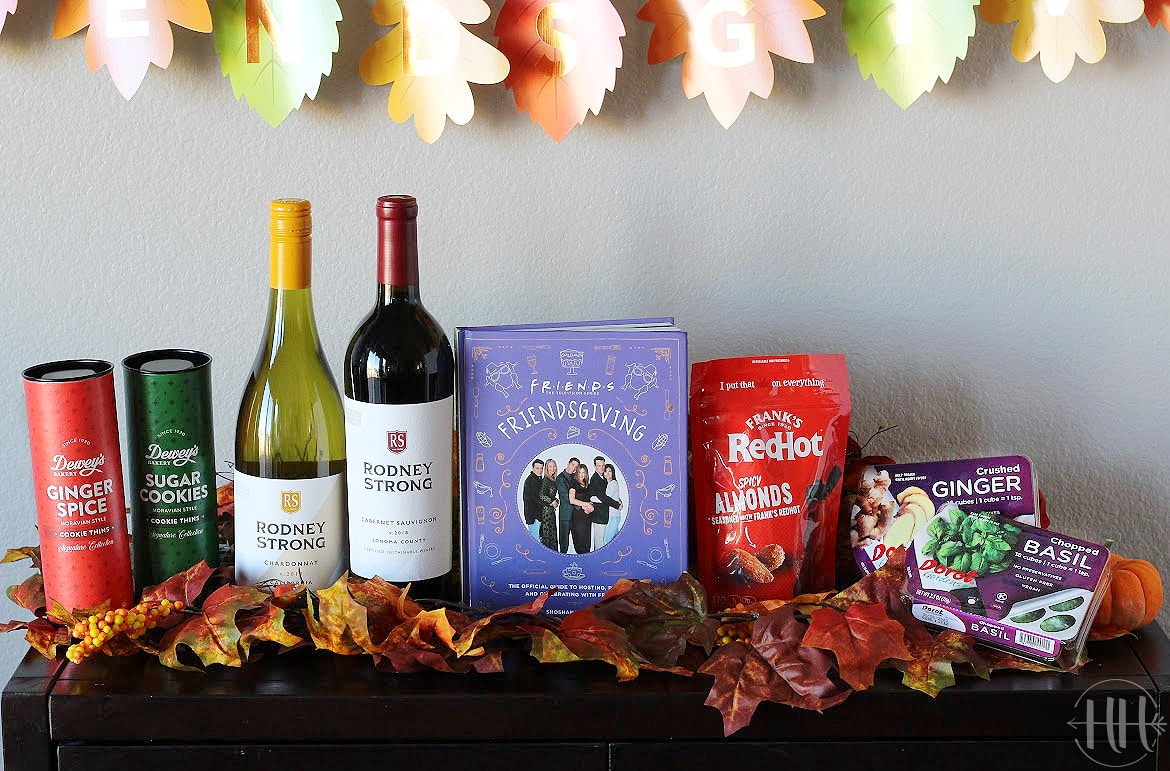 If you know me at all, you know that I have watched the tv series, Friends, at least ten times.
Maybe more.
I've lost track. Ha!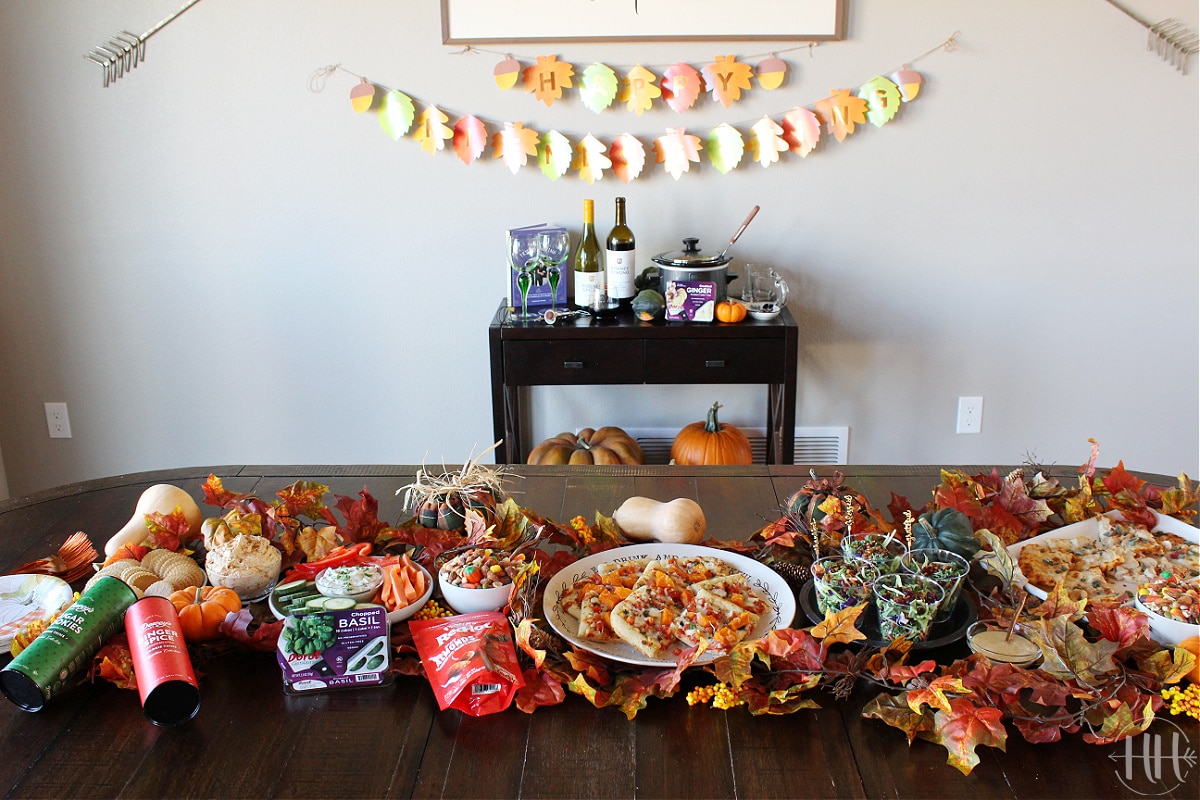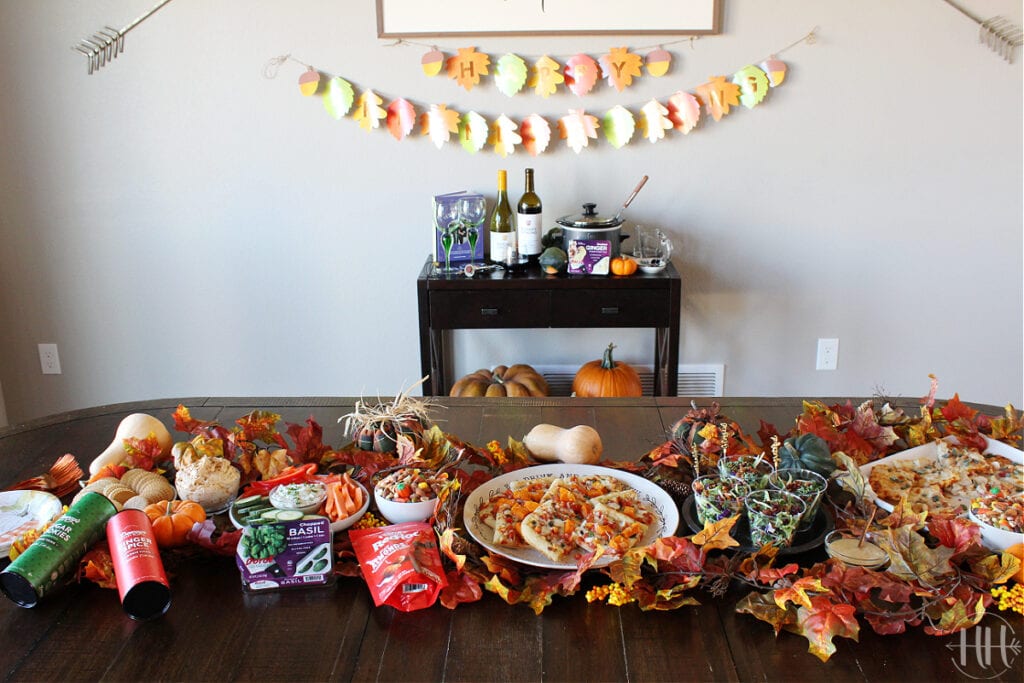 You can imagine my absolute joy when I opened up my latest shipment to find a box FULL of everything I need to create a Friends-inspired Friendsgiving Appetizer Menu Ideas or as the book reads "Friendsgiving Warm-Up Menu".
These easy food ideas are everything you need to create the perfect appetizer menu on Turkey Day!
Friendsgiving: The Official Guide to Hosting, Roasting and Celebrating with Friends by Shoshana Stopek gave me all the recipe inspiration I needed. This 175-page book is an officially licensed guide for year-long celebrations inspired by Friends. So use this book during the holidays, but also year-round for any celebration!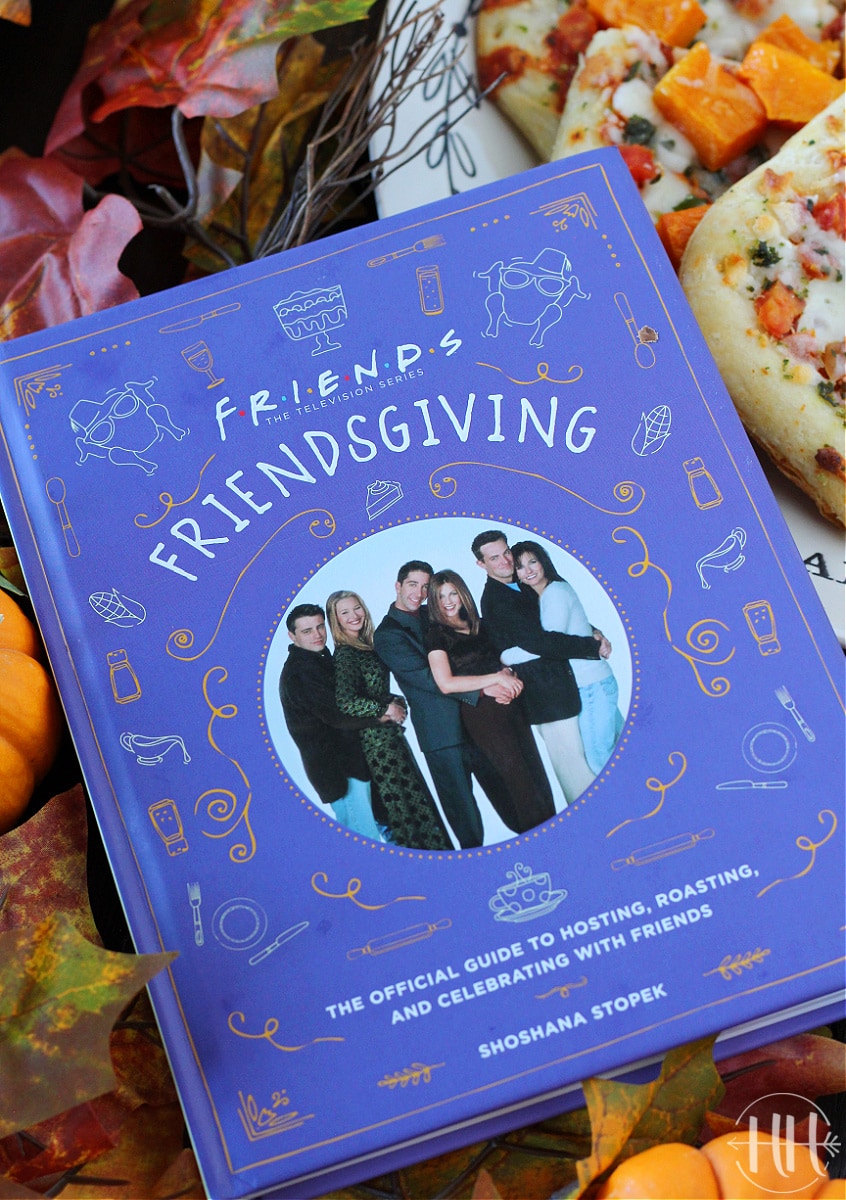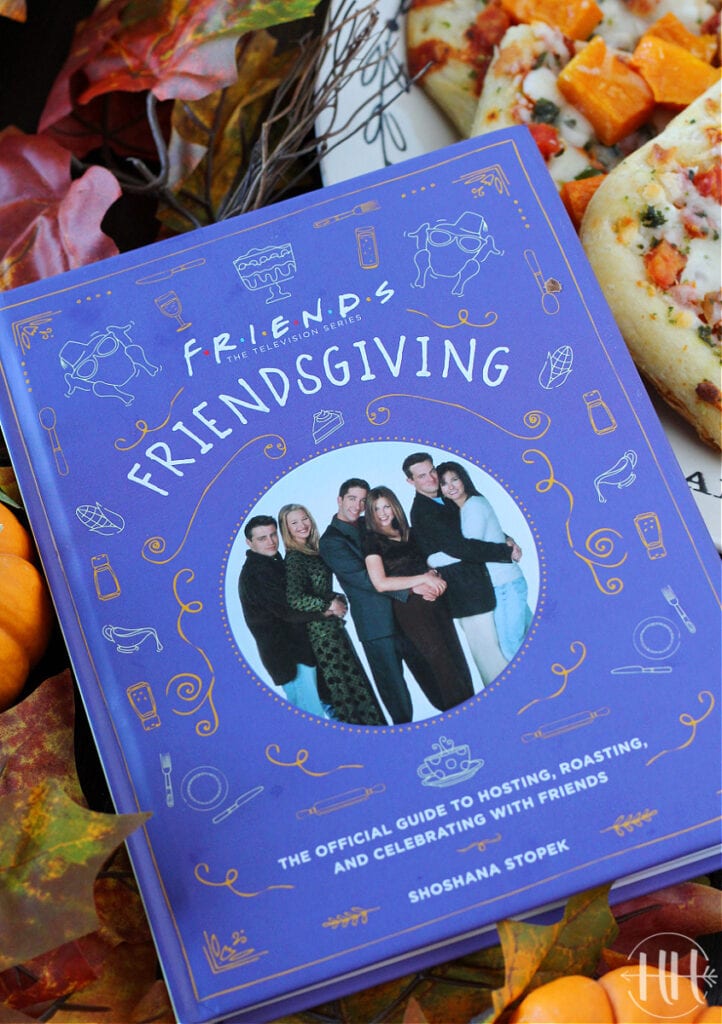 In part 1 of Friendsgiving you'll find familiar recipes like "I Hate Rachel Green" Club Yams, Chanberry Compote, and the infamous Moist Maker (Ross' sandwich made from Monica's Thanksgiving leftovers). Part 2 contains Friends-style entertaining tips such as playlists and DIY decor. Part 3 keeps the fun going with Unagi Pictionary and conversation cards to spread a little wit and sarcasm at your get together.
Thanks to this book I was inspired to make The Joey Special Homemade Pizza, Fancy Restaurant Salad, and Monica's Mulled Apple Cider with Dorot Gardens Crushed Ginger.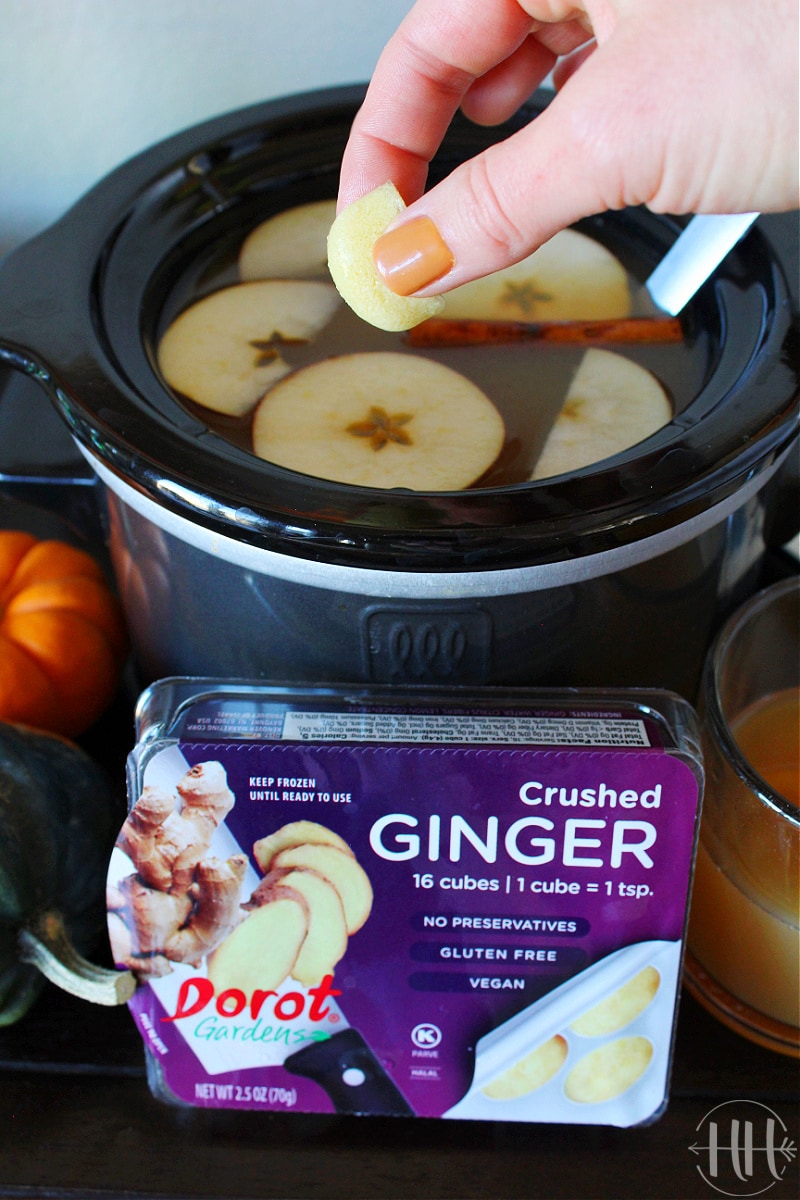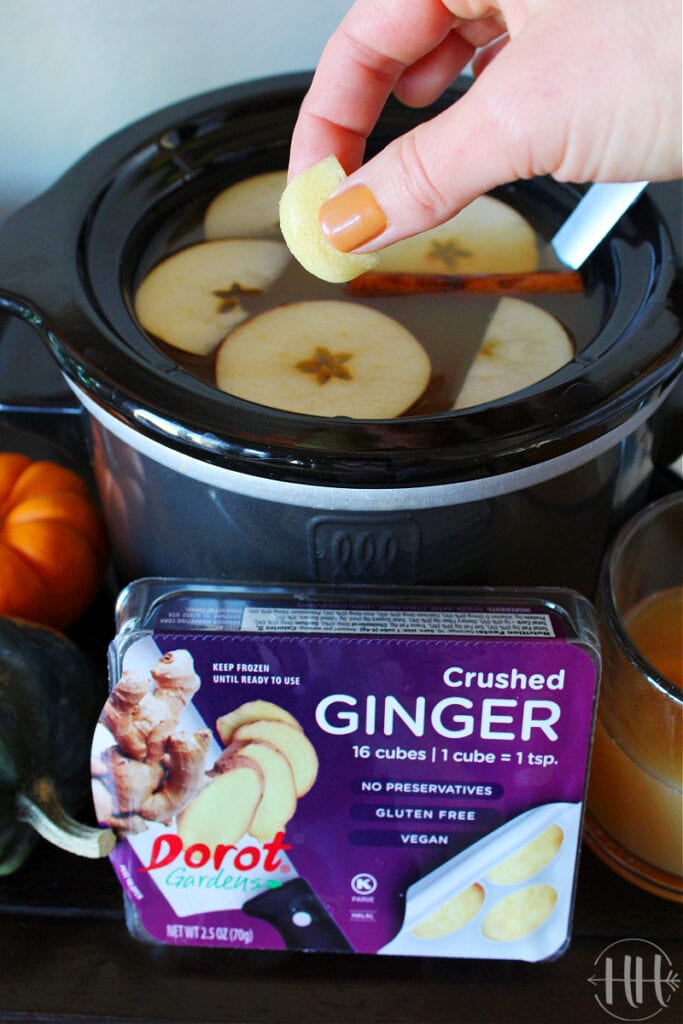 With Dorot Gardens there is no peeling, chopping, and most importantly in my book – no mess! Just pop each pre-portioned cube into your recipe. Easy peasy!
I knew this ginger would compliment the mulled cider perfectly! Apple and ginger just go together in my book! One cube of Dorot Gardens Ginger equals 1 teaspoon which was perfect for this seasonal drink. I dropped a cube in with 8 cups cider and stirred until the ginger was dissolved and incorporated into the cider.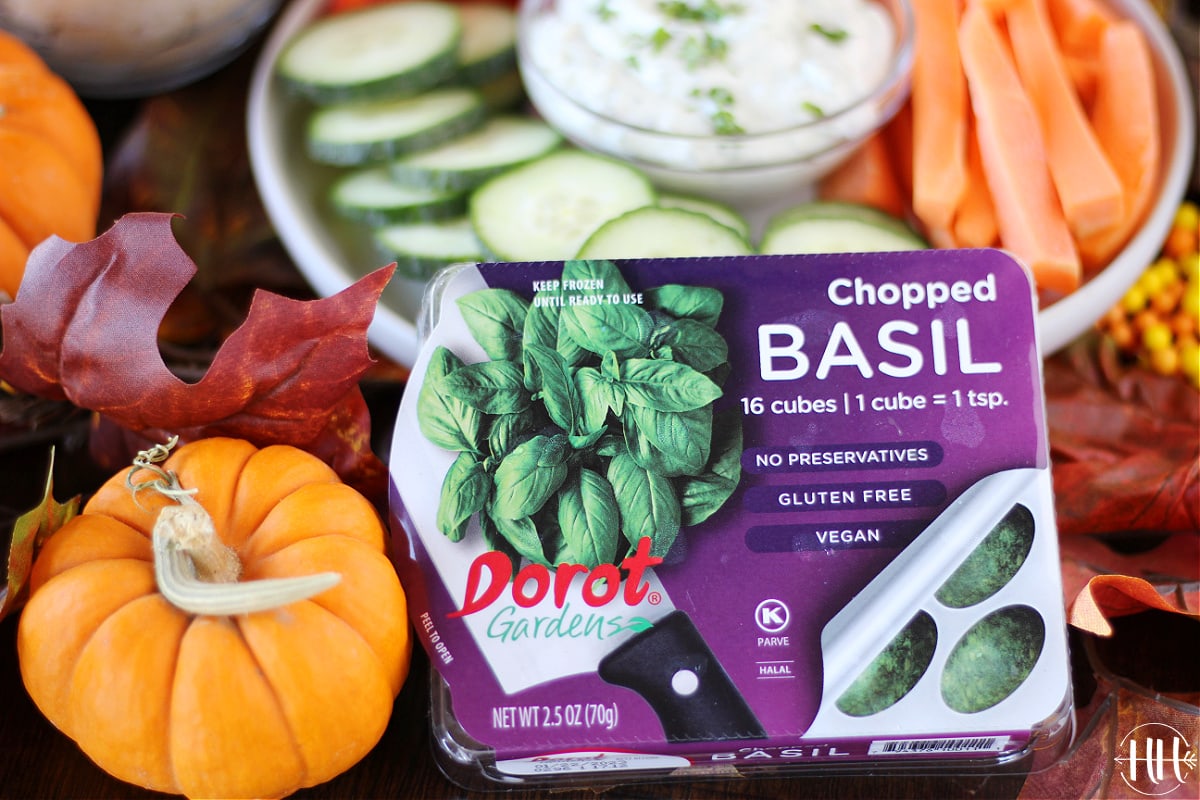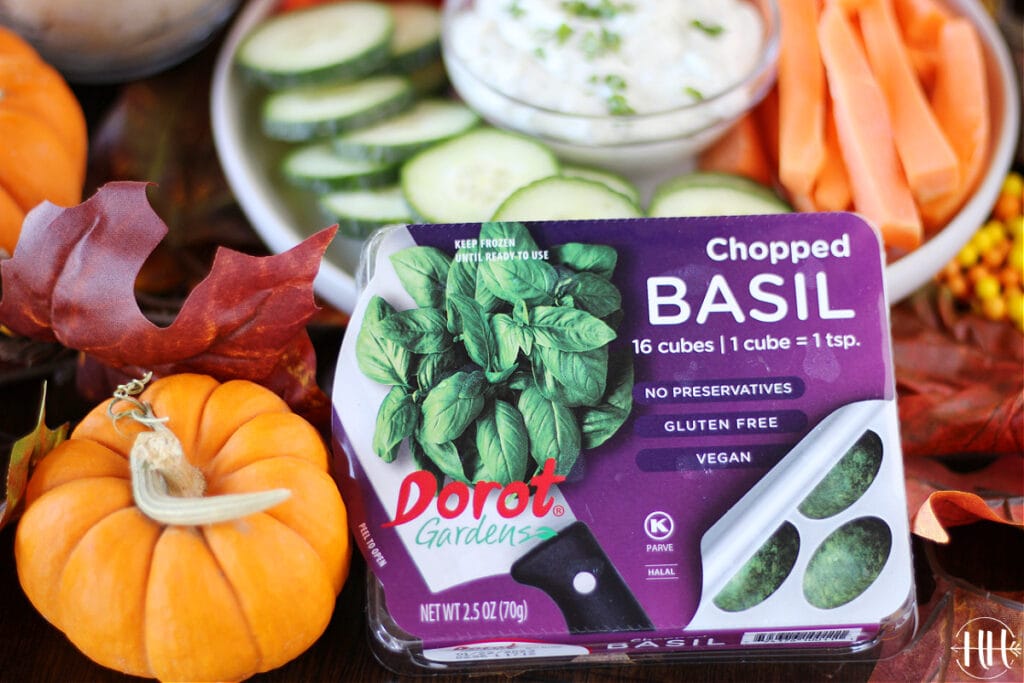 You can also purchase garlic, basil, dill, and more! I used two basil cubes for a quick dip. Put two basil cubes in a small dish and microwave for 15 seconds. Add the room temp basil to 1 cup of French onion, stir, and serve as a veggie or chip dip like I did!
To complete this Friendsgiving Appetizer Menu Ideas, I added a sweet and spicy fall snack mix using Frank's Red Hot Sauce Almonds. These California Almonds are coated with Frank's Original Hot Sauce and are FIRE- in all the best ways!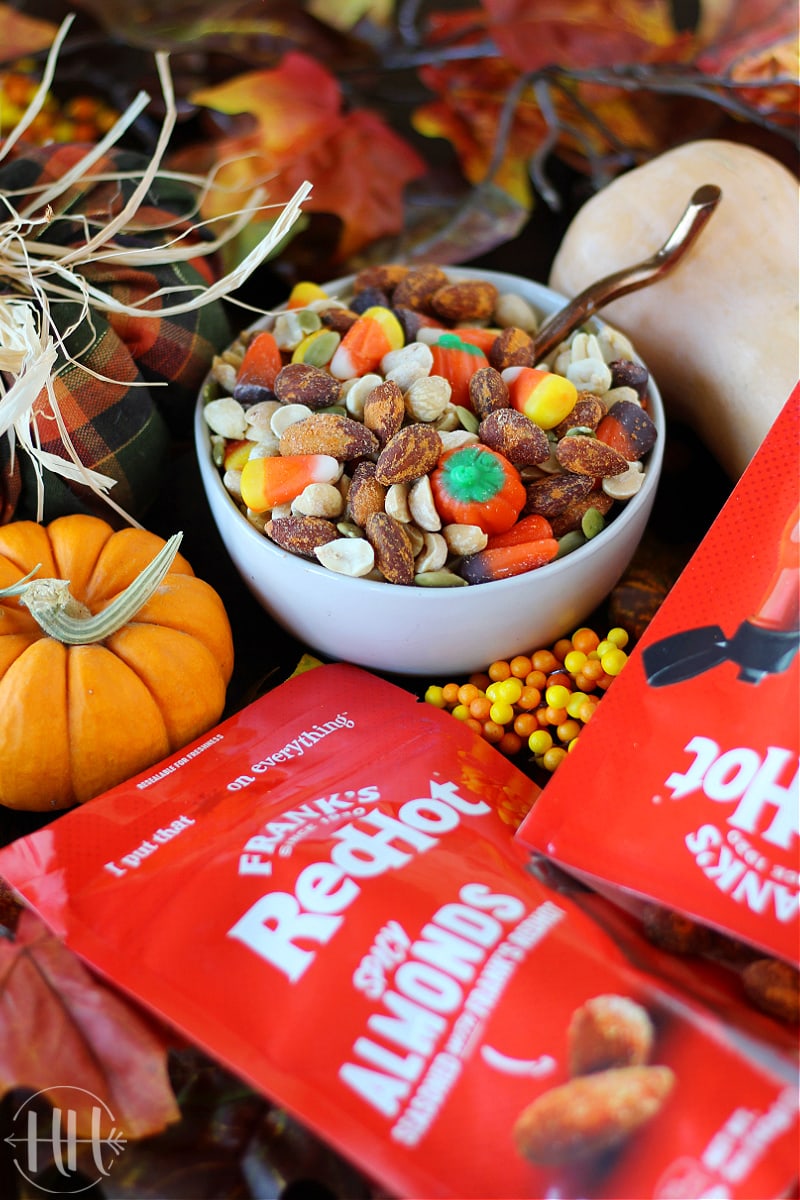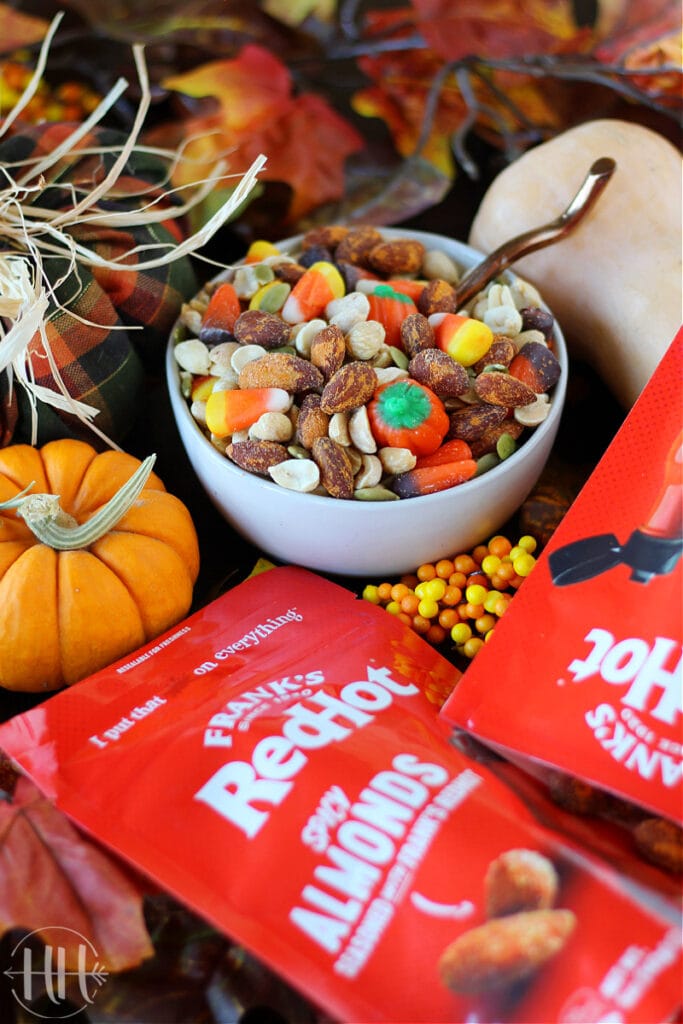 Frank's Red Hot Almonds definitely take the boredom out of typical almonds and kick them up a notch with the perfect blend of flavor and heat. They are DELISH!
Just mix Frank's Red Hot Sauce Almonds with salted and roasted peanuts, candy corn, and pepitas. The sweet, spicy, and salty combo will be gone before you know it so maybe prepare a double batch. 😉
Speaking of sweet, did you spy those gorgeous cookie thins? They are none other than Dewey's Cookies! Yep, these exceptionally thin and remarkably flavorful sugar and ginger spice Moravian cookies are perfect on their own or as a dipper in the pumpkin pie dip.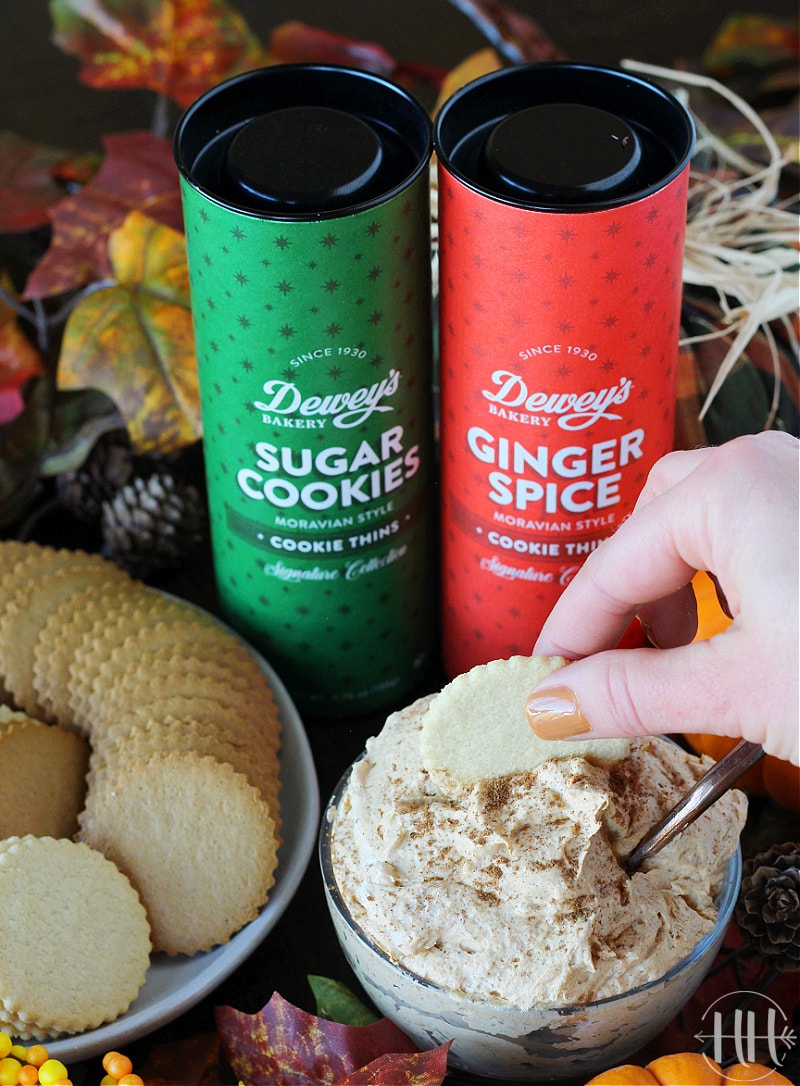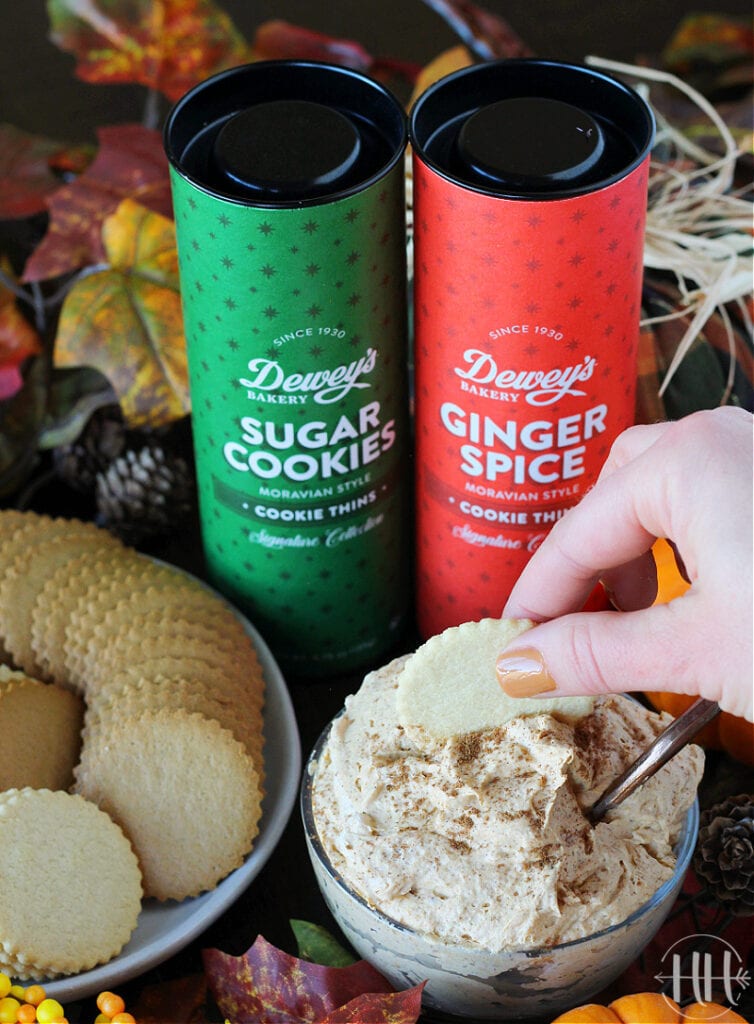 Dewey's Cookies are baked with real ingredients using a centuries-old recipe, no artificial flavors or colors, and no preservatives. Plus, they are baked with care right here in the Unites States, Winston-Salem, North Carolina to be exact!
Trust me, the ginger spice cookies and the pumpkin pie dip were AHHHHMAZING!
Dewey's Cookies make the sweetest gift for the holidays and beyond! Use discount code "DEWEYS10" for 10% off sitewide November 10th-December 10th, 2021.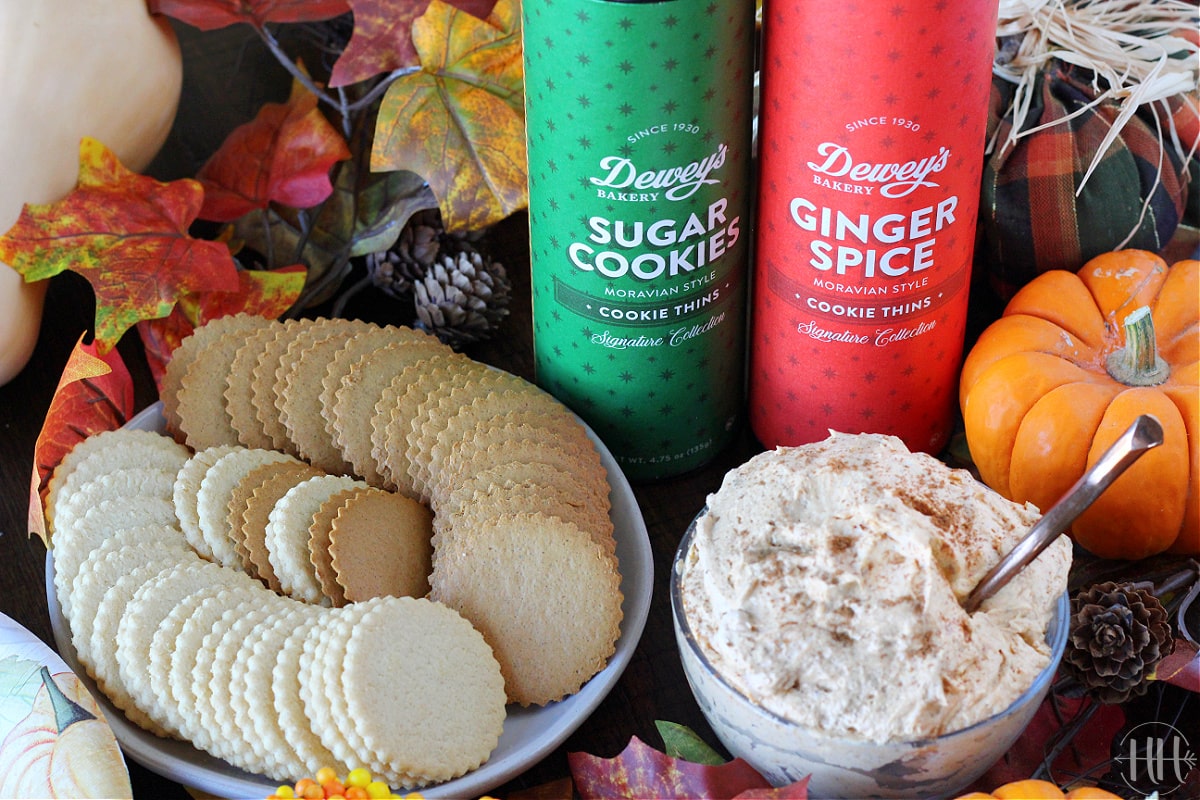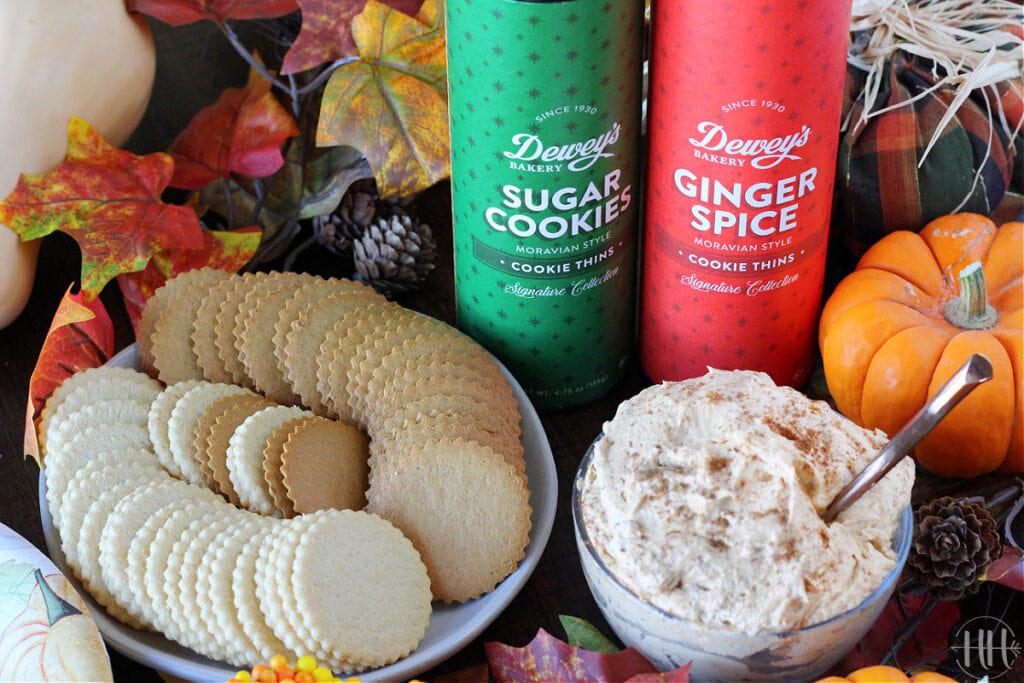 And would any Friendsgiving meal be complete without a cabernet or chardonnay?
These beautiful and critically acclaimed Rodney Strong Wines are from Sonoma County, California.
The 2018 Rodney Strong Sonoma County Cabernet is rich with dark cherry, plum and baking spices. The luscious fruit is accompanied by black pepper notes, crushed violet and cassis. The palate has medium tannins, lingering spicy oak flavors with a velvety lush finish.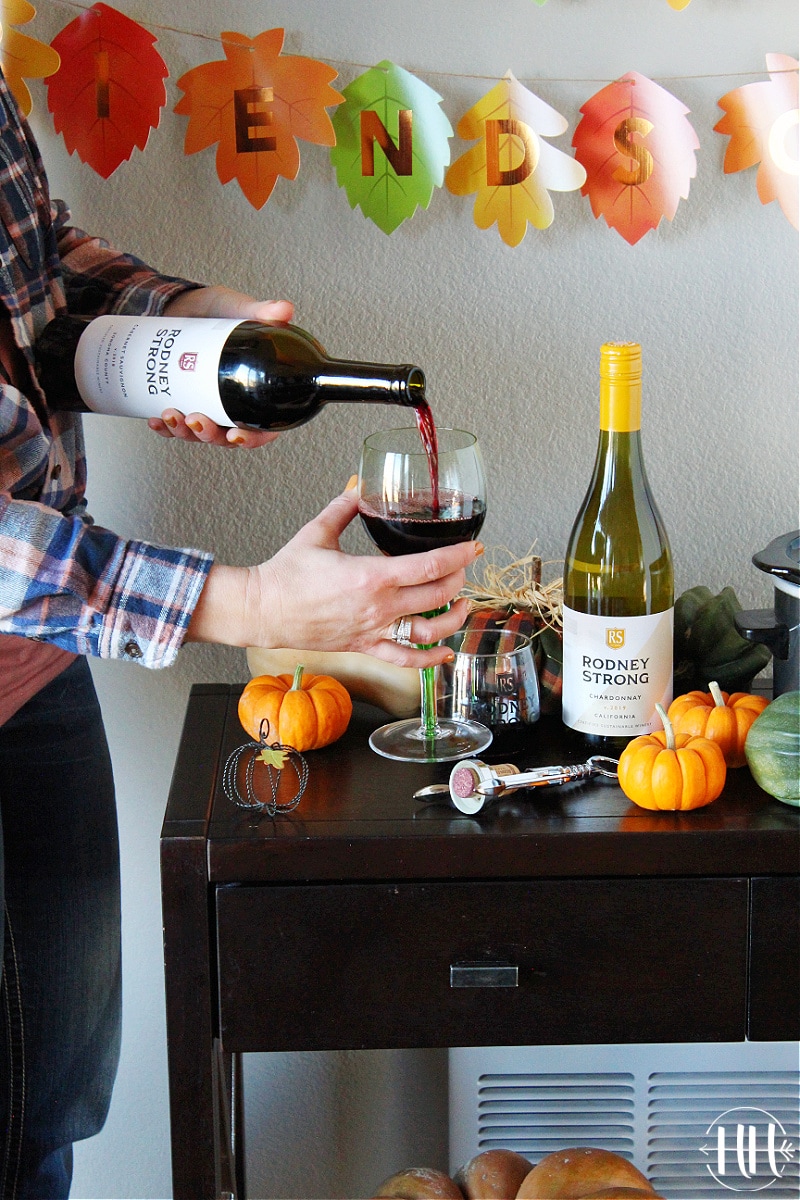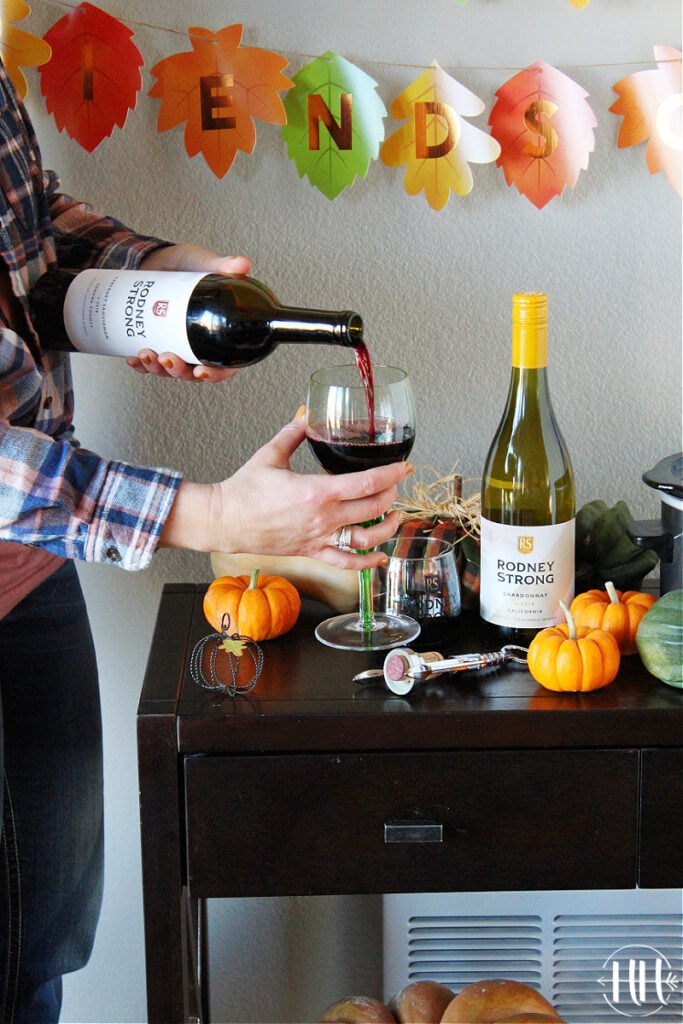 Rodney Strong recognized in the 1960s that Sonoma County's Alexander Valley was an exceptional area for heat loving Cabernet Sauvignon.
My favorite the 2019 Rodney Strong California Chardonnay displays aromas of lemon curd and apple with hints of toasty oak and baking spices. The finish is long and lingering with silky notes of fresh pear and pineapple.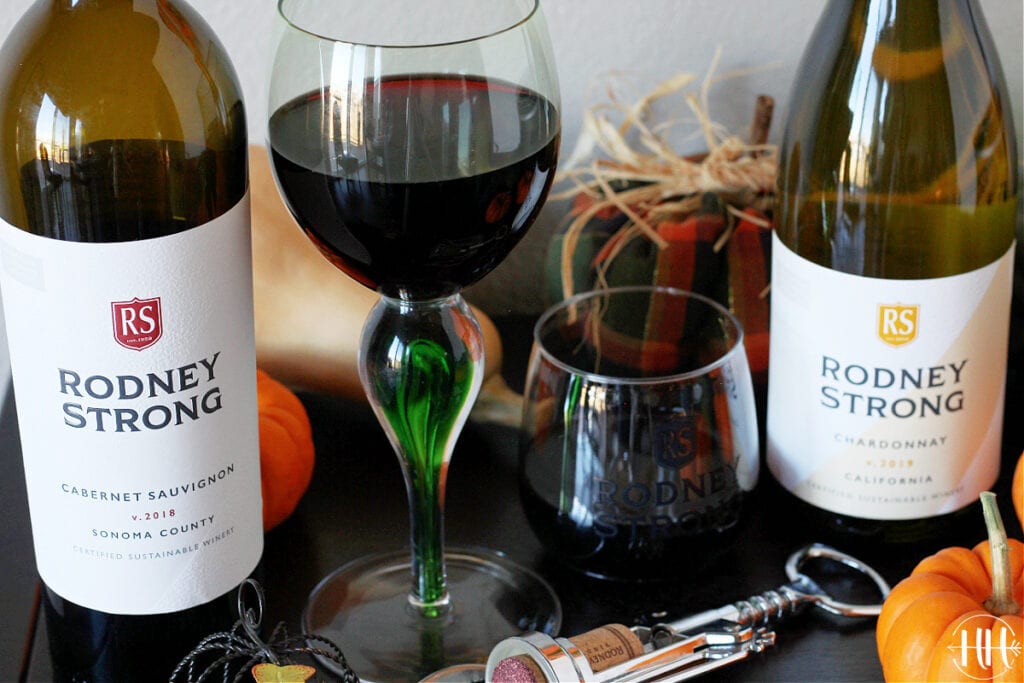 In they're unwavering commitment to quality, this Chardonnay features pristine fruit from cooler, coastal regions of California. Advances in viticulture outside of Sonoma and Napa have resulted in higher quality grapes. By using these grapes, Rodney Strong has created a better, more complex wine.
So, there you have it!
Friendsgiving Appetizer Menu Ideas fit for the best of friends while channeling your favorite sitcom squad.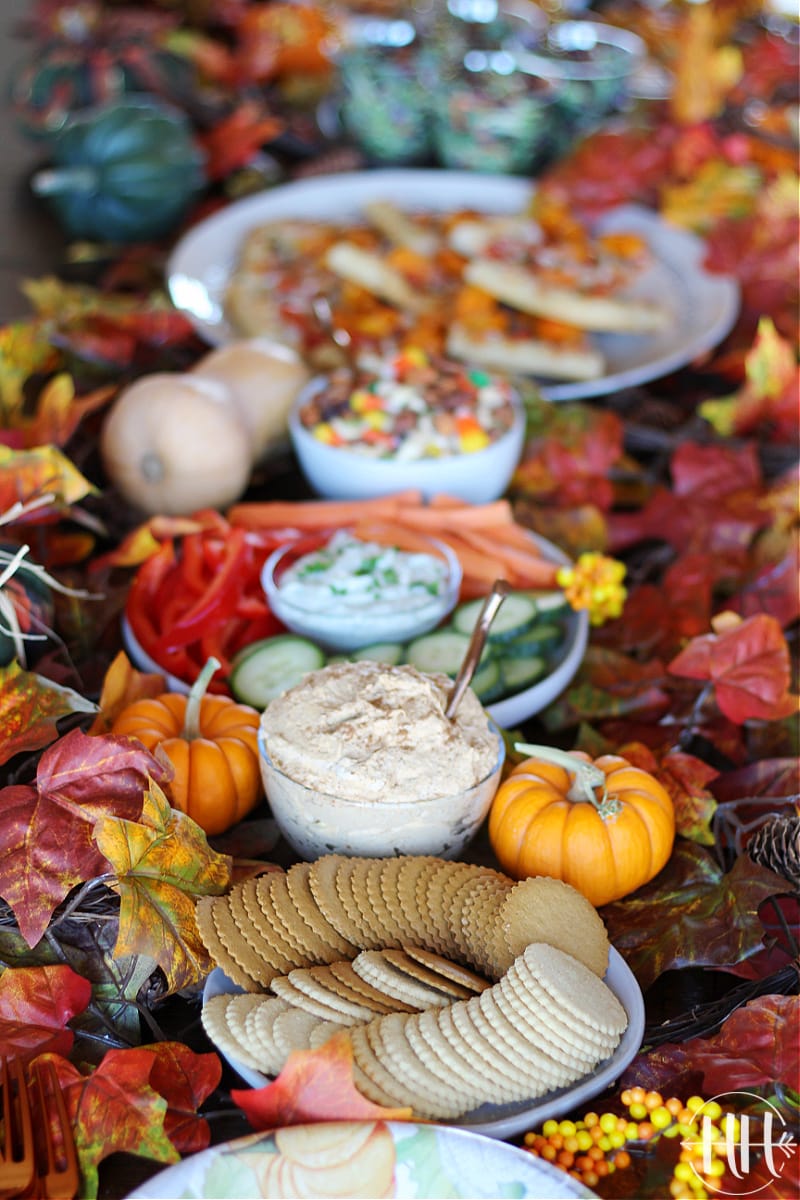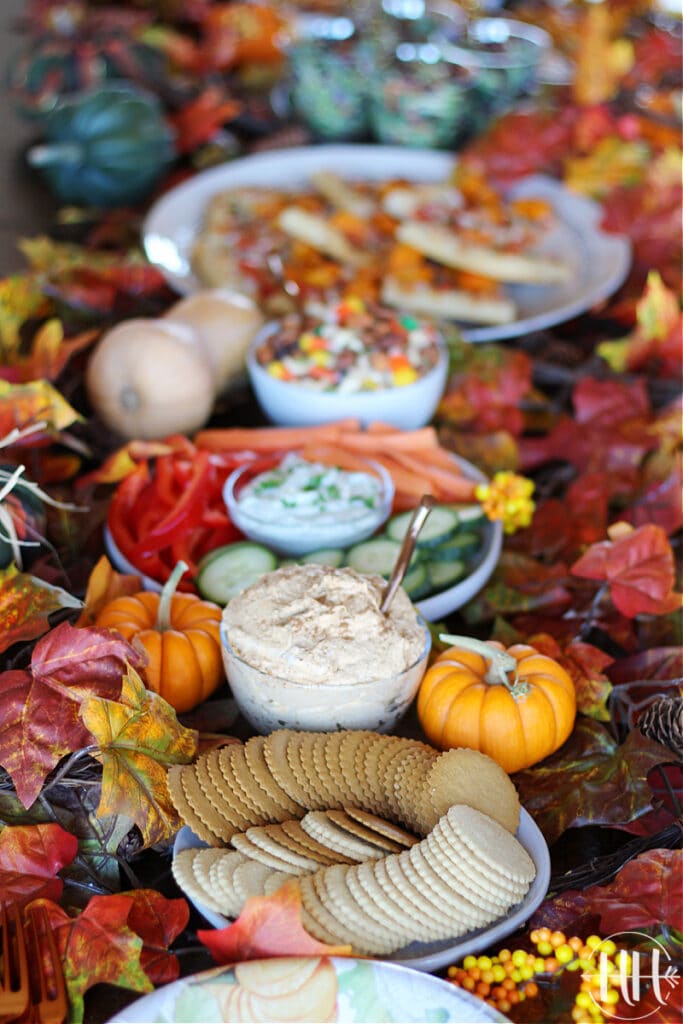 Happy Friendsgiving!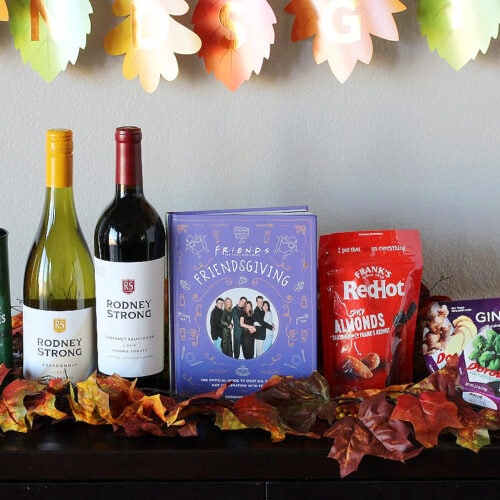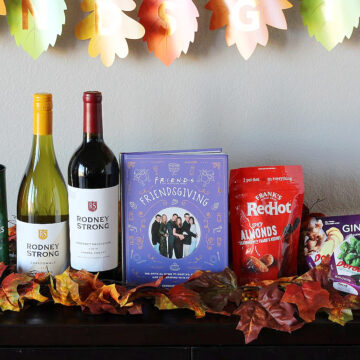 Print Recipe
Friendsgiving Warm-Up Menu Ideas
From Joey's Homemade Pizza to Monica's Mulled Cider there is something for everyone in this new Friends tv show book helping you plan the most fun Thanksgiving ever! These friendsgiving theme food ideas will inspire you to have your own friends over. Thankgiving appetizer ideas like a pumpkin pie dip recipe with Dewey's Thin Cookies, fall snack mix with Frank's Red Hot Almonds, Dorot Gardens crushed Ginger in homemade apple cider, and Rodney Strong Wines!
Equipment
platters

Spoons

pizza cutter

plates

napkins

bowls

small cups
Ingredients
Pizza
2

thin crust or flatbread pizzas
Veggies and Dip
2

cups

French onion dip

4

Dorot Gardens Chopped Basil cubes

4

carrots, sliced

1

bell pepper, sliced

1

cucumber, sliced
Cookies and Dip
2

tubes

Dewy's cookie thins (Sugar and Ginger Spice)

1

pumpkin pie dip recipe
Snack Mix
1

package

Frank's Red Hot Sauce Almonds

2

cups

salted roasted peanuts

1

cup

candy corn fall mix

1/2

cup

pepitas
Salad Cups
6

8 oz clear plastic cups

2

10 oz bags of your favorite fall salad kit
Drinks
1

bottle

Rodney Strong Cabernet

1

bottle

Rodney Strong Chardonnay

1/2

gallon

apple cider

1

Dorot Gardens Crushed Ginger cube
Instructions
Bake pizzas according to directions. Once baked cut into squares and arrange on a platter.

Mix French onion Dip with 4 defrosted cubes until combined. Place in a bowl with cut up veggies surrounding it. Add spoon to veggie dip for easy serving,

Place pumpkin pie dip in bowl and cookie thins on a small plate. Add spoon to pumpkin pie dip for easy serving

Mix together spicy almonds, candy corn, pepitas, and peanuts in a medium sized bowl. Add spoon to the bowl for easy serving.

Open bags of salad and fill plastic cups with ingredients and top with dressing or pour dressing into a small dish with a spoon for guests to serve themselves.

Place wine and wine glasses next to corkscrew.

Add 2 frozen ginger cubes to a crockpot full of apple cider and turn to high heat. Continue to stir until ginger cubes are dissolved. Serve cider with ladle into mugs.