This healthy Strawberry Coffee Cake is a hit every single time I bake it.
Between the soft cake layer, sweet strawberries, and the copious amount of crumble IT. IS. SCRUMPTIOUS.
The original version (given to you below) has been in my recipe binder for years and various versions have been made since then.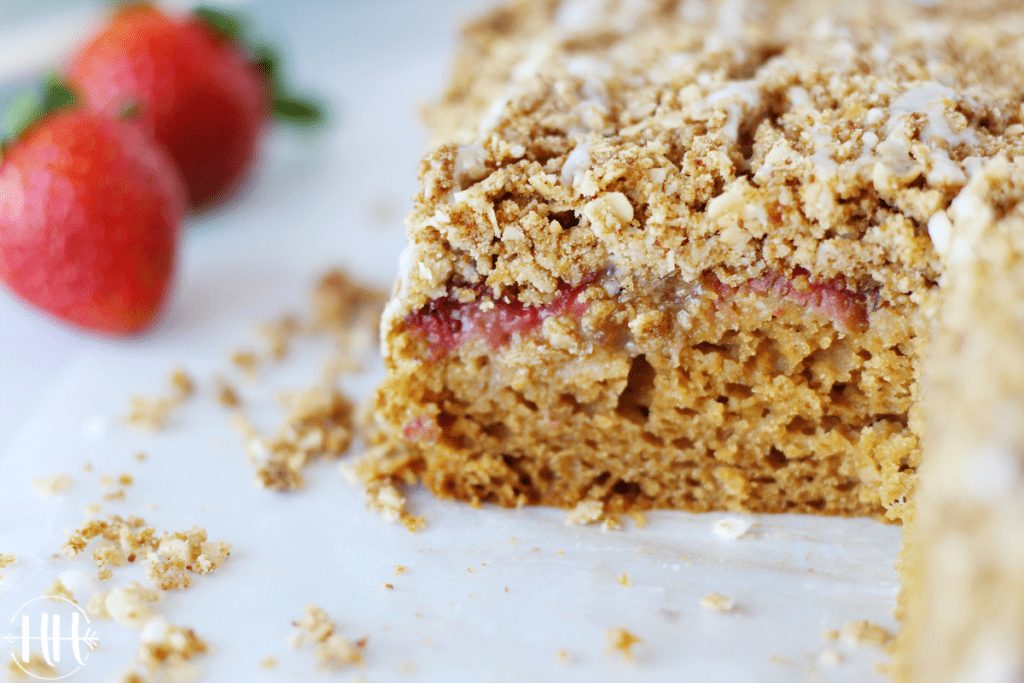 Sometimes gluten free.
Sometimes sugar free.
And one time a mixture of finely ground cereal crumbs added in as flour. Crazy, huh?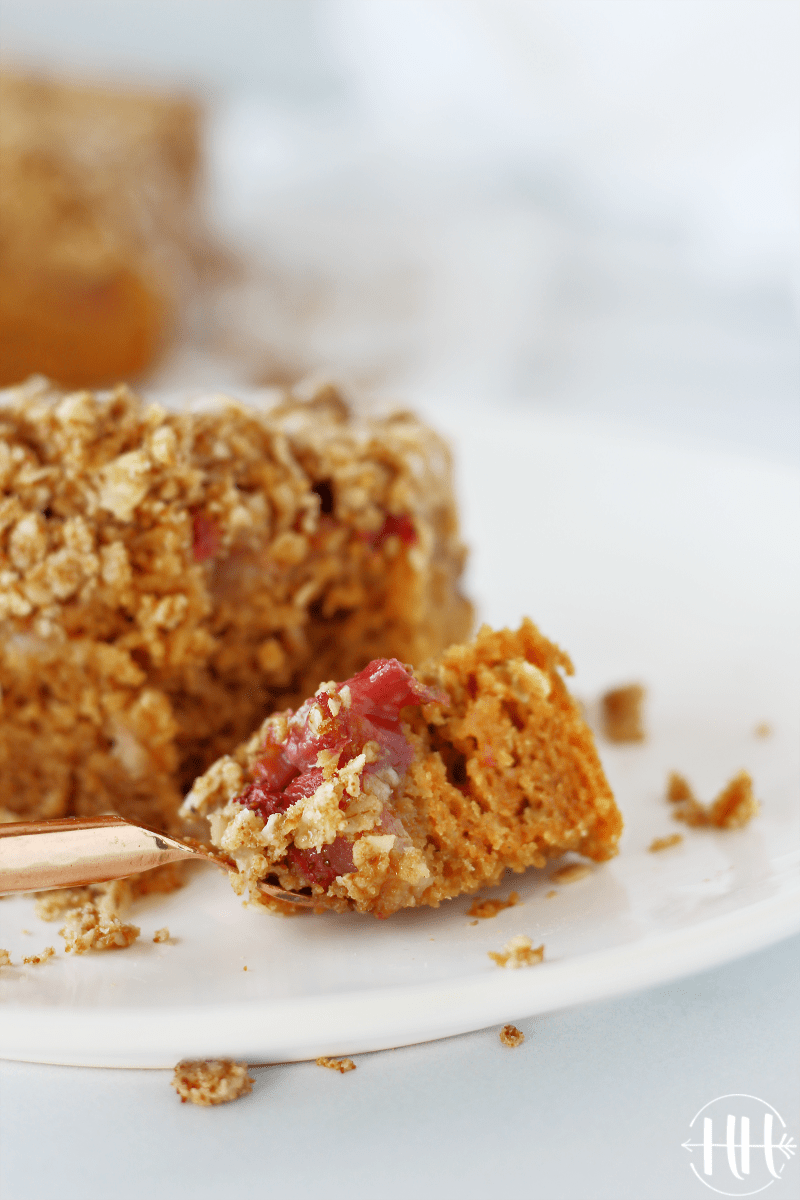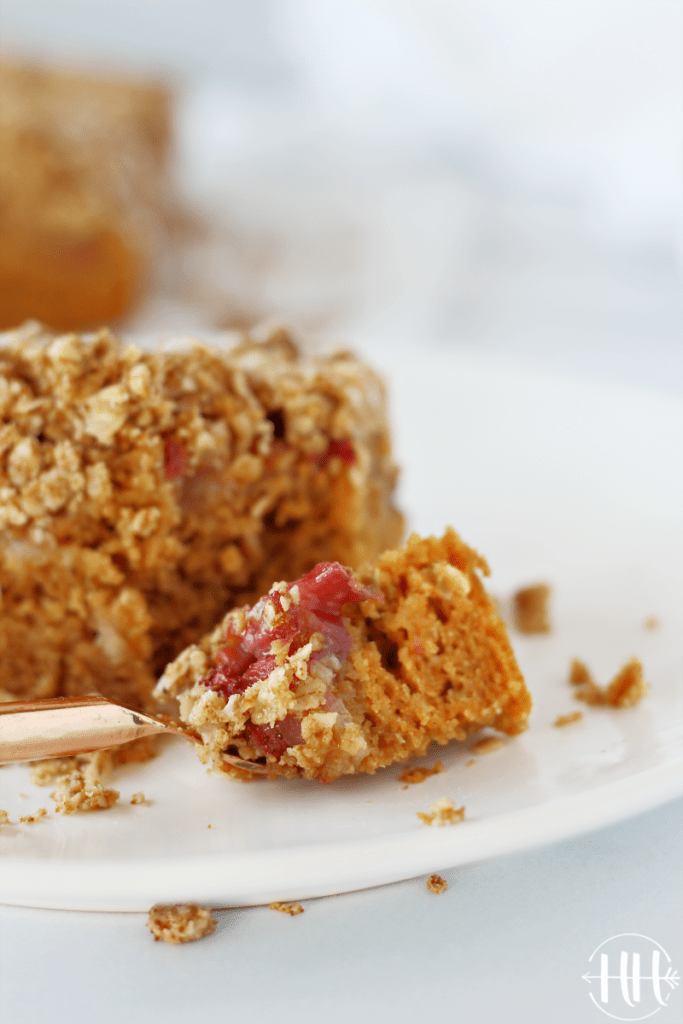 Each and every time this yummy coffee cake recipe turns out amazing!
However,this time I decided to try my hand at making this delightful recipe dairy free, gluten free, and refined sugar free.
Like so many of you, I have so many friends who are gluten free, our youngest son seems to be sensitive to dairy, and to be honest, I just love the taste of coconut sugar. Plus, eliminating white sugar is never a bad thing!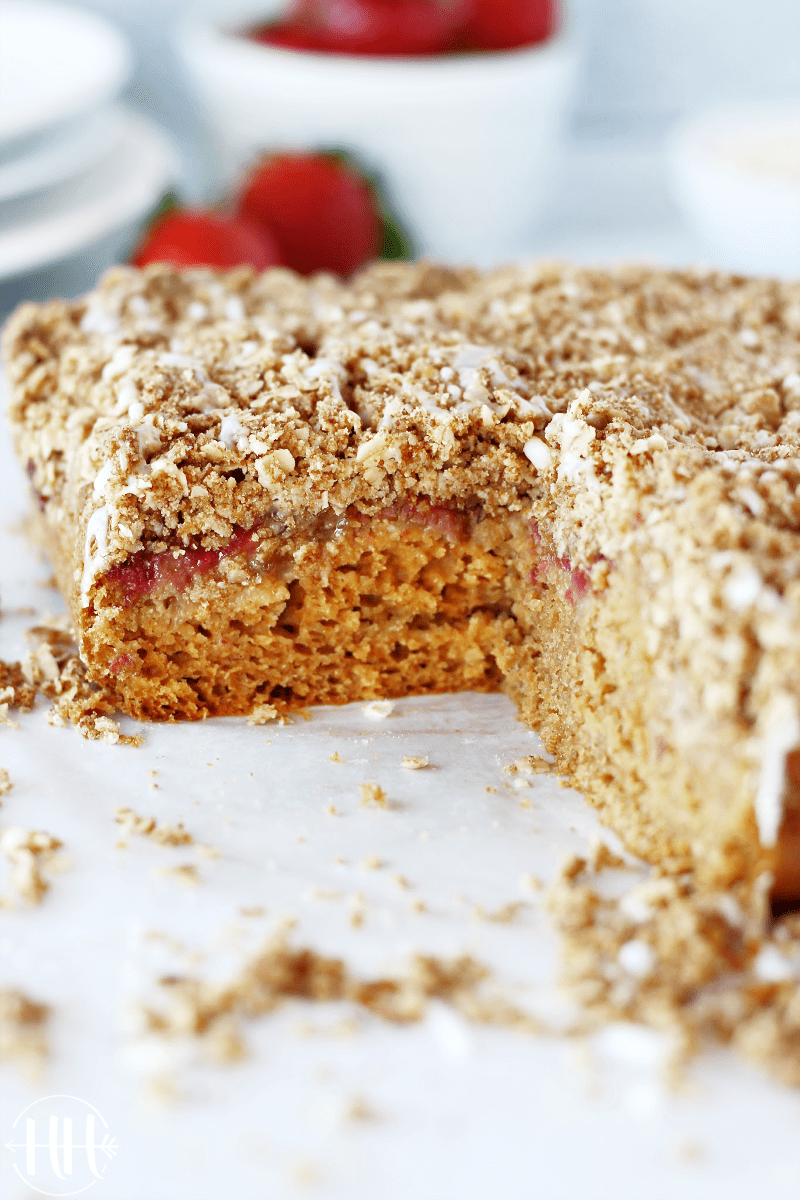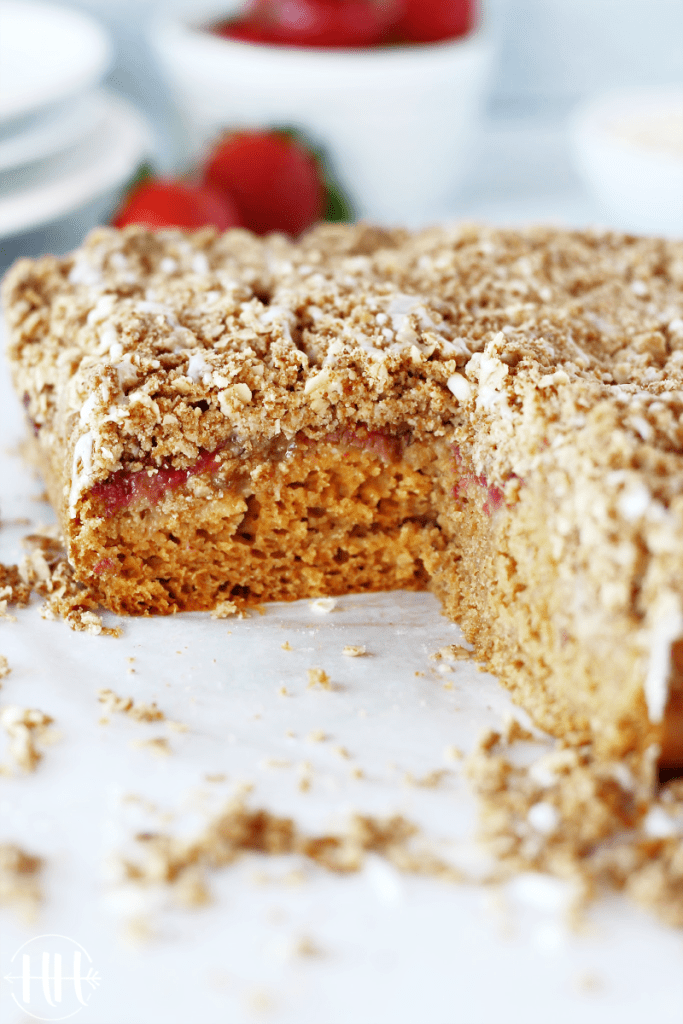 After patiently waiting for me to photograph this recipe, the kids didn't even flinch at the slight changes I made.
Talia even said, "You should make this more!"
So there you have it, children love it and nothing gets past them so it must be a hit!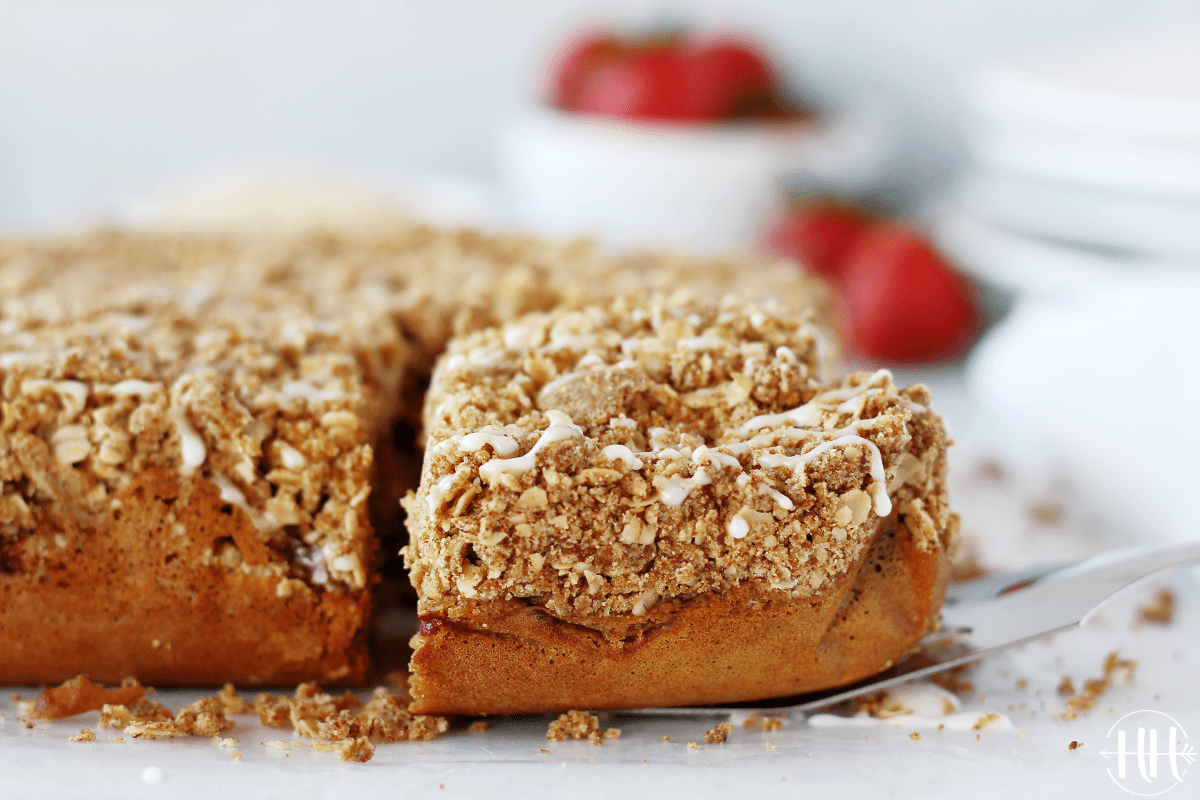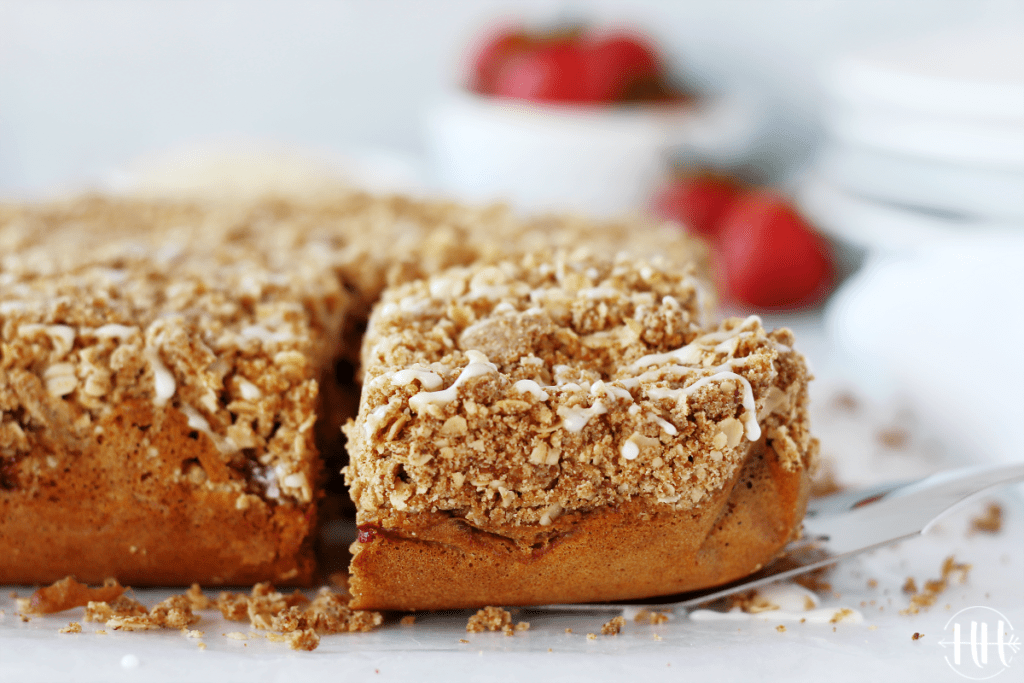 If you think there is too much topping (crumble) you are wrong.
There is the absolute perfect amount. I only want coffee cakes that have tons of crumble, because if they don't, then what's the point? I mean seriously.
Let's not be chincy with all that goodness!
Lastly, I usually bake this Gluten Free Dairy Free AND Refined Sugar Free Strawberry Coffee Cake recipe during the spring and summer months when fresh berries are plentiful and cheap.
But you do you and bake it all year long if you like! 😉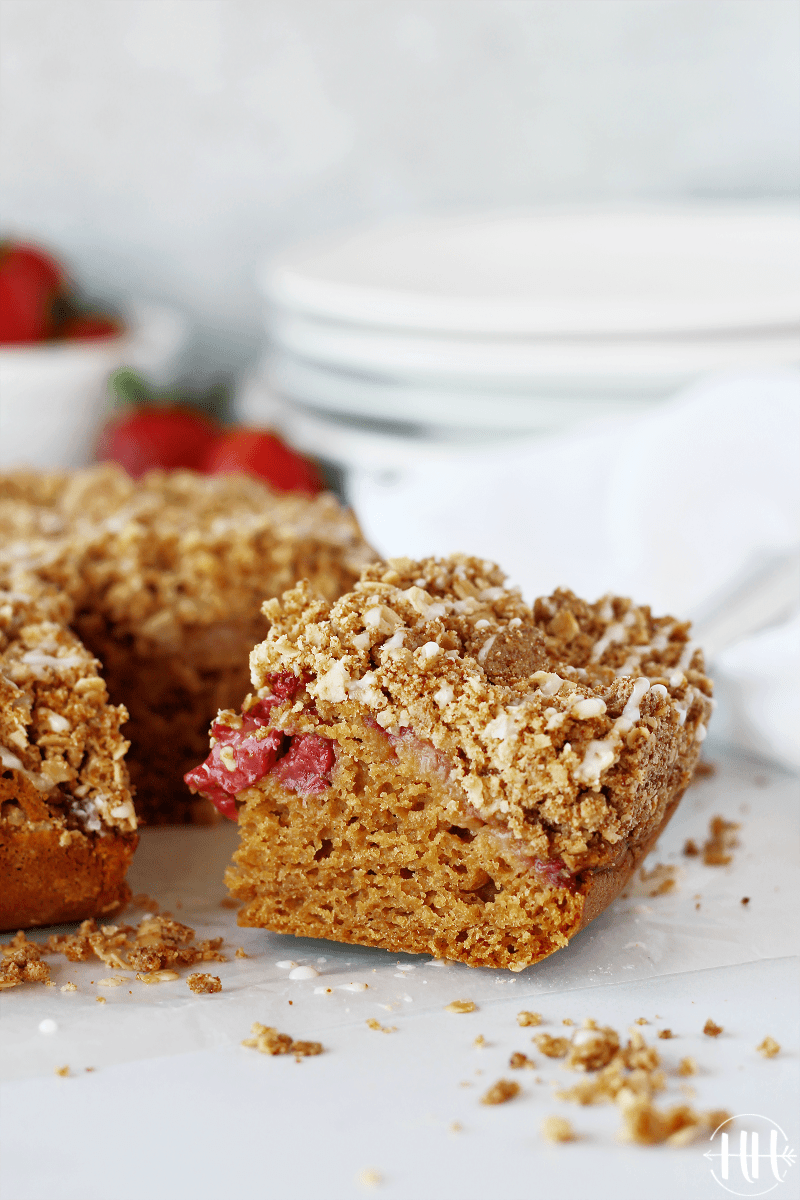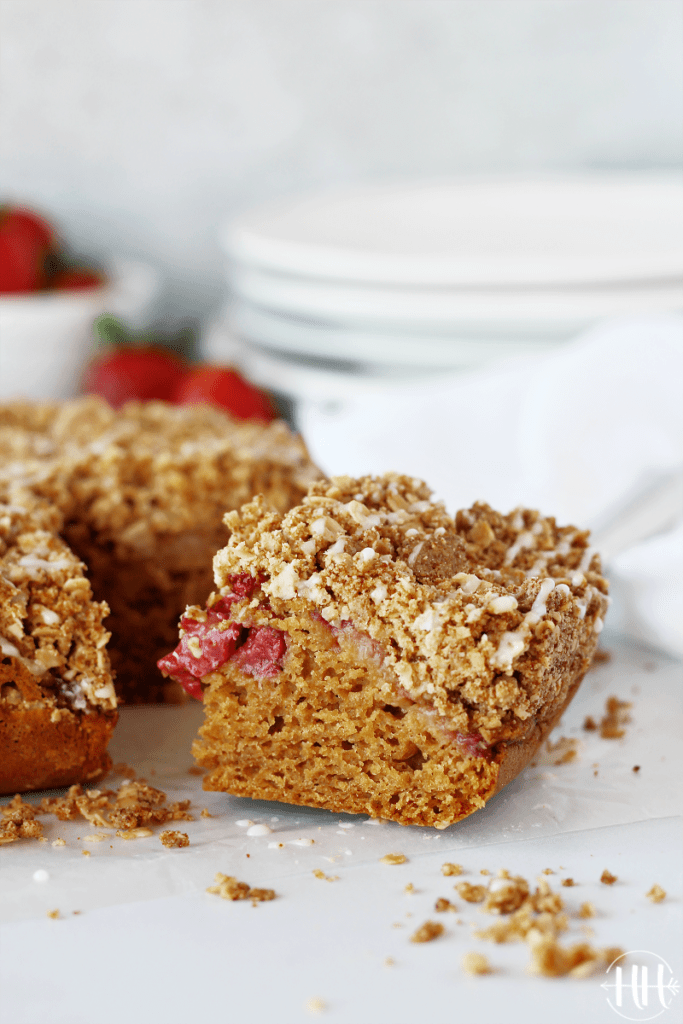 Original Strawberry Coffee Cake Recipe
1 cup white flour ( I use Bob's Red Mill 1-1 Mix)
1/2 cup white sugar
2 teaspoons baking powder
1/4 tsp salt
1 egg
1/3 cup milk
2 Tbsp melted butter
1 1/2 cups sliced strawberries
Topping:
1/2 cup white flour
1/2 cup white sugar
1/2 oatmeal
1/4 cup cold butter
Follow the instructions below in the recipe card if you choose to make this original version. However, you can bake at 375F for 50 minutes or until toothpick comes out clean.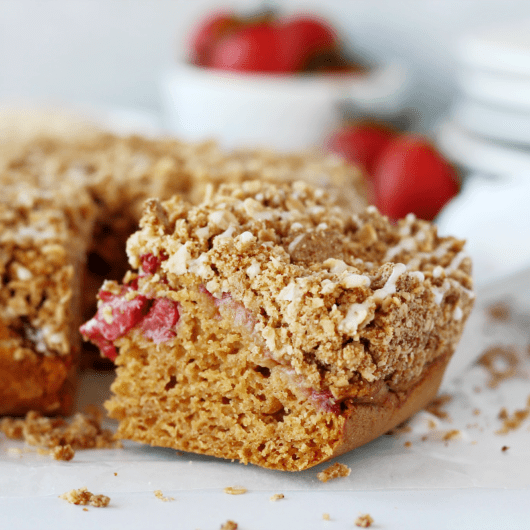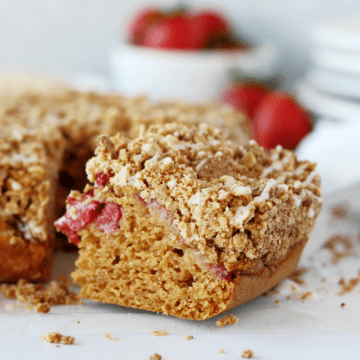 Print Recipe
Strawberry Coffee Cake
This simple gluten free, dairy free, and refined sugar free Strawberry Coffee Cake recipe is packed with strawberries and other healthy ingredients. Gluten free flour mix, coconut sugar, almond milk (coconut milk will work), eggs (try flax or chia eggs for vegan version), and coconut oil (butter) combine to make the most delicious weekend breakfast or easy brunch. Surprise the best mom in your world with this clean eating cake on Mother's Day this year! PS…You'll love the crumb topping!
Equipment
2 medium-sized mixing bowls

1 rubber spatula

1 whisk

1 8×8 pan
Ingredients
Cake
1

cup

gluten free flour

1/2

cup

coconut sugar

2

tsp

baking powder

1/4

tsp

salt

2

eggs

1/2

cup

unsweetened almond milk

2

Tbsp

coconut oil, melted

1 1/2

cups

sliced strawberries
Crumble Topping
1/2

cup

gluten free flour

1/2

cup

oatmeal

1/4

cup

coconut sugar

1/4

cup

solid coconut oil
Instructions
Preheat oven to 350F. Spray non-stick cooking spray in an 8×8 glass pan. Set aside.

In a medium-sized bowl, combine the dry cake ingredients: gluten free flour (I used Bob's Red Mill 1-1 Mix), coconut sugar, baking powder, and salt.

In a small bowl, add almond milk and eggs. Whisk together. Place in the microwave for 2 minutes at 50% power to warm so when the melted coconut oil is added it incorporates well and does not solidify. Check at 1 minute to see if it is already at room temperature, you just don't want it cold.

Whisk in the melted coconut oil to the room temperature milk and egg mixture. Then add the wet ingredients to the dry and thoroughly mix together. You can over mix the batter to produce a better cake texture once baked. (If you have time, you can let the batter rest for at least 1/2 hour or longer before baking.<—Gluten free baking hack! See notes for more tips!)

Pour the cake mixture into the greased pan then top with the sliced strawberries.

In a small bowl, add all the topping ingredients and mix together until a crumbly texture forms. Pour all of the crumb topping over the strawberries and smooth until level.

Bake for 1 hour uncovered or until the cake is fluffy and a toothpick comes out clean from the center of the cake. If in doubt, bake another 10 minutes. It is hard to over bake this gluten free coffee cake.
Notes
Below are a few gluten free baking tips that I used in this recipe from America's Test Kitchen:
"While traditional recipes often warn against overmixing to avoid building up excess structure in delicate batters (such as muffins and cakes) so that they don't turn rubbery, we found the opposite to be true of gluten-free batters. In fact, we often find ourselves trying to get the batters to have more structure so that they have a better rise and a nicer chew, and can support stir-ins, such as blueberries."
"You may notice a sandy texture in quick-cooking gluten-free baked goods that you don't notice in those with longer baking times. We tested lots of theories on how to get rid of this grit (grinding the flours further in a food processor, soaking them in water, heating them up before making the batter), but nothing worked well. Then, almost by accident, we found that letting batters sit, covered, for 30 minutes before baking made all the difference. It simply gave the flours and starches time to absorb the liquid and soften before baking."
"Gluten-free baked goods often benefit from extra liquid to hydrate the flour blends, eliminate grittiness, and achieve a less dense or dry texture. However, it's very important to drive off this extra moisture during baking, or you'll wind up with a gummy texture. The best way to do this? Longer baking times. Some of our gluten-free recipes even instruct you to bake beyond the time that a toothpick inserted into the baked good comes out clean."
Be sure to check out the article further to find more gluten free baking tips!