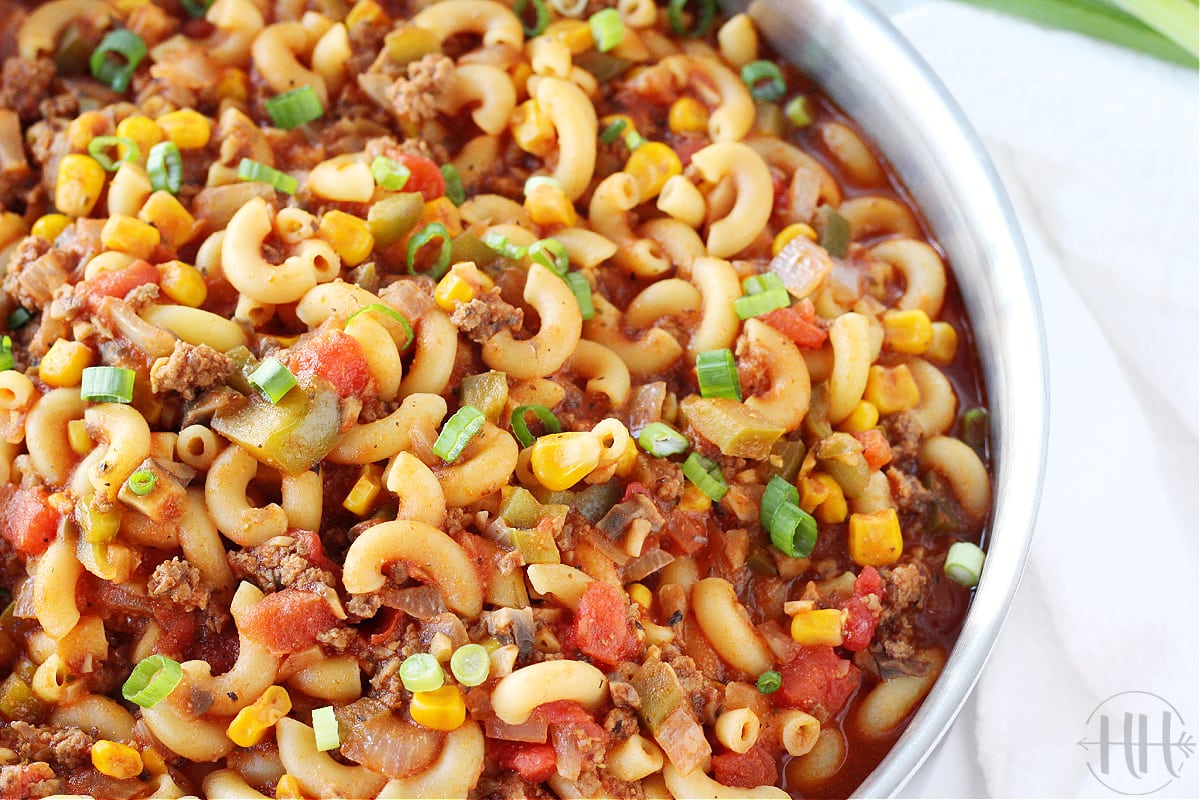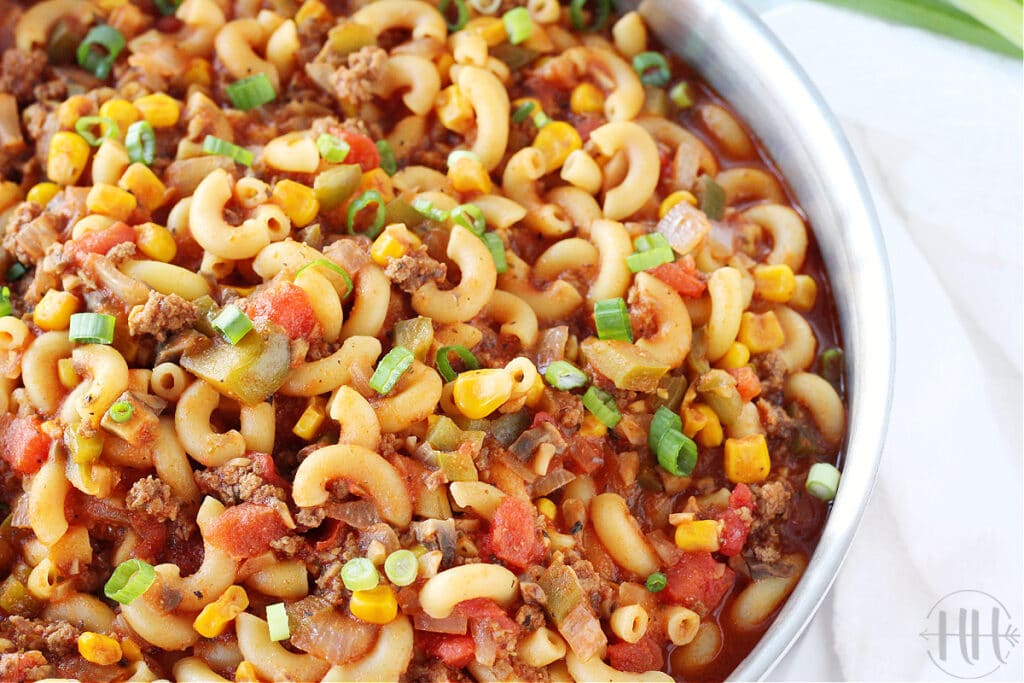 This Healthy American Goulash recipe is full of flavor and packed with 6 kinds of vegetables!
Although, I am half Hungarian this easy recipe does not resemble my heritage's traditional recipe. There is no paprika and this Americanized goulash is not a soup or stew. It is rather more a casserole like consistency.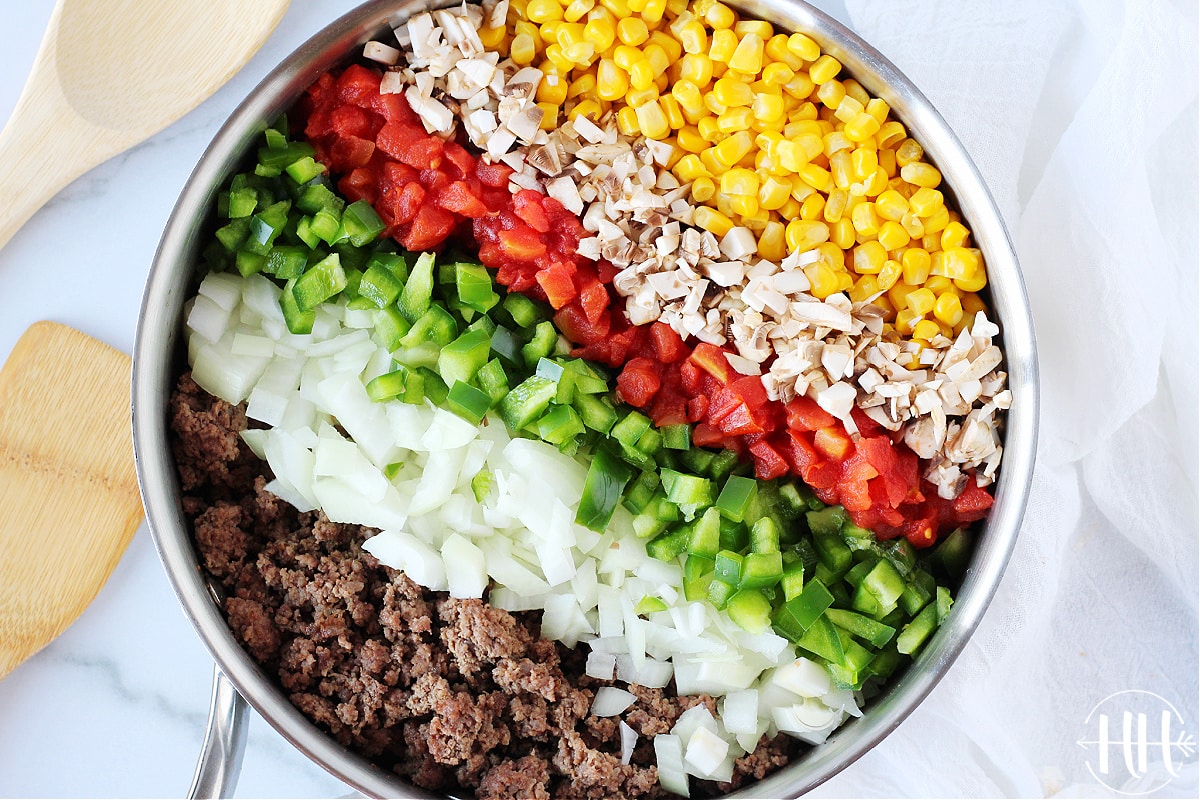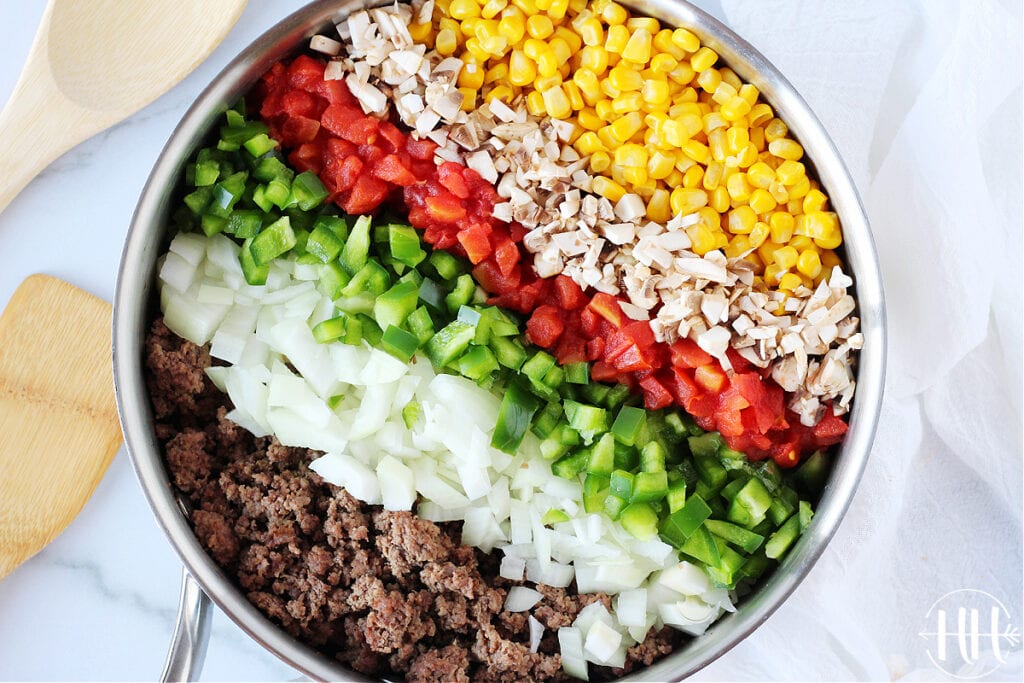 Growing up my mom made a version of this goulash though I only remember corn as the vegetable. It was heavy on pasta and meat.
Fast forward 20 years, and my mother in law made us this goulash one night when she came over to spend time with us.
I was so thankful she did for several reasons, but mostly because I had not eaten it in so long that I had forgotten all about it.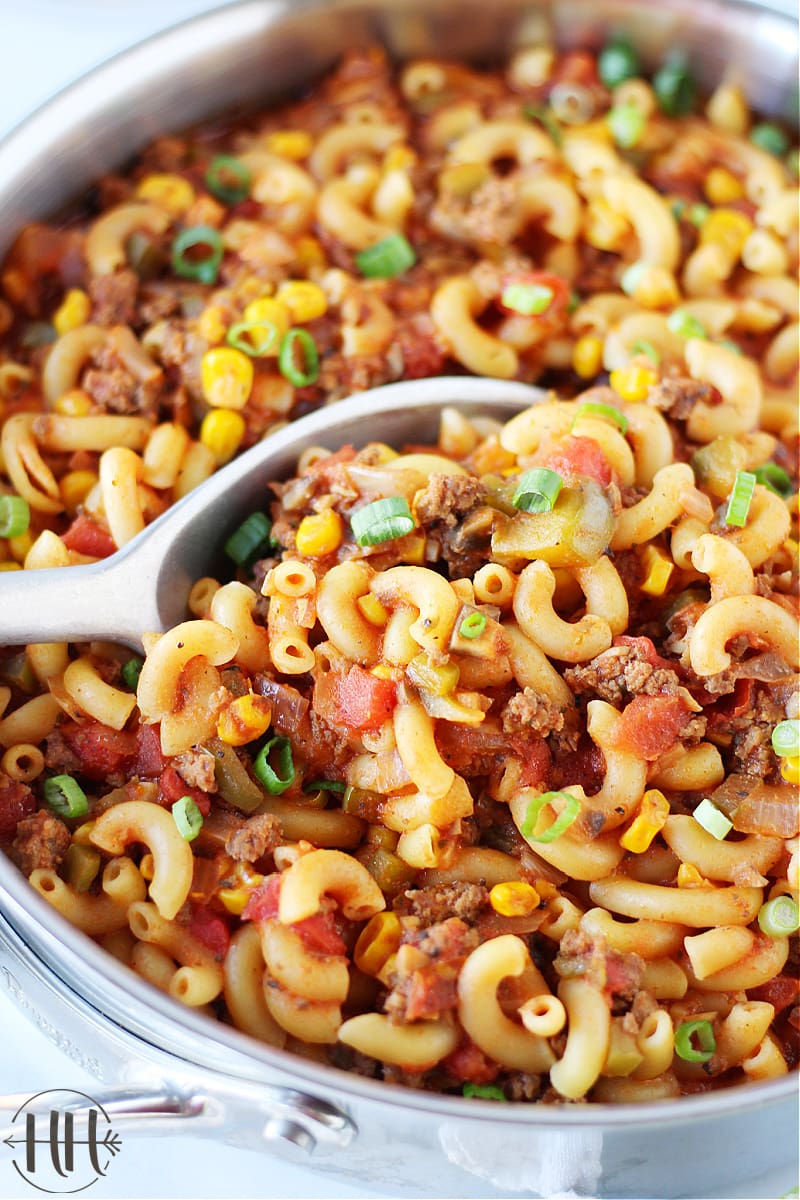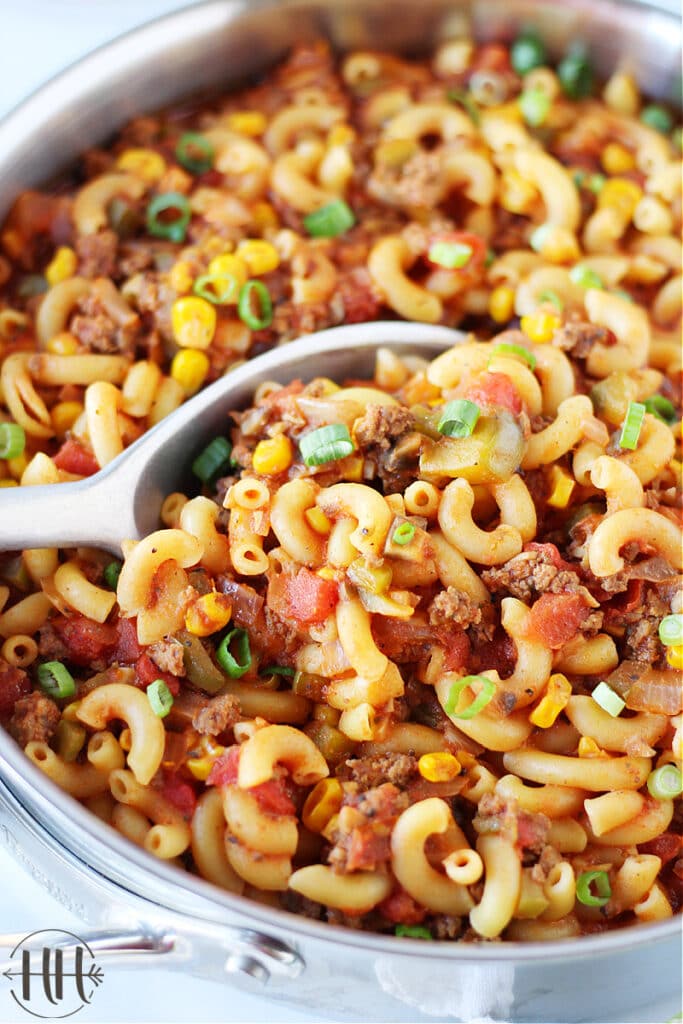 Of course, I love both of "my mamas" recipes, but you know I had to add more veggies. 😉
I find it hard to get my kids to snack on veggies very often. However, if I stuff spaghetti, chili, sloppy joes, and other main dishes with veggies (even mushrooms!) they happily eat it.
So if you are wanting your family to eat more healthy produce try adding a few extra veggies to your typical main dishes.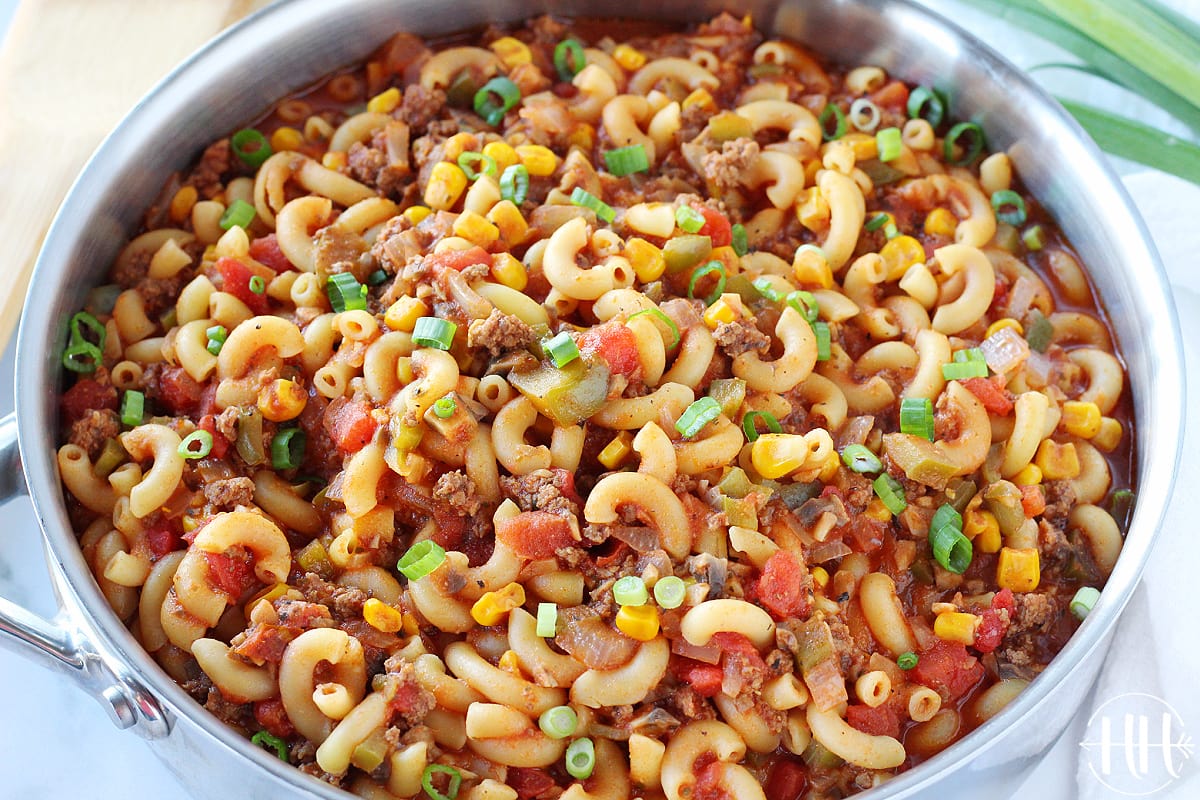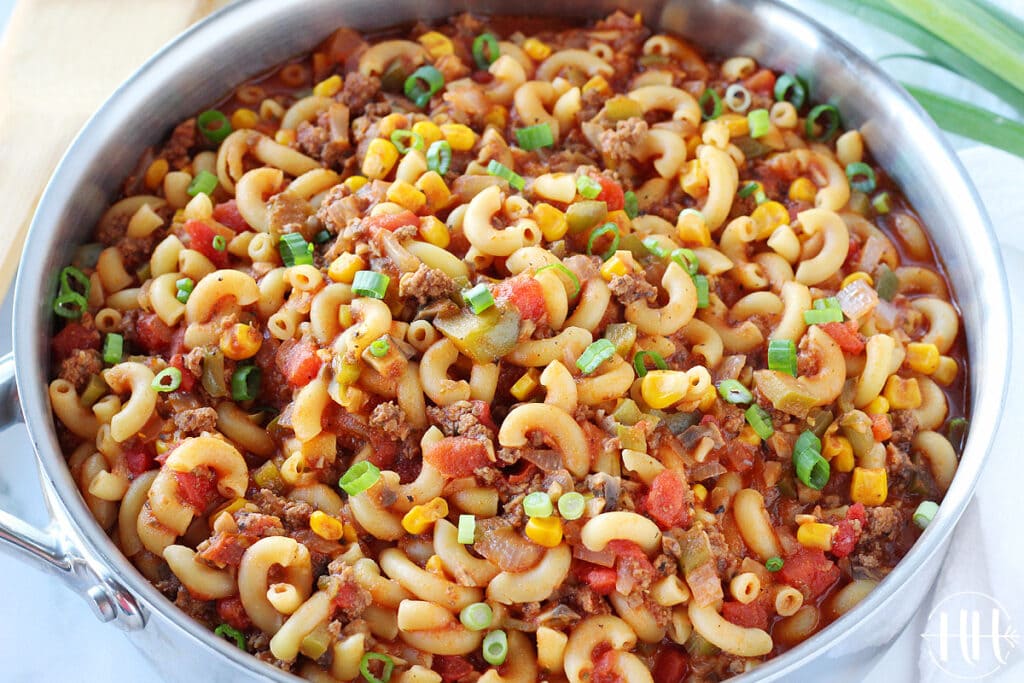 If you are feeding a crowd or five hungry mouths (ahem, me!) you have the perfect one-pot recipe for dinner tonight!
We are able to enjoy this meal for two nights in a row and sometimes there is enough left for a lunch too. You know I am a sucker for leftovers. 😉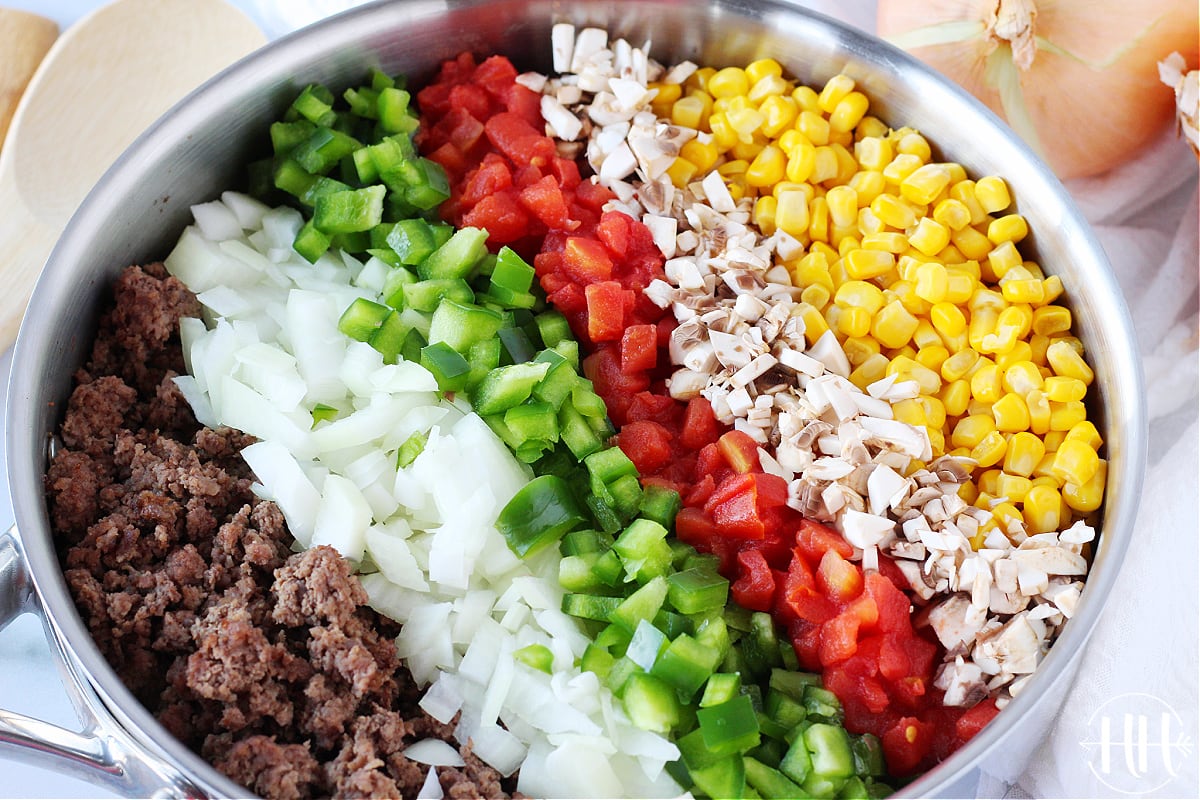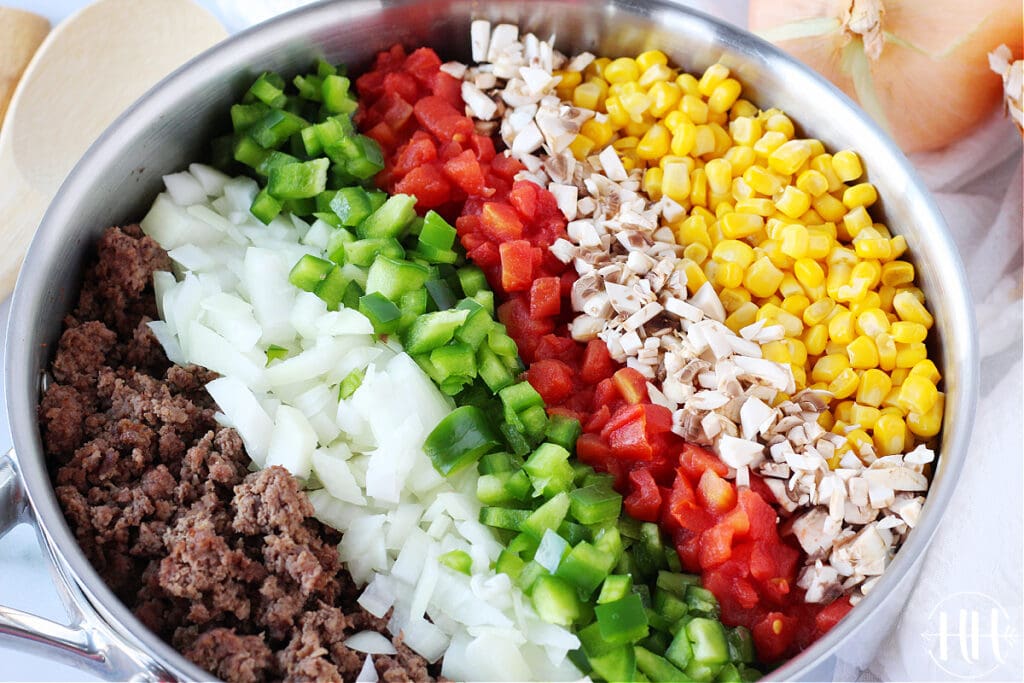 Here is your Healthy American Goulash shopping list:
1 lb ground beef
2 tsp garlic powder
1 large white onion
1 bell pepper
8oz mushrooms
2 soup cans water (28 oz)
2 -15 oz cans tomato sauce
1 -15 oz can diced tomatoes
1 tbsp Italian seasoning
16 oz elbow macaroni
1 Tbsp salt
1/2 tsp pepper
15 oz canned corn
If you suffer from gluten intolerance, use gluten free noodles. This meal is already dairy free so no worries there.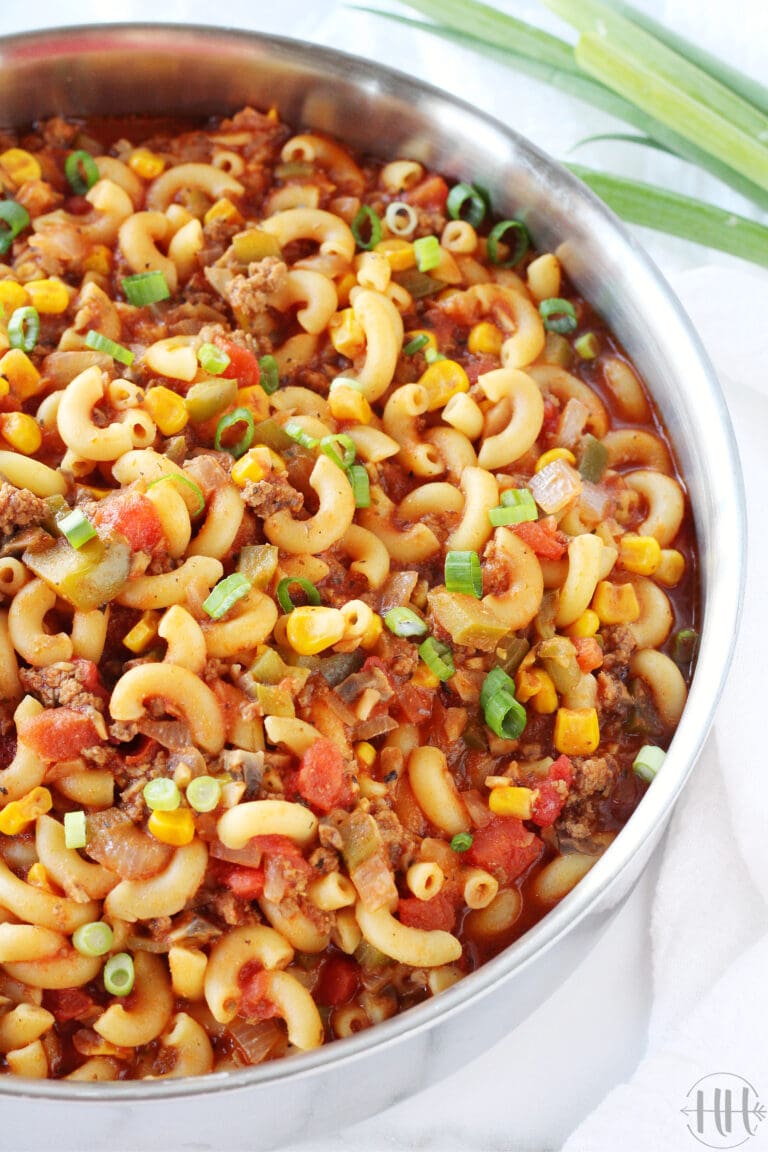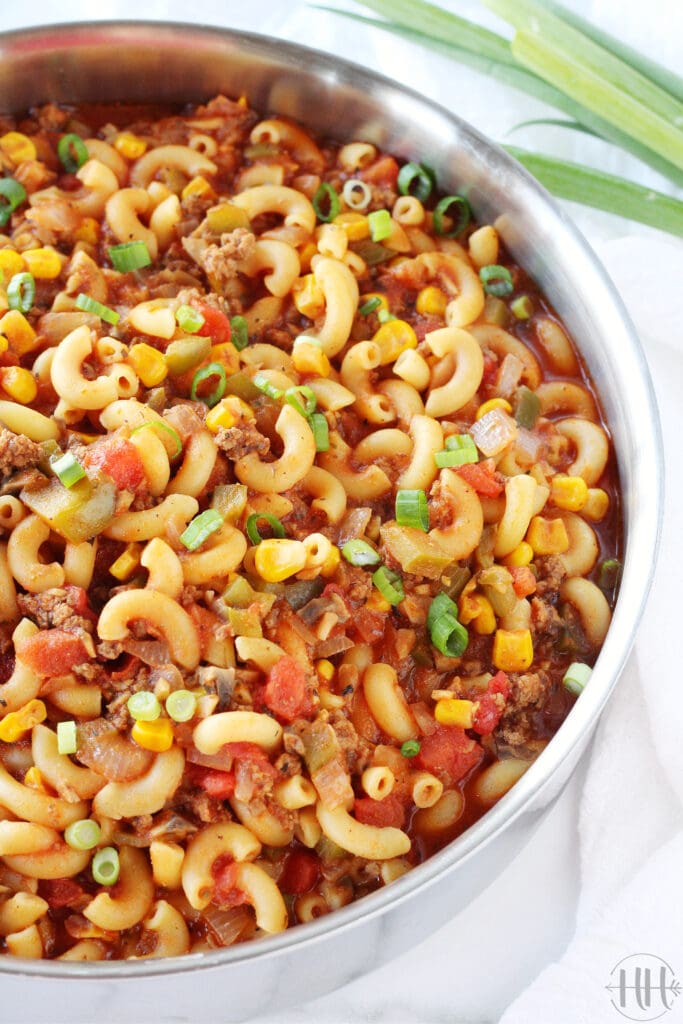 Thankfully, this meal has been a hit from adults down to toddlers. I have no doubt whoever you are feeding will love it too.
This classic beef goulash recipe is the perfect recipe to meal prep!
I think you can easily freeze half if you are feeding a family of 4. Eat the other half for dinner that night and you have a meal ready for you to reheat during a busy week.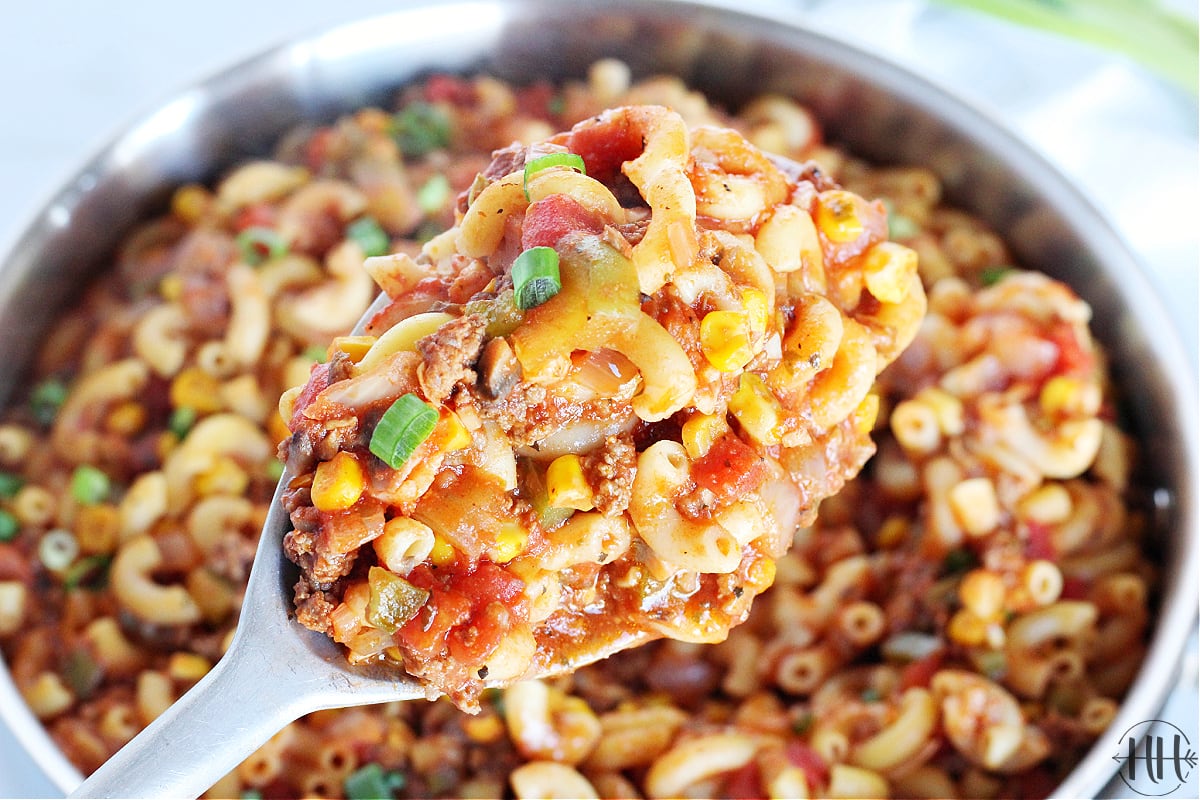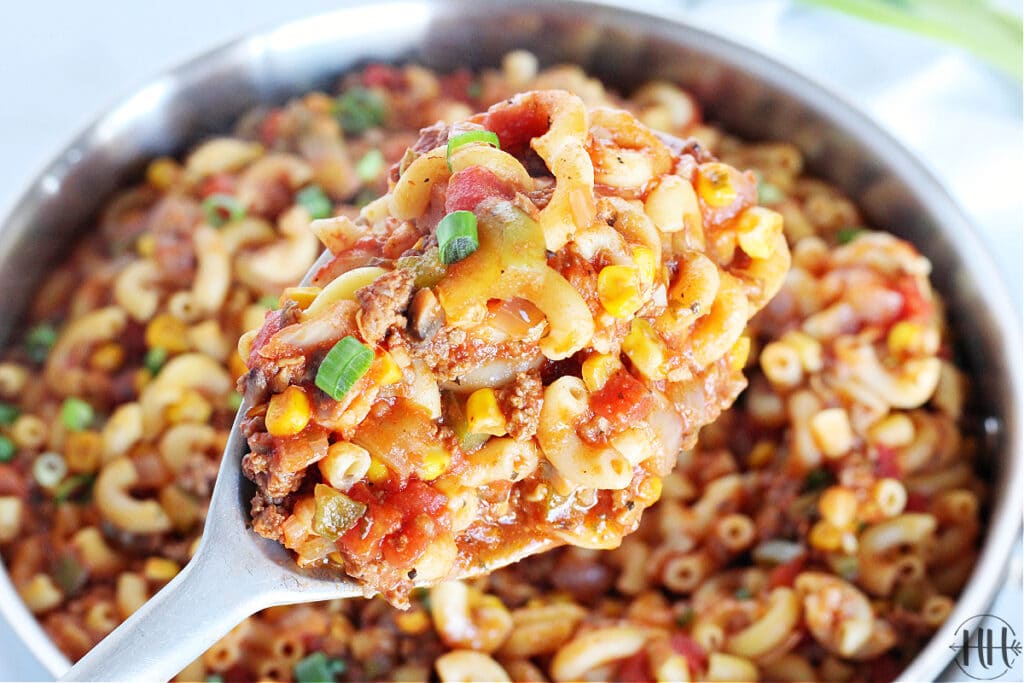 Equipment
large soup pot

wooden spoon

cutting board

knife

can opener
Ingredients
1

lb

ground beef

(or ground venison, buffalo, or turkey meat) *see recipe notes

2

tsp

garlic powder

1

white onion, diced

1

bell pepper, diced

8

oz

mushrooms, finely diced

28

oz

canned tomato sauce

28

oz

water

use the emptied tomato sauce can

15

oz

can diced tomatoes

1

Tbsp

Italian seasoning

16

oz

elbow macaroni

15

oz

canned corn, drained

1

Tbsp

sea salt

1/2

tsp

ground black pepper
Instructions
Heat a large Dutch oven or large soup pot over medium high heat.

Brown the ground beef. (If using ground venison, turkey, or buffalo add 2 Tbsp bacon renderings or butter- see recipe notes below)

Add in garlic powder, onion, bell pepper, mushrooms, diced tomatoes, tomato sauce, water, and Italian seasoning.

Bring the mixture to a simmer. Cover, and let cook for 15-20 minutes, stirring occasionally. 

Stir in the elbow macaroni pasta, corn, salt, and pepper.

Cover and continue simmering an additional 15 minutes.

Stir goulash occasionally, until the pasta is cooked through.

Serve warm and refrigerate leftovers.
Notes
*Add 2 Tbsp bacon fat if using ground venison, buffalo, or turkey. If I do not use ground beef I feel like the end result needs some "umphhh" aka depth. Bacon renderings (bacon fat) is perfect! Butter will do the trick too if you do not have saved bacon renderings in your refrigerator.
I was inspired to make this recipe by this one: https://4sonrus.com/grandmas-american-goulash