These Dairy Free Protein Pancakes are just what you need to start your day off right!
Trust me!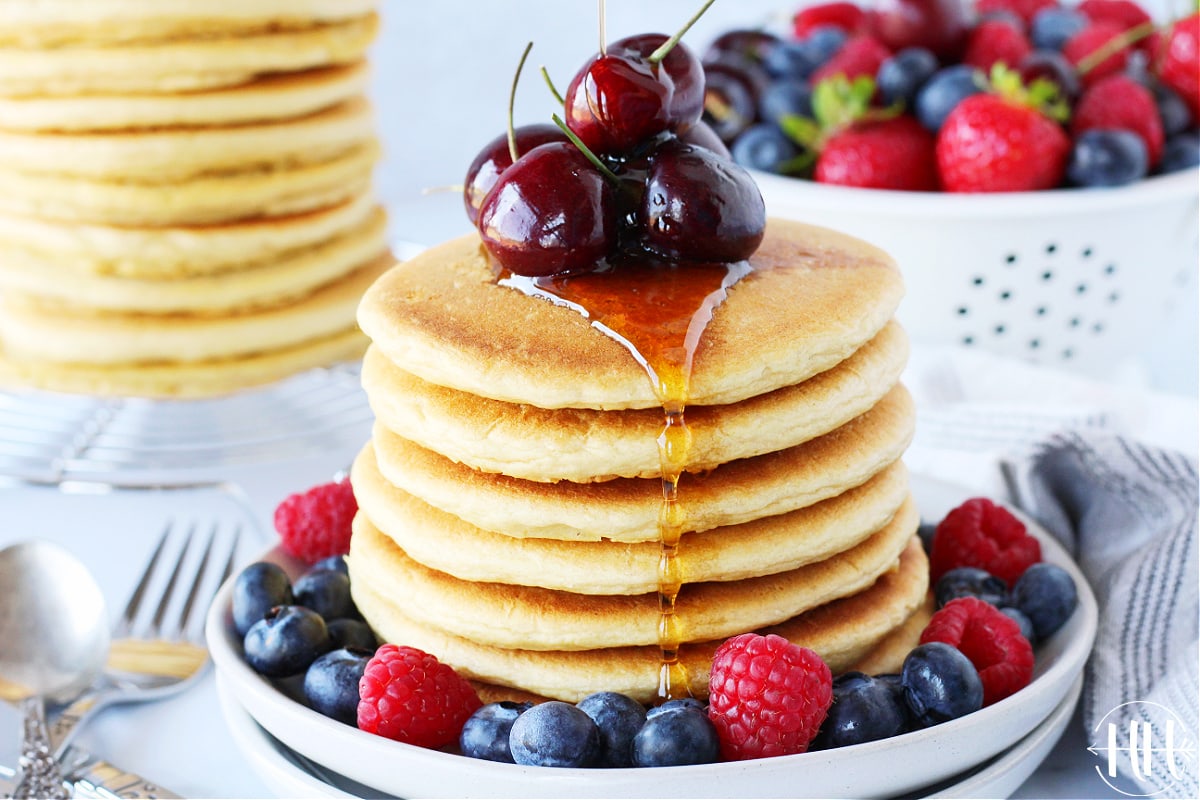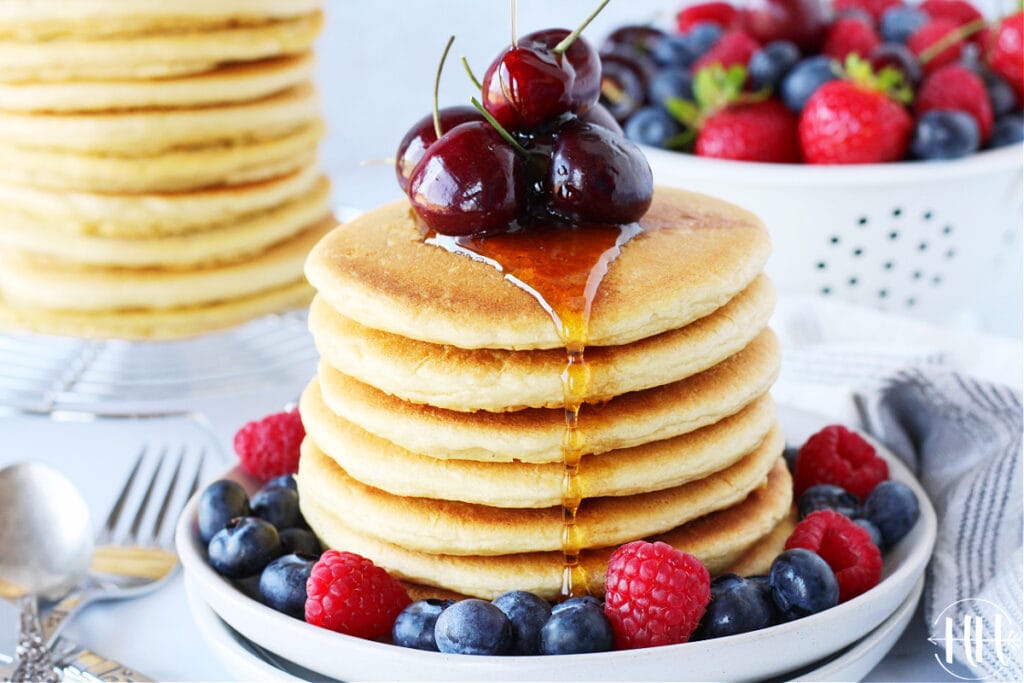 They have 21 grams of protein in each serving and topped with plain Greek yogurt boosts your breakfast to at least 30 grams of protein.
Can I get an amen? 😉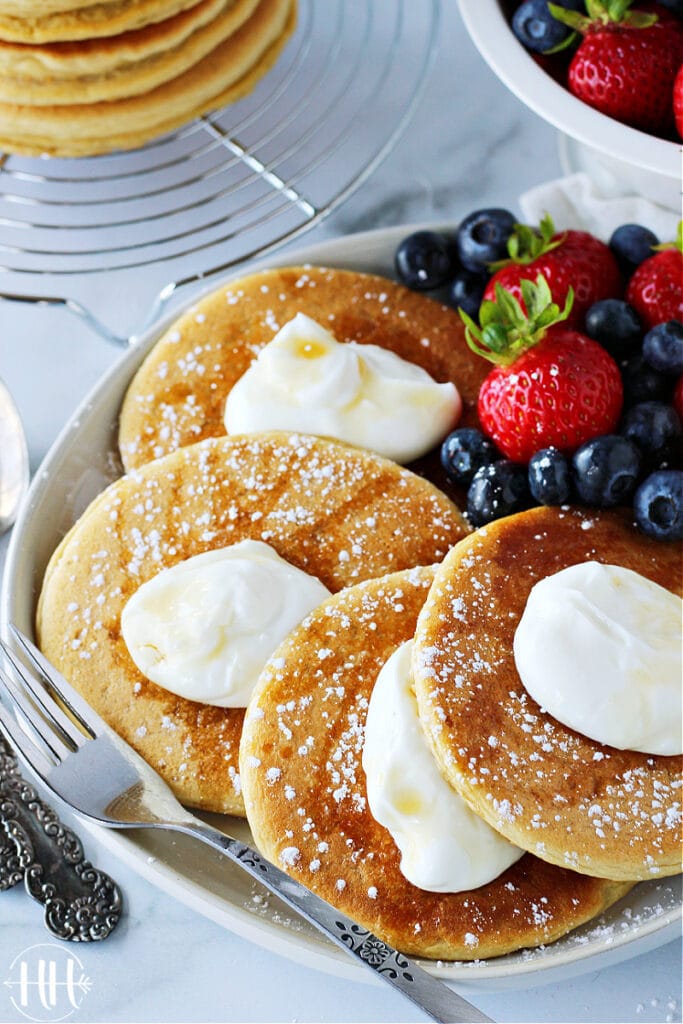 I started working with Meredith Mann of The Peachie Spoon a few months ago. She has taught me that calorie restriction and tracking my every bite is not the way to food freedom and the enjoyment of food.
For as long as I can remember, I have in one form or another tracked calories and not eaten balanced meals.
For example, I would greatly limit my fat intake because fat genuinely has a lot of calories compared to eating carrot sticks so I was ALWAYS hungry because fat helps you to be full.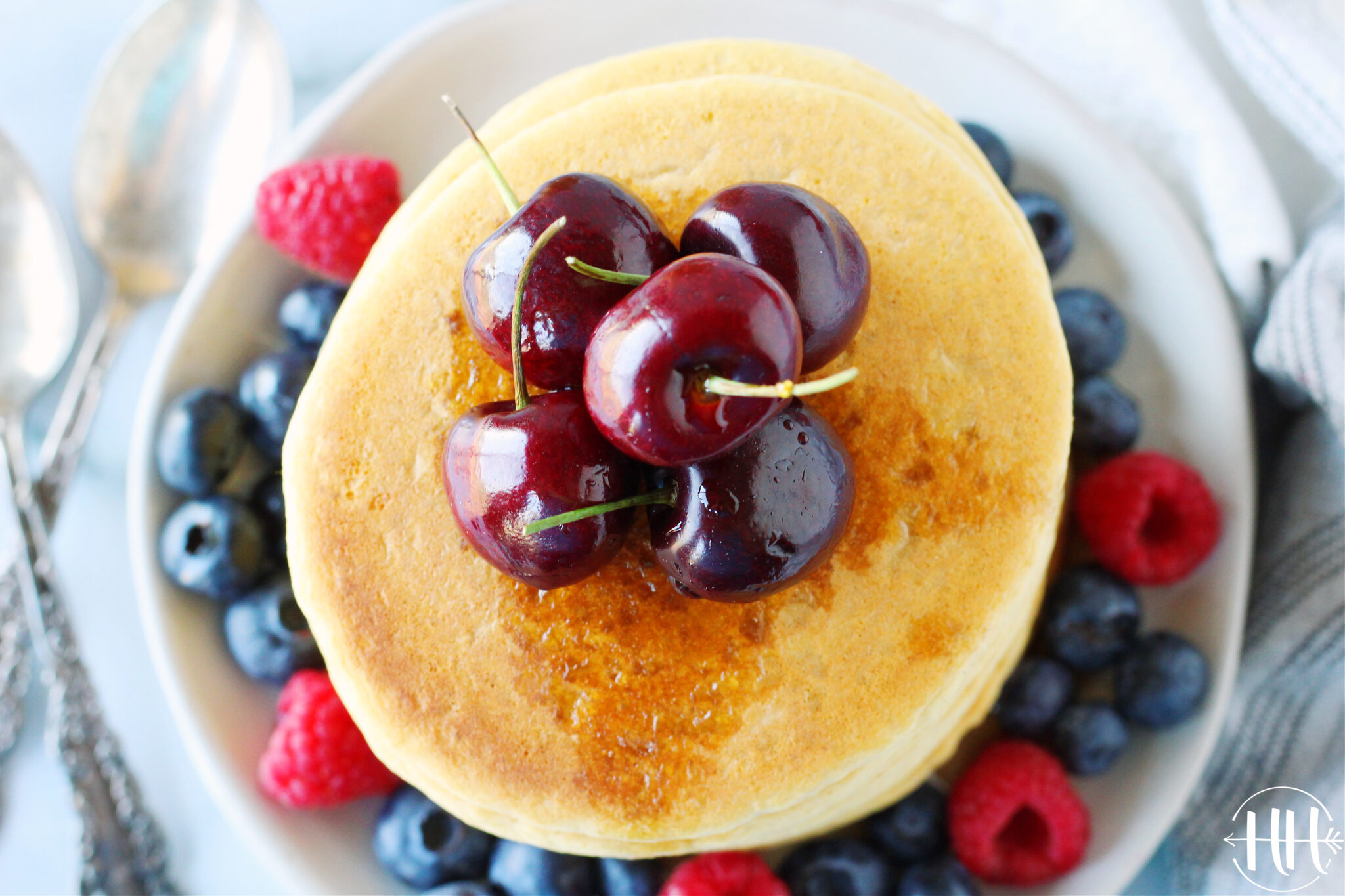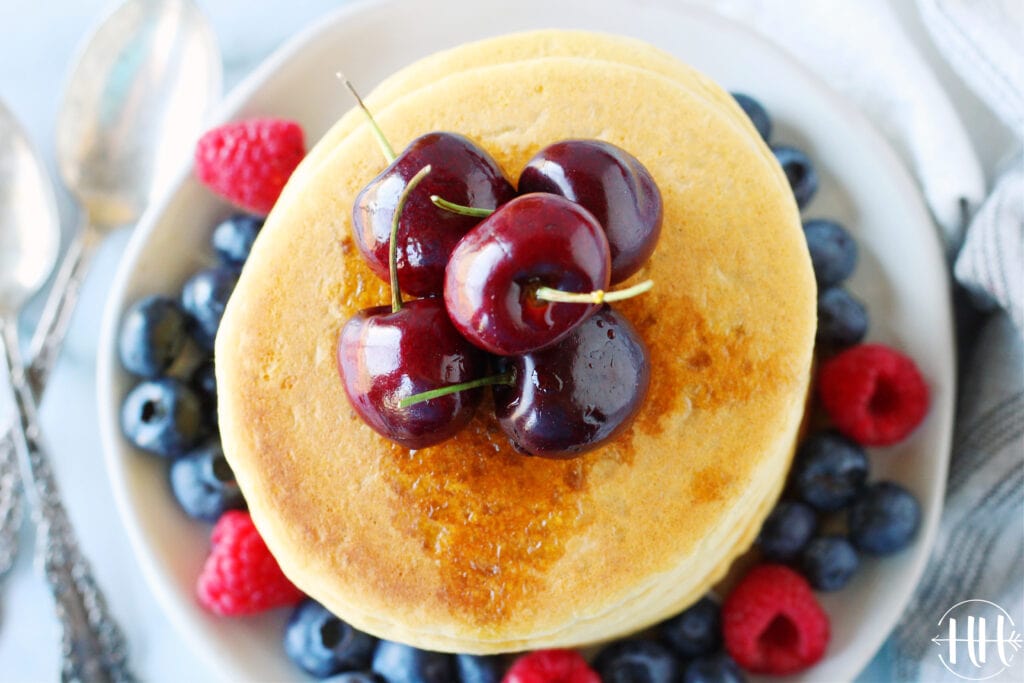 Once I learned to always pair at least 30 grams of protein with a serving of fat, fiber from veggies, and a starch (potato, fruit, rice, etc) I wasn't hungry in between meals. It was revolutionary because I was a constant snacker and never ever felt full or satisfied. Problem solved!
Consequently, because I have restricted my calories for so long it has affected my metabolism negatively. I have a very slow metabolism which we are working on revving back up with keeping my blood sugar stable and building muscle.
PS…If I do get snacky between meals, I grab a Built bar. They are a balanced bar packed with protein and taste just like a Three Muskateers candy bar. My favorite flavors are cookie dough, double chocolate, and salted caramel. Use "HappiHomemade" at checkout to save money on every order. 🙂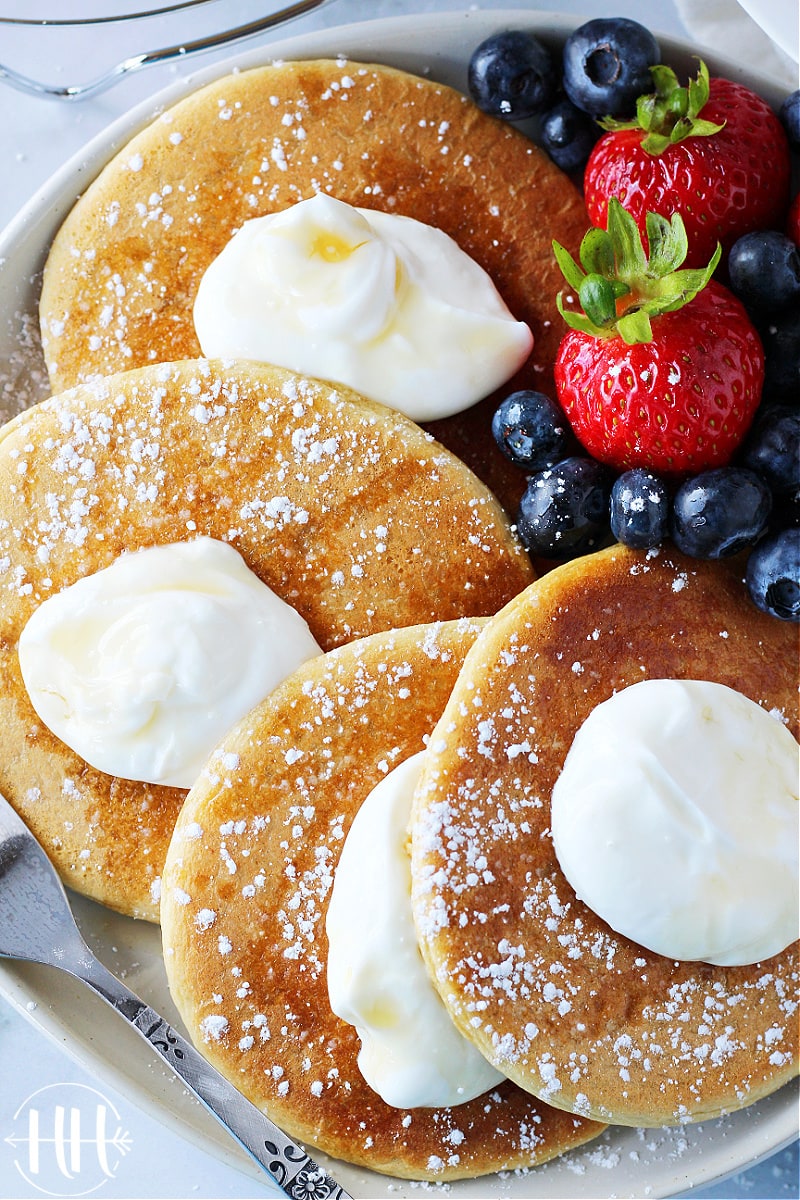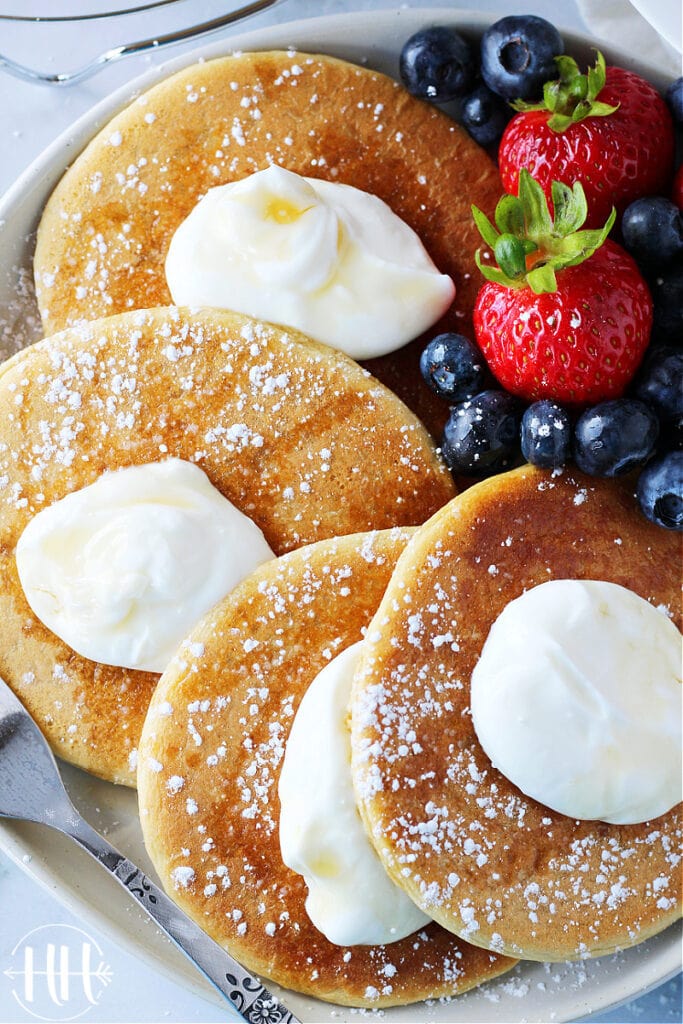 I also practice intermittent fasting by not eating or drinking anything but water or unflavored sparkling water after dinner and waiting to eat breakfast until I have fasted for 12-15 hours.
What this looks like most days is eating dinner at 6pm and then eating breakfast between 9-10am the next day.
All of this is done most days, but we don't have food rules and we still live life. So while on vacation I enjoyed s'mores at 9pm and ate breakfast at 8am. No biggie! (PS…Follow me on Instagram to see more behind the scenes of my time in the kitchen and family life!)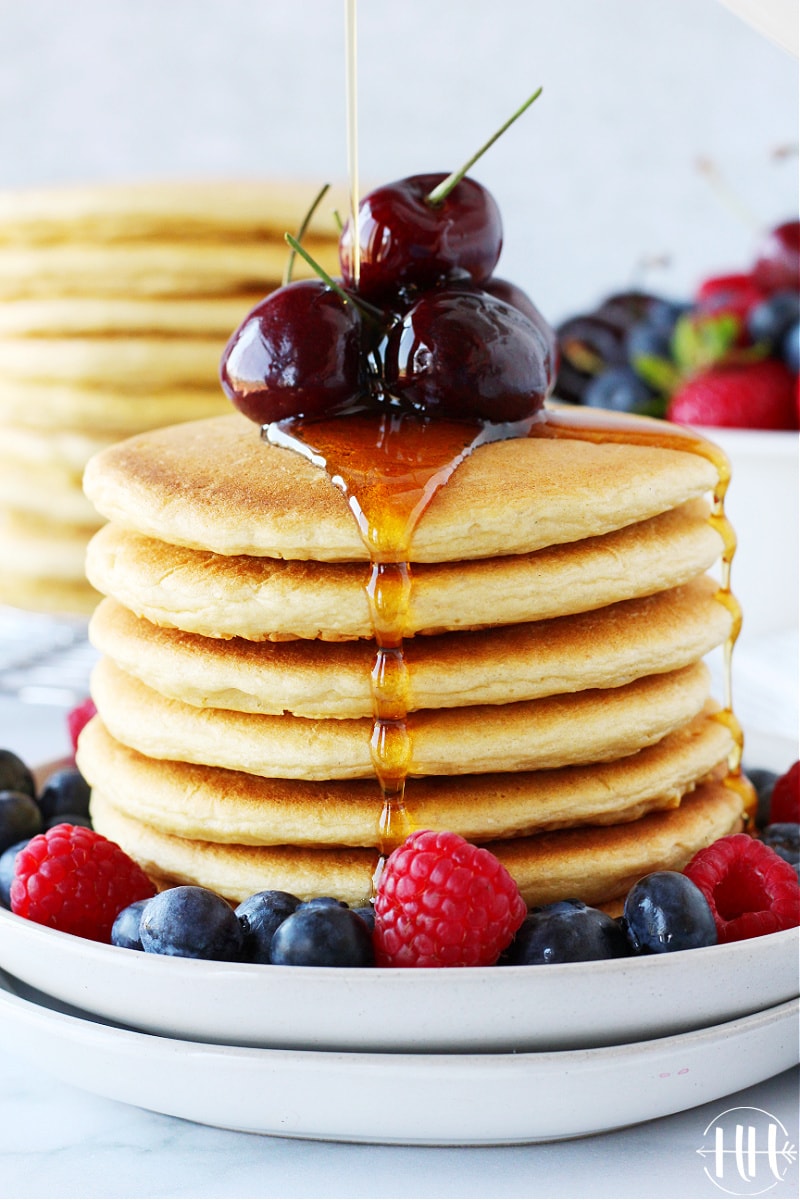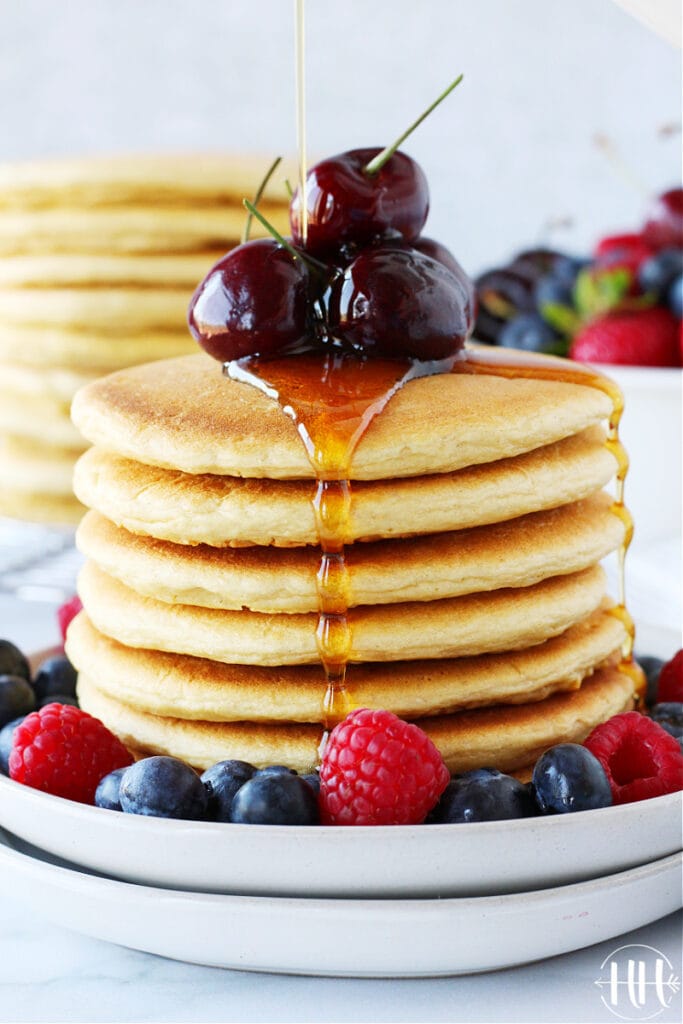 Okay, so in essence that is why these Dairy Free Protein Pancakes were created.
I generally crave a sweet breakfast or at least something sweet at breakfast if I am having a primarily savory breakfast.
Meredith introduced me to chickpea flour which I purchase from Thrive Market (use this link to save 25% off your first order!). She has some really yummy cookies that use it too!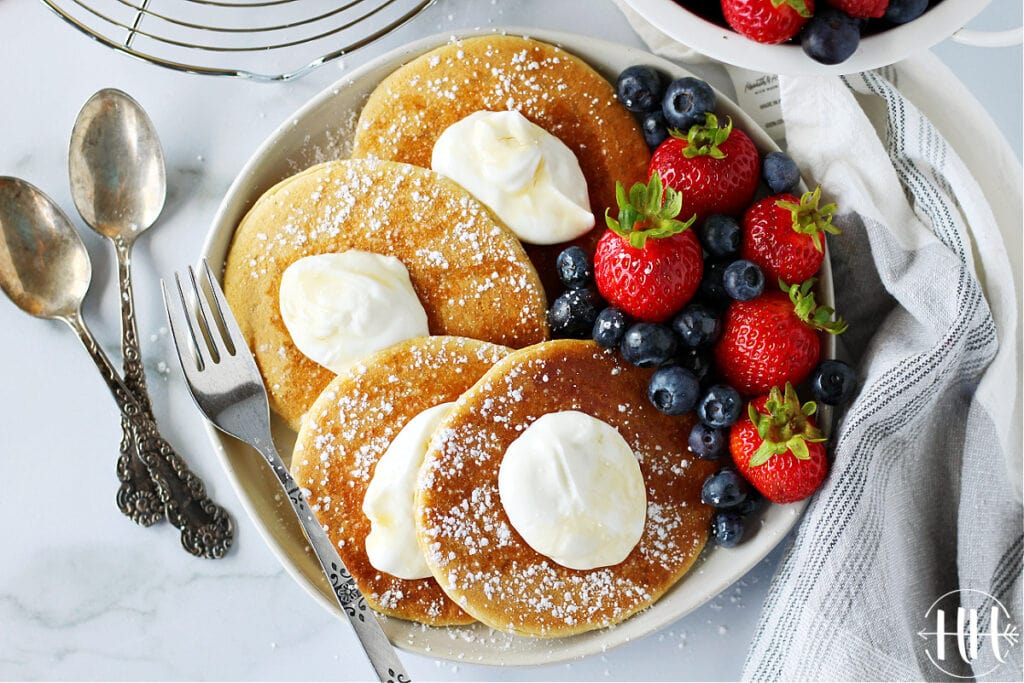 If you are looking for fluffy pancakes I got you! These are the perfect texture and are even great the next day. After Day 2, they tend to dry out a little as do most healthy and gluten free baked goods.
Sugars and oils are what keep gluten free foods from drying out.
By using vegan protein powder that is plant-based there is no whey or dairy to contend with if lactose is a problem. I am sure whey protein would work well too I just haven't tried it in these flapjacks!
I usually layer plain Greek yogurt between four pancakes and drizzle 1 Tbsp of maple syrup over the stack.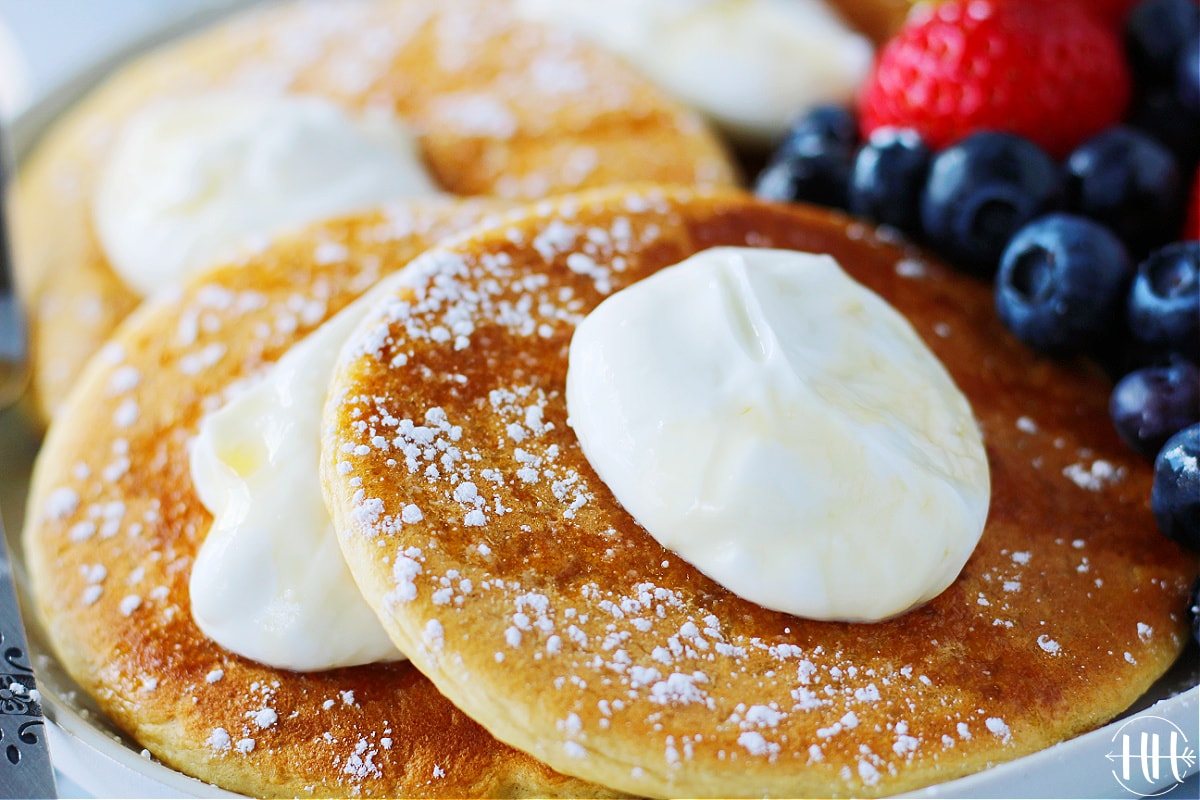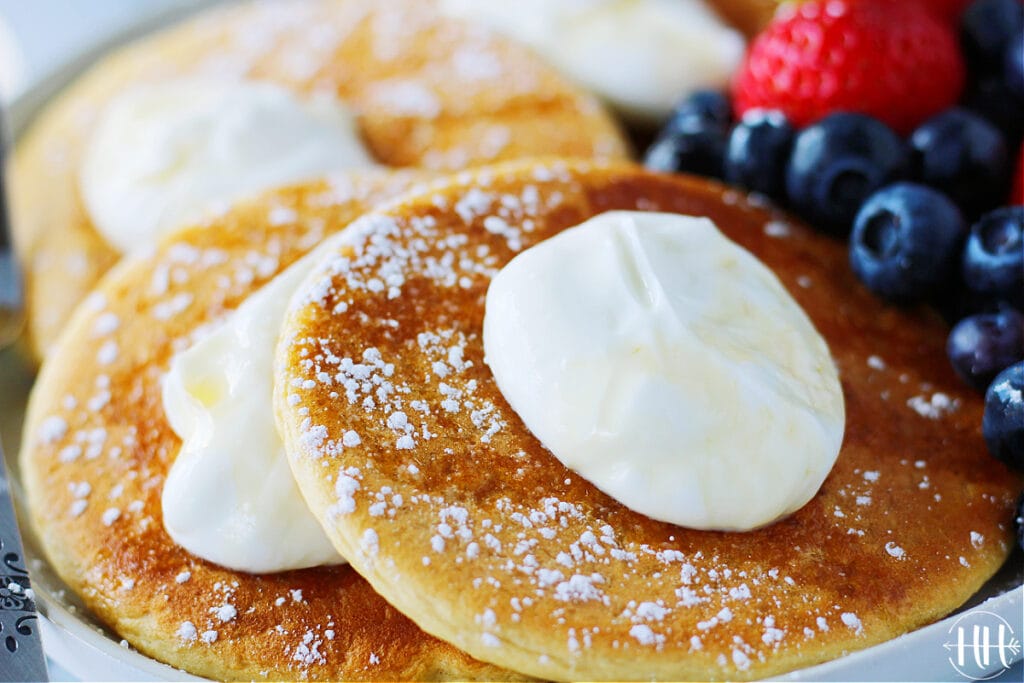 Along with these delicious gluten free pancakes I drink a cozy cup of creamy collagen coffee because why not?
Go big or go home, amiright?!
Caffeine hates me so I brew an 8oz cup of Gevalia decaf coffee and add 1.5 Tbsp half and half, 1/2 Tbsp natural creamer, 1 scoop of collagen, and a generous sprinkle of cinnamon.
So there you have it! I've told you everything I know and even shared these Dairy Free Protein Pancakes with you. Enjoy!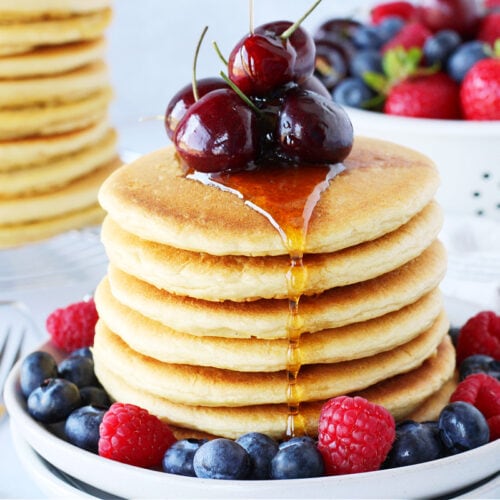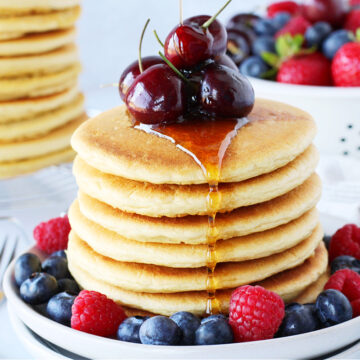 Print Recipe
Dairy Free Protein Pancakes
The BEST Protein Pancakes Recipe | These dairy free pancakes are made with gluten free chickpea flour and vegan protein powder. Their soft and fluffy texture is perfect for breakfast or brunch. Make these easy no banana pancakes for postpartum weight loss or for baby. They are low calorie and contain 21 grams of protein. This high protein breakfast will keep you full until lunch if you add plain Greek yogurt and collagen in your coffee! Try this plant based recipe today.
Ingredients
Pancake Batter
2/3

cup

vanilla protein powder

I use vegan or plant based

1

Tbsp

baking powder

1

cup

chickpea (garbanzo bean) flour

3

large eggs

1 1/4

cups

unsweetened almond milk

3

Tbsp

melted coconut oil

you can use avocado oil
Optional Toppings
plain Greek yogurt

maple syrup

berries
Instructions
Heat pan over low-medium heat and spray with non-stick cooking oil.

Whisk all pancake ingredients together in a medium-sized bowl. Unlike typical pancake batter, whisk until all lumps are gone. With gluten free batters, the more whisking the better!

Pour 1/4 cup batter for each pancake (makes 16 pancakes). Cook until the top of the pancakes have some bubbles and the edges are beginning to set. Flip pancakes and make sure each side is a golden brown.

Once all the pancakes are made eat immediately or store in the fridge for up to 3 days. The pancakes retain their soft and fluffy texture the first 24 hours, but start to dry out after that.

Serve with plain Greek yogurt, maple syrup, and berries.
Notes
Calorie count is for 4 pancakes and no toppings. There are 21 grams of protein in 4 pancakes!
Batter makes 16 pancakes or enough to feed 4 people.