Welcome to Week 5 of the #ETHANproject Summer Challenge. We were encouraged to "ENJOY the Sky" this week and we totally nailed it by enjoying a movie under the stars at our local Drive In Movie Theater!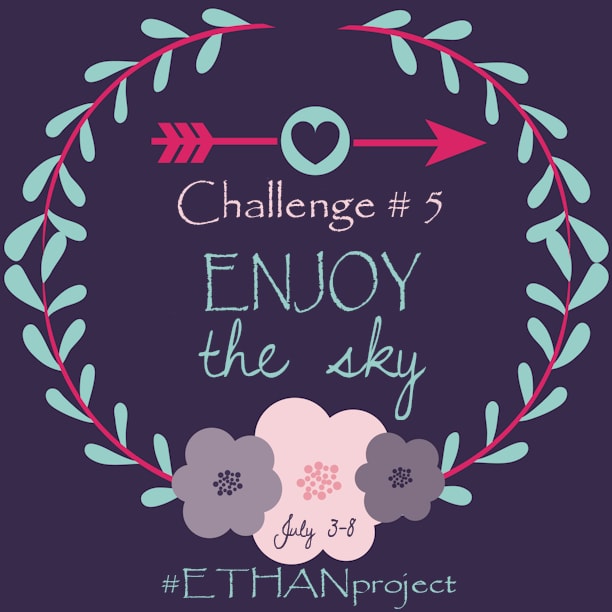 By: Sarah Koontz
Did you know that there are 338 drive in movie theaters left in the United States? Check this list to see if there is one located near you.
Many cities also offer outdoor movie experiences in the summertime, just check with your local chamber of commerce. Or, scroll down to the bottom of this post to learn how to set up an outdoor theater in your own backyard!
We were shocked by how many people were at the drive in theater when we attended Disney's "Inside Out" earlier this week. They offer a fabulous rate of $16 per carload on Thursday night, so we packed up the car and went to see what all the fuss was about.
We have been meaning to take our kids to the drive in for 3 summers now. But we just haven't "gotten around to it". Sometimes, as moms, it is difficult to break routine for the sake of a fun night out.
Let me explain. Our town offers many ways to enjoy the movies under the stars. We have a retro drive-in movie theater and there is also an option to experience an open air theater downtown each Monday throughout the summer.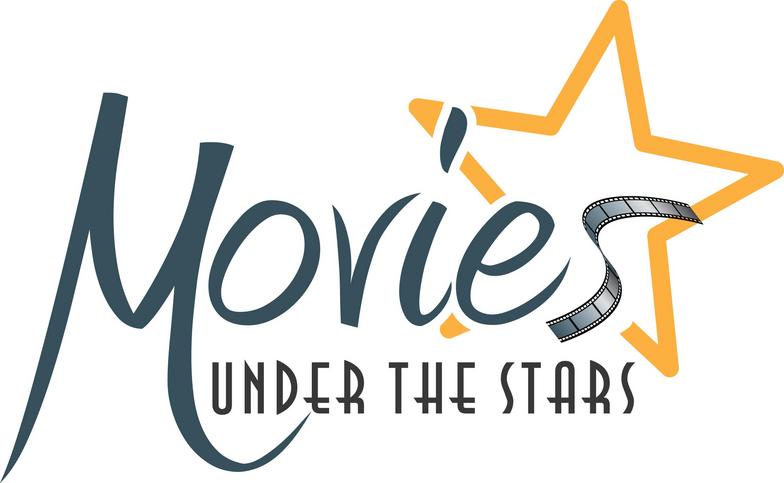 We have never gone. Why not? Because, first of all, they don't get started until LATE! We are talking 9 or 9:30 pm.
We are pretty structured with our children, so a movie that doesn't start until after their normal bedtime is not ideal.
Secondly, think of all the stuff you have to pack up. Chairs, blankets, snacks and BUG SPRAY to name a few!
At the end of a long summer day, this Mom is ready to curl up in bed and enjoy my favorite show on Netflix….NOT pack my family up and head out to the movies.
Sometimes it is difficult to set aside your own preferences to create memories with your children. Moms often carry the brunt of the work and even the most supportive of spouses doesn't really grasp how much planning goes into these outings. But we were determined to overcome our strong desire to be in bed by 9 sharp and focus on doing something memorable with our children.
So we decided the perfect way to "ENJOY the Sky" with our family this week would be to take our kids to their very first drive in movie experience.
And it WAS memorable! We discovered that drive in movie theaters are BACK in style and they aren't going away anytime soon.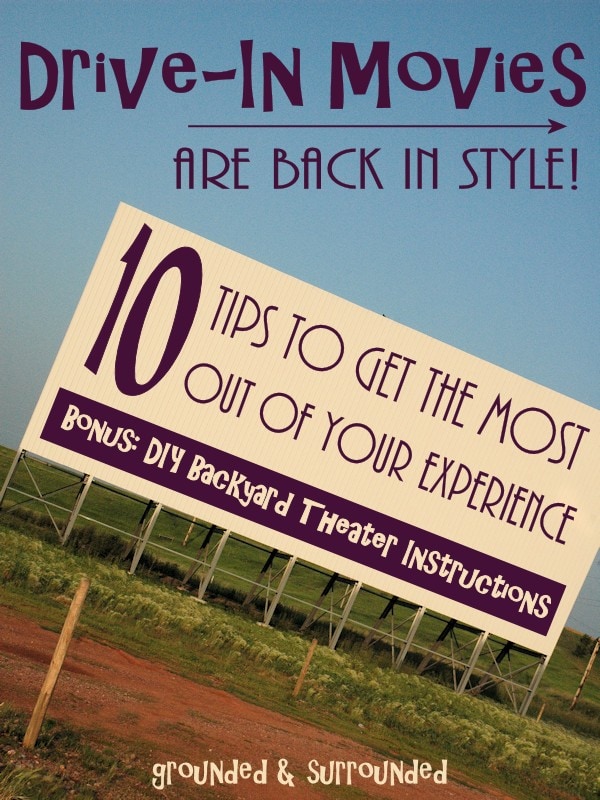 Here are our top 10 tips for making the most of your outdoor movie watching experience:
1. Make sure your kids take a nap before the movie. Naps are a rarity in our family these days, so I sent the kids to the pool with their grandpa for 3 hours earlier in the day and they came home and crashed. I had to wake up my youngest right before we left for the movie. Because of this, they handled the late night far better than I did.
2. Dress in layers. It was warm when we got there at 7:30 but downright chilly by the time the movie started playing. Thankfully, I was the only one who was cold so I got the blanket!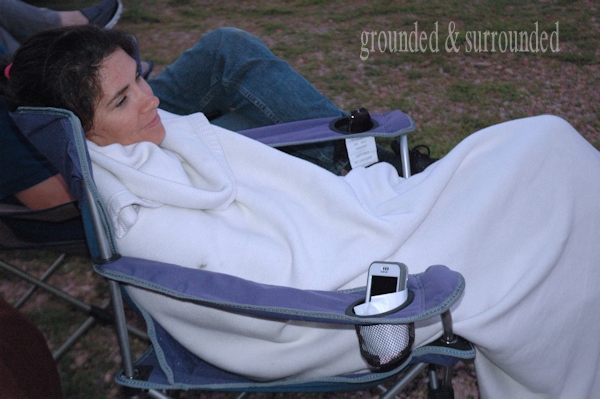 3. Show up EARLY! We had the BEST view of the movie, but we had to be there 2 hours early to get it. It was well worth the wait.
4. Bring some games for the kids to play while they wait for the movie to start. We failed in this department and found ourselves envying the family who was playing this.
5. Invite friends to join you! We had so much fun catching up with friends as we waited for the sun to dip behind the hills.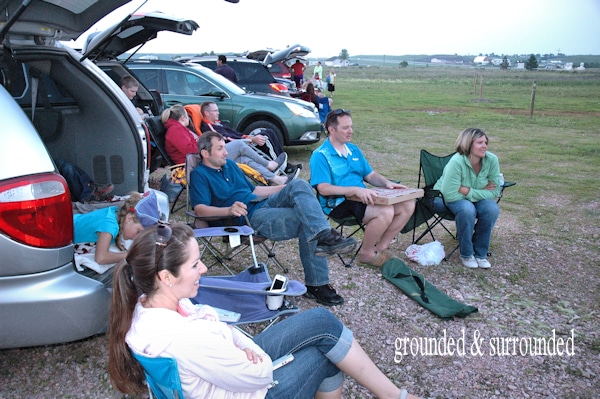 6. Bring bug spray, blankets, pillows, and chairs. If you are going to make a habit of attending the drive-in movie theater, then you are definitely going to need one of these….for comfort's sake.
7. Make sure to take the kids for a potty break before the movie starts. It gets really dark!
8. If you drive a vehicle with a weak battery, don't be surprised if it doesn't start at the end of the film. Fortunately, our theater offers free "Jump Starts". LOL.
9. Most drive-ins offer double features. Staying for the second movie truly was never an option for us, as Sammi & I barely made it through the first one. But if you are a night owl, you may want to pack a few sleeping bags for the kiddos so they can crash while you enjoy the second movie.
10. If you decided to take the whole family to the movies, don't be shocked if your children fall asleep before it is over. Or if they look something like this the following day.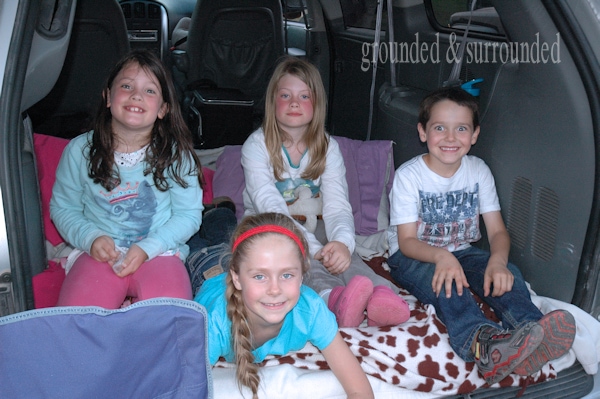 The kids had a fabulous time at the movie. It is difficult to say what they enjoyed more, running around and playing while we waited or the actual movie. (My poor baby….look at that sunburn! Grandpa and I had a follow-up conversation about the benefits of multiple applications of sunscreen while swimming).
The weather was perfect and the sky was beautiful. There is something amazing about watching the sunset and the moon rise. Since it is so close to Independence day, we even spotted a few fireworks while we were waiting for the movie to start.
I hope you take the time to get out and enjoy a drive-in theater with your family this summer! If you don't have a drive-in theater near you, you could always create the ultimate backyard movie experience. Here are some of our favorite tips from around the web:
How are you going to "ENJOY the Sky" with your family this week? Don't forget to share your stories in our ETHAN Project Facebook Group and on social media using the #ETHANproject.
And be sure to stop by our #ETHANproject Blogger Link-up to see what everyone else is doing for the challenge!