I know it's Memorial Day Weekend when I see this Calico Baked Beans recipe!
The summer has officially started when I eat my first bite of this delicious casserole!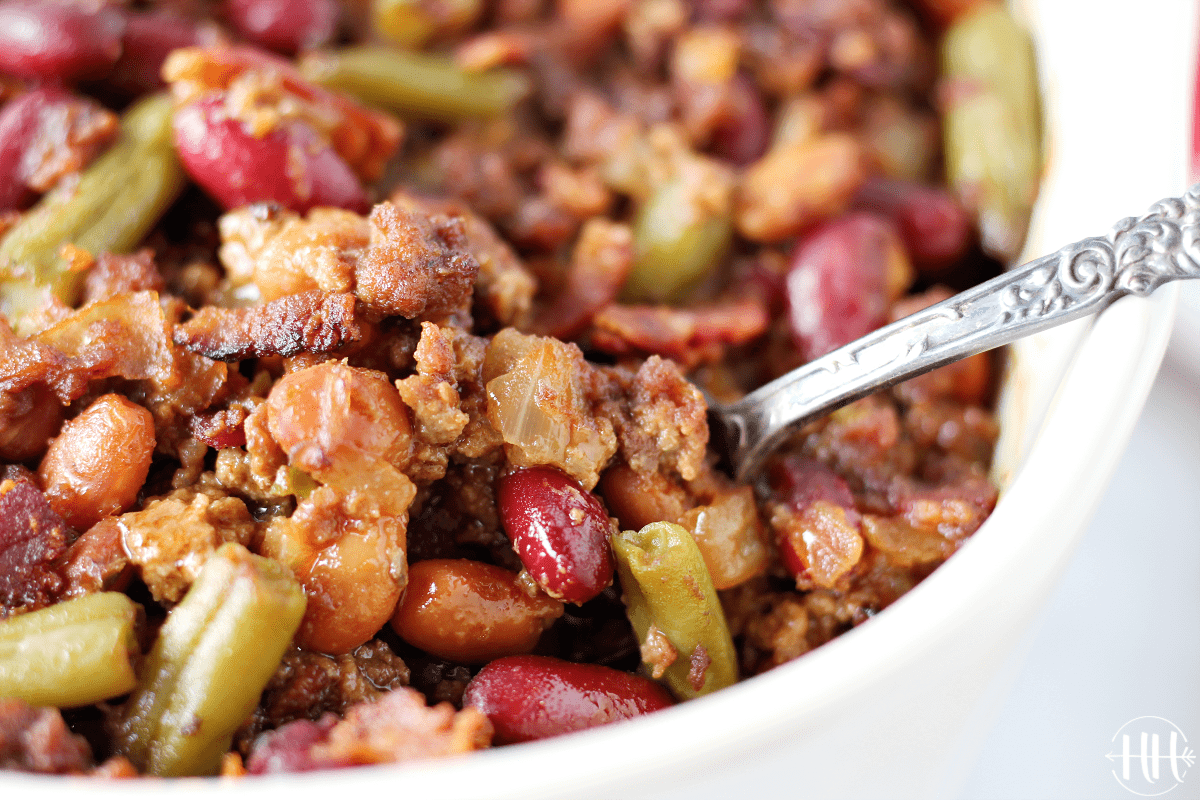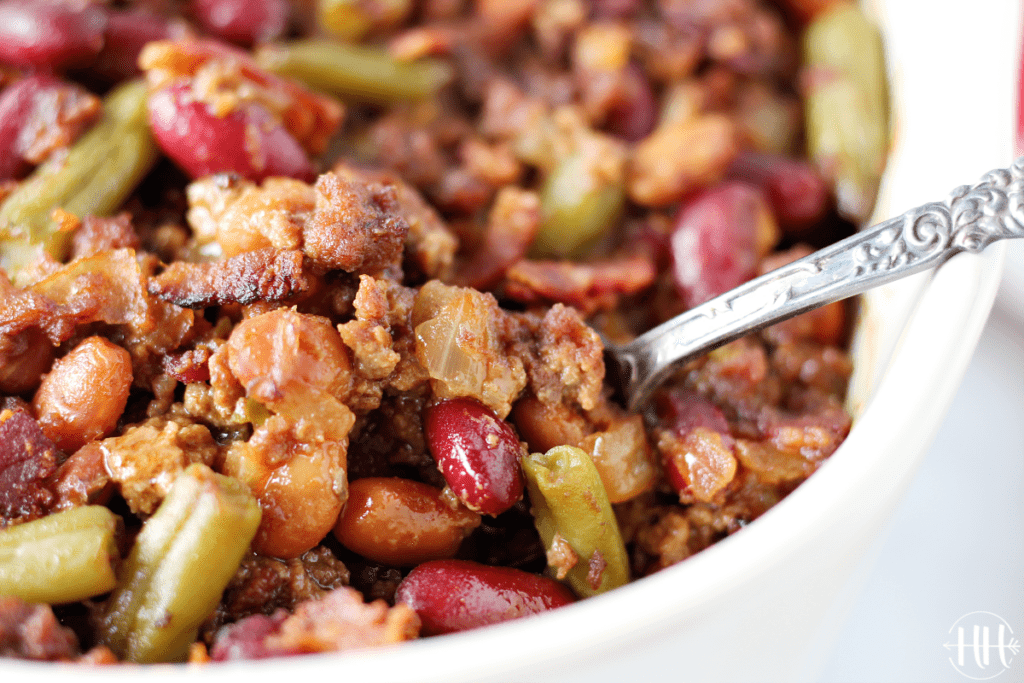 My mom has been making these for over 30 years and we LOVE them!
Why in the world we don't eat them all year long, who knows. BUT we really should!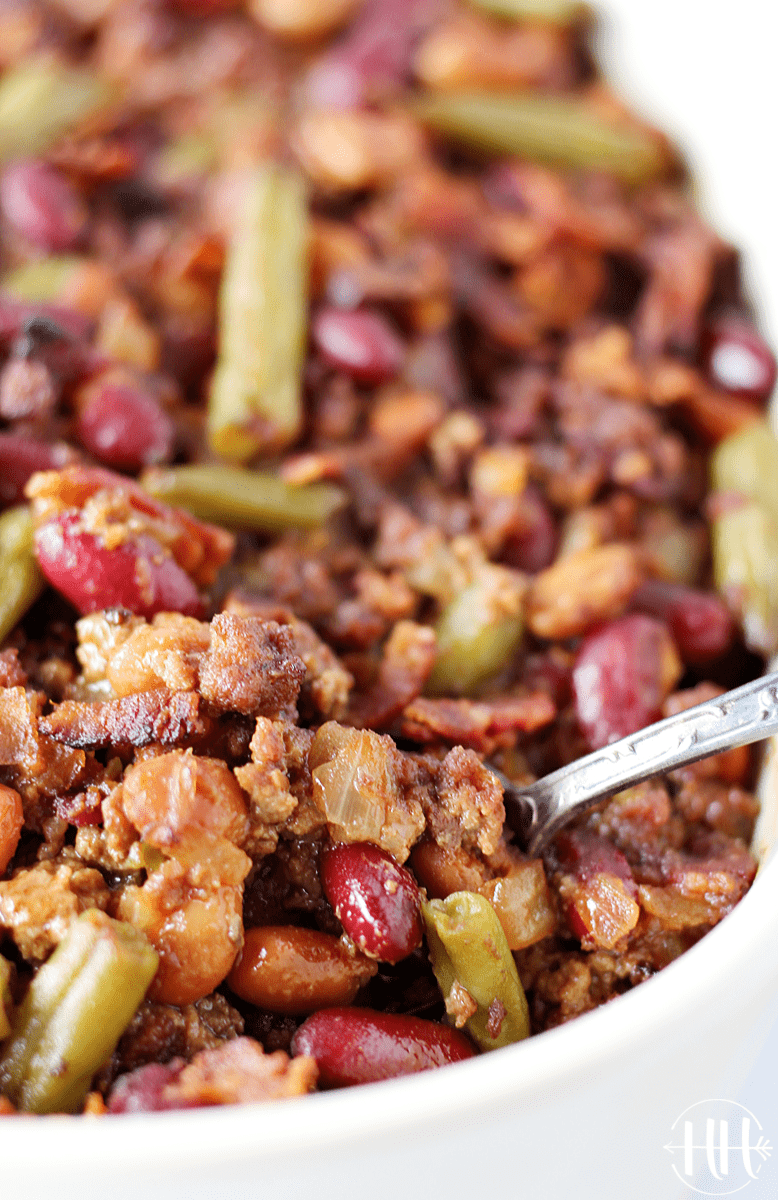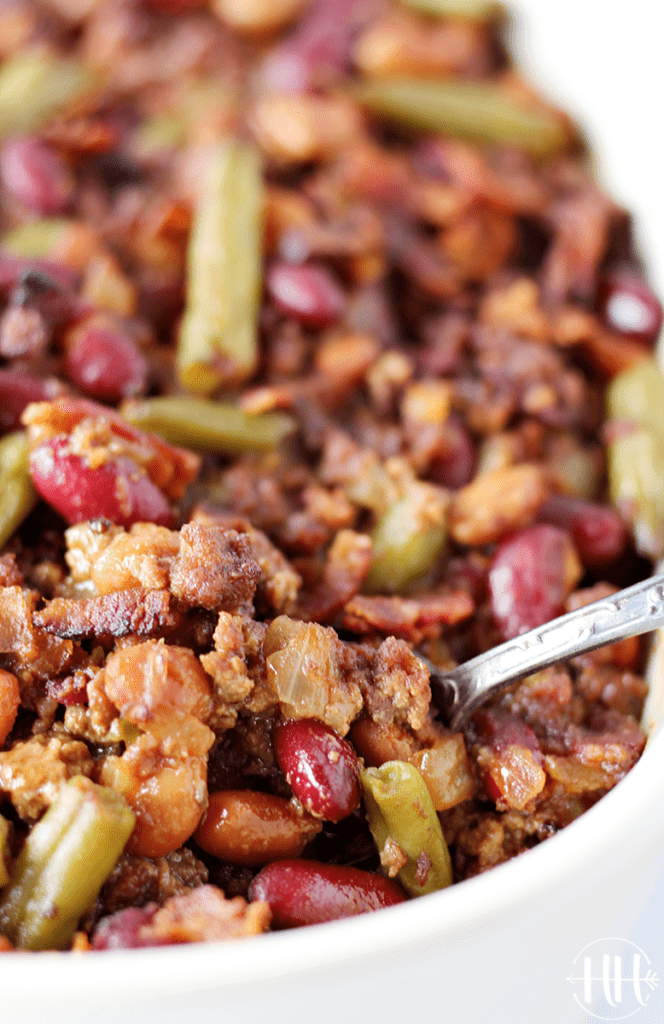 As you can imagine, the original recipe is perfect as is. But you know me, I really wanted to make it my own and use ingredients that I normally have in my pantry. Chances are you have every single ingredient in your kitchen right now!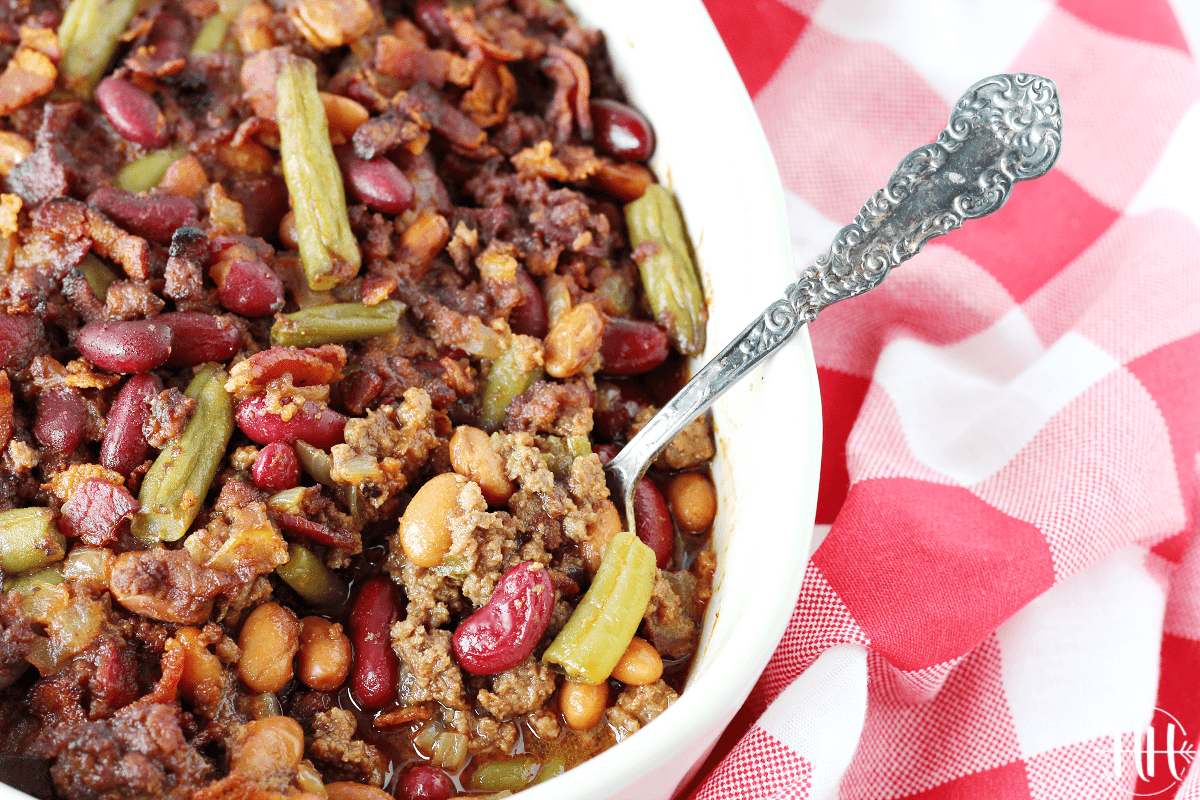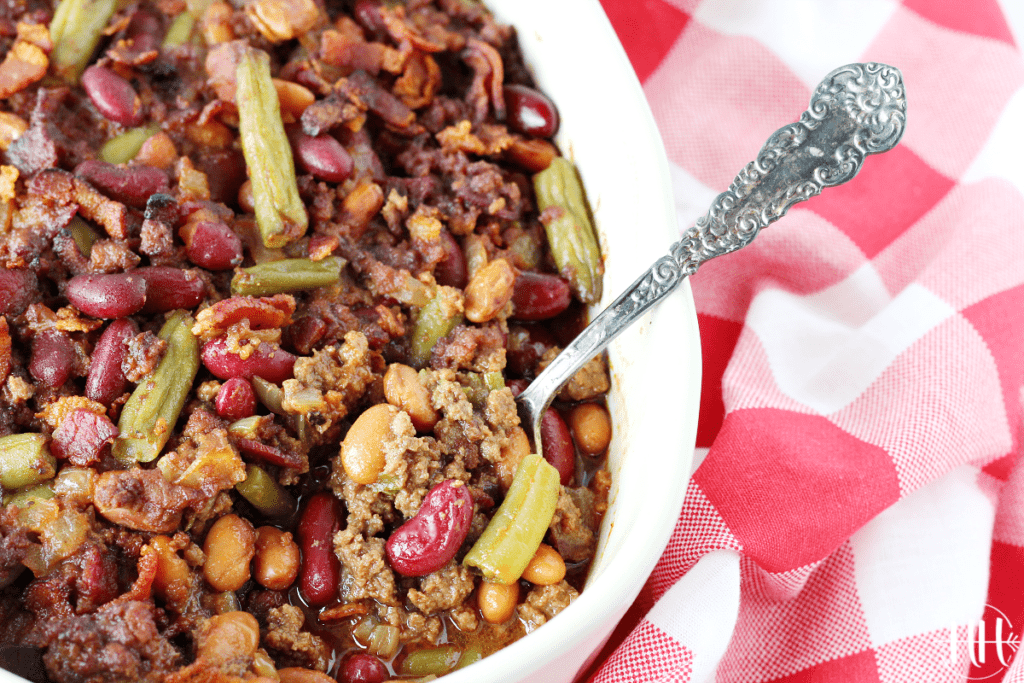 Calico Baked Beans Ingredients
6 oz or 6 pieces bacon
1 small onion
1 lb ground beef
1/2 cup coconut sugar
2 Tbsp apple cider vinegar
1 1/2 tsp salt
1/2 cup ketchup
1 Tbsp yellow mustard
15 oz can pinto beans
15 oz can kidney beans
15 oz can green beans or white navy beans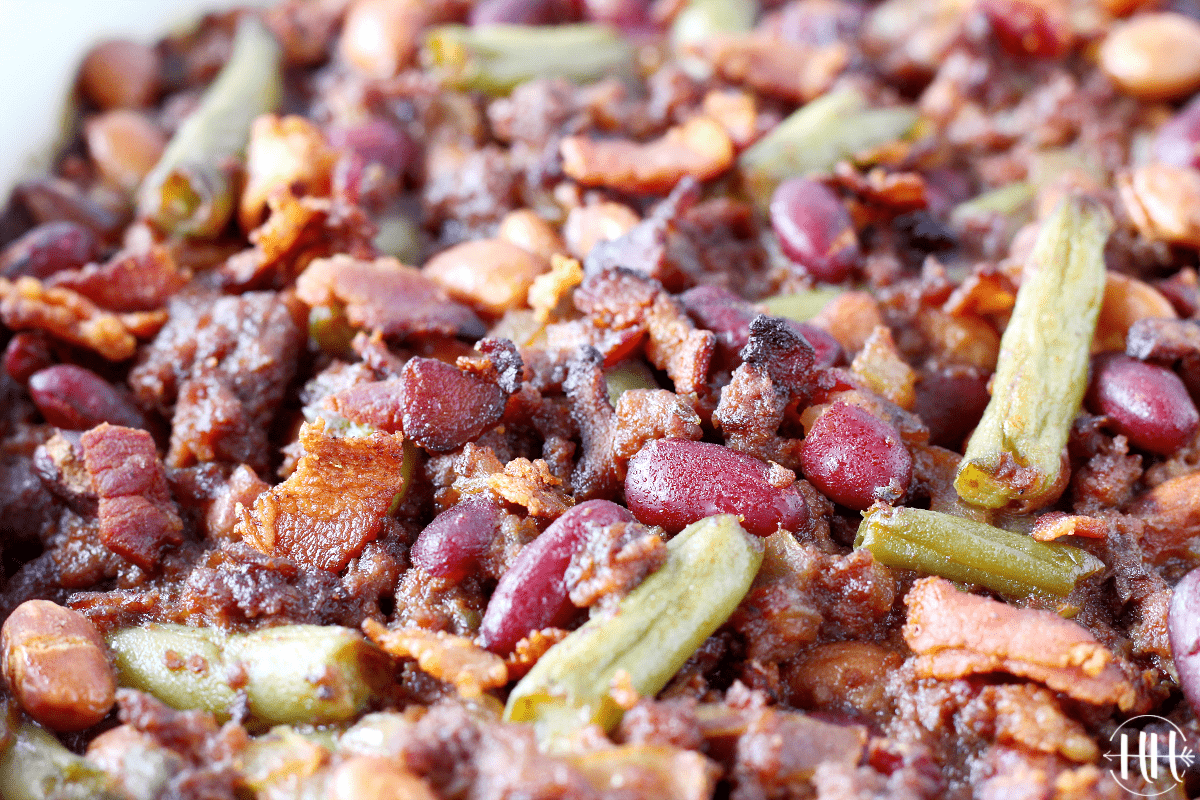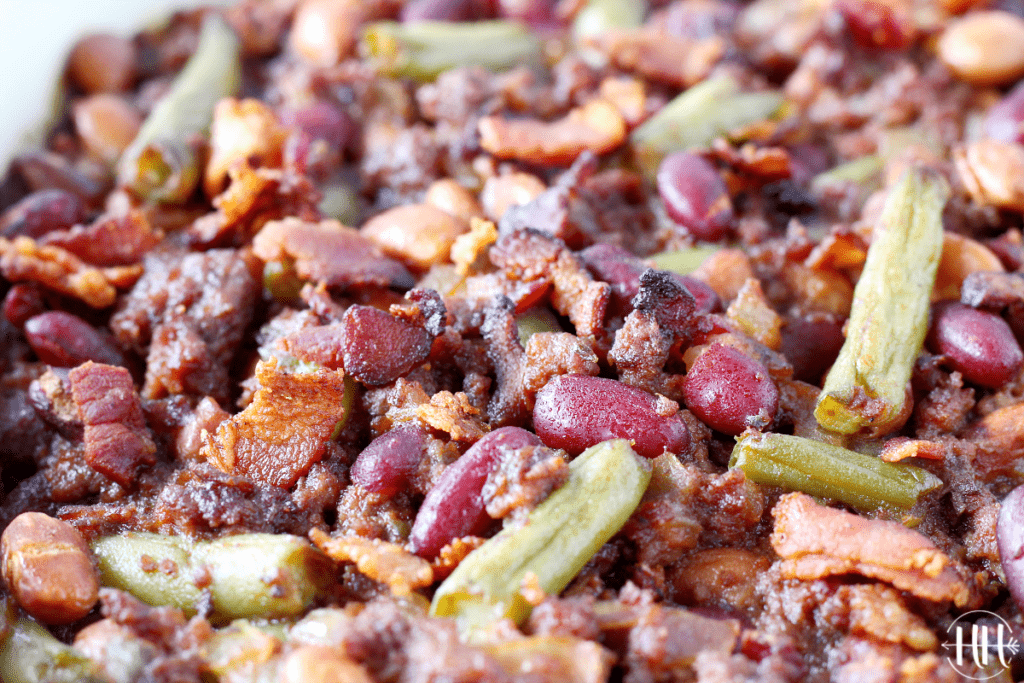 One of the changes I made is to the type of beans used. A can of Pork & Beans is not something I typically have, so I substituted a can of pinto beans and upped the amount of bacon.
Bacon makes everything better, amiright?
I want to say this recipe is healthier than the original, but I think it depends on what you think is "healthy". 🙂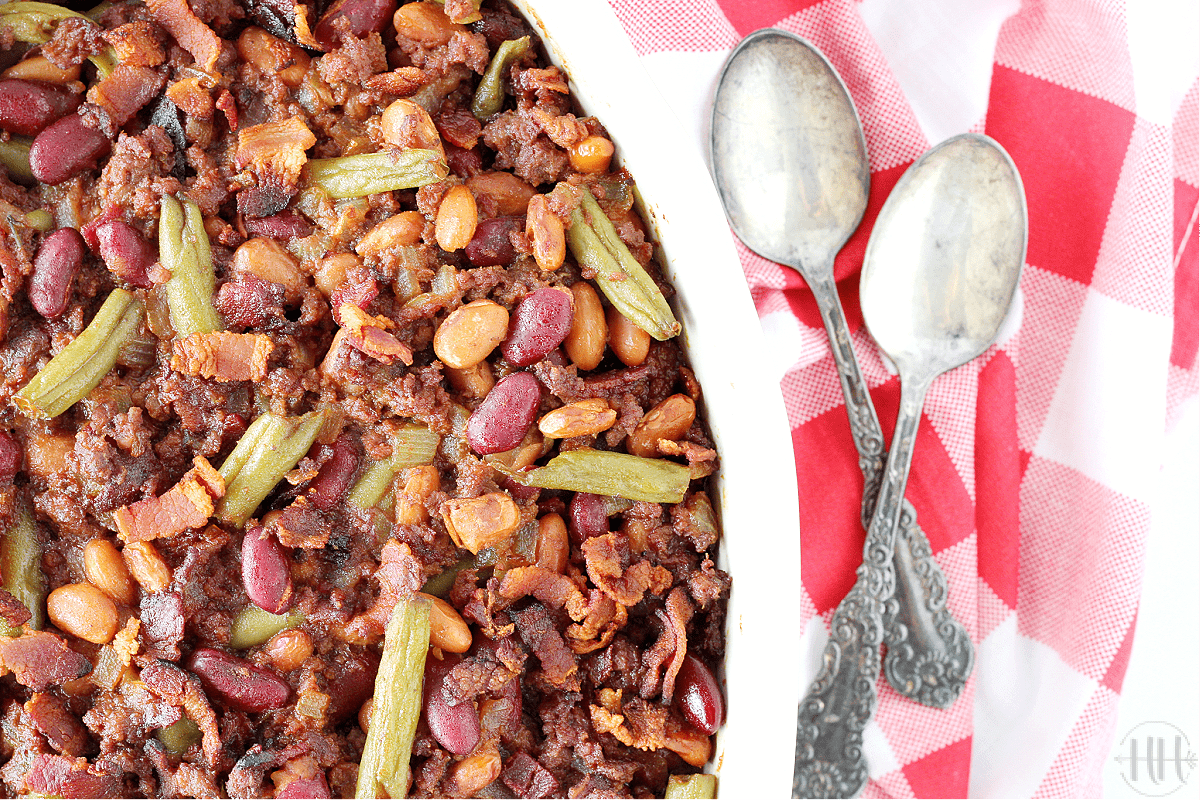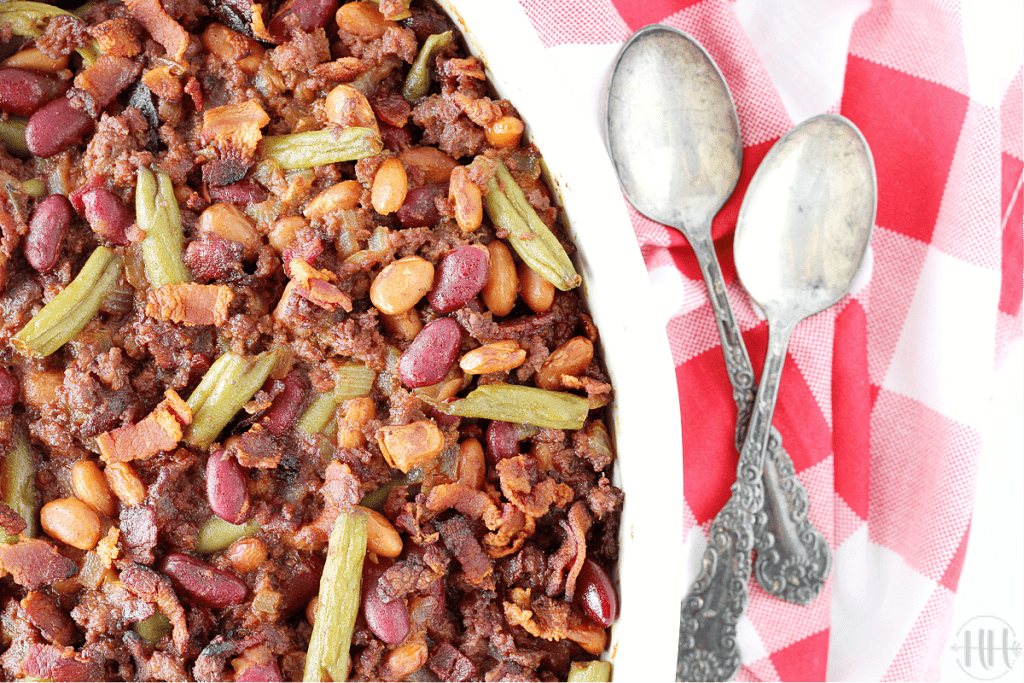 This recipe just happens to be gluten and dairy free too!
Yes, I use coconut sugar instead of brown sugar and apple cider vinegar instead of white vinegar.
So I guess you could say, I am a health food expert now. Did I mention my ACV has the mother? LOL Send me all of your health questions. 😉 LOL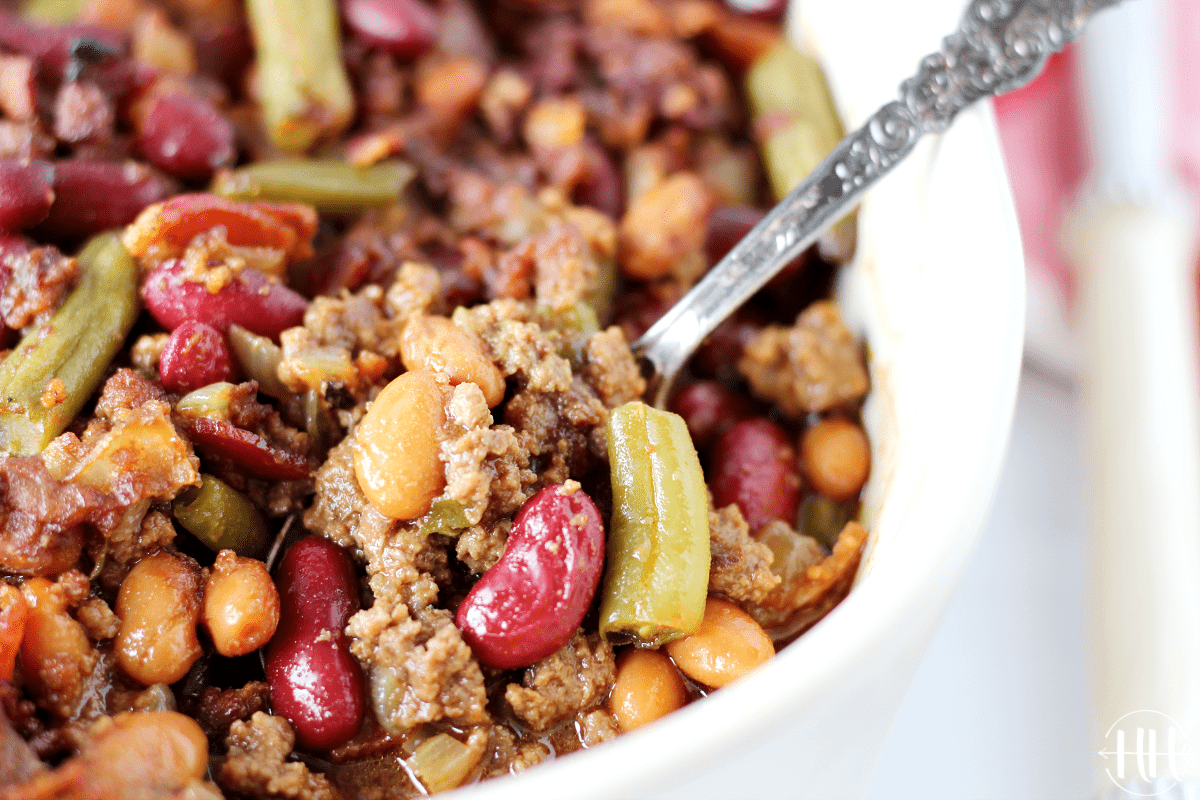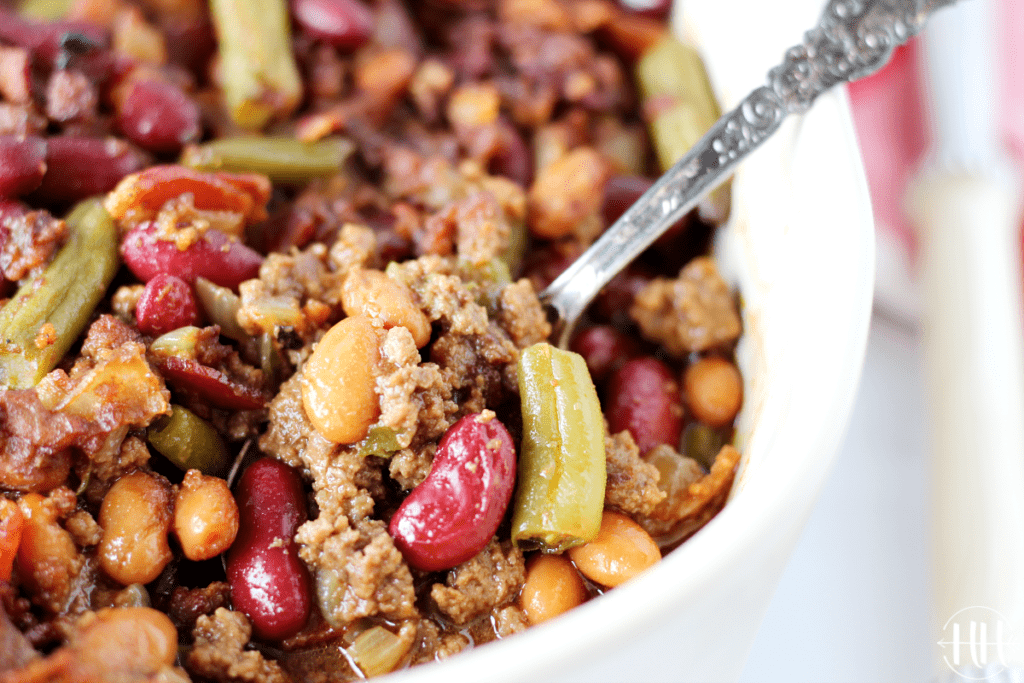 Oh, and I use ketchup without high fructose corn syrup. Gosh, maybe I am an expert. <insert dying of laughter emoji>
All joking aside, this recipe is super simple to prepare and absolutely delicious. It is slightly sweet, tangy, and super savory. All the best things rolled into one!
In closing, if you are looking to add a new favorite recipe to your binder this Calico Baked Beans is it!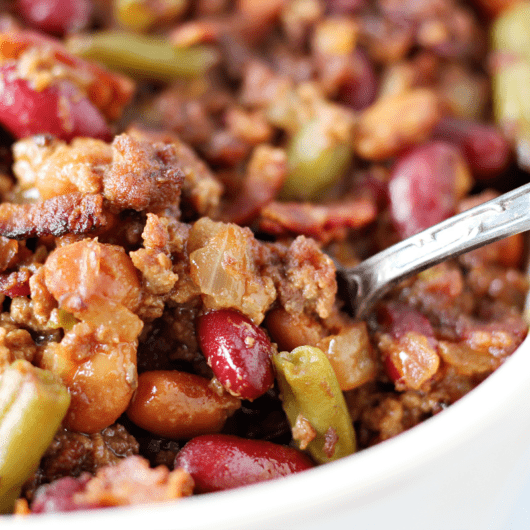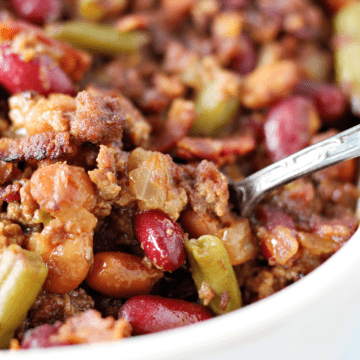 Print Recipe
Calico Baked Beans
Calico Baked Beans (Cowboy Beans)| This gluten free and dairy free recipe with hamburger and bacon is the perfect BBQ side dish. Use ground beef, beans, simple spices and healthy coconut sugar. I bake this recipe in the oven, but you can use a crockpot or slow cooker too! You can easily make this simple meal vegetarian by omitting the meat. Bring this summer side dish to your next barbecue (4th of July food & Memorial Day) for a crowd or eat this casserole at home for an easy dinner!
Equipment
1 dutch oven

1 wooden spoon
Ingredients
1

small onion

diced

1

lb

ground beef

1/2

cup

coconut sugar

2

Tbsp

apple cider vinegar

1 1/2

tsp

salt

1/2

cup

ketchup

1

Tbsp

yellow mustard

15

oz

can pinto beans, half drained*(half the liquid in the can is needed in casserole)

15

oz

canned kidney beans, drained

15

oz

canned green beans or white navy beans, drained**
Instructions
In a large Dutch oven or skillet on the stovetop, cook the bacon until crispy. Remove the bacon from the pan and set aside. Leave 1-2 Tbsp bacon renderings (grease/fat) in pan.

Add onion and ground beef to the bacon renderings. Cook on medium heat until meat is browned.

Add the cooked bacon and remaining ingredients to the pan and gently stir until all the ingredients are combined.

Place the Dutch oven with the casserole in the preheated oven and bake for 30 minutes or until the sides are bubbly. If you are not using a stovetop to oven safe pan, pour casserole into a 9×13 glass pan and bake at 30 min or until sides are bubbly.

Serve warm. Store leftovers in refrigerator.
Notes
*There is no need to rinse any of the canned beans and if some liquid/water from the cans ends up in the casserole that is fine. The original recipe has more liquid in it, but I prefer it with less like this version. However, if you don't have some liquid from the beans the casserole will be too dry. So that is why I say, add 1/2 the liquid from the pinto beans and that should be perfect!
**Any kind of beans will work in this dish. I chose pinto, kidney, and green beans, but Lima, navy, or any combination tastes just as great!