You will love this beautiful Patriotic Red, White & Blue Fruit Salad for your Memorial Day, July 4th, and Labor Day festivities!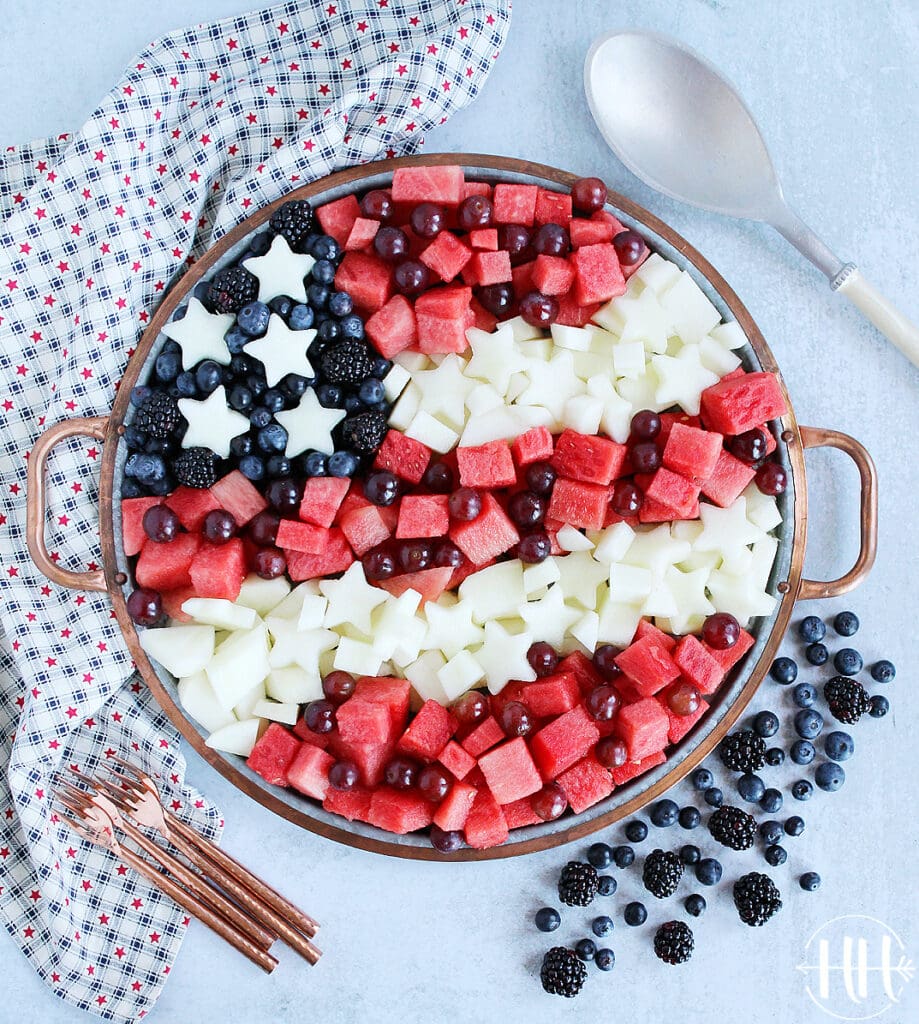 I live in the Midwest of the United States of America and I LOVE the U.S.A.! We fly the American flag at every rodeo, decorate our porches in patriotic colors for holidays, and sing the national anthem at every sporting event.
This salad is the perfect way to add to these traditions and celebrate how amazing our country is!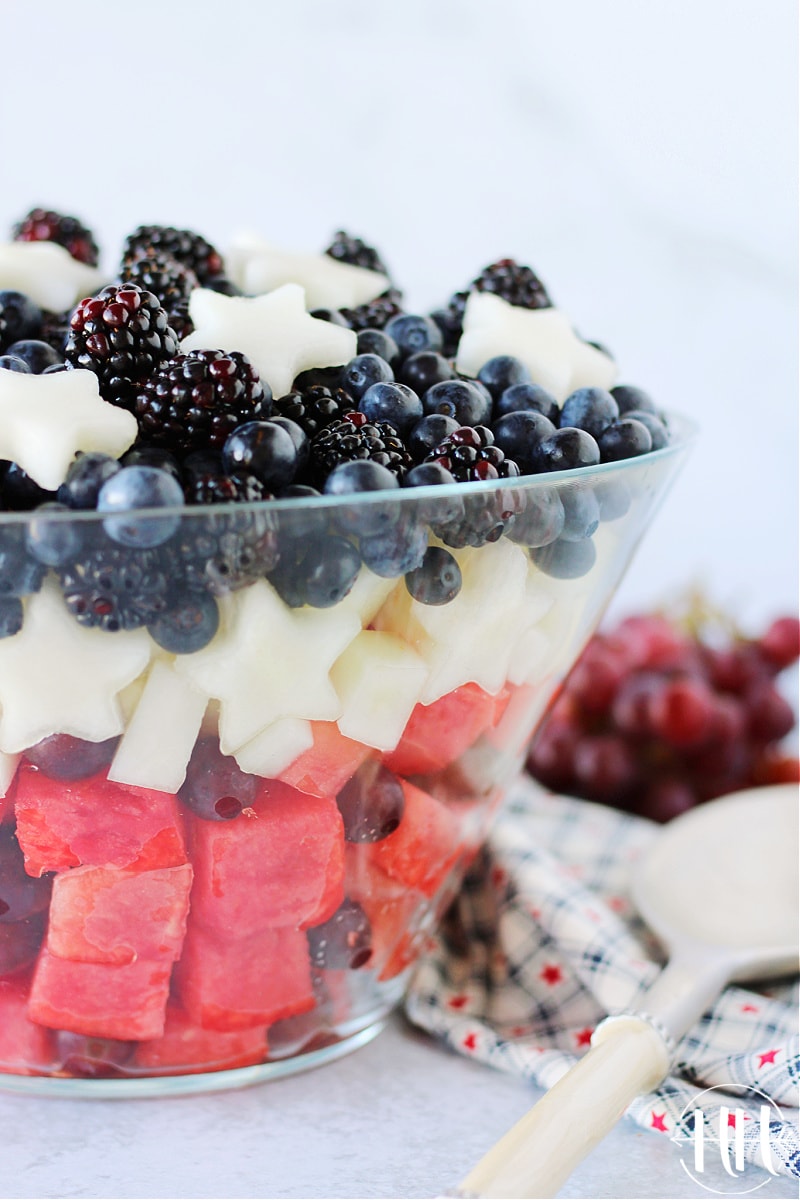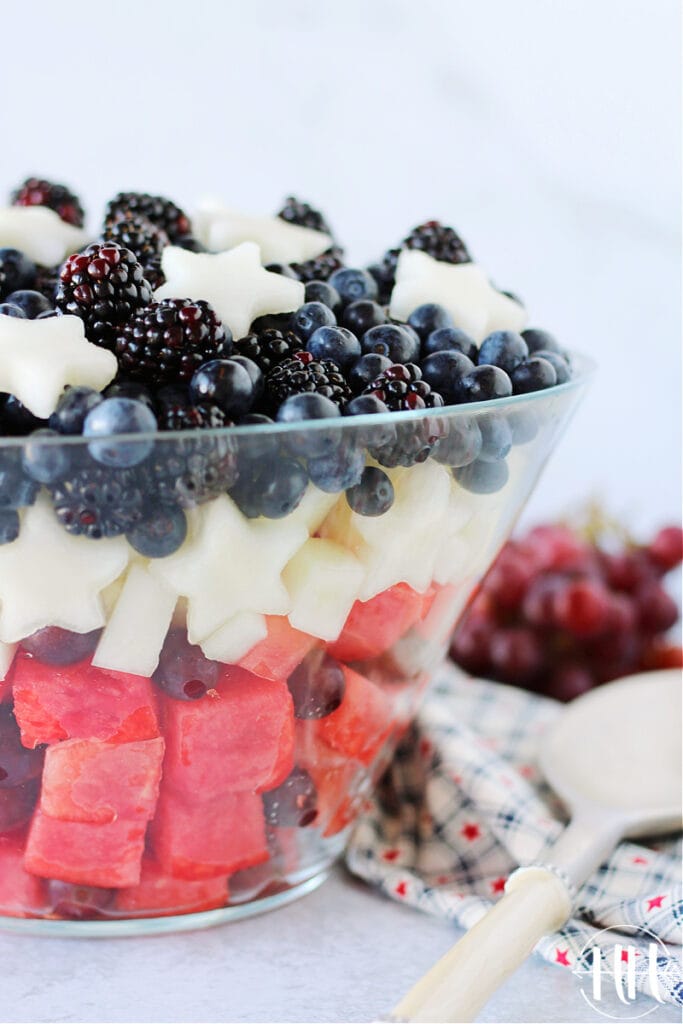 You have two fabulous options in serving this gluten free salad: on a large tray resembling the American flag or in a deep glass bowl displaying the beautiful colors.
Honestly, either way is absolutely beautiful and will be a showstopper at your BBQ, picnic, or family get together!
This Patriotic Red, White & Blue Fruit Salad is almost too pretty to eat…almost. 😉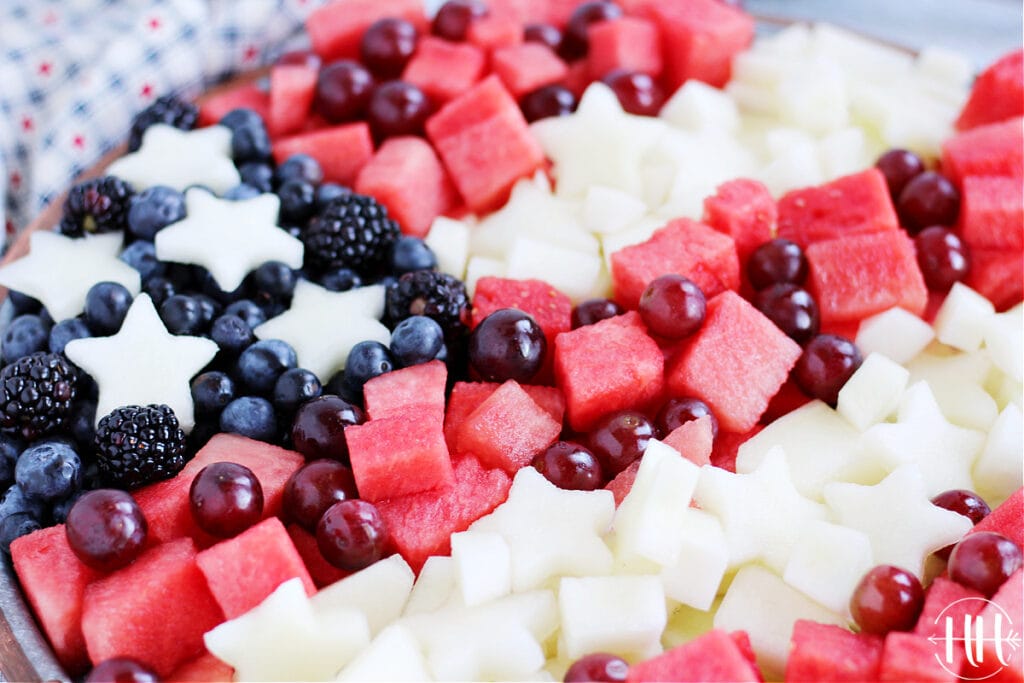 It can be tricky to find white melon like canary melons, but honeydew melon will work too! This was my first time purchasing a canary melon and I loved the texture. It was tender like cantaloupe and super sweet!
If you are lucky enough to find a canary melon – Yay! God was smiling on me the day I went shopping because there was one left amongst the melons. Woot woot!
If not, here are a few other white fruits or vegetables you can use: pears, apples, jicama, white nectarines, or white peaches.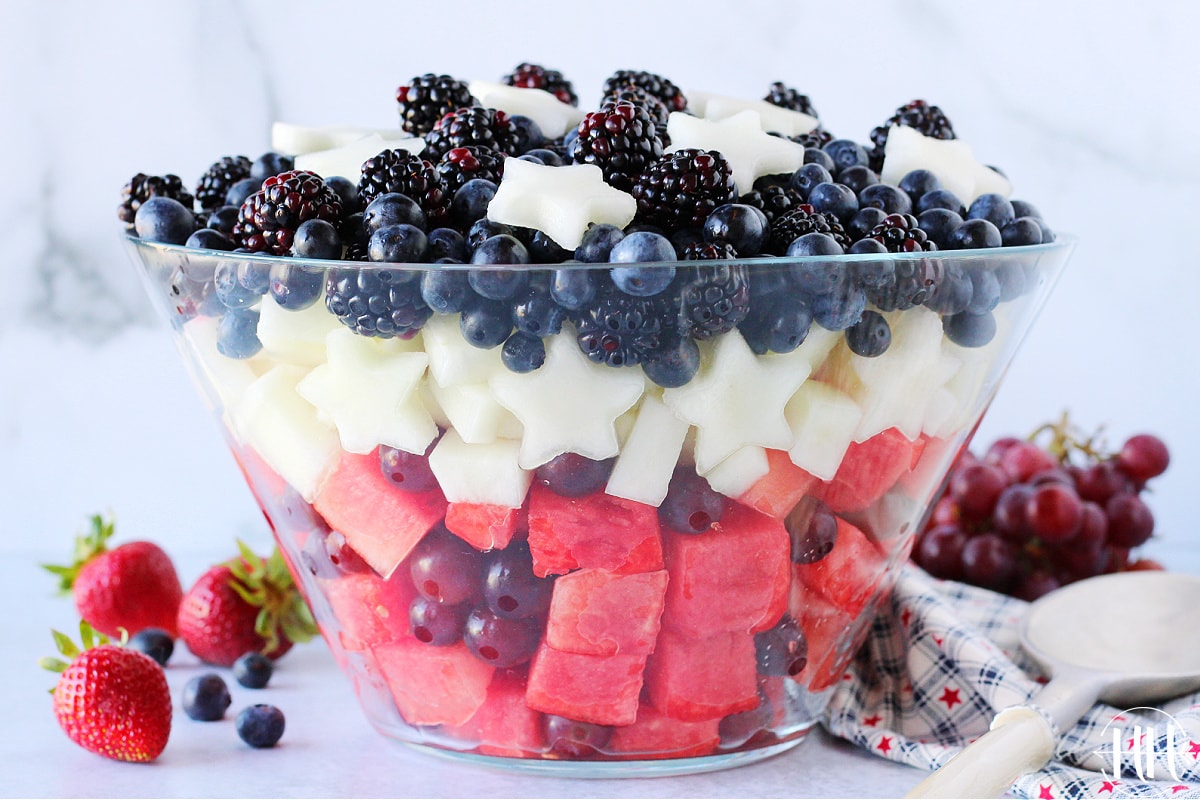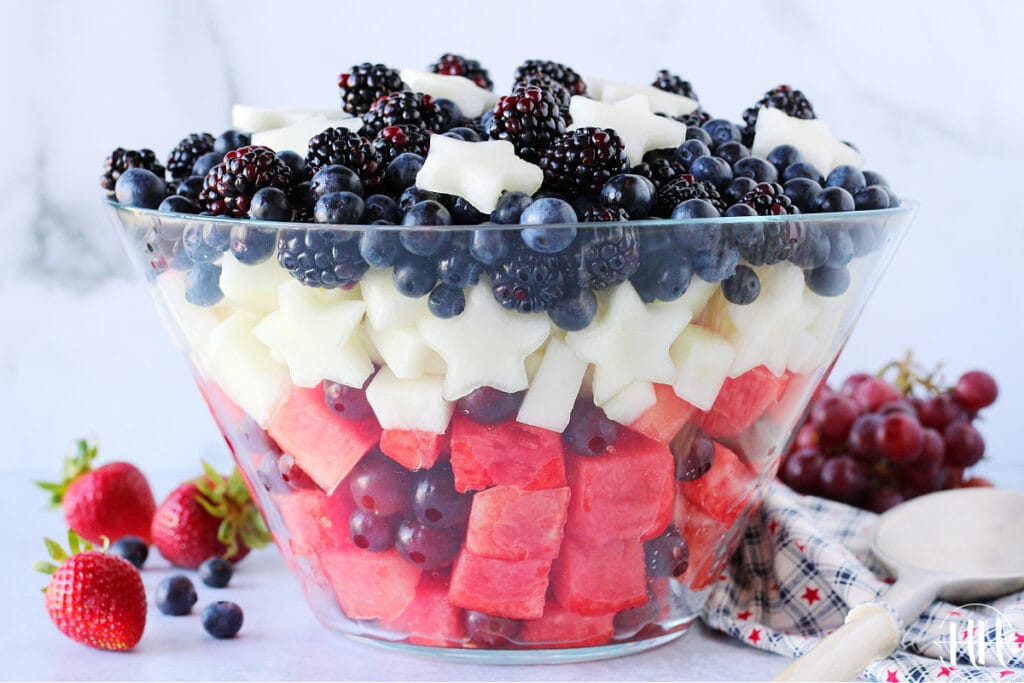 My family and I are obsessed with watermelon during the summer months so that is my go-to red fruit in this salad along with red grapes.
The blue is achieved with fresh blueberries and blackberries.
If you have small fruit cutters use a star-shaped one to cut thinly sliced pieces of canary melon.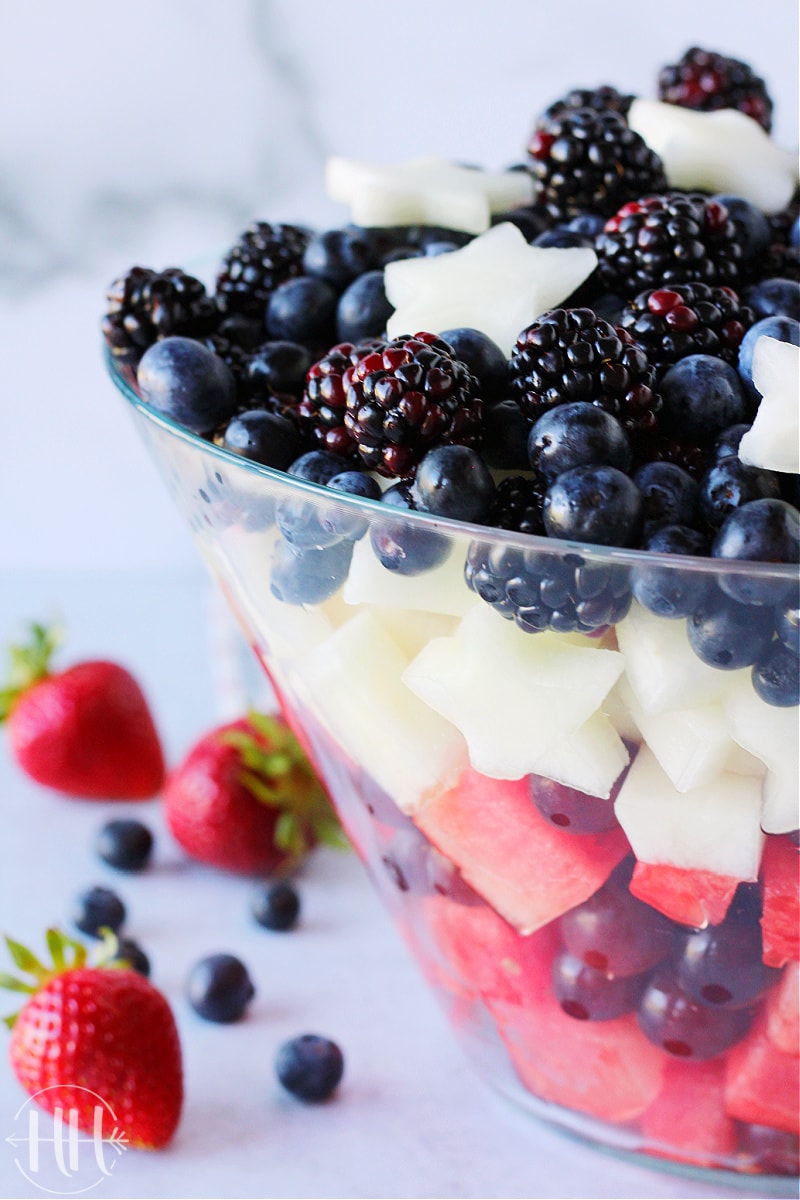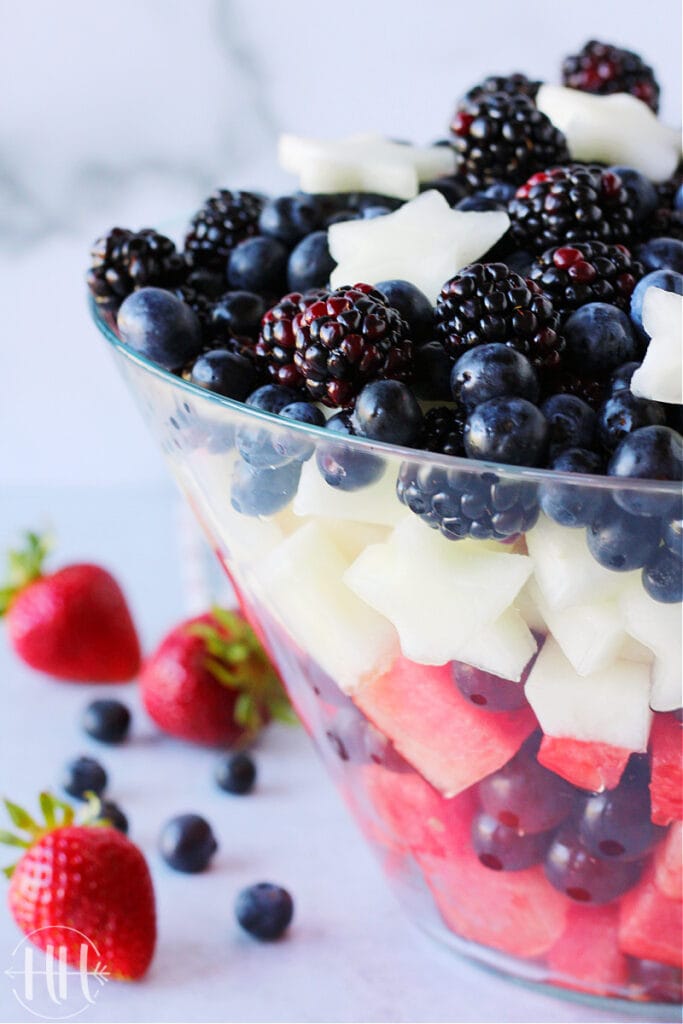 Here are a few more healthy patriotic recipes for you to try:
I am so excited for you to make your own Patriotic Red, White & Blue Fruit Salad!
When you do, be sure to show me on social media. It always blesses my heart to see your creations. 🙂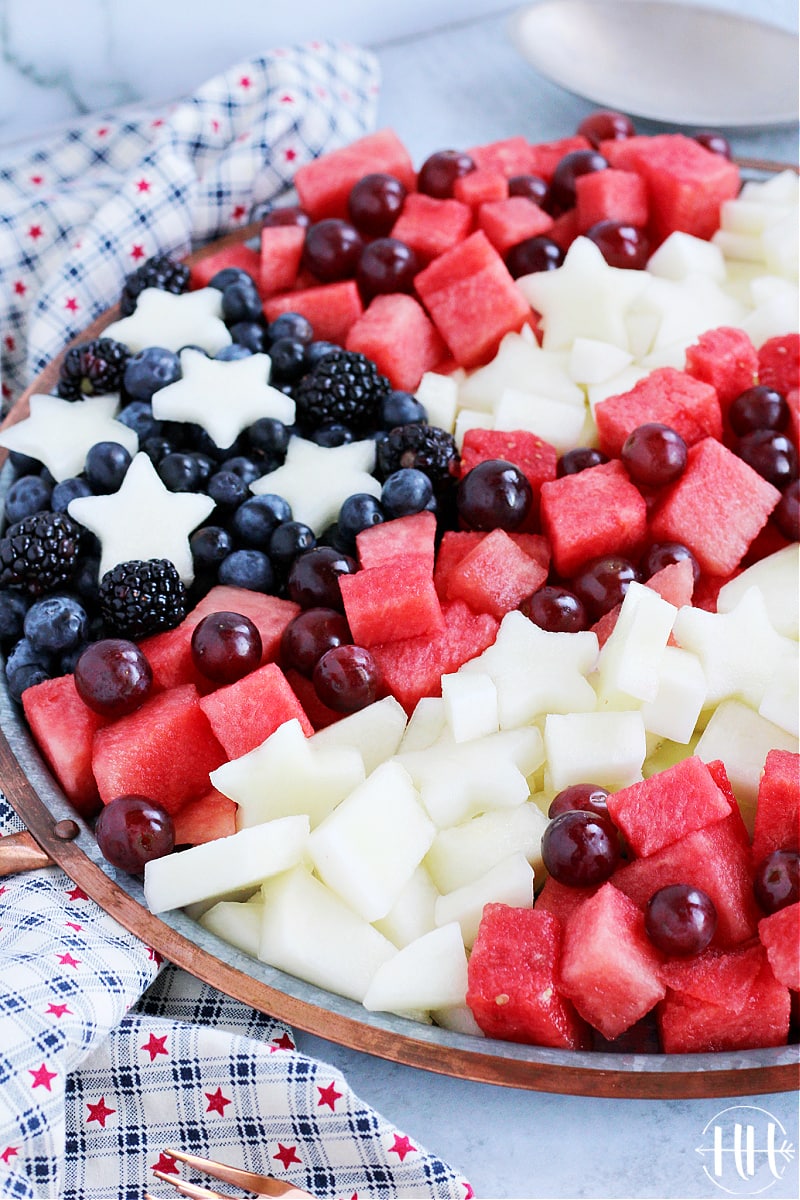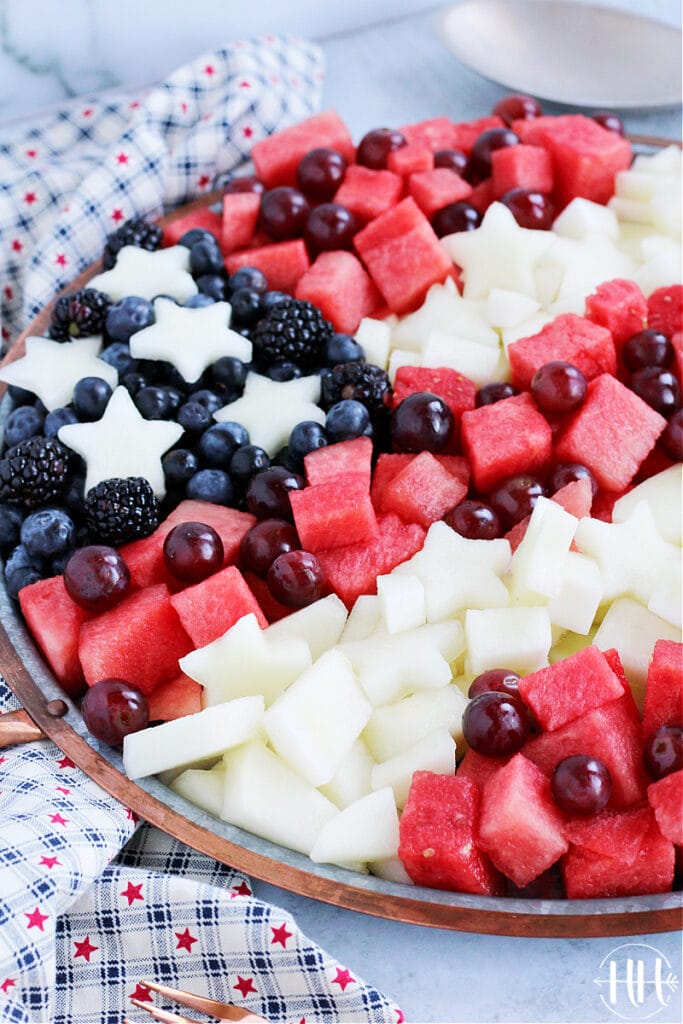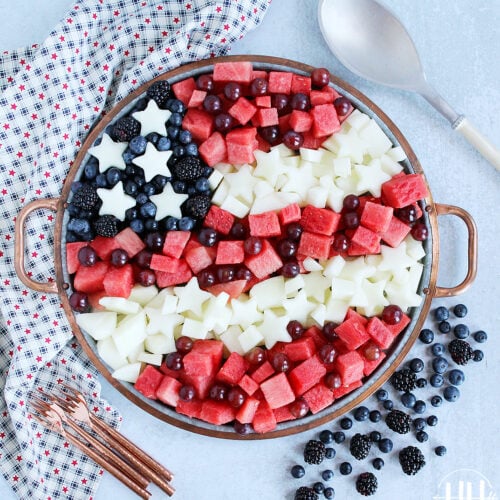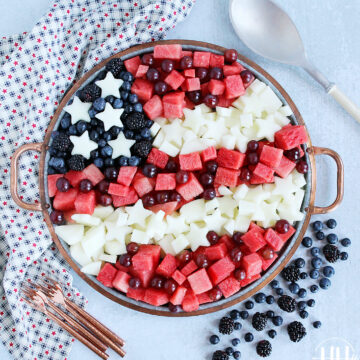 Print Recipe
Patriotic Red, White and Blue Fruit Salad
The BEST Patriotic Red White and Blue Fruit Salad | This vegan, dairy free, gluten free, and super FUN salad can be made into a healthy fruit bowl or beautiful fruit tray. Use watermelon, white canary melon (star fruit cutters for the win!), and blueberries to make this fruit salad for get togethers like a July 4th party, Labor Day picnics, and Memorial Day BBQs. Use as a clean eating dessert in fruit platter form to celebrate the USA as 4th of July food!
Equipment
cutting board

knife

large clear glass bowl

large platter
Ingredients
1

watermelon

1

white canary melon

or other white fleshed fruit or vegetable

24

oz

fresh blueberries

12

oz

fresh blackberries

1

lb

red grapes
Instructions
Remove green rind from watermelon and cut watermelon flesh into bite-sized pieces. Place in the bottom of your large clear bowl OR set aside to assemble flag on large tray.

Wash and dry grapes and remove from stem. Add to watermelon pieces in the bowl or tray.

Remove rind from white canary melon and slice the melon into large flat pieces. Use star-shaped fruit cutter to cut into stars. Set aside to assemble flag tray or place 3/4 of the pieces on top of the watermelon in your large clear bowl.

Wash and dry blueberries and blackberries. Place on top of white melon pieces in large bowl or set aside to assemble flag tray.

If you made the salad in a large bowl, use the remaining white melon stars to top your fruit salad and serve.

If you are making the flag pattern on a large tray go ahead and assemble the fruits in order. Do horizontal red stripes with watermelon and grapes, white stripes with canary melon, and a blue rectangle in the left top corner with blueberries and blackberries. Top the blue area with several white stars and serve!
Notes
If you have trouble finding a white melon like a canary melon use other white fruits or vegetables such as pears, apples, jicama, white nectarines, or white peaches.