This recipe post has been revised and updated from it's original version (Nov 2014).
I am in love.
Yes, with my husband and children, first and foremost, but then with these delectable pumpkin beauties.
My Pumpkin Chocolate Chip Energy Balls, formerly known as Thank"slimming" Pumpkin Bites, are simple to prepare and pack a WHOLE lot of flavor.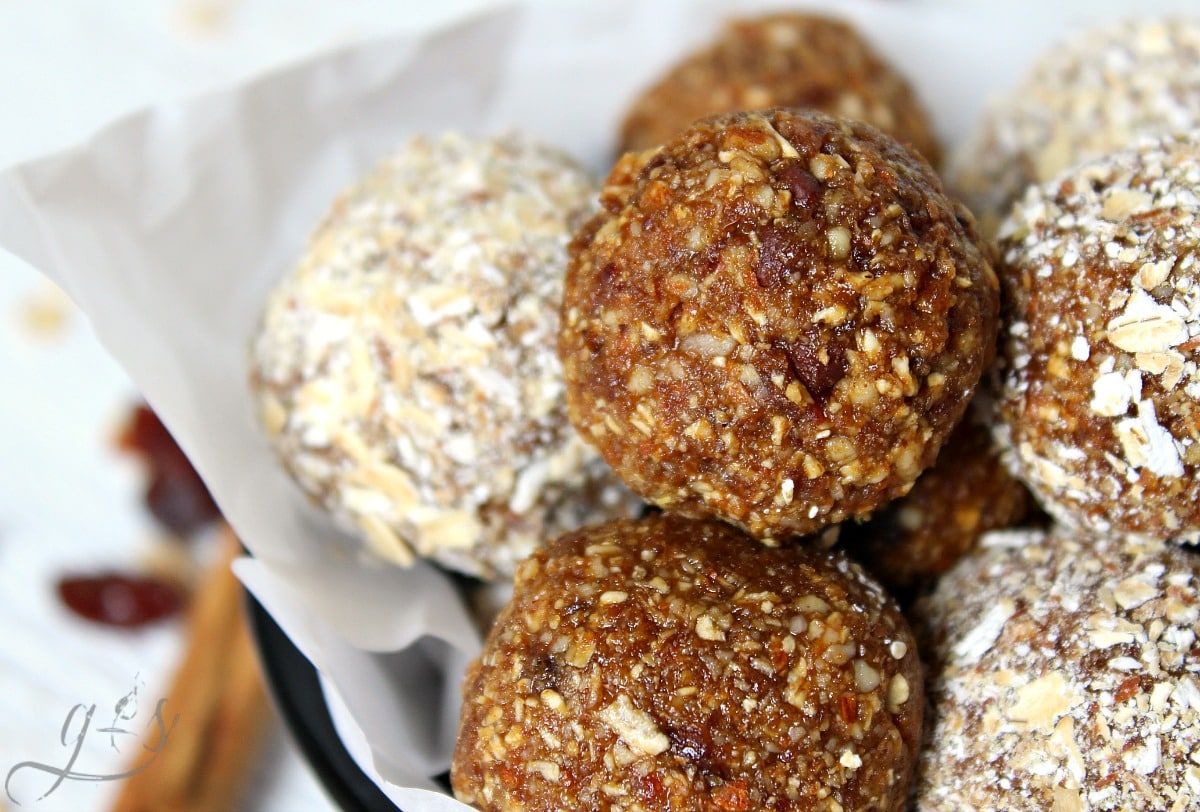 These flavorful energy bites will quickly get you into the "fall spirit". You know falling leaves, sweaters, and of course, pumpkin flavored EVERYTHING! Pumpkin spice latte, anyone?
These bites fulfill the autumn flavor quota with pumpkin puree, pumpkin pie spice, and molasses being the stars of this recipe.
A truly comforting and delectable flavor profile if you ask me. 🙂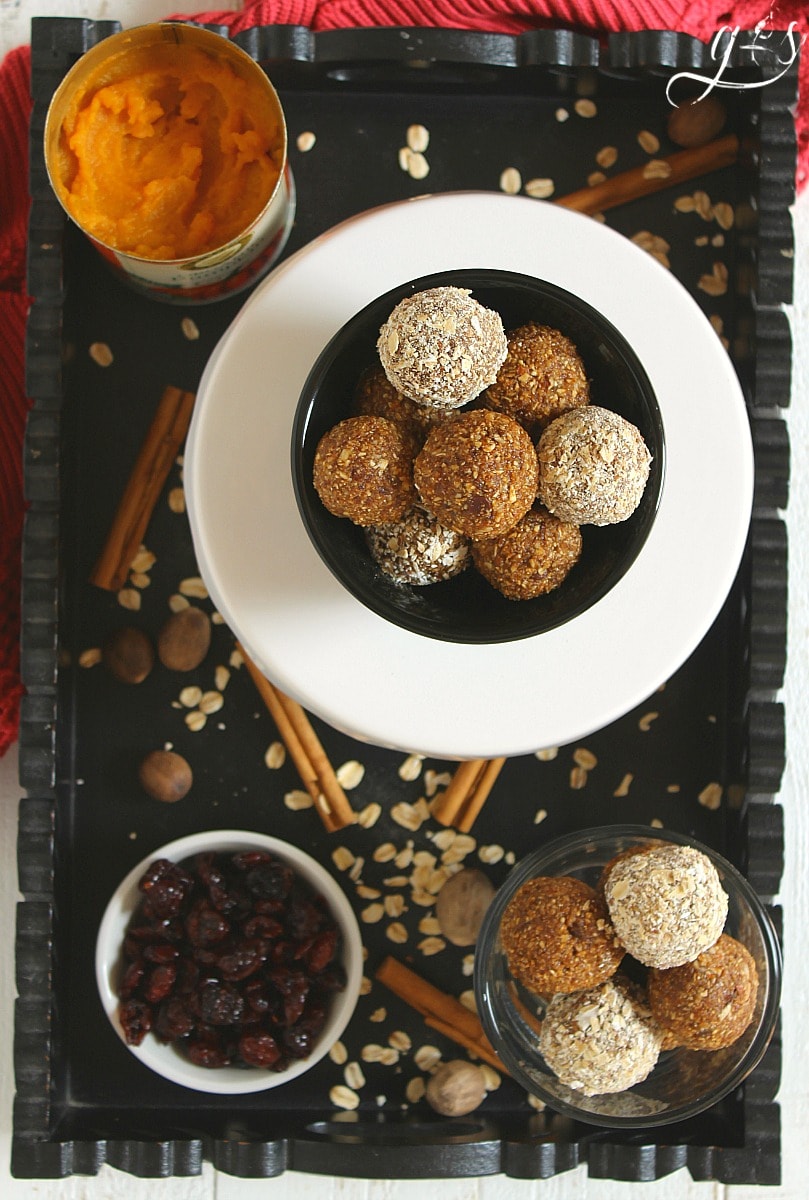 I have served these many many times and my family and friends always ask for the recipe!
There is just something about the poignant pumpkin flavor, richness of the molasses, and sweetness of the dates that combine into the most delicious little bites of fall.
Keep in mind though…they are only "slimming" (remember their catchy former title?) if you have 1-2 "bites"! Almonds, dates, and honey pack a whole lot of energy. If you aren't using that energy on a refreshing fall hike or raking leaves, your jeans might start to rebel. 😉
These Pumpkin Chocolate Chip Energy Bites are the perfect fall snack!
Click To Tweet
True pumpkin lovers will want to double this recipe! If you are anything like me, you will eat half the mixture right out of the food processor and then be disappointed when tomorrow comes and you only have 2 bites left. True story. Ya, my jeans hate me. Ha!
I toss a few frozen bites in lunchboxes because they are thawed and ready to eat by snack time!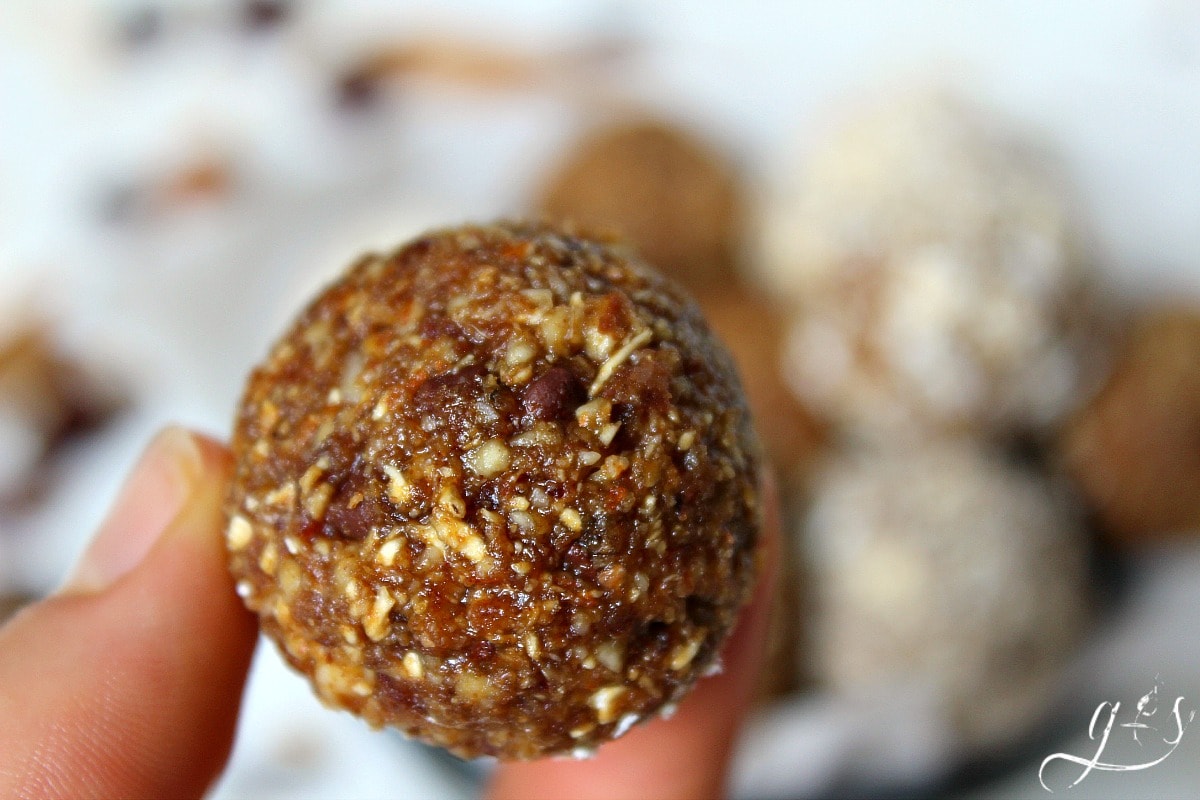 Seeing as we are in the mood for fall around here, I thought I would share a few more of my favorite recipes!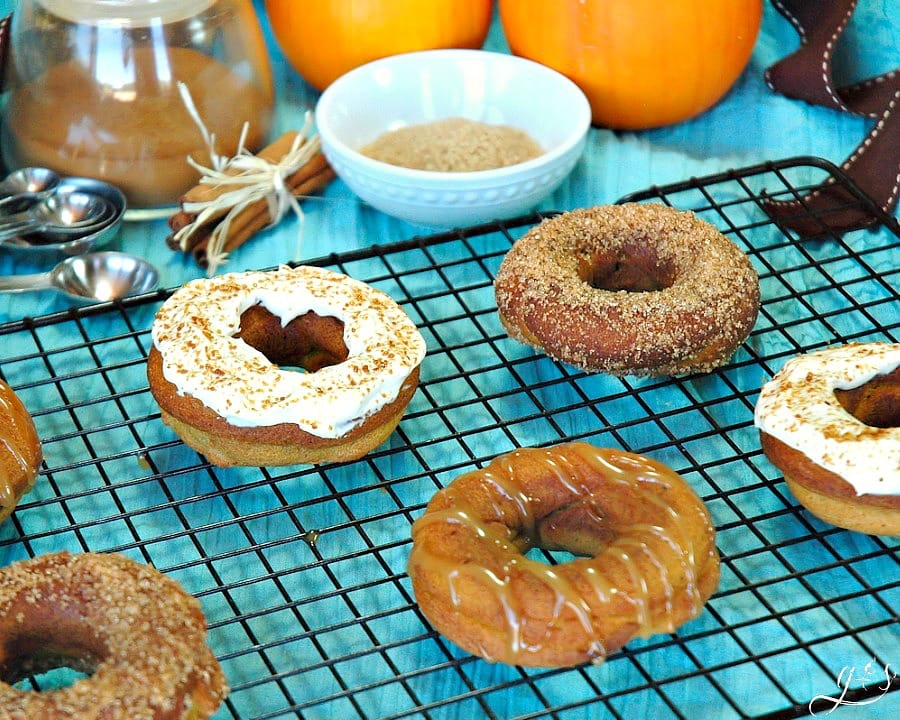 Seriously, you can't go wrong with these donuts! Top them with a maple cream cheese, drizzle of maple coconut butter, or a cinnamon and sugar mixture.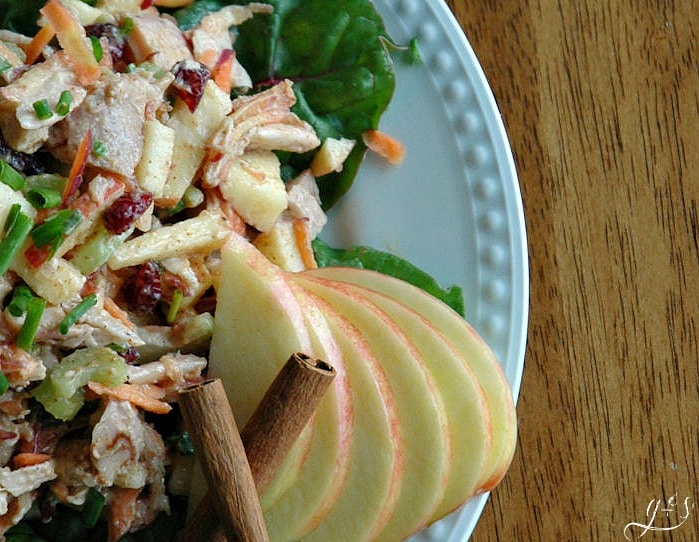 If you have leftover turkey, this recipe will fulfill all of your fall salad dreams. 😉 It has a touch of cinnamon and nutmeg…like…ahhhmazing!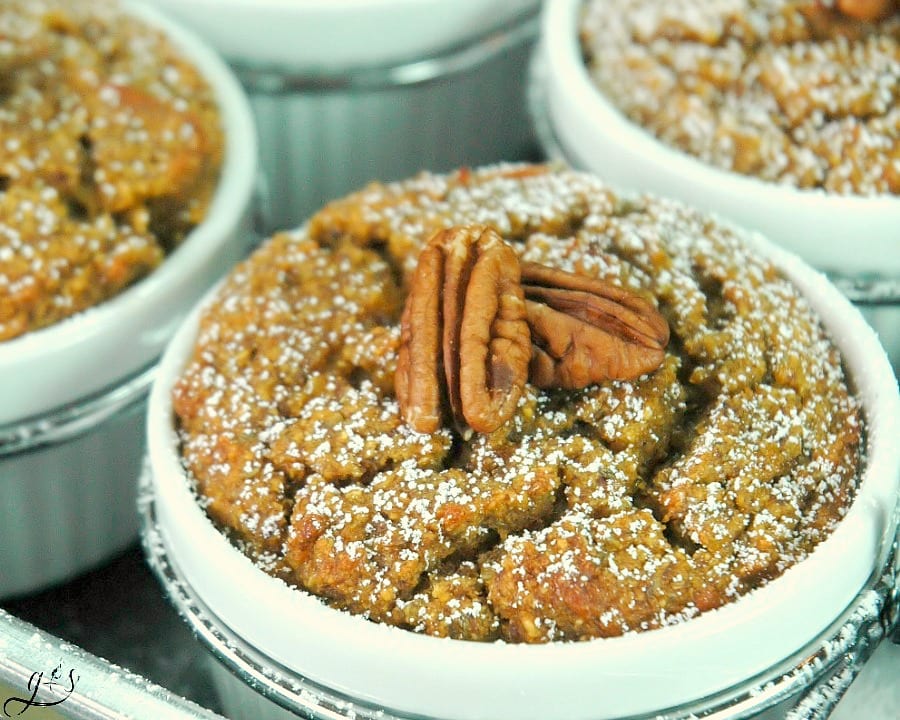 This is your go-to fall breakfast especially if you have anyone with food allergies. It is "free" of everything (sugar, dairy, gluten, and grains) yet tastes like a rich bread pudding.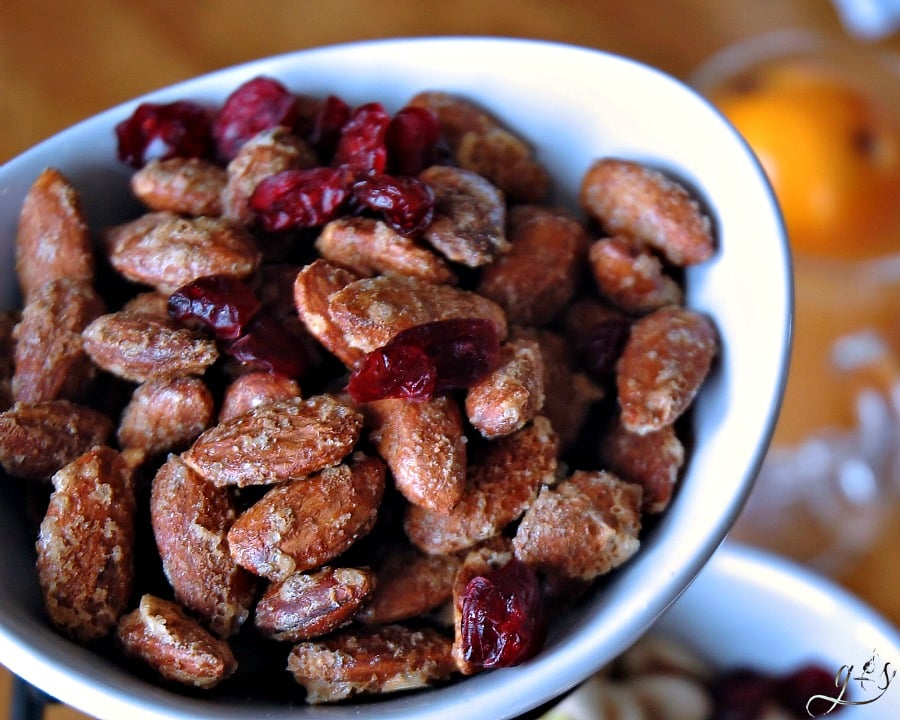 I am so thankful that my best friend, Sarah, makes these for me each year! It is like our unspoken rule that these have to be in my diet starting Dec. 1st.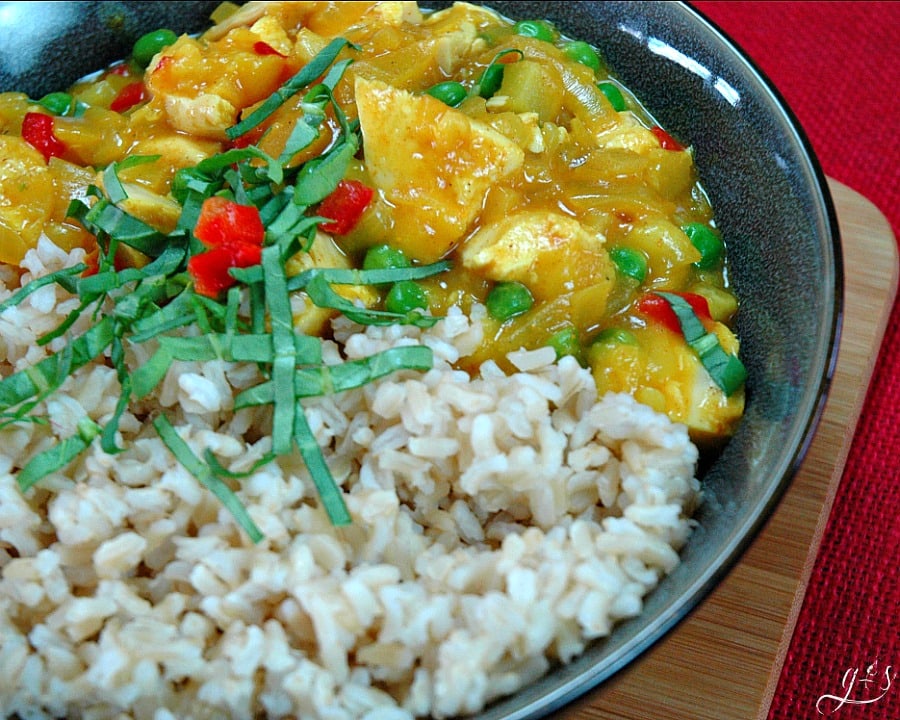 Curry is one of my favorites and this simple recipe makes the most of your leftover turkey. There is even a secret ingredient that makes this recipe dynamite!
Okay, onto these Pumpkin Chocolate Chip Energy Balls!
Oh, and be sure to check out this guide, 121 Delicious Healthy Snacks For Every Type of Snacker! You can search for healthy snacks depending on the amount of calories, fat, sugar, or allergens that you are concerned about. You have to check out their simple Baked Pears with Walnuts and Honey snack recipe. YUMMO!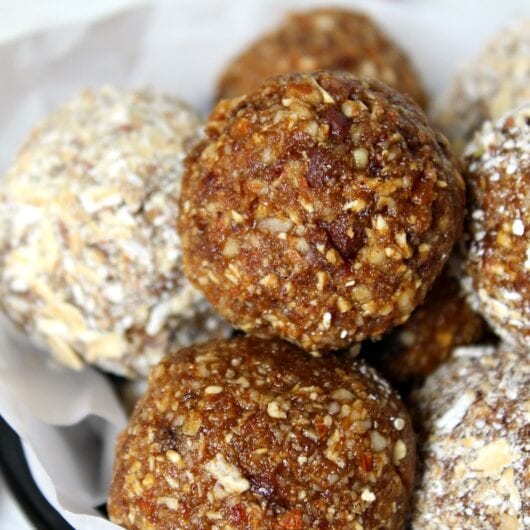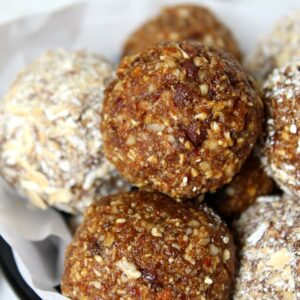 Print Recipe
Pumpkin Chocolate Chip Energy Bites
The BEST Pumpkin Chocolate Chip Energy Bites | These healthy no bake snacks are easy to prepare and packed with all the flavors of pumpkin pie! All the delicious tastes of fall are present: pumpkin puree, pumpkin pie spice, and molasses. This clean eating food is perfect for a skinny dessert, post workout pick-me-up, breakfast side, or a fun snack for families who love autumn flavors. You will love the addition of oatmeal and honey in this sweet recipe too! Find more recipes like this at groundedandsurrounded.com
Ingredients
1

cup

pitted and dried dates

1/4

cup

honey

1

Tbsp

molasses

2

tsp

vanilla extract

1/4

cup

pumpkin puree (not pumpkin pie mix)

2

Tbsp

ground flax seed

1

tsp

pumpkin pie seasoning

1/8

tsp

sea salt

1.5

cups

old fashioned oatmeal

1

cup

almonds

(see notes)

1/4

cup

dark chocolate chips

1/4

cup

dried cranberries (optional)
Instructions
In food processor, add dates, honey, molasses, vanilla, and pumpkin puree. Process on low until ingredients are well blended.

Add in remaining ingredients and pulse until the mixture forms into a ball. You can swap out the chocolate chips for the dried cranberries or add both for an extra dose of sweetness!

Roll into small balls (think size of a large grape) and store in the fridge for a couple weeks or freezer for months.
Notes
*Sliced almonds work best, but I frequently use whole almonds. If using whole almonds, pulse them before you start the recipe to break them up a bit. Then remove from food processor and set aside to continue with Step 1. By doing this you won't have large chunks of almond in the finished product.
Recipe adapted from Robin at Knead to Cook.