As much as I love brownies, I REALLY love these Gluten Free Peppermint Essential Oil Brownies.
Yep, you read that right. There is an essential oil in this recipe.
I had never used them in my baking or cooking until these brownies last Christmas.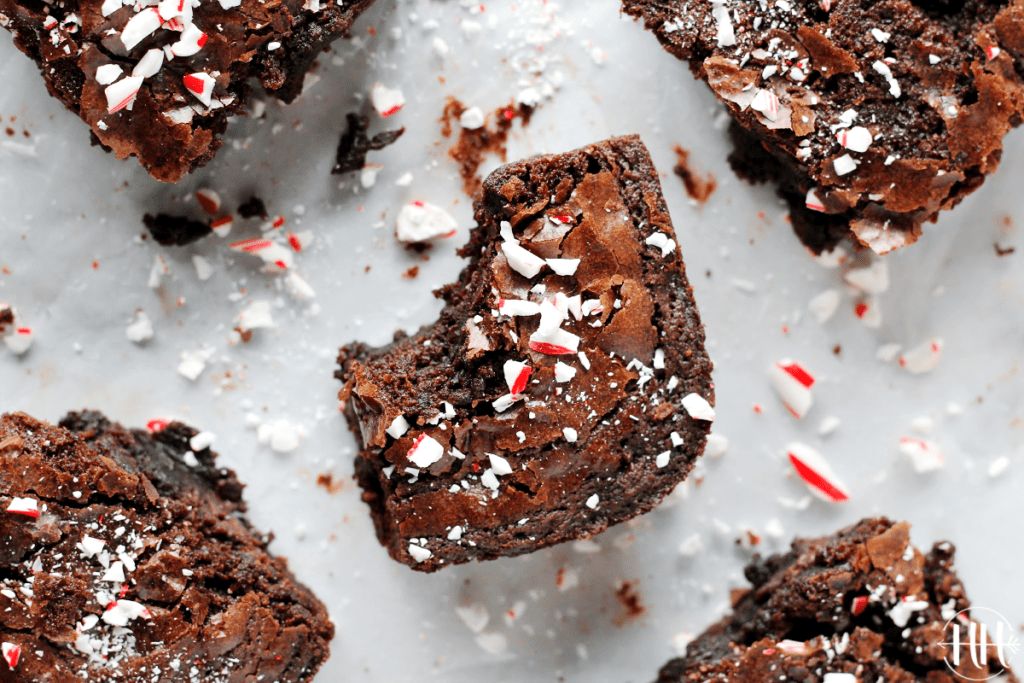 Thanks to my friend, Jacey, I now know how delicious oils can be in food.
So skip the extracts and use peppermint, nutmeg, clove, and any other festive essential oils in your recipes this season.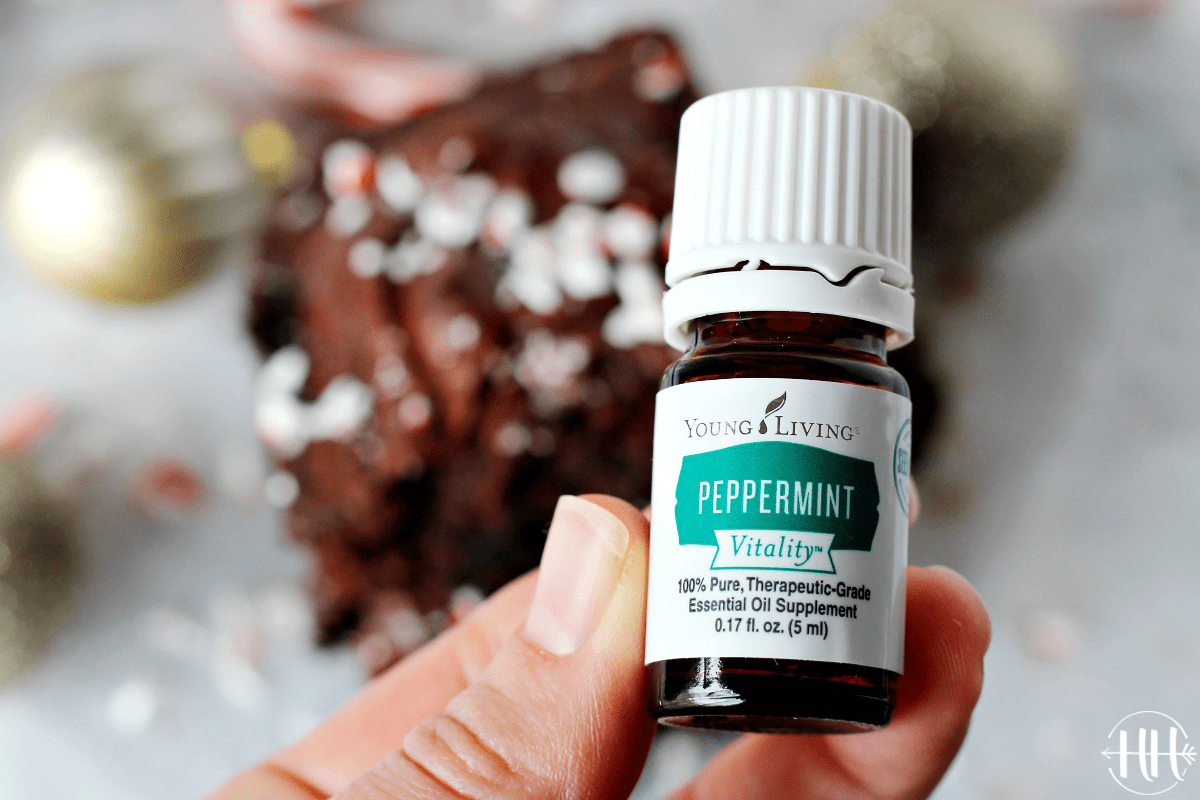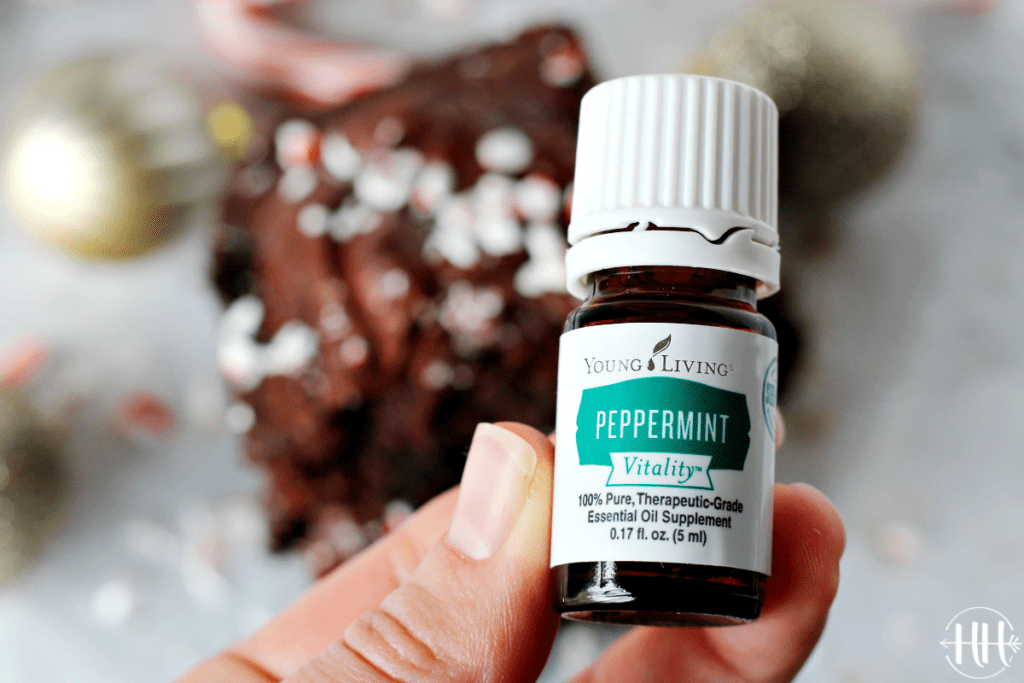 This particular recipe is perfect for last minute holiday get togethers, school programs, or those famous Christmas goodie trays.
You can also bake the Gluten Free Peppermint Essential Oil Brownies ahead of time and freeze to use later.
By using a boxed brownie mix, 3 drops of peppermint essential oil, and a crushed candy cane you have the most delicious and festive dessert to share.
I have used both a gluten free brownie mix like this recipe and a regular "gluten filled" mix too.
These brownies have turned out well each time and have the perfect amount of peppermint.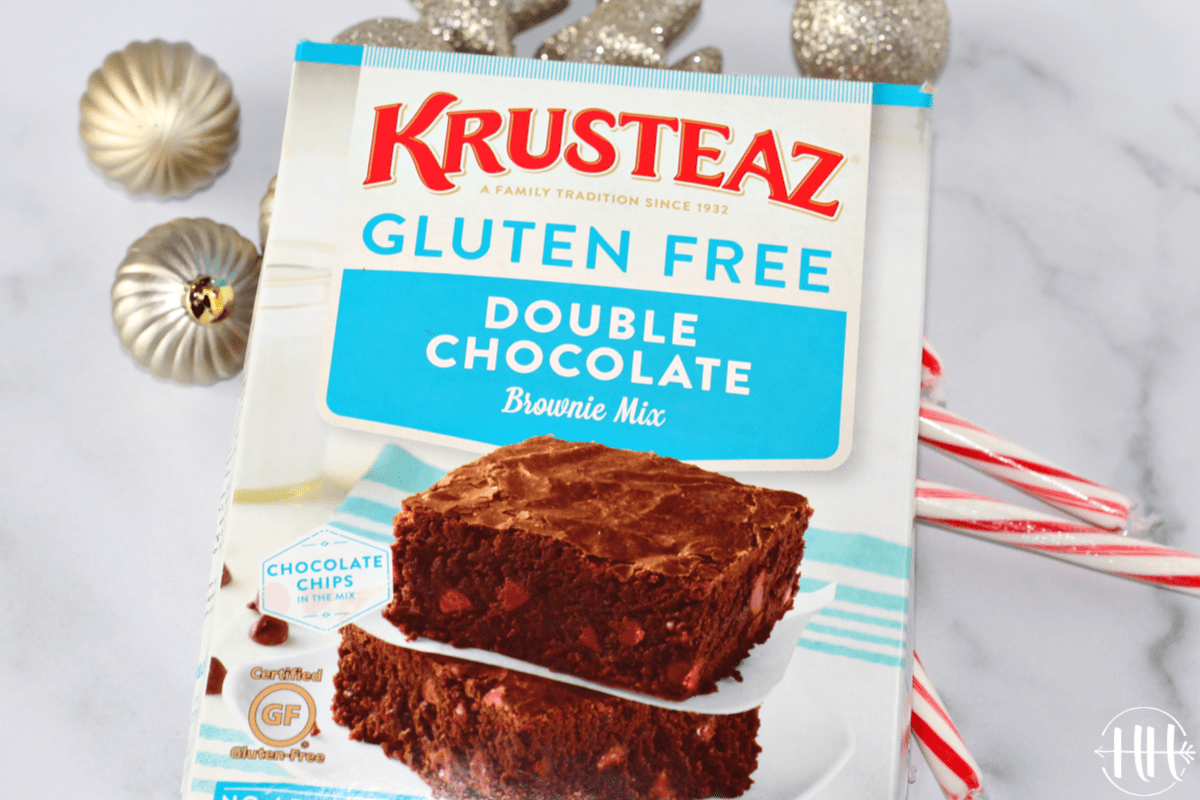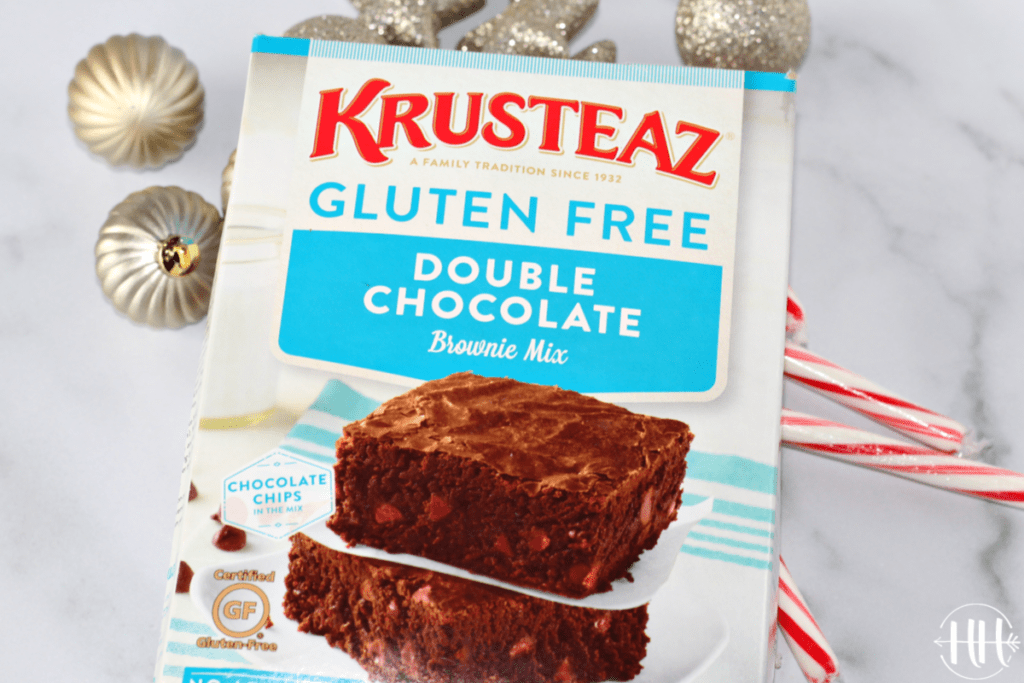 The Krusteaz Gluten Free Double Chocolate Brownie Mix was straight up ahhhmazing! There are real chocolate chips hidden in the batter and make for the ooey-gooey super chocolately texture we all love in brownies.
Three drops of essential oil seems to be just the ticket!
Too many drops and you have toothpaste flavored brownies and too little you won't taste the holiday flair.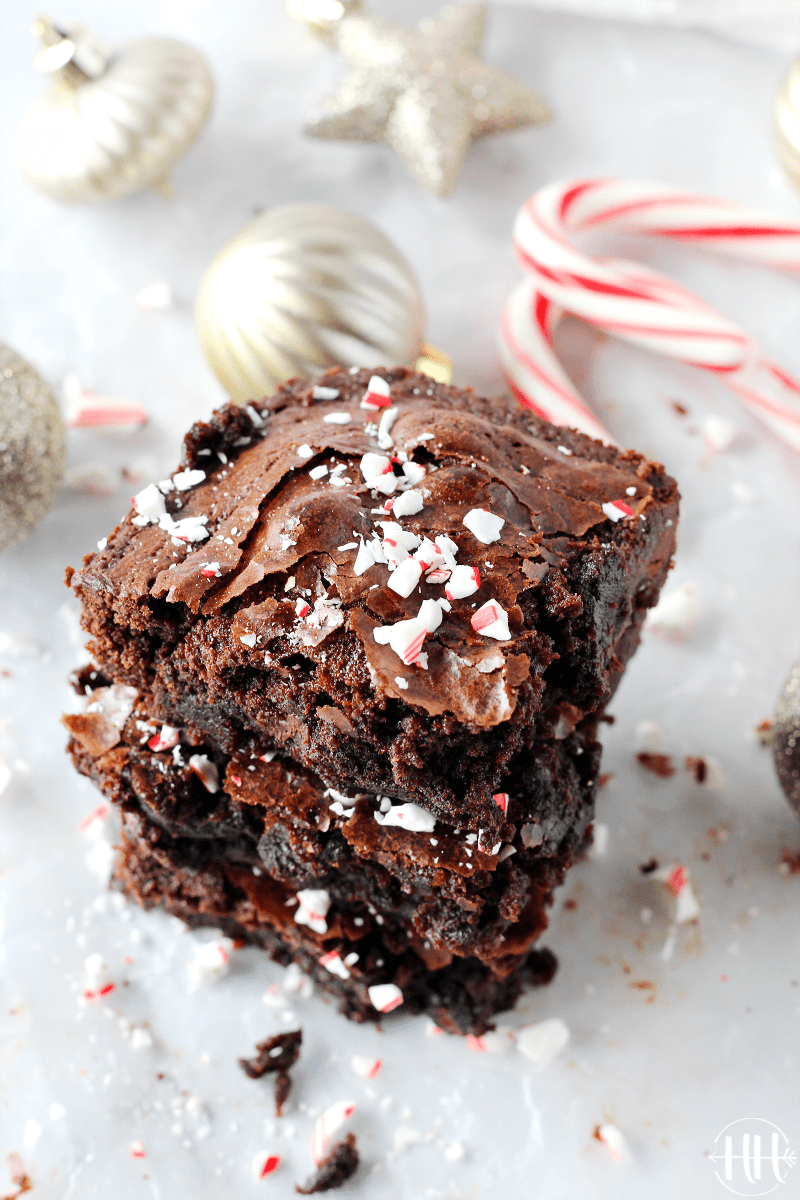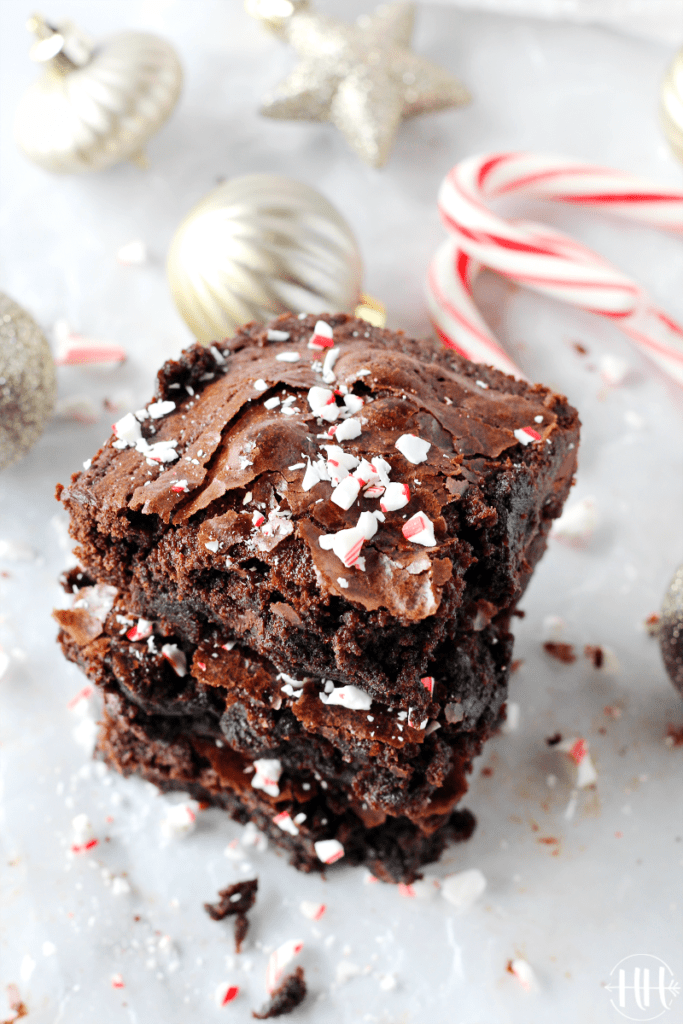 To really kick these brownies up another holiday notch, cut them into isosceles shaped triangles, stick a small piece of candy cane in the short end of the triangle and frost the Christmas tree brownies with green frosting.
Then sprinkle the peppermint brownies with the crushed candy canes! So cute!
I have seen this idea for years now and have yet to do it, but who knows maybe this will be the year.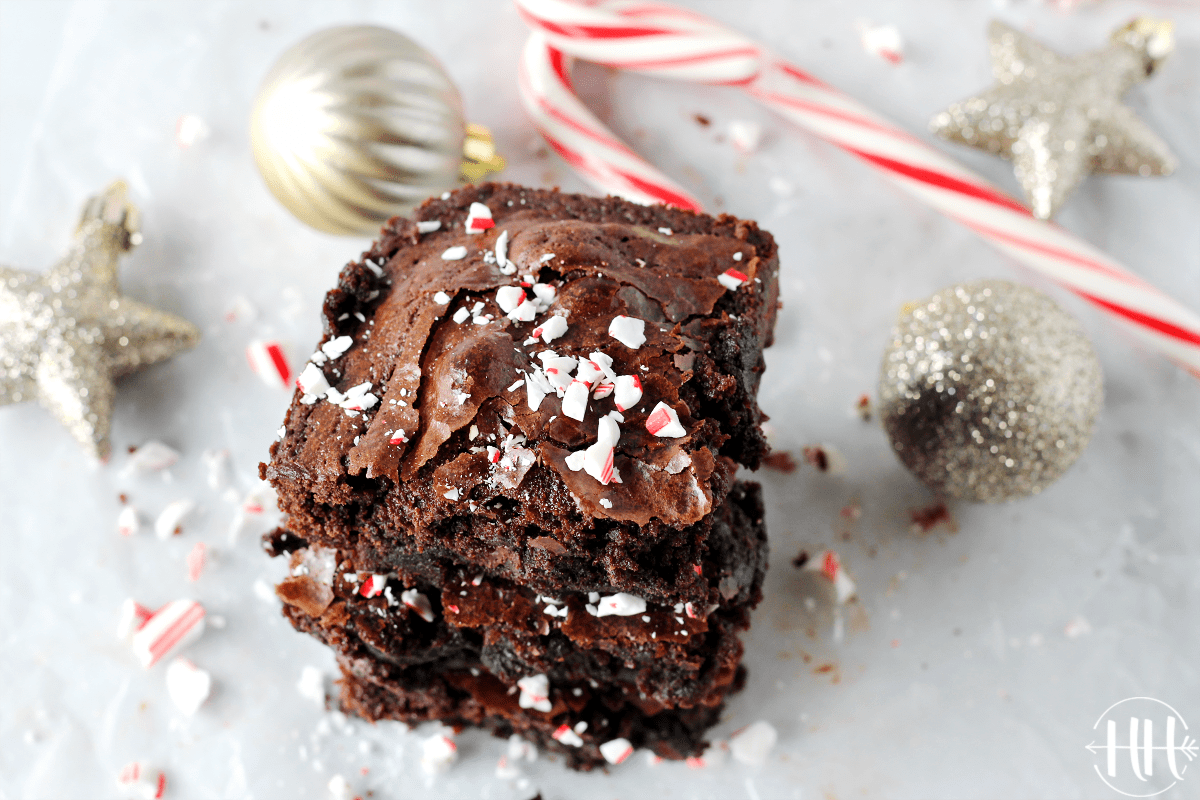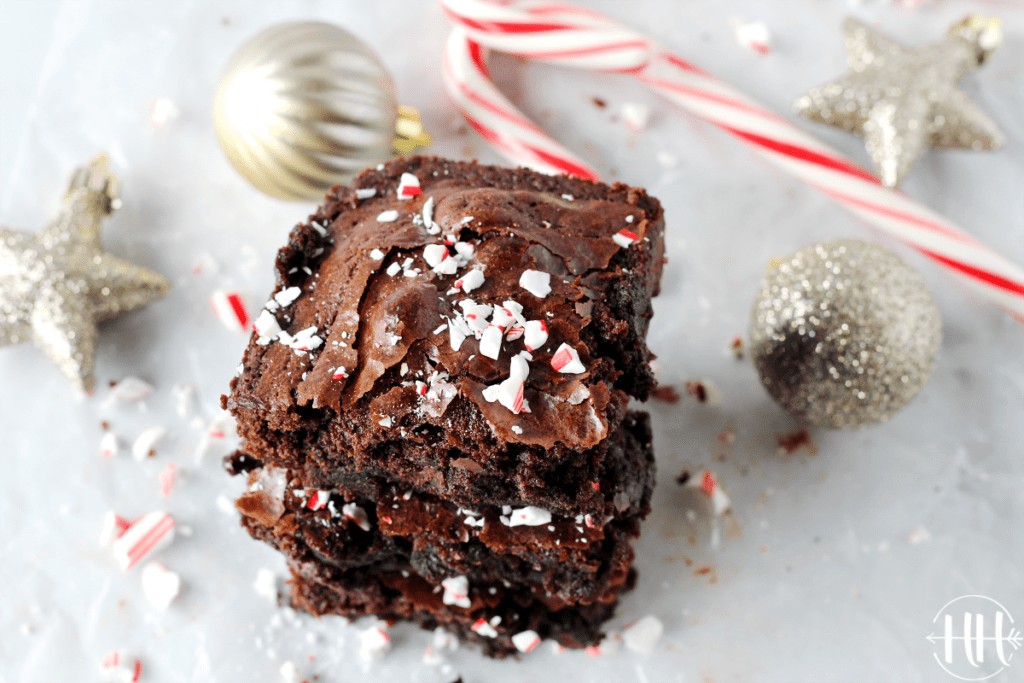 Please for the love will one of you do it with this Gluten Free Peppermint Essential Oil Brownies? That would make me so happy!
I wish you all a VERY Merry Christmas and hope you will remember the REAL reason for the season- JESUS.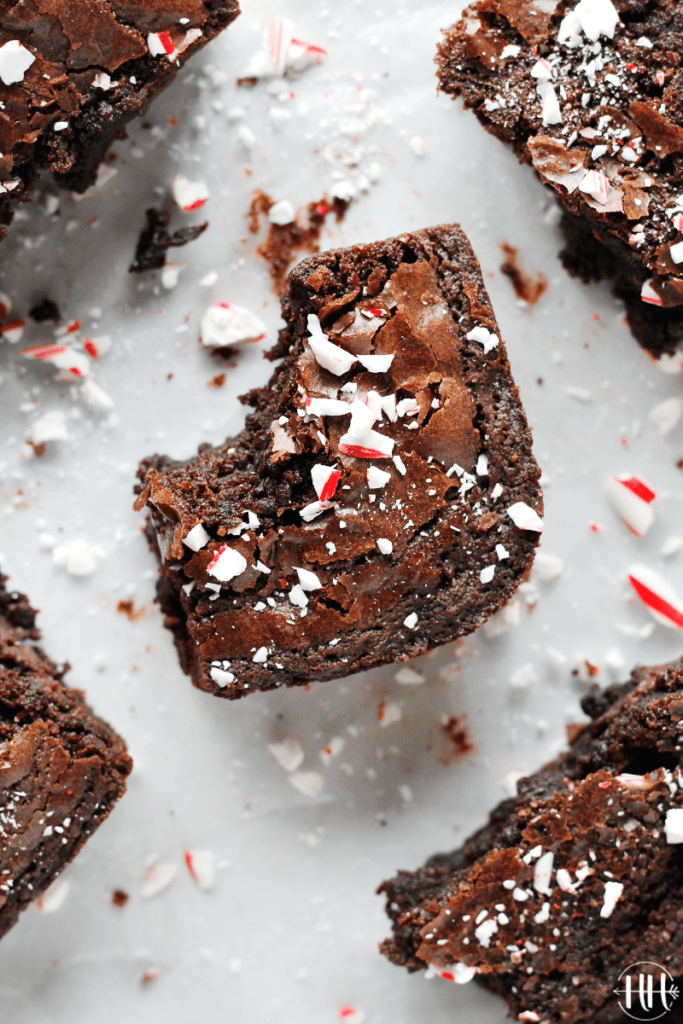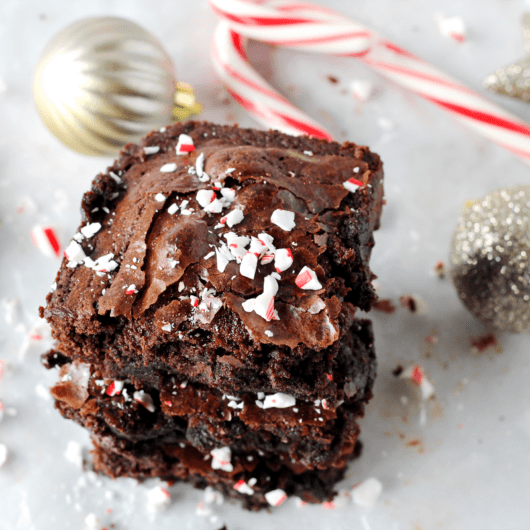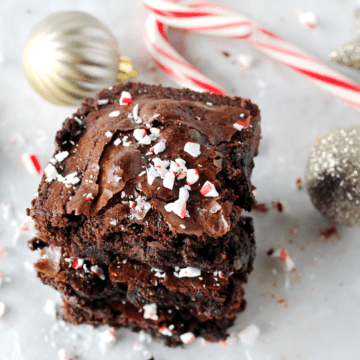 Print Recipe
GF Peppermint EO Brownies
This easy holiday recipe shows you how to dress up a gluten free boxed brownie mix with a few simple add ins like Young Living Essential Peppermint Oil and crushed candy canes for decoration. These homemade brownies are fudgy, chewy, and packed with chocolate chips! Don't you love kitchen hacks and ideas that use ingredients you already have in your pantry? Serve this cute dessert for kids party, give as a gift to neighbors, or eat them all yourself.
Equipment
8×8 baking pan

bowl

spatula
Ingredients
1

Gluten Free Boxed Brownie Mix

I use Krusteaz

3

drops

Peppermint Essential Oil

1

candy cane

crushed
Instructions
Spray an 8×8 glass pan with non-stick cooking spray.

Prepare brownies as instructed on brownie mix box (eggs, oil, water) plus add 3 drops of Peppermint Essential Oil to batter and mix until combined.

Bake according to instructions. Remove from oven and let cool.

Sprinkle crushed candy canes on top of baked brownies. Cut into squares and serve immediately. If you bake these brownies ahead of time and are freezing to use later, add the crushed candy canes once the brownies are thawed and you are ready to serve this sweet holiday treat!
Notes
Check out my friend, Jacey's website to learn more about essential oils and make your own Christmas goodies! http://youngliving.com
3855558 (This is Jacey's YL referral and member # for you to use at checkout!)
Feel free to use a regular brownie mix if there is no need to be gluten-free.