As soon as the weather turns crisp, my friends and I pick apples.
Lots and lots of apples!
And with all those sweet apples we create some ahhhmazing recipes.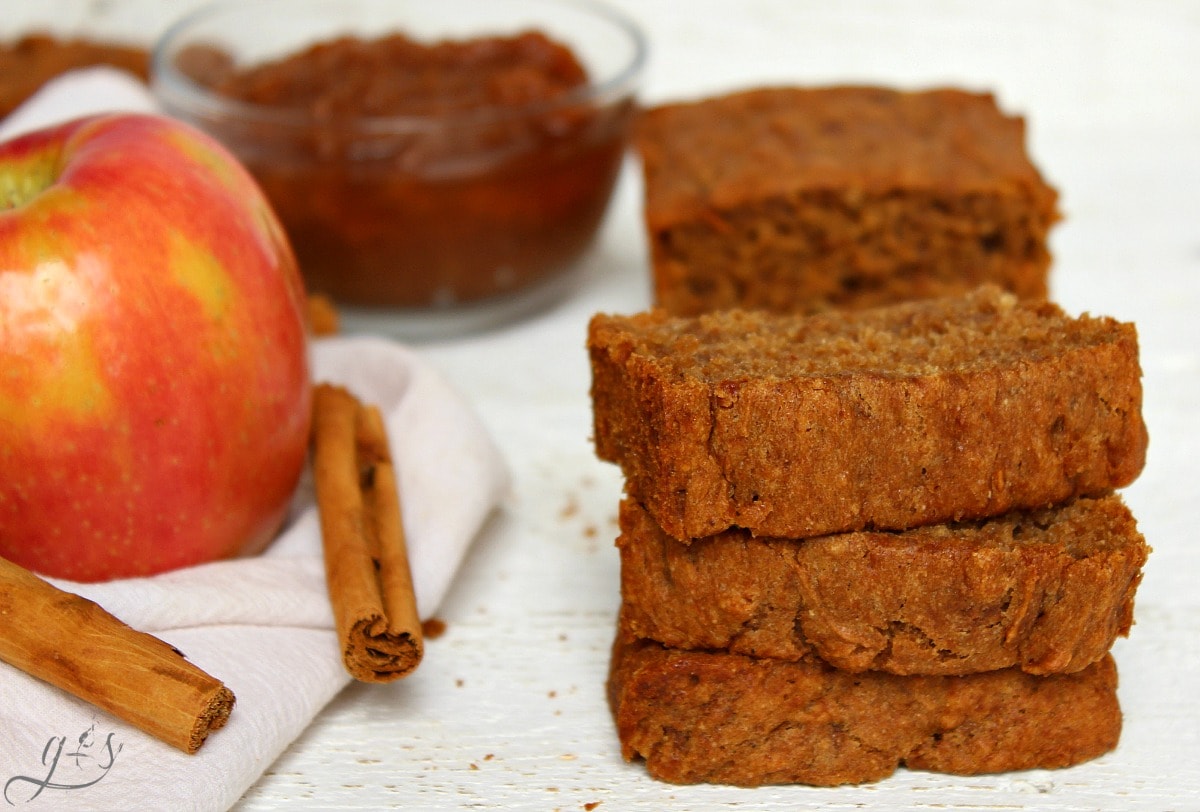 One of my favorite fall recipes is apple butter. I found a recipe years ago and have modified it to be my own. My recipe makes at least 8 cups, so I end up freezing a majority of it to use during the long winter months when I am yearning for milder weather.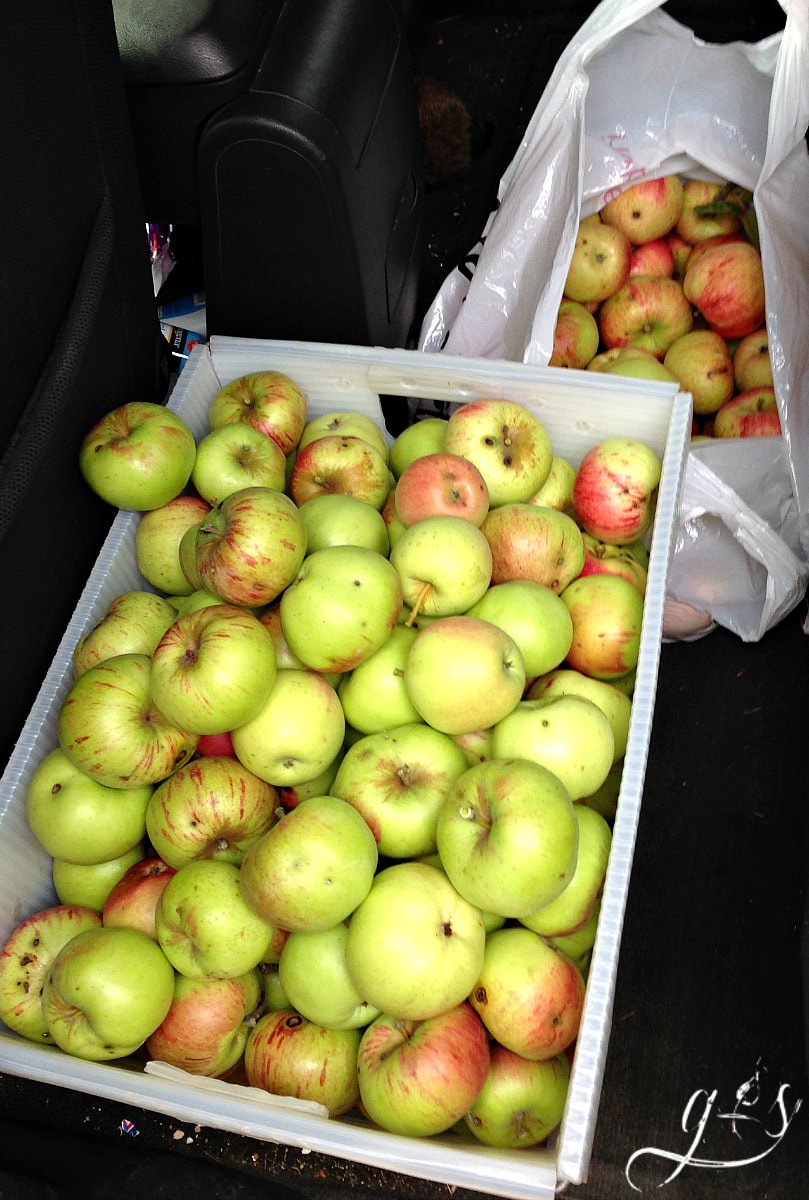 This Apple Butter Bread makes perfect use of the delicious apple butter. You will typically find apple butter muffins or bread in our freezer and lunch boxes.
This sweet bread recipe is so simple to prepare, think banana bread easy.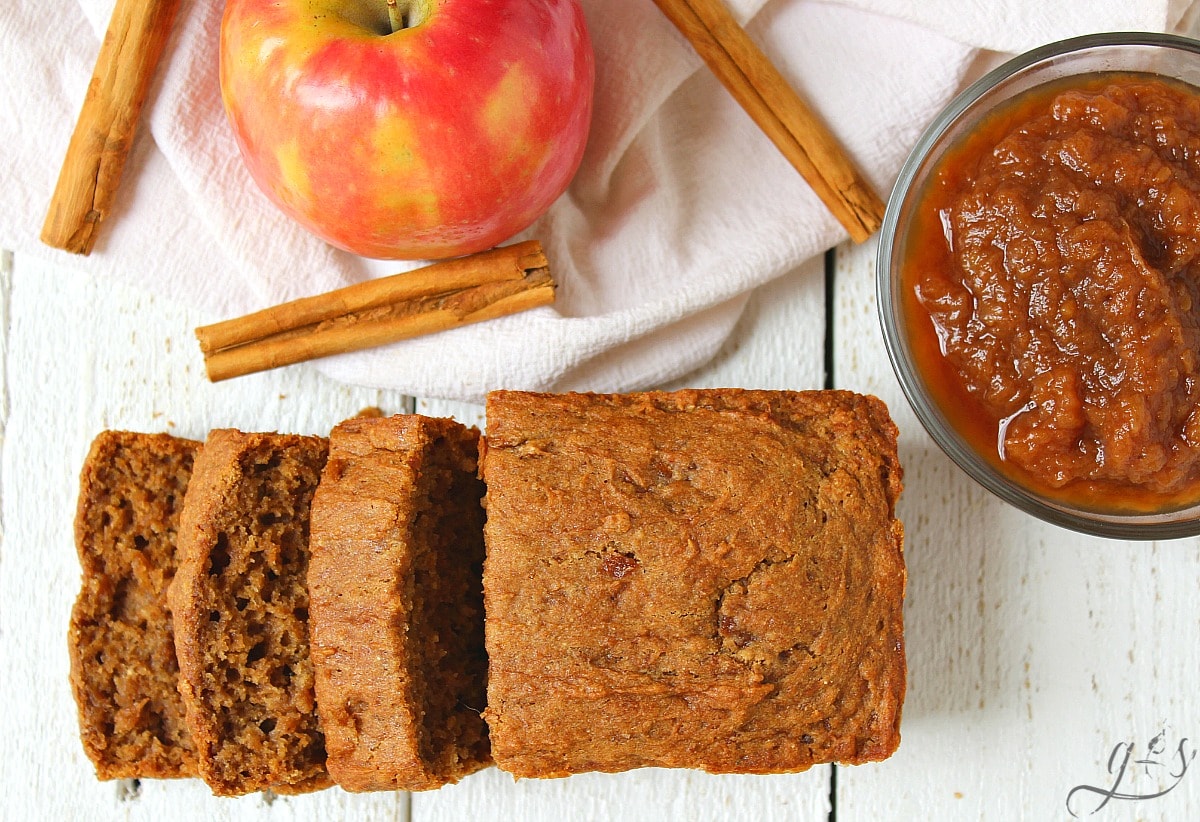 My original recipe called for whole wheat flour, but these days I opt for gluten-free as both my B.F.F.s (Best Foodie Friends) are gluten-intolerant. My Gluten-Free Flour Blend works like a charm to create a light and soft texture.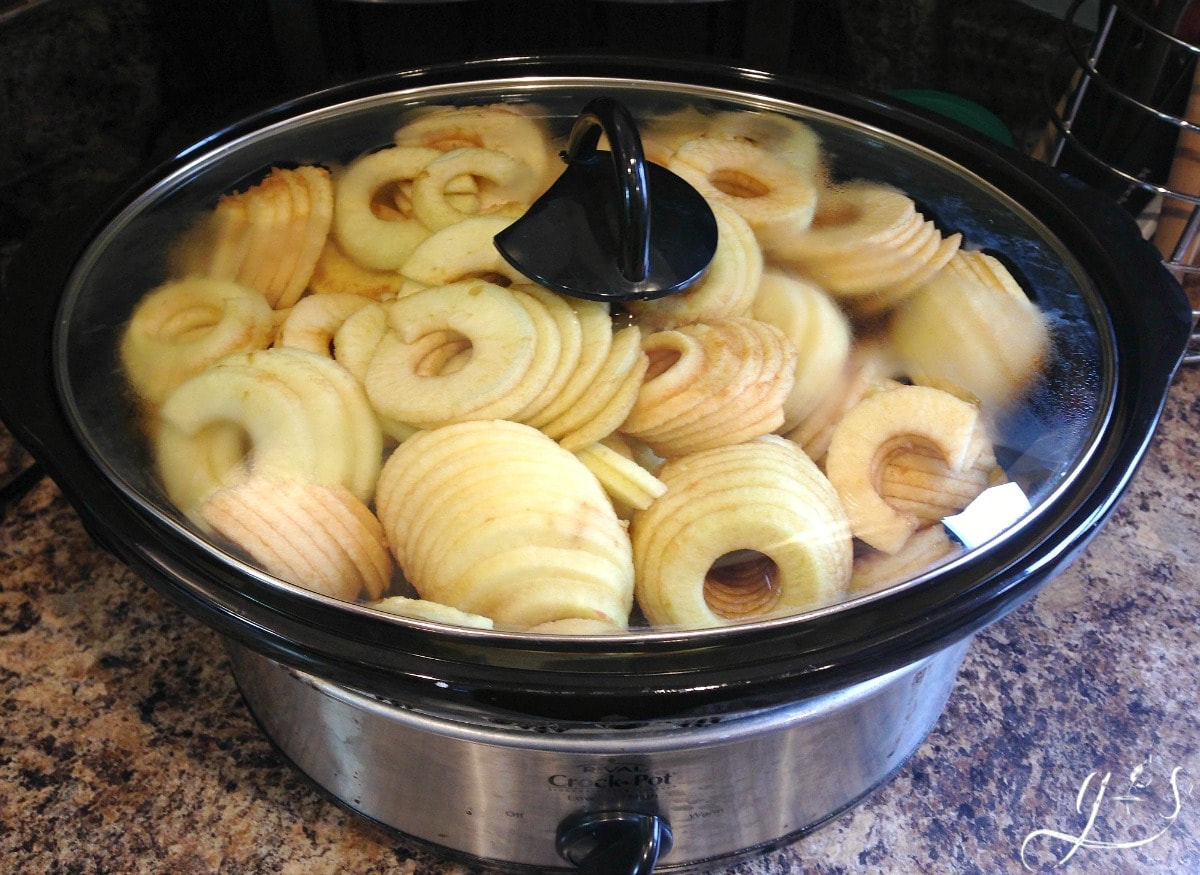 ---
Apple Butter Recipe
5 lbs apples or enough to fill a 7 qt slow cooker
2 Tbsp vanilla extract
1 cup coconut sugar
2 tsp ground cinnamon
1 tsp pumpkin pie spice
1/2 tsp ground cloves
Peel and slice apples by hand or with an apple peeler/slicer (I use one from Pampered Chef). Add peeled and sliced apples to slow cooker along with the vanilla.
Cook on LOW 6 hours, stirring every hour. Then mash with a potato masher. It should look "applesaucy".
Then mix in the sugar and spices. Cook on LOW another 4 hours stirring every hour.
By hour 10, the apple mixture should be dark in color and have reduced. Turn slow cooker off and allow apple butter to cool. Store in containers in your fridge for a couple weeks, your freezer for months, or can to use for years.
Simple Apple Butter Bread + Slow Cooker Apple Butter Recipe
Click To Tweet
---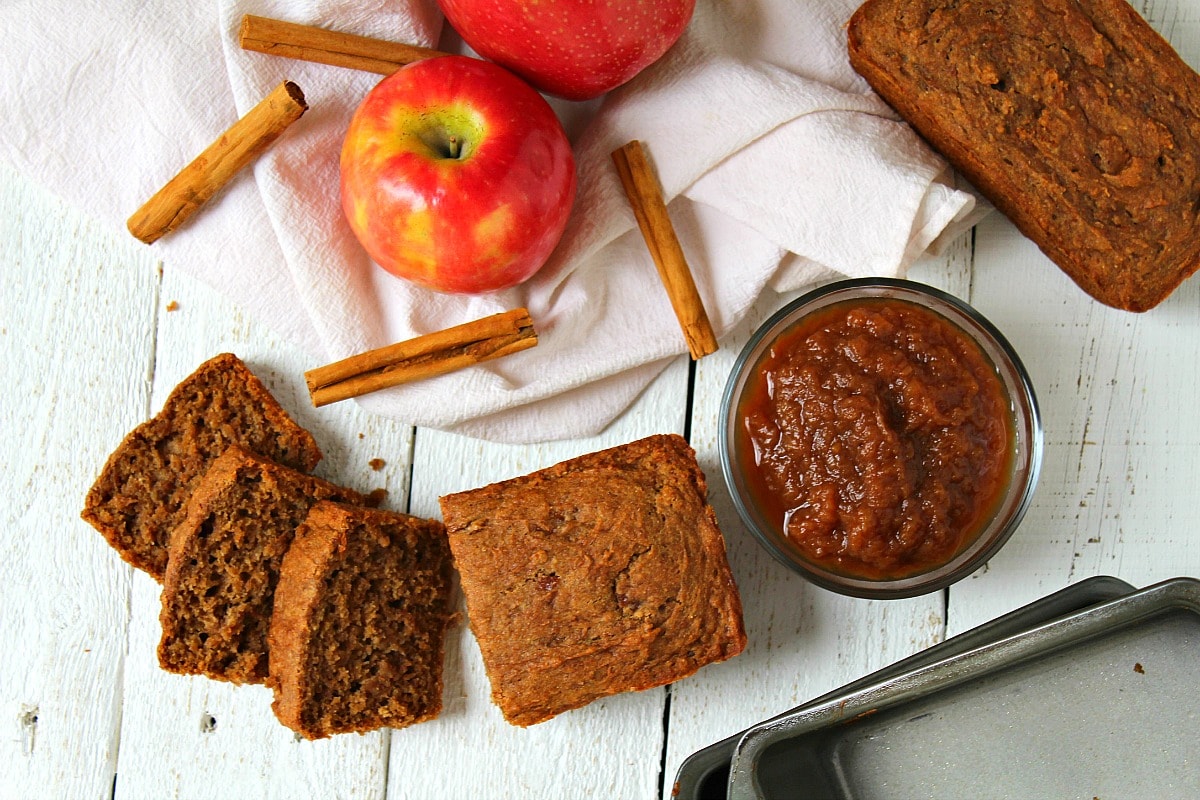 I will admit, I know you can purchase apple butter, but I have never tried it. So I am not sure how it compares to this recipe.
HOWEVER, I know a store-bought variety can't hold a candle to this homemade recipe.
Plus, one of the lovely benefits of this apple butter and bread are the hours upon hours of your home smelling like the epitome of fall.
Pin This Image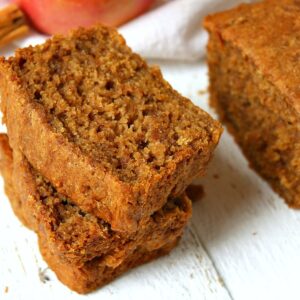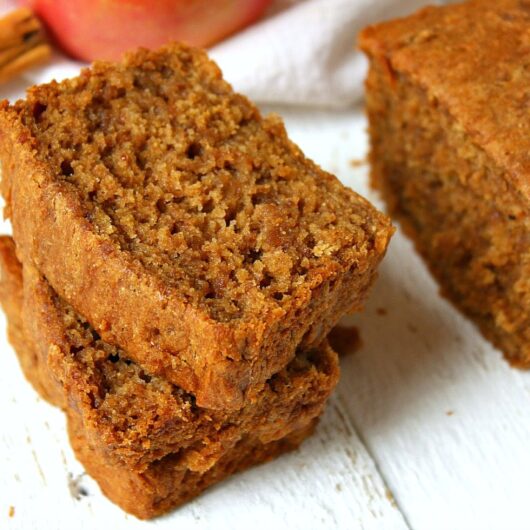 Print Recipe
Apple Butter Bread
This gluten-free sweet bread is our favorite fall breakfast recipe! If you are looking for an easy sweet bread recipe to make the most of autumn flavors make this healthy crock pot apple butter AND then bake this bread! Baking when the weather turns crisp is my favorite activity. This batter makes a wonderful muffin to pack in school lunches and to freeze for those busy mornings too! To find more healthy recipes visit groundedandsurrounded.com!
Ingredients
1/2

cup

butter, melted

2

eggs

2

cups

apple butter

3/4

cup

coconut sugar or 1/2 cup white sugar

1/8

tsp

salt

2

cups

gluten-free flour blend

(I used this blend)

1

tsp

baking soda
Instructions
Preheat oven to 350F. Generously spray the 3-small loaf pans (3"x6") with non-stick cooking spray.

In a large bowl, melt butter. Then whisk in eggs, apple butter, and coconut sugar. Add in flour, baking soda, and salt. Stir together all ingredients until just combined.

Pour into greased pans and bake for 45 minutes or until toothpick inserted comes out clean. Allow to cool in pans for 15 minutes, then remove and continue to cool on cooling racks.

Store in an airtight container for a few days on the counter top or wrap in saran wrap then place in Ziploc storage bag and store in freezer.