This delectable one-pot Clean Eating Chicken Curry has been in my life for 5 years now.
It has been on the HappiHomemade recipe to-do list since the beginning of HappiHomemade. We're talking 2014 people….
Needless to say, I am thrilled to FINALLY be sharing this ethnic dish with you!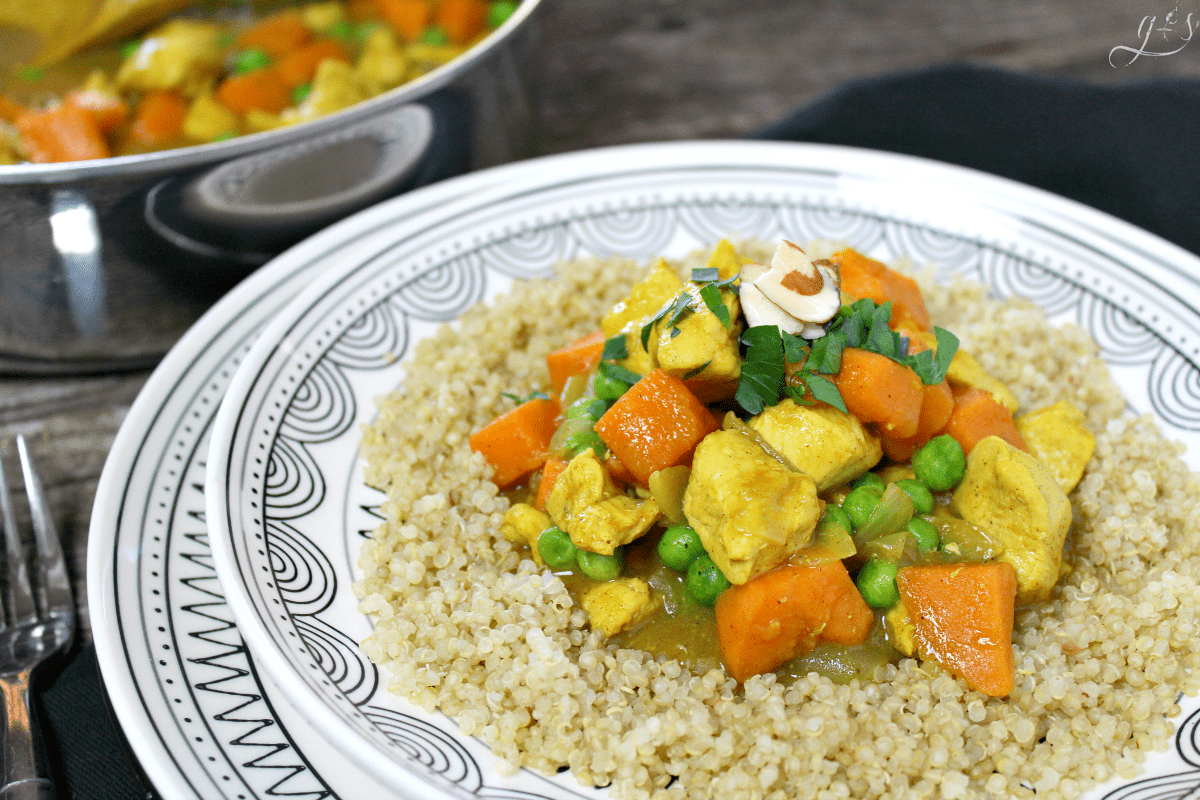 I need to level with you though. I have never eaten curry other than this curry.
So is this authentic? I have no idea. Is it delicious. Yep!
I have family, friends, and neighbors that will verify that. One neighbor actually told me, she doesn't like most curry recipes but she really liked this one because the curry flavor was not overpowering.
Winning. 😉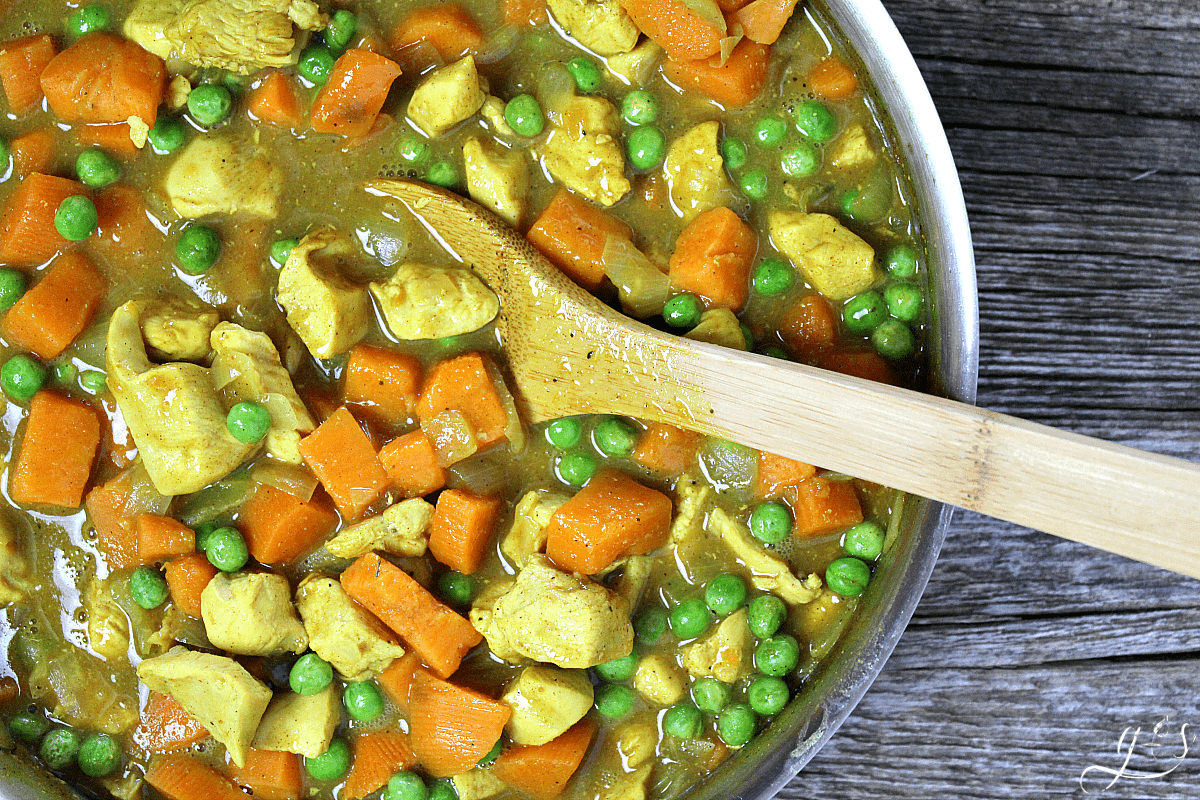 Really this recipe could be named anything, Delicious Sweet Potato and Chicken One Pot Meal or Spicy Chicken & Sweet Potato Stove Top Dish. Call it what you like, but it does taste deliciously ethnic, especially to this small town girl.
Thank you curry powder!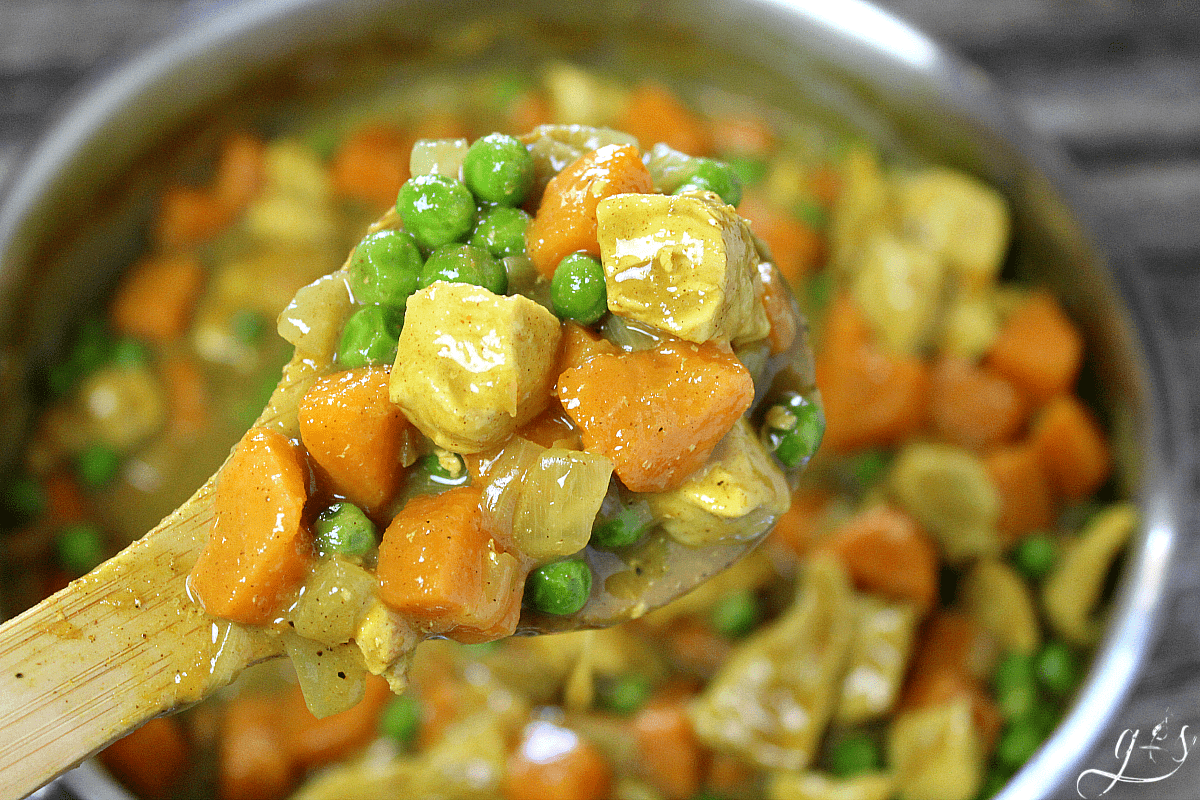 I love the simplicity of the ingredients and preparation of this dairy free Clean Eating Chicken Curry. It has very few ingredients (7!) and takes no time at all to prepare. Sauté the onions, brown the chicken, soften the sweet potatoes, and add in the frozen peas. All in one pot. In a matter of minutes.
See? Easy peasy.
Clean Eating Chicken Curry Ingredients:
1 onion
3 chicken breasts
2 large sweet potatoes
1.5-2 Tbsp curry powder
1 (15oz) canned light coconut milk
1/2 cup chicken stock (LOVE Kettle & Fire bone broth in this soup! "HappiHomemade" saves you 20%)
1 cup frozen peas
1 tsp sea salt
1/4 tsp ground black pepper
7 Ingredient Chicken & Sweet Potato Curry #skinny #glutenfree #sammisrecipes
Click To Tweet
We typically serve our curry over gluten free rice or quinoa. Though I usually eat mine without the added starches. It is perfectly hearty while being perfectly healthy too.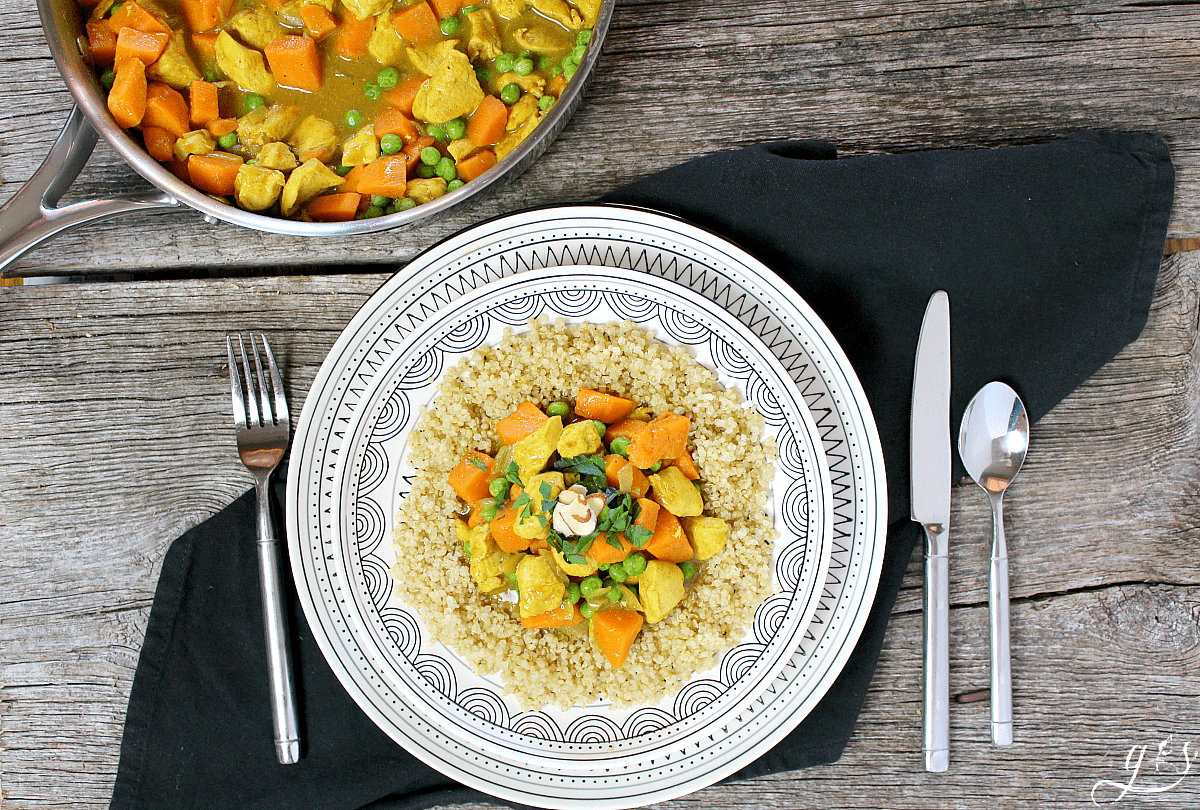 I have even added spinach to the finished dish and let it wilt down to add some extra veggie power.
This recipe was first introduced to me by Sarah @ LivingByDesign.org, the other founding lady of this blog. She loves to be in the kitchen as much as I do, but her specialty is making a meal one time. I think she literally made this dish on a whim, served it to me, and forgot about it. Ha!
I, however, could never forget about this dairy free recipe and I know you will feel the same way too!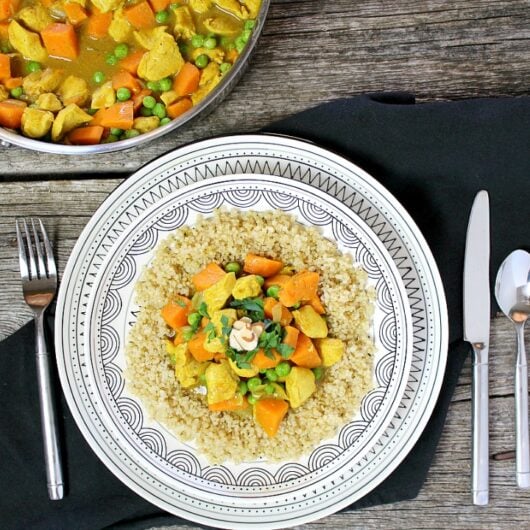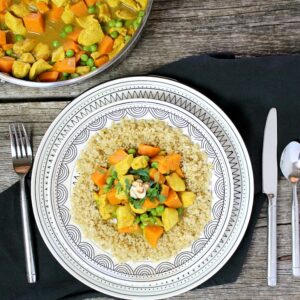 Print Recipe
Clean Eating Chicken Curry
This Paleo recipe is easy, healthy, & delicious. Chicken breasts (or thighs), sweet potatoes, light coconut milk, and green peas combine into the beautiful and simple dinner EVER! This one pot weeknight meal takes mere minutes to prepare and is packed with whole foods, Whole 30 compliant, and gluten-free. Serve over rice or quinoa if desired. See? Comfort foods recipes can be healthy!
Equipment
cutting board

knife

large pan
Ingredients
1

onion, diced

3

chicken breasts, chopped into 1/2 inch cubes

2

large sweet potatoes, peeled and chopped into 1" pieces

1.5-2

Tbsp

curry powder

1 (15oz)

can

canned light coconut milk

1/2

cup

chicken stock

1

cup

frozen peas

1

tsp

sea salt

1/4

tsp

ground black pepper
Instructions
Lightly spray a large skillet or soup pot with non-stick cooking spray and heat over medium-high heat. Add diced onions and saute for a few minutes or until translucent. Then add diced chicken and cook until browned.

Next, add to the pot the sweet potatoes, 1 /12 Tbsp curry powder, coconut milk, chicken broth and simmer uncovered until sweet potatoes are soft. (You can always add the other 1/2 Tbsp curry powder at the end if you need more zing!)

Lastly add in frozen peas, salt, and pepper. Stir until combined and cook for 1 minute or until the peas are no longer frozen. Take off heat and add more salt and pepper to suite your palate. Serve alone or over rice or quinoa.
Notes
Try adding baby spinach and mushrooms if you have them on hand!