I have been sitting on this amazing Healthy Peach Blueberry Crumble recipe for a year.
It started as a random summer experiment to use up my ripe peaches and blueberries.
I was completely blown away by how fabulous it turned out!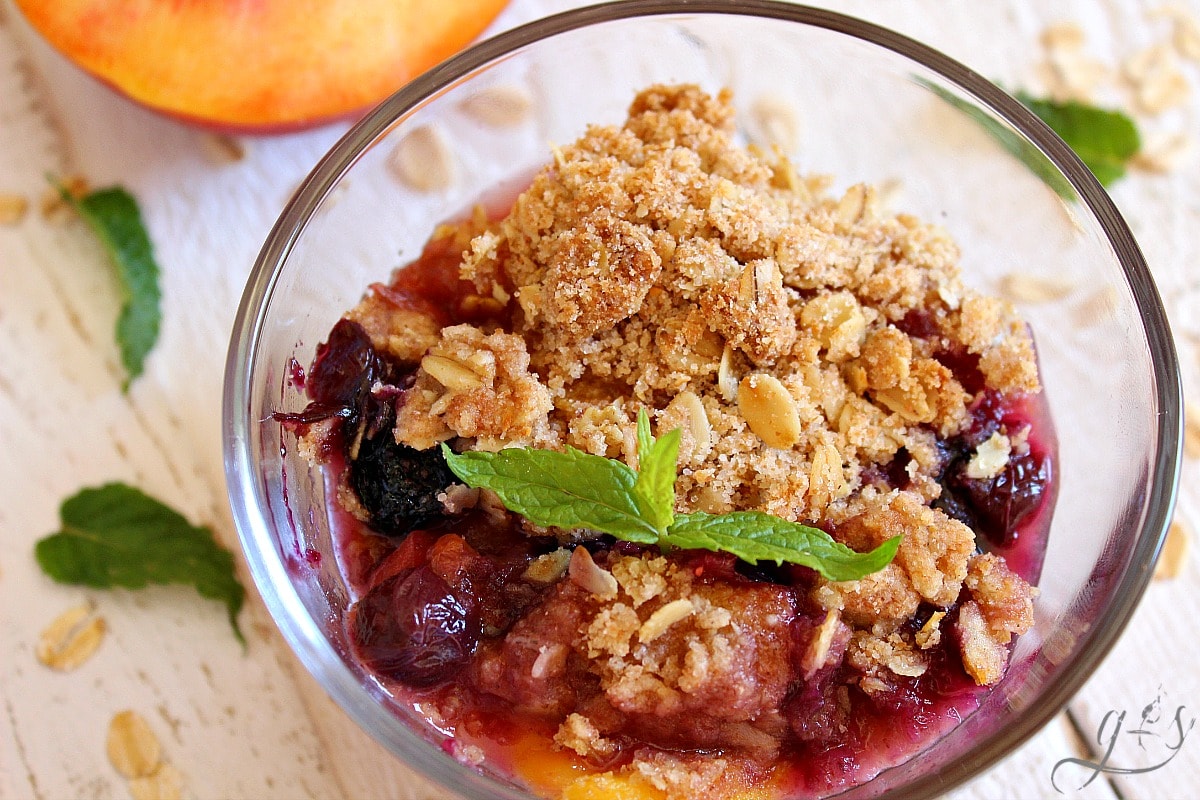 There is just something special about this crumble, crisp, cobbler…whatever you want to call it.
Does anyone really know the difference? Ha! If you do, please share your dessert knowledge with me down in the comments. 🙂
Anywho…this dessert, or breakfast, or brunch, or anytime-of-the-day deliciousness will quickly become a summer favorite.
I have to admit, nothing makes me happier than eating this recipe fresh out of the oven with a scoop of cold ice cream that oh-so-slightly melts on top of the crumbly crunchy topping and warm fruit.
Is anyone else's mouth watering? Bueller? Bueller?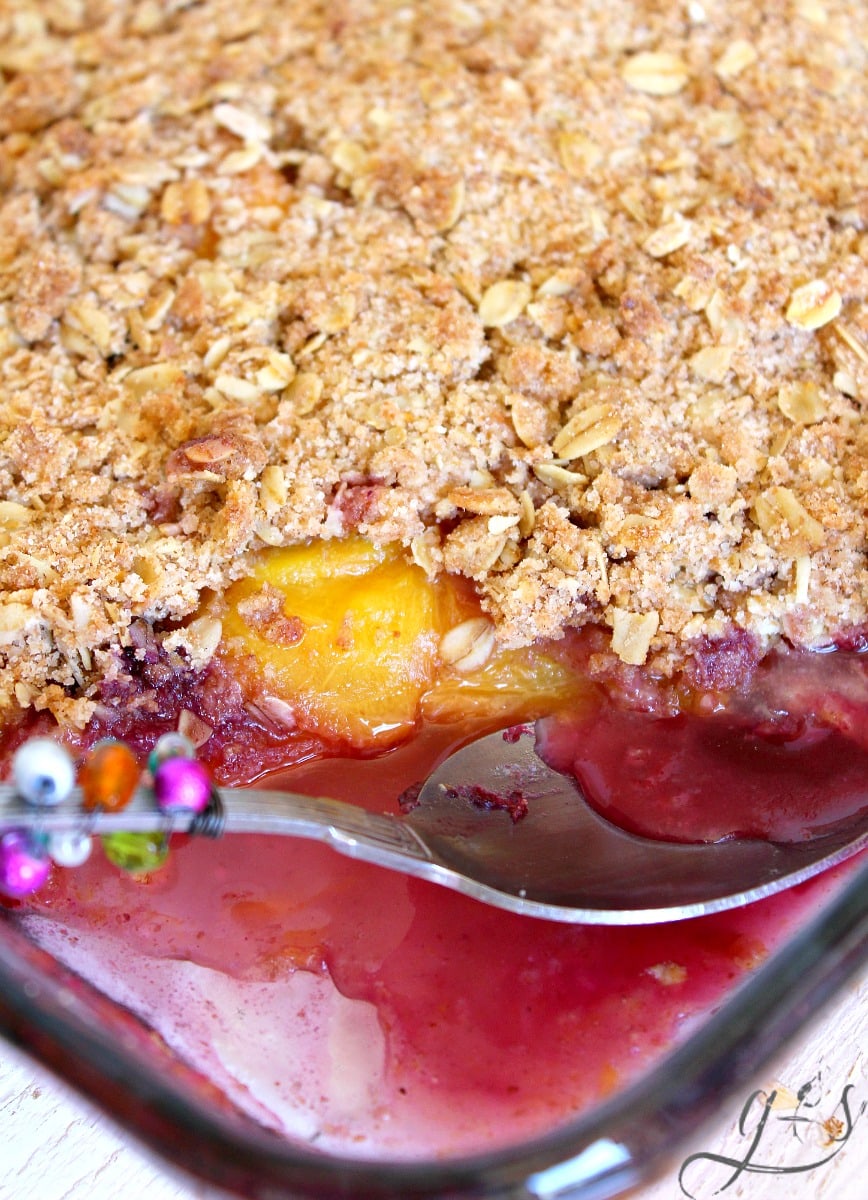 I feel you should know, this healthy peach and blueberry crisp recipe makes enough to feed a small party, so when you bake it and don't have a small party to feed you have leftovers, like lots of leftovers. And as you know, leftovers are my jam, so that may be another reason why I heart this recipe. 😉
Are you curious why I think this not only makes the perfect dessert, but the most amazing breakfast too? Well, let me share with you my logic.
This Healthy Peach Blueberry Crumble is basically just fruit and "granola". So go ahead and add a little Greek yogurt and Viola, you have a parfait. Fruit, carbs, and protein, it's perfect!
And surprise, there is only 1/2 cup of sugar in the WHOLE shebang!
That's right, 1/2 cup peeps that serves at least 10 people. I love the fact that the fruit really shines in this recipe, while still tasting incredibly sweet and indulgent.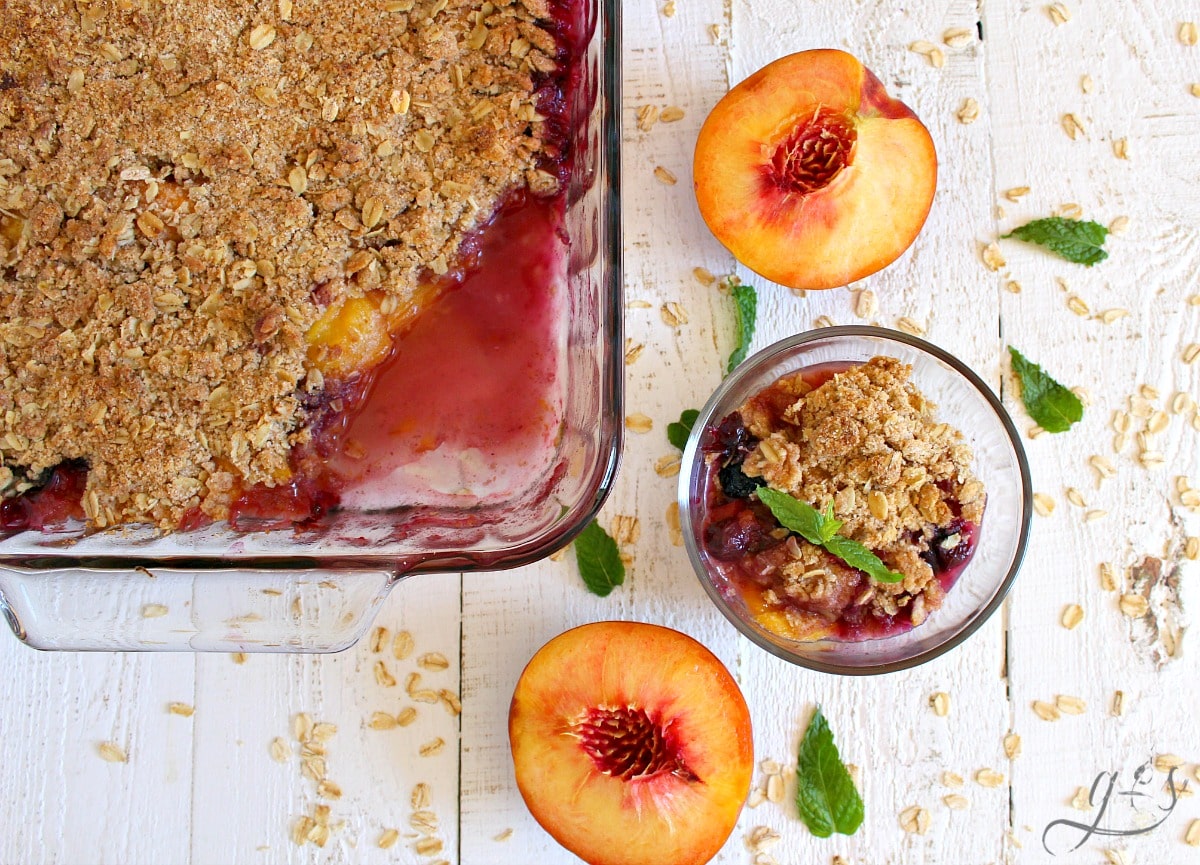 The BEST Dessert E-V-E-R: Peach Blueberry Crumble #healthy #delicious #recipe
Click To Tweet
My original recipe that Ruth at Living Well Spending Less graciously featured on her blog calls for white sugar and wheat or gluten free flour. However, I sometimes switch it up by using my favorite sugar option, coconut sugar. Coconut sugar is lower-glycemic meaning it won't raise your blood sugar as much or as fast as white sugar. As for the flour, I have successfully used almond flour. It added a nuttiness and texture that is divine. You can also use plant based dairy free butter if needed!
I am so excited for you to try this recipe! I haven't eaten it in 4 hours and I am already missing it. 😉